Watch Guy Fieri Jump on Stage at Slims and Play the Drums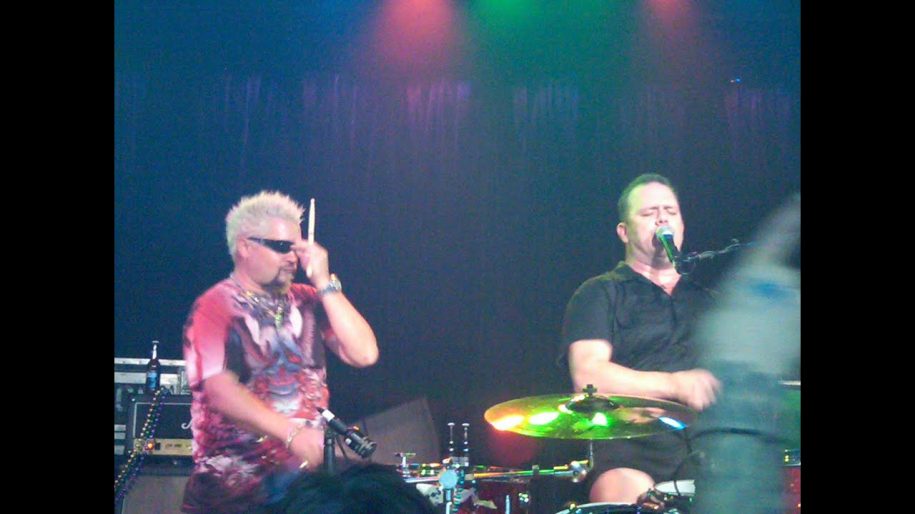 I was going through some old photos from my…Blackberry (seems like ages ago) and I came across this random video of Guy Fieri jumping on stage and hopping on the drums with Cowboy Mouth at Slims San Francisco.
About Guy Fieri:
Guy Fieri is a television personality working for Food Network. He is an American restaurateur, television personality, author and game show host. He is the co-owner of 5 restaurants, all located in California, and is known for his hit television series on the Food Network.
He won "The Next Food Network Star" in 2006, which helped launch his career. He went on to host Guy's Big Bite, Diners, Drive Ins and Dives and many other shows. By 2010, the Food Network had made Fieri the "face of the network." The New York Times reported that Fieri brought an "element of rowdy, mass-market culture to American food television," and also "prime-time shows attract more male viewers than any others on the network." He also Recently made national news when a kid stole his Lamborghini and took it for a Joy Ride in California. His newest show is Guy's Grocery Games.
About Cowboy Mouth:
Cowboy Mouth is New Orleans rock n' roll. with over 150 shows per year, a dozen records, and being featured featured on TV shows and radio stations everywhere, Cowboy Mouth has been seen and heard by millions of people. For over 15 years, the members of Cowboy Mouth have preached and shouted at the top of their lungs the joys of being alive in New Orleans, sharing a slice of Mardi Gras heaven with fans around the world. Frontman Fred LeBlanc has said,"If The Neville Brothers and The Clash had a baby, it would be Cowboy Mouth." Check them out!