The Best Small Music Venues in San Francisco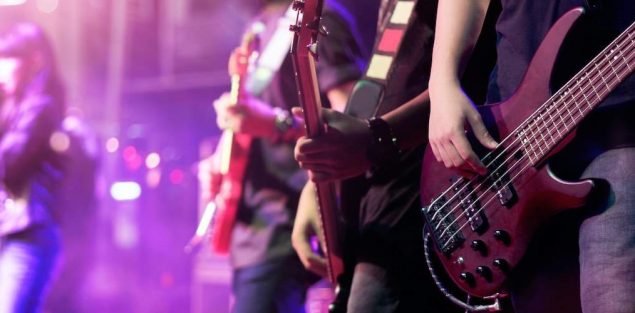 The best places to see a show in SF
The San Francisco Bay Area has a deep rooted musical history from the Summer of Love to the rise of several mega festivals attracting people from around the world. Bands like Jefferson Airplane, Santana, Journey and The Grateful Dead all call the San Francisco Bay Area Home. While there are great large music venues like Shoreline Amphitheater, Bill Graham Civic Auditorium and Chase Center the are great places to see concerts, there's nothing like seeing a live show in a small venue.
This no-frills venue on Divisadero street is first and foremost a music venue with excellent views of the stage from anyplace in the room. With a capacity of 500 people and a steady stream of bands on the schedule, this is a great place to see up and coming acts in an intimate setting. Big artists like Vampire Weekend, The National, LCD Soundsystem, Imagine Dragons, Zedd and Disclosure have all graced the stage at this amazing venue.
The Independent
628 Divisadero St.
San Francisco, CA 94117
415-771-1421
Website: http://www.theindependentsf.com/
From the "Blow Up" parties to the long running Popscene residency, Rickshaw Stop is one of the best places to see bands, Djs and more in San Francisco. The venue features 2 levels, bars and rickshaws placed around the venue for decoration.
Rickshaw Stop
155 Fell St.
San Francisco, CA 94102
415-861-2011
Website: http://www.rickshawstop.com/

Slim's

Slim's is another small music venue in San Francisco that gets its fair share of big artists that have been on its stage. In 30+ years, the venue has seen massive acts like Radiohead, Bruno Mars, Foo Fighters, Snoop Dogg, David Bowie and Pearl Jam (just to name a few) have all played the stage, some even at the height of their careers as a secret show or under a different name. The venue holds about 500 people and offers great views from anywhere on the floor. If you are lucky, you can even score tickets that include dinner on the mezzanine level before the show…

Slim's
333 11th St.
San Francisco, CA 94103
415-255-0333

Website: http://www.slimspresents.com/

Bottom of the Hill

This tiny music venue in Portrero hill has served as a place where relatively unknown bands play in San Francisco before they blow up, so you never know who you may see there. Although the list is long, some of the huge acts who have performed on the Bottom of the Hill Stage include Beastie Boys, Blink 182, Green Day, Alanis Morissette, Oasis and The Strokes. The small venue features an amazing sound system, great acoustics, a patio and a kitchen serving delicious bar food. They have shows most nights of the week so if you ever have a craving for a good live show, Bottom of the Hill never disappoints.

Bottom of the Hill
1233 17th St.
San Francisco, CA 94107
415-626-4455

Website: http://www.bottomofthehill.com/

Great American Music Hall

While some of the smaller music venues in San Francisco don't have much to talk about in terms of design, The Great American Music Hall has an immediate wow factor as soon as you walk through the door. The 5000 square foot venue features ornate decor, tall ceilings and a mezzanine level with great views of the stage. Like Slim's, you can also opt for the dinner ticket, which gives you access to a private mezzanine area with amazing stage views.

Great American Music Hall
859 O'Farrell St.
San Francisco, CA 94109
415-885-0750

Website: http://www.slimspresents.com/great-american-music-hall

Boom Boom Room

This hip music spot is a great space to see live Jazz and is a pretty safe bet on most nights of the week.

Boom Boom Room
1601 Fillmore St.
San Francisco, CA 94115
415-673-8000

Website: https://www.boomboomroom.com/

Bimbo's 365 Club

Since opening in 1931, Bimbo's has added a lot to the musical history of San Francisco. It was originally located on Market Street and simply called the 365 Club until it moved to North Beach in 1951. The inside of the venue makes you feel like you stepped back in time with the original decor seemingly untouched. This is a great place to see live music and they have seen their fair share of big acts such as Silversun Pickups, Counting Crows, Adele, Coldplay and more.

Bimbo's 365 Club
1025 Columbus Ave
San Francisco, CA 94133
415-474-0365

Website: http://www.bimbos365club.com/

Brick & Mortar Music Hall

This small 250-person music venue is located in The Mission District of San Francisco. They feature a great blend of music genres from indie rock to hip-hop almost every night of the week. This is a great place to get up close and personal with the artists.

Brick & Mortar Music Hall
1710 Mission St.
San Francisco, CA 94103
415-678-5099

Website: http://brickandmortarmusic.com/

August Hall

Located in the former Ruby Skye Space, August Hall is probably a little too big to be considered a small music venue, however it has the feel of a smaller venue. The beautifully renovated space features a large stage, amazing sound system and lighting setup as well as 3 distinct rooms. The main room is the music hall, which is the largest space and the main live music area. The other rooms include the green room, a plush cocktail lounge, and Fifth Arrow, a restaurant with a bowling alley.

August Hall
420 Mason St.
San Francisco, CA 94102
415-872-5745

Website: http://www.augusthallsf.com/

The Chapel

This beautiful San Francisco Music Venue is actually a former chapel that was converted into a music venue and bar. Located in the heart of the Mission, this venue features a 40 foot arched ceiling, a great sound system and a steady stream of great music acts from a wide variety of genres.

The Chapel
777 Valencia St.
San Francisco, CA 94110
415-551-5157

Website: http://www.thechapelsf.com/
If you are looking for some great live music, check out our list of upcoming San Francisco Events.