Best Places to View the San Francisco Fireworks on The Fourth of July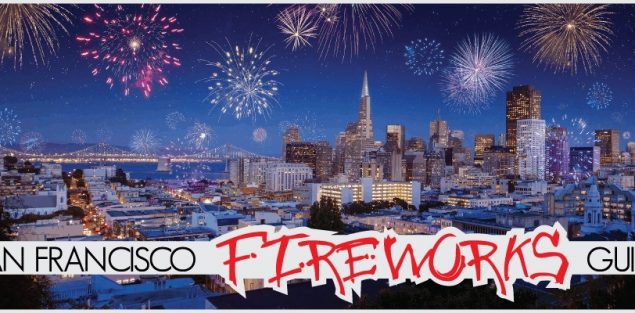 Get Ready for Fourth of July in the Bay Area!
With Independence day rapidly approaching, it is a good idea to figure out your fireworks plan as soon as possible. Start scoping out some secret hill or rooftop if you can because July 4th can be a crazy time in the city with massive crowds and lots of traffic so planning ahead is always a good idea. If you do plan on entering the massive crowds, make sure you have your escape plan set as well because traffic can be a nightmare.
It finally seems like we are in the final stages of recovering from the worldwide pandemic that plagued the nation for the last 2 years, so the 2022 Fourth of July Celebration will be even more meaningful as we take a moment to spend some time with family and friends. Whether you want to keep thing low-key with a small gathering, head out to some barbecues and events or take things to the next level at the Fourth of July Pub Crawl & Hot Dog Eating Contest, there are plenty of awesome options for everyone.
You can expect a whole weekend full of fun Fourth of July Events and activities leading up to the big fireworks shows on Monday night.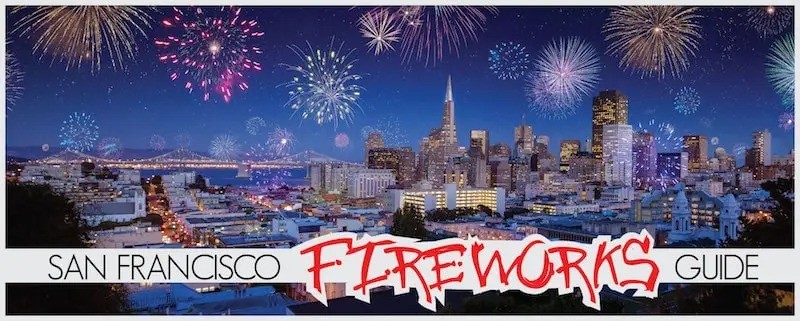 Where can you see the Fourth of July Fireworks in San Francisco?
Views of the fireworks pretty much depend on the weather and the fog that is common in the summer months, especially in July and August. Assuming we are lucky enough to get a clear night, there are actually a lot of great spots to see the fireworks show in San Francisco. Whether you want to watch with a big crowd or would rather seek out some more secluded hidden spots, you will have a lot of options to choose from.
The official San Francisco Fireworks will be launched from 2 different spots along the water in the North part of the city. The will be launched from the end of municipal pier as well as from a barge in the Bay near Pier 39, which will allow for good viewing locations all over the city.
Here are some of the top choices for places to check out the San Francisco Independence Day Fireworks:
FRONT ROW VIEWS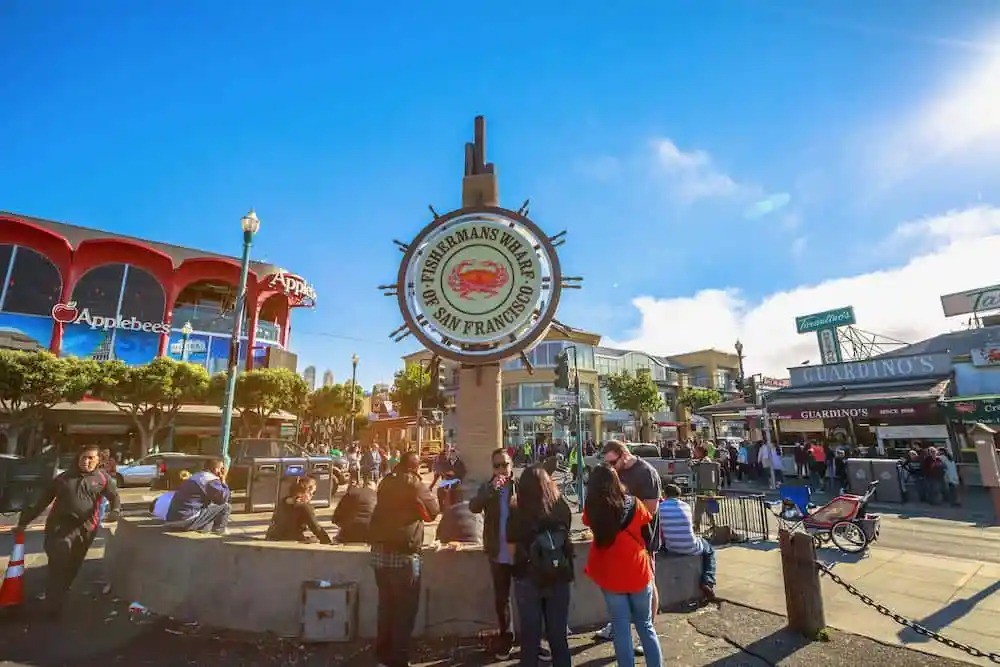 Fisherman's Wharf: Fisherman's Wharf is a lively neighborhood in North San Francisco that offers lots of fun viewing spots to see the fireworks. The touristy neighborhood offers streets lined with bars, restaurants, tourist attractions, shops and more, so it is a great place to spend the day and, if you are visiting the city, pick up a couple of San Francisco Souveniers.
Best Spots in Fisherman's Wharf to see the Fireworks Show: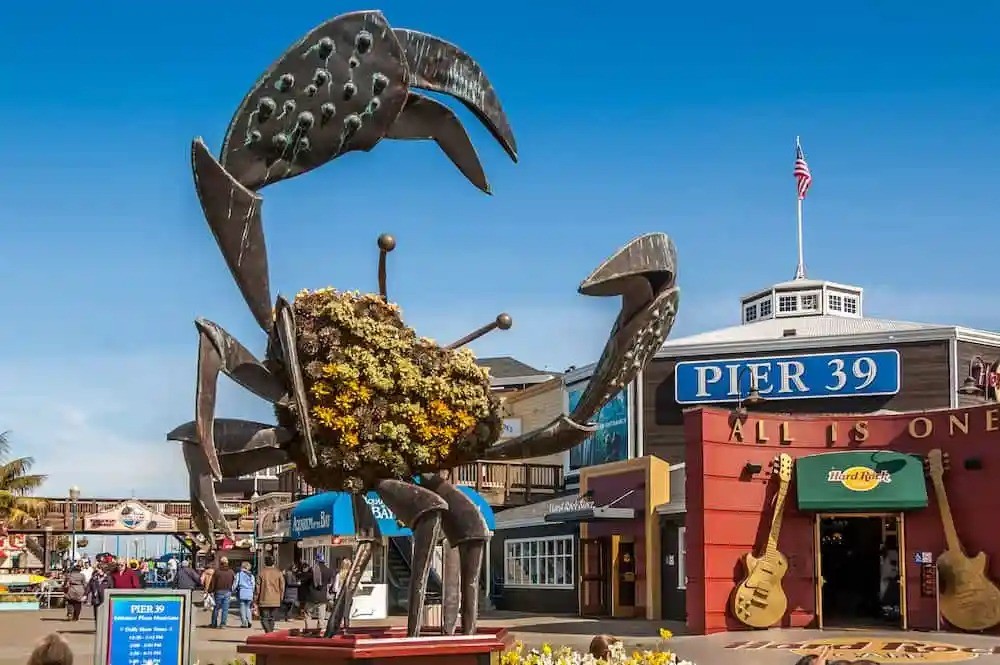 Pier 39: If you don't mind crowds, then Pier 39 is one of the best spots to see the fireworks. Besides getting a front row view of the show, Pier 39 offers a variety of great restaurant, bars, shops and more to check out before the show. Some of the restaurants have outdoor seating that will offer great views, but make sure to get some reservations early as these coveted seats fill up quickly.
Pier 39
The Embarcadero
San Francisco, CA 94133
pier39.com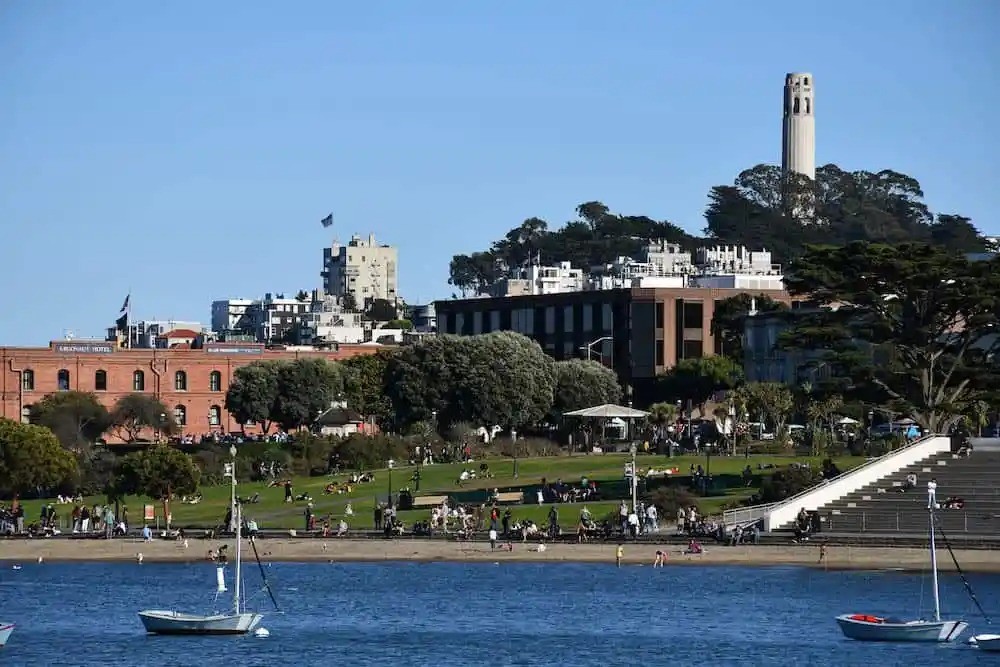 Aquatic Park: As part of the fireworks are launched from the end of Municipal Pier, Aquatic Park is another location that lets you get up close to the show. The park includes a small beach, plenty of grass areas and lots of places to lay down a blanket and enjoy the show. It also offers amazing views of the San Francisco Bay, Alcatraz Island and The Golden Gate Bridge and has a lot of fun things to do nearby like grab an Irish Coffee at The Buena Vista or treat yourself to some delicious chocolate and ice cream at Ghirardelli Square so get there early and enjoy the area before the fireworks show at dusk.
Aquatic Park
700-898 Beach Street
San Francisco, CA 94109

Website
THE FOURTH OF JULY PUB CRAWL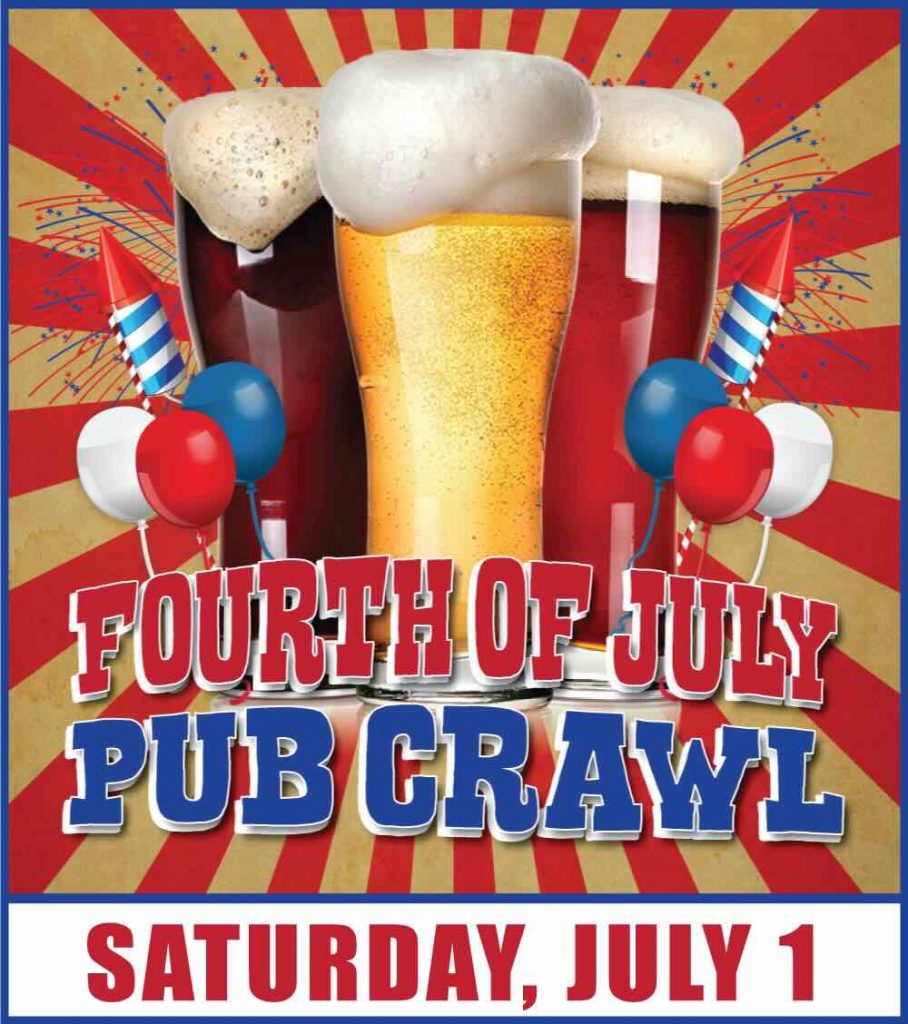 Looking for fun things to do on Independence Day Weekend? The Fourth of July Pub Crawl is a two-day event where a massive group of party people take over Polk Street for the biggest party in the city. Enjoy amazing discounted drink specials, Djs and more leading up to the San Francisco fireworks show on Monday Night.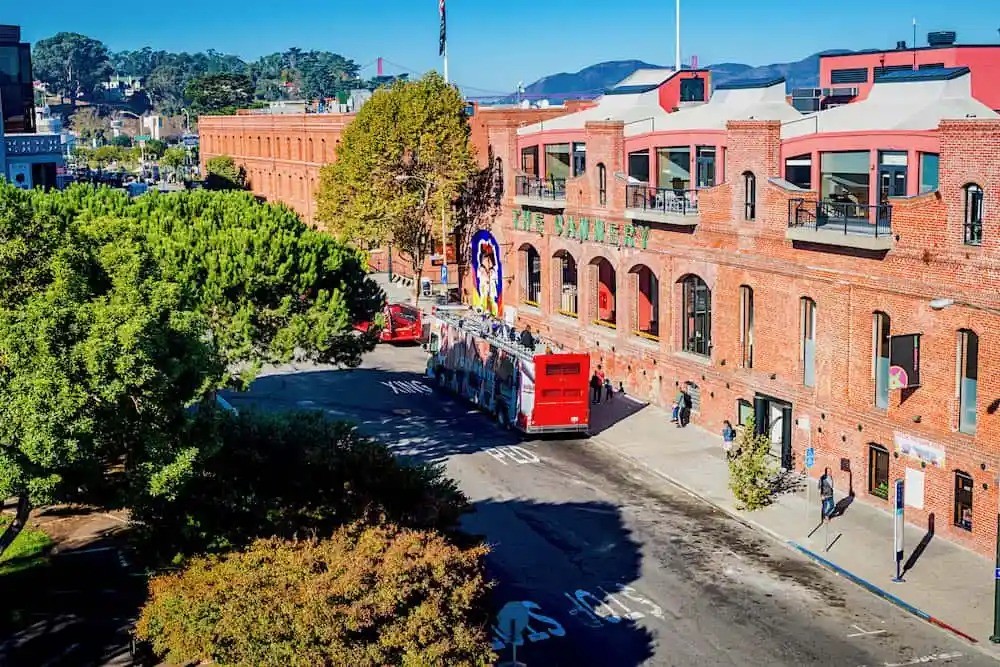 The Cannery: Known as "The Cannery" since it was initially the location of canning operations for Del Monte when it was built in 1907, this historic, brick building was converted to a multi-use retail and restaurant space in the 1960s. It features a variety of restaurants and shops as well as a cute courtyard. Not all areas will offer great views of the fireworks, but there are some prime spots in the courtyard and on the upper levels that you can grab if you are lucky. If you can't find a good spot, you can still visit The Cannery to have some food and drinks or shop before the show.
The Cannery
2801 Leavenworth St
San Francisco, CA 94133
Fort Mason: Another great place to see the show, Fort Mason is just a little bit west of Aquatic Park and offers a large amount of space with great views. You can either get a standing room only spot along the water at Fort Mason Center or secure a spot on the grass in the elevated park. This is a fun place to be with lots of groups of people hanging out on blankets and enjoying some food and drinks. Please note that Fort Mason is a popular place to hang out and on some holidays and unusually warm days in San Francisco the large crowds leave a giant mess after they leave. Make sure to bring along a trash bag and clean up your area before you leave. A little bit goes a long way if everyone pitches in ?
Fort Mason
2 Marina Blvd.
San Francisco, CA 94123

fortmason.org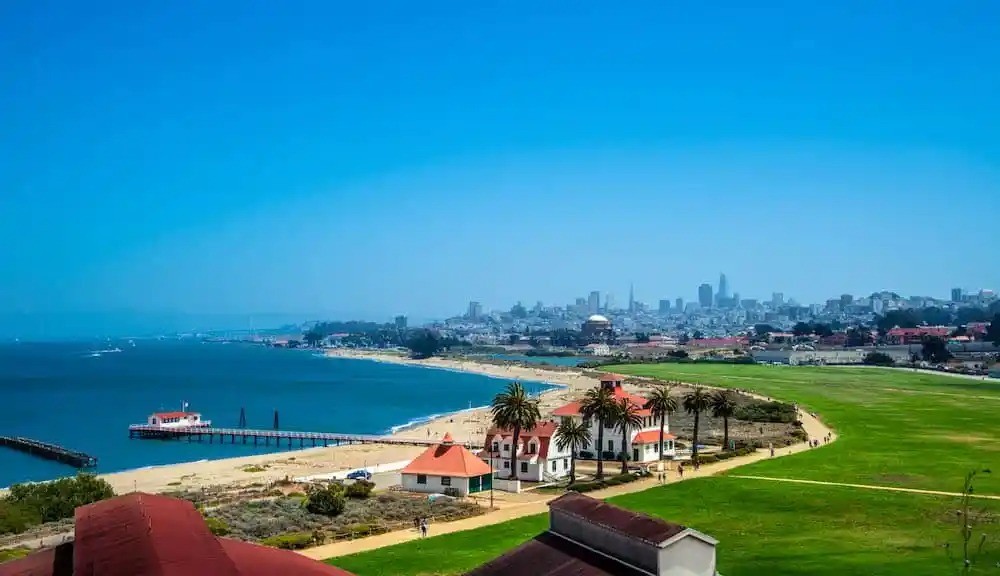 Crissy Field: If you are looking for a slightly less crowded waterfront area to watch the fireworks, then Crissy Field is a great option. Void of crowded bars and restaurants, the area features unobstructed views of the Golden Gate Bridge, Alcatraz Island, The Bay Bridge and the skyline of San Francisco. You will find plenty of space to settle in for the fireworks show along the beach or on the grassy areas and will be treated to a beautiful perspective of the show from start to finish. This is a great place to capture some instagram photos that will surely make your followers click that like button.
Crissy Field
1199 E Beach
San Francisco, CA 94129

Website
GREAT SCENIC VIEWS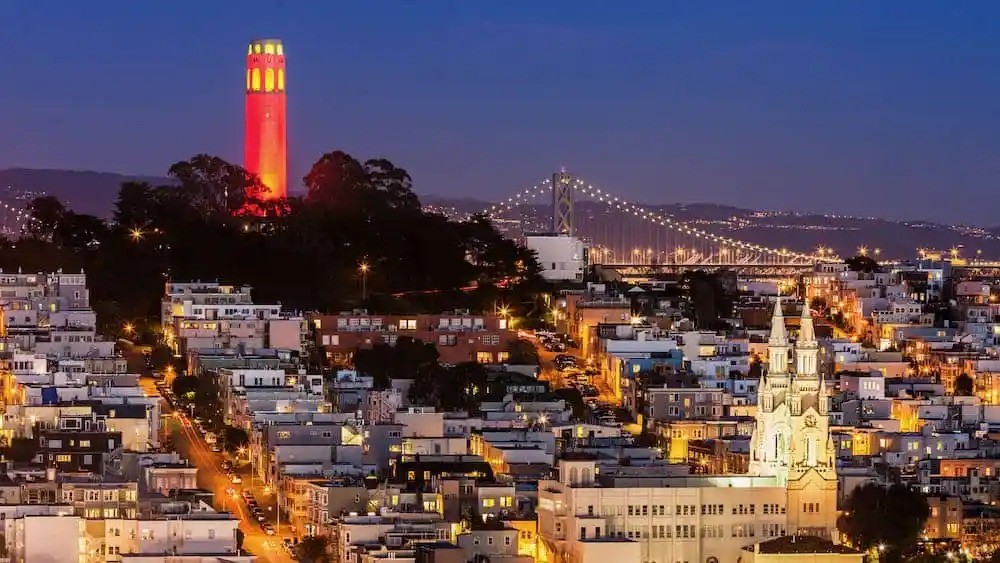 Coit Tower: While Telegraph Hill isn't even close to one of the tallest hills in San Francisco, its North Beach location near the waterfront makes it a cool spot to enjoy the fireworks show. At the top of the hill is the iconic San Francisco landmark, Coit Tower, which was, at one time, one of the highest structures in the city. Although it is now dwarfed by The Transamerica Building, Salesforce Tower and other FiDi Buildings, it is still one of the top tourist attractions in SF. You won't be able to go to the top of the tower for the fireworks show, but if you get there early, you can secure one of the prime viewing spots that will allow you a great view of the show. Because of some large bushes, trees and other foliage around the top of Telegraph Hill, the aren't a lot of unobstructed views, so if it is too crowded, you may want to make your way down to Fisherman's Wharf instead. Driving up to the tower is not recommended (actually, driving in general will be difficult on July 4, especially right after the fireworks show) so either park in North Beach or grab and Uber and walk up the steps from Filbert Street. As a bonus, you may even get to see the famous Parrots of Telegraph Hill while you are there.
Coit Tower
1 Telegraph Hill Blvd.
San Francisco, CA 94133

Website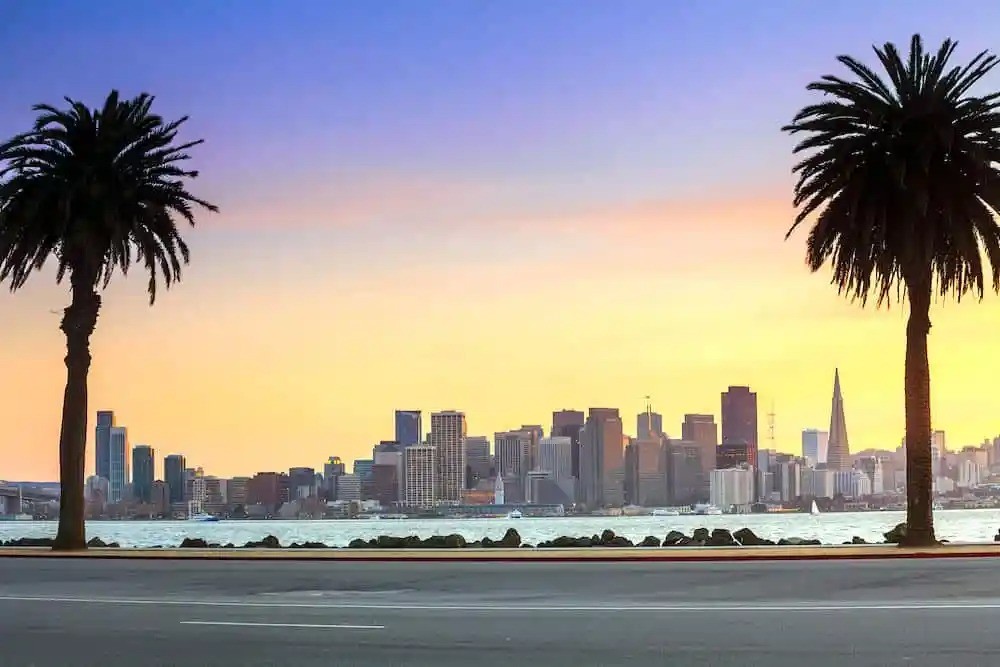 Treasure Island: The little man-made island originally built for the Golden Gate International Expedition in 1939 has a unique setting in the San Francisco Bay. It can be reached from the middle of the Bay Bridge and offers an epic view of the San Francisco Skyline. You will be treated to an amazing unobstructed view of the fireworks show and will find plenty of room to lay down a blanket and enjoy a picnic before the big event. While this may be a great spot for viewing the San Francisco fireworks, you will have to deal with some pretty bad traffic, especially when you are leaving. If you want to watch from Treasure Island, we would recommend packing up some food and drinks and getting there early so you can relax, find a great spot to set up and take in the panoramic views.
Alta Plaza Park: Located in Western Pacific Heights, Alta Plaza park offers 360 degree views of the city. It is a great place to visit any time of the year and for Independence Day, it is a highly recommended place to go if you want a safe and easy place to take kids. There is a large playground with incredible views of San Francisco, lots of benches, a large grass area and some nice bathrooms.
Alta Plaza Park
Jackson St. & Steiner St.
San Francisco, CA 94115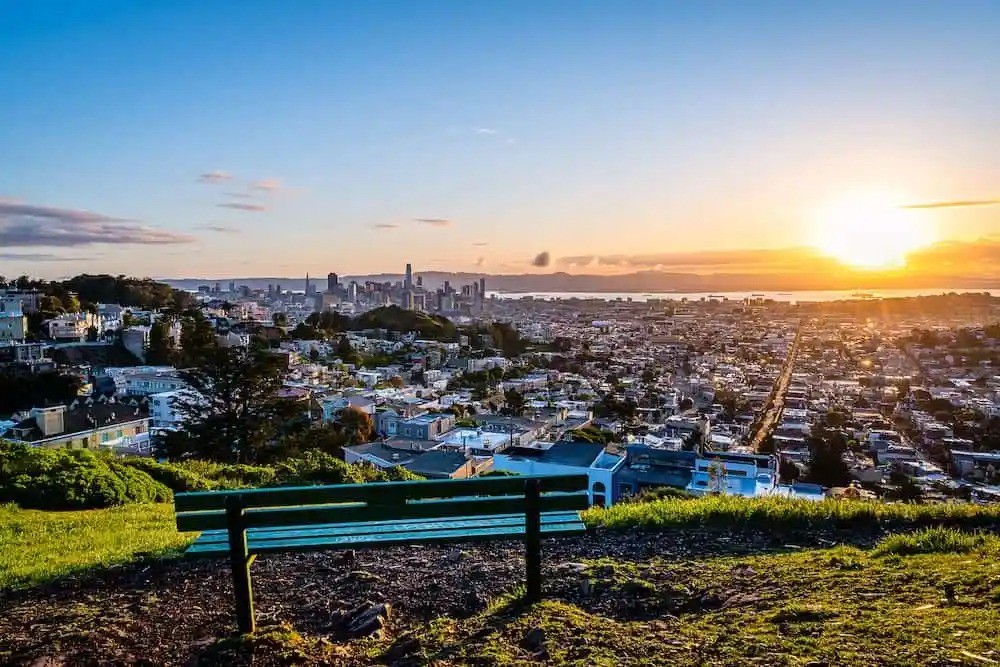 Tank Hill: Named for a massive water tank that used to be in the area (it was removed in 1957), Tank Hill offers some of the best wide views of San Francisco in the whole city. Although it is located at a much lower elevation than Twin Peaks (around 650 feet elevation vs. Twin Peaks at 922 Feet), it provides sweeping views of the San Francisco Skyline, The Golden Gate Bridge, The Bay Bridge as well as Oakland, Sausalito and more. A slightly hidden staircase off of Twin Peaks Blvd. takes you the the small park where you can take in the whole city at once. This is a great place to go for the Independence Day Fireworks if you want to avoid all of the crowds, traffic and general holiday craziness. As an added bonus, there are a couple of fun, rope swings to enjoy while you visit.
Tank Hill
Twin Peaks Blvd.
San Francisco, CA 94114

Website
A Friend's Rooftop: In our opinion, San Francisco is definitely lacking in the rooftop bar and restaurant category when compared to other cities, but it does seem to have a large number of great rooftops on residential buildings all over the city. If you have been to San Francisco during Fleet Week, you will see crowded rooftops all over the place filled with groups of friends grilling some food, drinking some beer and wine and trying to get the perfect photograph as The Blue Angels fly dangerously close to the buildings. Independence Day is another time when lucky residents of some prime buildings invite their friends over for some incredible views of the San Francisco Fireworks Show. While these gatherings are invite-only (no party crashing), you may be surprised how many friends, acquaintances or co-workers may have a sweet party in the works. Drop a couple hints around the office, post something to social media (Does anyone know of any fun, rooftop parties for the Fourth of July?) or ask your friends and you may just find an amazing spot.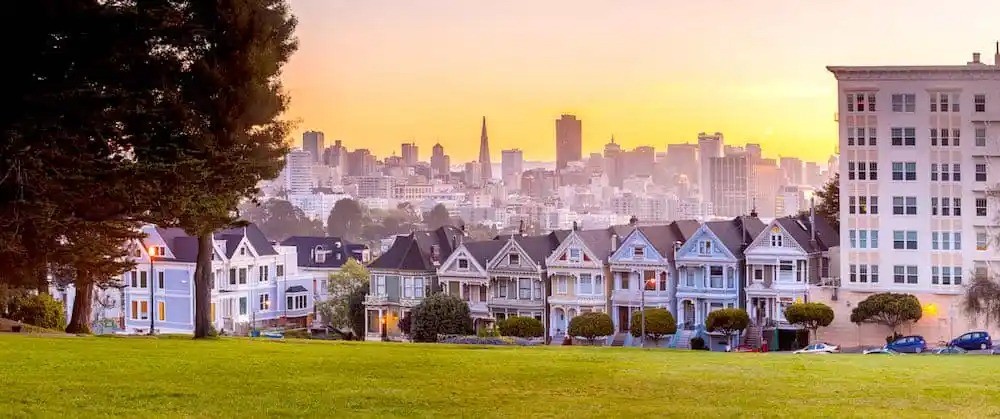 Alamo Square: You will see a lot of fireworks + The Golden Gate Bridge photos on your Instagram feed after the Fourth of July, but if you want to snap a more unique fireworks photo that includes another San Francisco attraction, head to Alamo Park. Home to the famous Painted Ladies (aka Seven Sisters or Postcard Row), a row of beautiful Victorian homes along one side of the park, the park also offers great views of the San Francisco Skyline. While it is a little bit further away from the actual fireworks show, you will still be able to see the show and even snap a sweet "fireworks over the Painted Ladies" shot to impress your followers.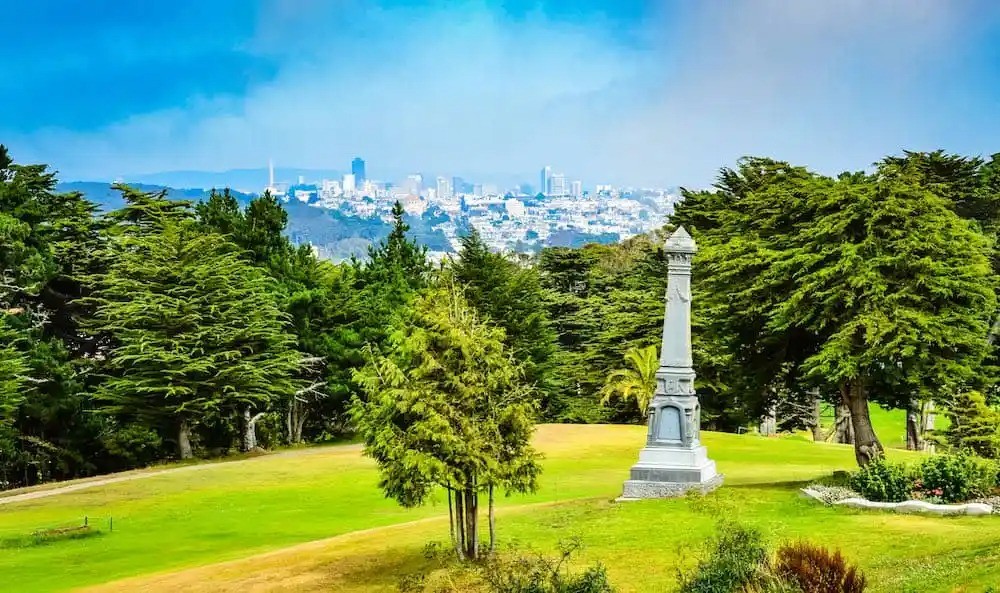 Lincoln Park: Another spot a little further from the action, Lincoln Park is located on the West side of the Golden Gate Bridge in the Northwestern corner of San Francisco. There are lots of trees around so you will have to hike around a bit, but there are a few beautiful grass areas that provide views of the entire San Francisco skyline, which will allow you to see both fireworks shows if the night is clear. This is a great place to go if you want to avoid crowds, but make sure you bring some warms clothes for when the sun goes down.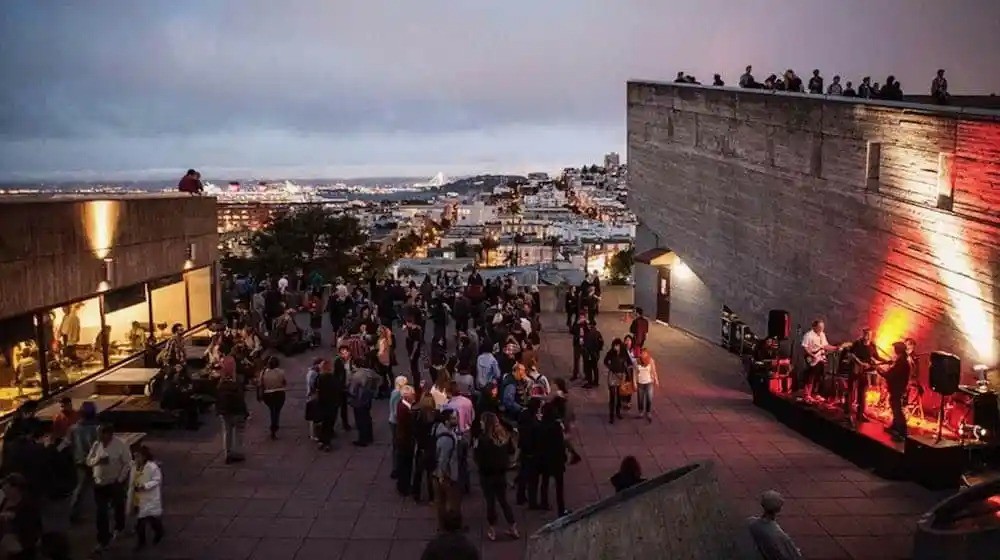 San Francisco Art Institute Rooftop: There are a lot of amazing rooftops in San Francisco that will give you incredible views of the fireworks show, but most of them are, unfortunately, closed to the public or require an invite (see "A Friend's Rooftop"). If you want to try out a rooftop for Independence Day, then The San Francisco Art Institute is a great option. Even better, check out some amazing art at the Diego Rivera Gallery while you are there.
San Francisco Art Institute
800 Chestnut St.
San Francisco, CA 94133

sfai.edu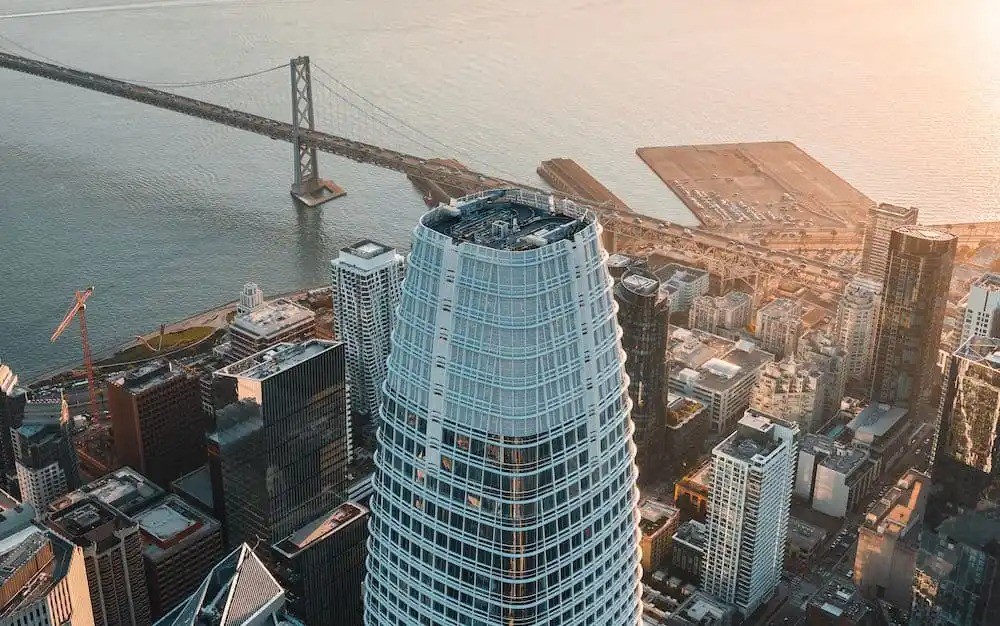 The Top of Salesforce Tower: the 61st Floor of Salesforce Tower offers unparalleled views of the San Francisco Bay Area and aside from being up close to the epicenter of the show in Fisherman's Wharf, it has to be one of the best places to see fireworks all across the Bay. The only problem is that you probably aren't allowed to go there. Perhaps it is open to employees of Salesforce, but the general public is most likely out of luck. They do, however, offer the space to charitable organizations that focus on education, humanitarian issues, social and environmental causes, so there is a possibility that there may be some sort of event. With so many other great viewing locations, it's not really that big of a deal, however if you really want to see the show from the 61st floor, you might want to start dropping hints to your friends at Salesforce and see if you can squeeze a guest invite (assuming that even exists).
Salesforce Tower
415 Mission St.
San Francisco, CA 94105

salesforcetower.com
Video of Fireworks: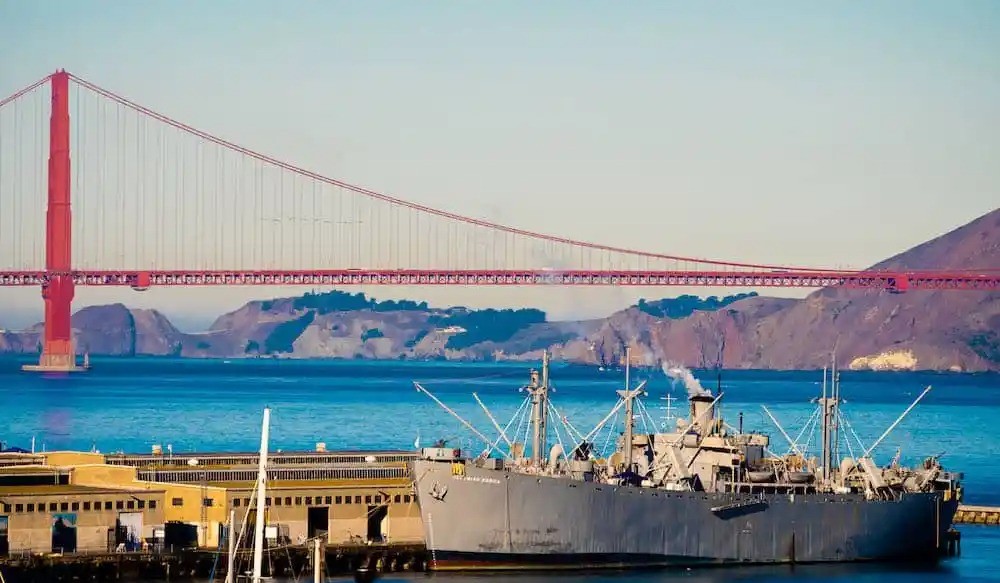 SS Jeremiah: San Francisco happens to be the only location in the world (yes, the world!) where you can see a fully-functional as well as unaltered Liberty Ship from World War II. Out of the 2,710 ships that were built, there are only 3 left (one of the remaining is functional, but not in its original form and the other is neither functional nor in its original form). This ship is considered to be a lucky omen, having survived dangerous seas, numerous voyages through waters filled with attack submarines and the D-Day landings. Docked at Pier 45 in Fisherman's Wharf, it seems like the perfect location to celebrate Independence Day. Even better, it also happens to be in a prime location for viewing the San Francisco Fireworks show on the Fourth of July. There is a cost to watch the show aboard this historic ship, however it is definitely worth the price to celebrate America's freedom aboard an authentic WWII ship. Tickets are $10 for Children up to 16, $30 for Seniors, $40 for Adults. There is also a special Family Rate of $80, which includes entrance for 2 Adults and 2 Children. The price of admission includes entry to the event, soft drinks and chips. Make sure to bring a jacket or wear some warm clothes as this location is literally on the water, so be prepared for some cold weather and wind.
SS Jeremiah O'Obrien
Pier 45, Fisherman's Wharf
San Francisco, CA 94133

ssjeremiahobrien.org/
Sunday, July 4, 2021
8PM to 10:30PM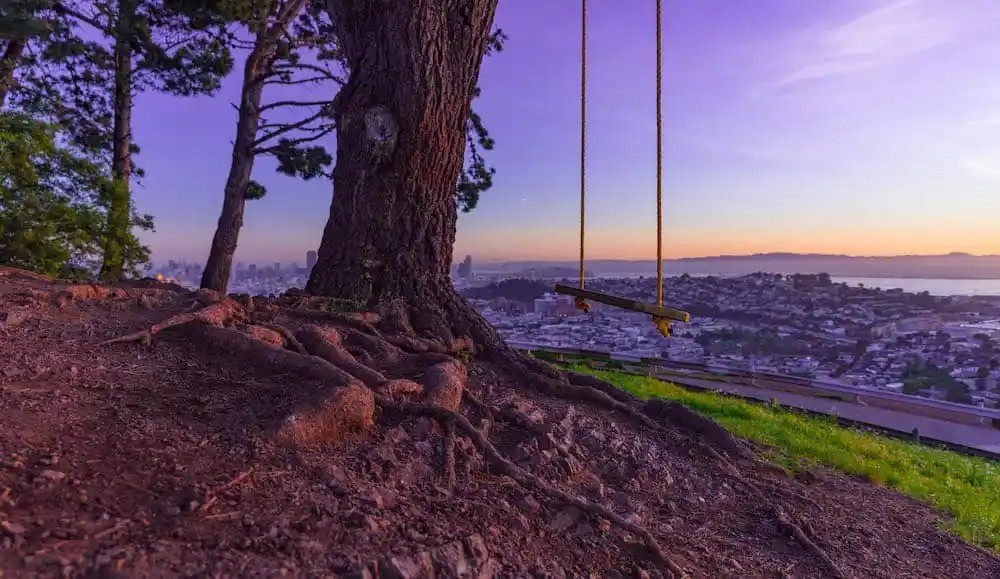 Bernal Heights Park: One of the many small parks all around San Francisco, Bernal Heights Park is the perfect spot for families and people who would rather see panoramic views of the city rather than be up close among the crowds in Fisherman's Wharf. The park features a playground, a community garden, a rock labyrinth (kind of a smaller version of the labyrinth at Land's End) and a 1-mile trail loop for a short hike. There is also a really cool, rope swing that is an amazing picture opportunity as well as the "Painted Rock", which is a rock that keeps getting painted with some interesting artwork. For the Independence Day Fireworks, there will be some crowds, but you will be treated to an amazing view that will allow you to see the San Francisco Fireworks show along with a few other, small shows around the Bay.
Bernal Heights Park
3400-3416 Folsom St.
San Francisco, CA 94110

Website
ACROSS THE BAY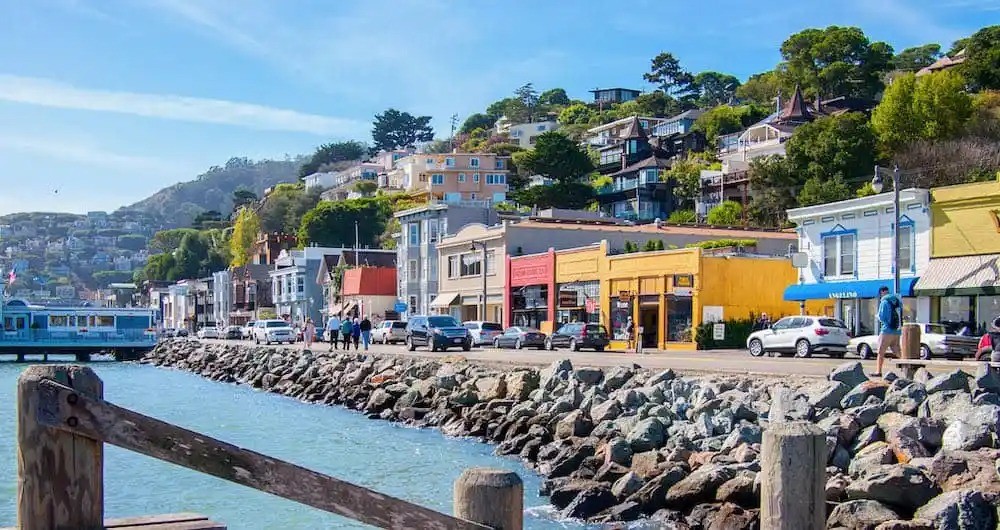 Sausalito: Sausalito is a fun, little town that is a great place to visit anytime. Filled with amazing restaurants, interesting shops, art galleries and boutique hotels, it is the perfect place to spend the day. While it is considered to be a great spot to see the San Francisco Fireworks show, you should expect lots of traffic getting there, even more traffic on your way home and big crowds of people from all over the Bay Area. However the reason for all of the crowds and traffic is because it is one of the best places in the San Francisco Bay Area to view the fireworks show. The best way to make your experience a great one is to plan ahead. It can be difficult to get an outside table at some of the waterfront restaurants, but if you are lucky enough to grab an outside table for the show, it will be an experience you will never forget.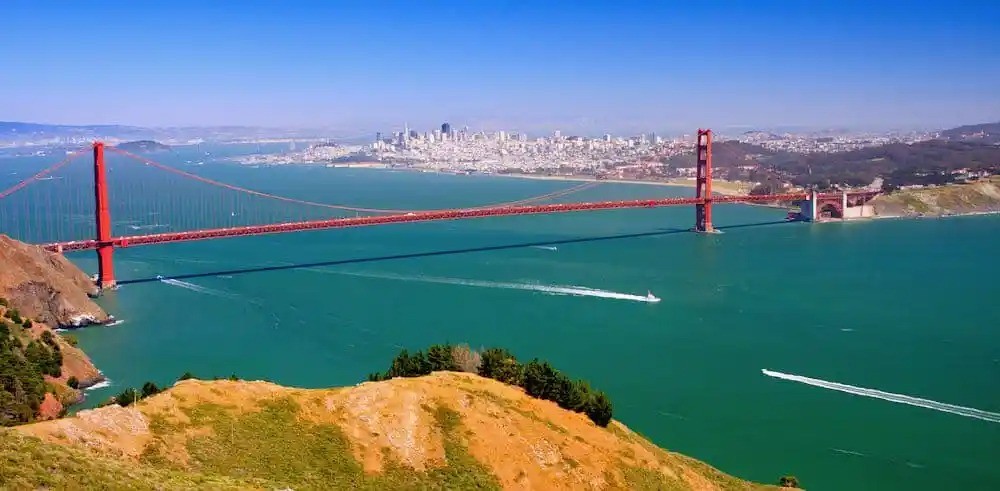 Marin Headlands: A popular place to enjoy the outdoors, The Marin Headlands offer an incredible view of San Francisco from behind the Golden Gate Bridge. This National Park offers a an easy place to get away from the busy cities and enjoy a bit of nature with a huge network of trails, a beach, and elevated sections that will give you 360 degree views of everything around you. You will be able to see the fireworks shows from a variety of viewpoints on the beach, the top of the headlands or from cool attractions like the Point Bonita Lighthouse. You won't have a hard time finding a good spot to see the show, but keep in mind that a place like this draws a lot of crowds and the curvy roads that will take you there will be crowded, so arriving early is important. You should plan getting there a few hours before the show to take in some of the sights and see the sunset. This is a place where you can take some incredible pictures of the painted skies at sundown as well as some amazing shots of the fireworks show behind the Golden Gate Bridge. Also, keep in mind that there aren't any food or drinks for sale, so you should pack some food and drinks along with some warm clothing for the cool breezes after sundown.
Marin Headlands
Sausalito, CA 94965

Website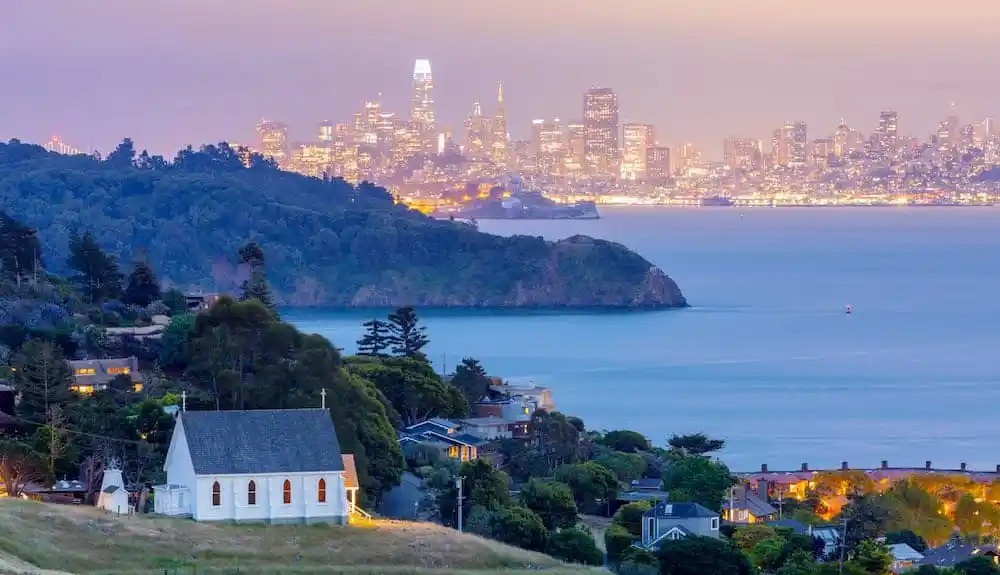 Tiburon: With views similar to what you will see in Sausalito, Tiburon is another place to get a wide view of the fireworks, the San Francisco Skyline and The Golden Gate Bridge. Most areas along the water will allow you to see the synchronized dual shows in San Francisco, but places like Point Tiburon (check out Shoreline Park) and Blackie's Pasture are some of the more popular options.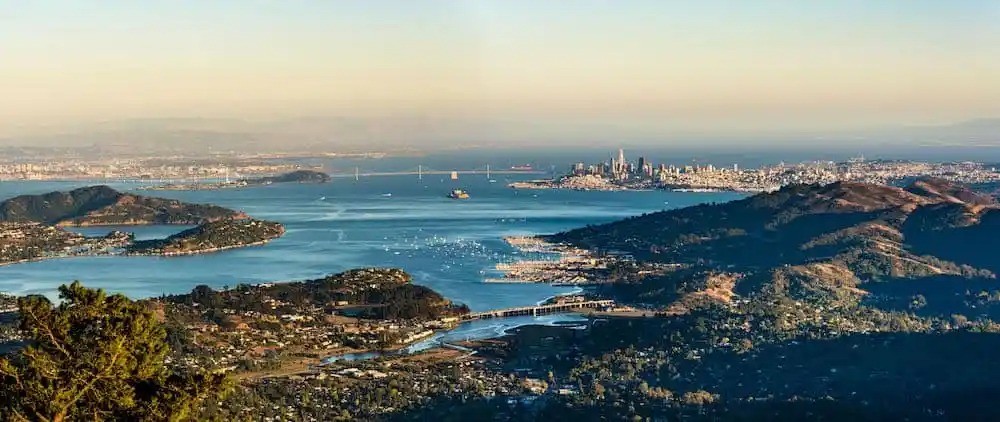 Mount Tamalpais: The highest point in Marin County, Mount Tamalpais (often shortened to Mt. Tam) is a popular place for hiking, mountain biking, horseback riding and even hang-gliding with sweeping views of the Bay Area. From the top of Mt Tam, you will be able to see a birds-eye view of the city of San Francisco, which will offer spectacular views of the San Francisco fireworks shows as well as some other fireworks in other parts of the Bay Area.
Indian Rock Park: Located in Berkeley, Indian Rock Park is a beautiful spot to enjoy the outdoors and take part in some amateur-level rock climbing. It's a great place to enjoy a picnic with family and friends and offers panoramic views of the Bay Area. You should be able to see a great view of the San Francisco Independence Day fireworks show as well as some other fireworks shows from other cities. This is a great place to escape the large crowds and enjoy the fireworks in a comfortable environment.
Indian Rock Park
950 Indian Rock Ave.
Berkeley, CA 94707

Website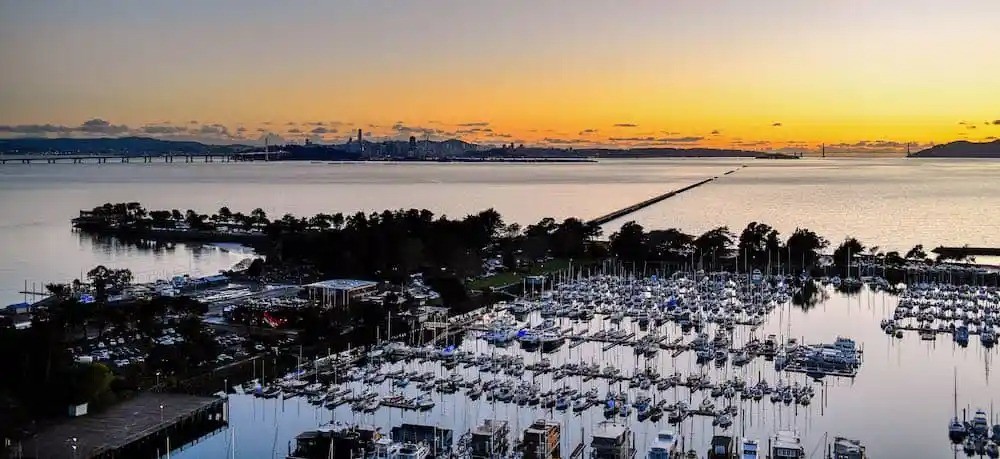 Berkeley Marina: If you are looking for a spot in the East Bay, then you can't go wrong with the Berkeley Marina. The location offers a great view of the show, but in previous years, there was also a fun festival with food stands, craft vendors, live entertainment and a kite show. Unfortunately, it looks like the 2021 festival is cancelled, but that doesn't mean you can't still head down to the Marina and enjoy the fireworks.
INDEPENDENCE DAY CRUISES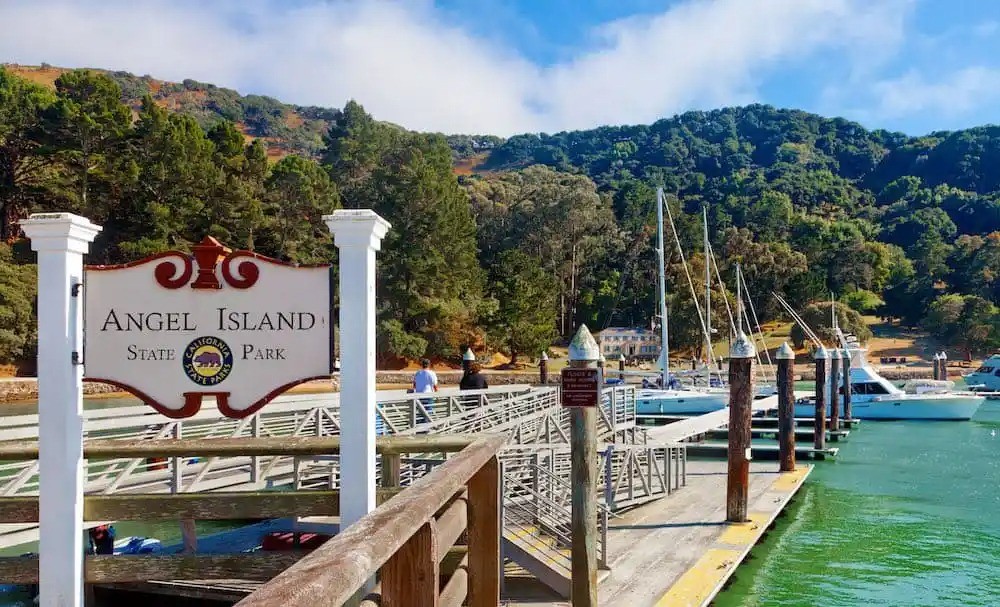 Angel Island: If you want a truly unique fireworks viewing experience, The Angel Island Cruise is the perfect option. Located in the San Francisco Bay, Angel Island is a large island, which was originally the site of a military installation. Now an official state park, it is open to the public for hiking, bird watching and camping, complete with incredible views of the San Francisco Skyline, Mount Tam, Marin County Headlands and more. The Angel Island Ferry offers a limited number of tickets for a special Fourth of July Viewing experience that includes a ferry ride to the island. The ferry departs at 8:30PM from Tiburon and will return shortly after the fireworks show is over.
Departure:
Tiburon Ferry Terminal
Tiburon, CA 94920

Boarding Time: 8:00PM
Departure Time: 8:30PM

TICKETS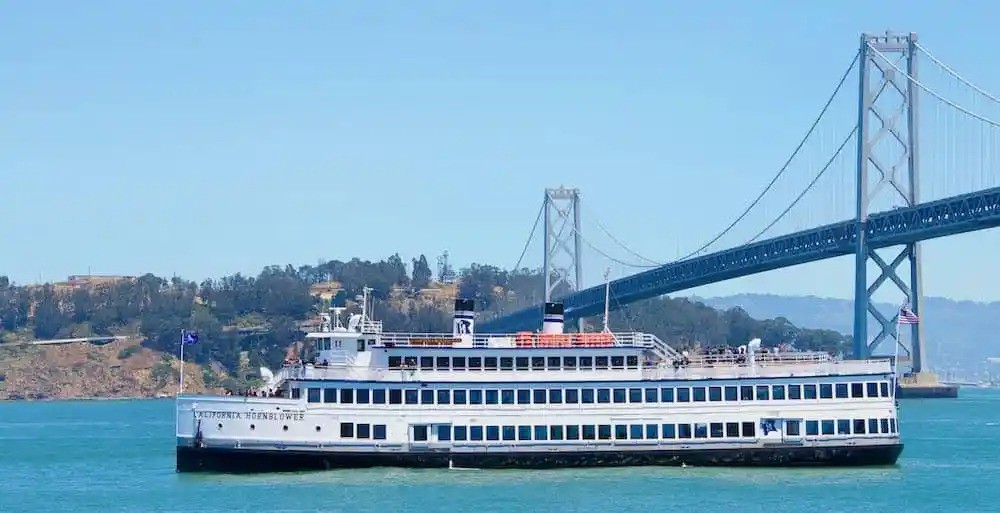 California Hornblower: If you are looking for a full experience complete with an evening cruise, delicious dinner, entertainment, cocktails and an awesome view of the fireworks show from the water, then the 4th of July Premier Plus Dinner Cruise is exactly what you need. This annual cruise offers a great way to celebrate the holiday and take in the fireworks from a unique perspective. This is an expensive option, with adult tickets costing over $200, but it is all-inclusive (except for alcoholic drinks) and you will surely have a night to remember. You can board the boat starting at 6:30PM and the cruise runs from 7PM to 11PM.
Departure:
Pier 3
San Francisco, CA 94105


Boarding Time: 6:30PM
Departure Time: 7:00PM

TICKETS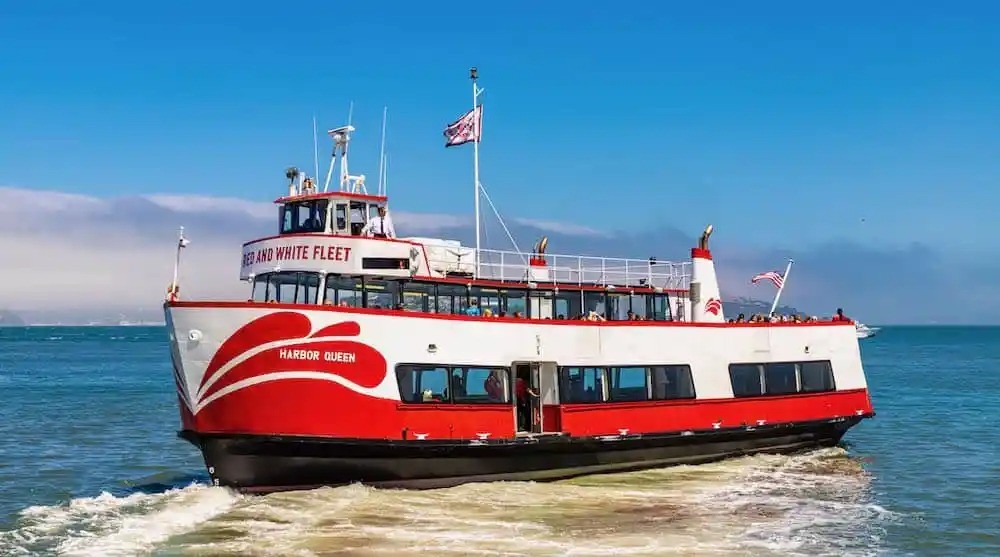 Red & White Fleet: If you want an evening cruise experience, but don't need a full dinner and entertainment on board, the Red & White Fleet offers a July 4 Fireworks Cruise that is a little more affordable than the Hornblower. The cruise will depart at 8:30PM from Pier 43 1/2 and will dock in the Bay for the show. Non-alcoholic drinks are included with the ticket, but alcoholic drinks are not. Ticket are $99 for Adults and $79 for Children up to 17 years of age.
Departure:
Pier 43 1/2
Fisherman's Wharf
San Francisco, CA 94133

Boarding Time: 8:00PM
Departure Time: 8:30PM


TOP FOURTH OF JULY EVENTS IN SAN FRANCISCO
San Francisco Fourth of July Pub Crawl
If you are looking for the best pre-party in San Francisco before the San Francisco Fireworks Show, then it doesn't get any better than the CrawlSF Fourth of July Pub Crawl. This two-day event will feature amazing Independence Day drink specials at some fun bars along Polk Street.
Saturday, July 1: 4PM to 10PM
Tuesday, July 4: 4PM to 10PM
USS Hornet Fourth of July Party: Another WWII ship in the San Francisco Bay Area, The USS Hornet is an Aircraft Carrier that is docked in Alameda. With a long and interesting history from WWII to the Vietnam War to helping with the recovery of Apollo 11 and Apollo 12 astronauts after returning from the moon, The USS Hornet is definitely worth a visit. It as been docked since it was decommissioned in the 1970s and opened to the public as a museum in 1998. The Fourth of July Event will take place from 10AM to 6PM and will feature music by DJ Tanoa Stewart, a selection of food like Oakland Smokehouse BBQ, beer, wine, cocktails and a chance to explore the aircraft carrier and the museum exhibits.
BEST FIREWORKS SHOWS IN THE SAN FRANCISCO BAY AREA
Pier 39 Fourth Of July Waterfront Celebration: Fireworks are set to begin at 9:30PM at Pier 39 (Beach Street at The Embarcadero).
Pier 39
The Embarcadero
San Francisco, CA 94133
Details: http://www.pier39.com/
If you are looking for something to do before the big show, check out the Fourth of July Pub Crawl & Hot Dog Eating Contest HERE.
Marin County Fair: Fireworks will be the perfect end to the night after enjoying the Marin County Fair. Expect great food, drinks, music, rides and more! Fairgrounds are located on Civic Center Drive (off of Highway 101) in San Rafael.
Marin County Fair & Exposition
10 Ave of the Flags
San Rafael, CA 94903
Fireworks at California's Great America: Experience California's Great America during the daytime and then watch the fireworks show at dusk.
Details: http://www.cagreatamerica.com/play/events/fourth-of-july-celebration
California's Great America
4701 Great America Pkwy
Santa Clara, CA 95054
Berkeley Marina: The Berkeley Marina is fun for the whole family with amazing food trucks, vendor booths, dragon boat racing, pony rides, giant slides and more. The fireworks will be launched at the end of the Berkeley Pier.
Alameda County Fair: This fair will provide plenty of entertainment and July 4th is the Annual Blues Festival as well so you will have plenty to do and see before the fireworks go off around 9:30PM.
Alameda County Fairgrounds
4501 Pleasanton Ave
Pleasanton, CA 94566
San Francisco Symphony Fourth of July Celebration: Enjoy the beautiful Mountain View weather as the SF Symphony plays some patriotic songs, narrations and marches before the fireworks finale.
Shoreline Amphitheatre
1 Amphitheatre Pkwy
Mountain View, CA 94043