San Francisco Cuatro de Mayo Bar Crawl on Polk Street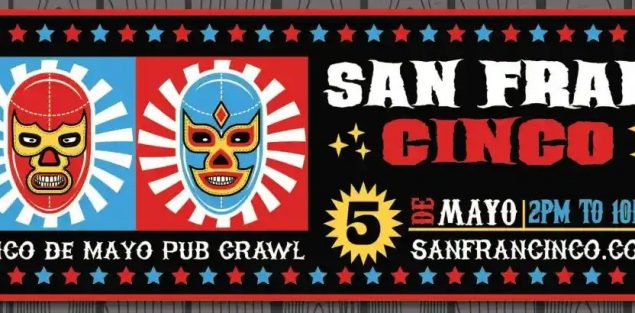 Make it a weekend celebration of Cinco De Mayo 2019, with the Cuatro De Mayo Pub Crawl on Saturday, May 4 and the Cinco De Mayo Pub Crawl on Sunday, May 5!
Join the best pub crawls in San Francisco as the CrawlSF team brings you the SanFranCinco Cinco De Mayo Pub Crawls on Polk Street. The crawl will take place at over 10 bars along Polk Street from 2PM to 8PM each day. All of the bars will feature cheap drink specials on beers, cocktails and shots.
Check in will go from 2PM to 6PM each day at Mayes Oyster house, where you can pick up your event wristbands and pub crawl maps. Get ready for some debaucherous day drinking and dancing with thousands of your newest friends.
THE BARS
Mayes Oyster House
1233 Polk Street San Francisco, CA 94109 www.mayessf.com
McTeagues
1237 Polk Street
San Francisco, CA 94109
www.mcteaguessaloon.com
Route 101
1332 Van Ness Ave.
San Francisco, CA 94109
Lush Lounge
1221 Polk Street
San Francisco, CA 94109
www.lushloungesf.com
Rusted Mule
1217 Sutter Street
San Francisco, CA 94109
www.rustedmule.com
Jackalope
1092 Post St.
San Francisco, CA 94109
www.jackalopesf.com
Vertigo
1160 Polk Street
San Francisco, CA 94109
R Bar
1176 Sutter Street
San Francisco, CA 94109
www.rbarsf.com
El Lopo
1327 Polk Street
San Francisco, CA 94109
www.elloposf.com
Playland
1351 Polk Street
San Francisco, CA 94109
www.playlandbar.com
Soda Popinski
1548 California Street
San Francisco, CA 94109
www.sodapopinskisf.com
Wreck Room
1390 California Street
San Francisco, CA 94109
thewreckroomsf.com
Grab your tickets for the Polk Street Cuatro de Mayo Bar Crawl HERE
Grab your tickets for the Polk Street Cinco de Mayo Pub Crawl HERE