Weird and Funny Things you Need for Independence Day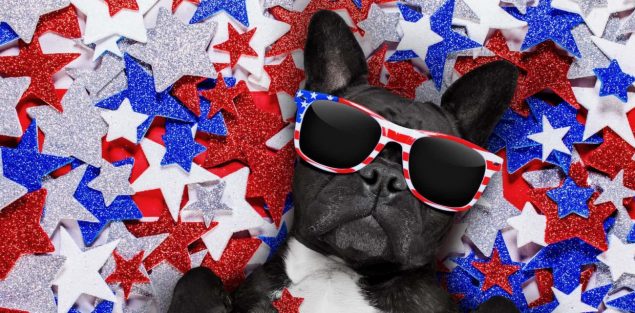 Let's face it. It's been a tough couple of years. While we are not completely out of the woods yet, I think we can all agree that we can finally see the light at the end of the tunnel. The city is visibly more active as bars, restaurants, gyms, nightclubs and more begin to open at full capacity. After a long period where holiday celebrations were noticeably more subdued, if even celebrated at all, it seems like we all deserve to get out of the house to drink, dine, dance, party and enjoy our lives to the fullest. The first major Holiday since restrictions were lifted in most cities, you can feel the excitement brewing as people are getting ready to lose their inhibitions and turn things up on the Fourth of July.
Whether you are going to a backyard BBQ, getting excited for the fireworks show, heading to Polk Street for the San Francisco Fourth of July Pub Crawl or getting ready for one of the many Independence Day Events in San Francisco, take things up a not notch with some sweet costumes or accessories this year. Check out some cool stuff you can order just in time for the weekend.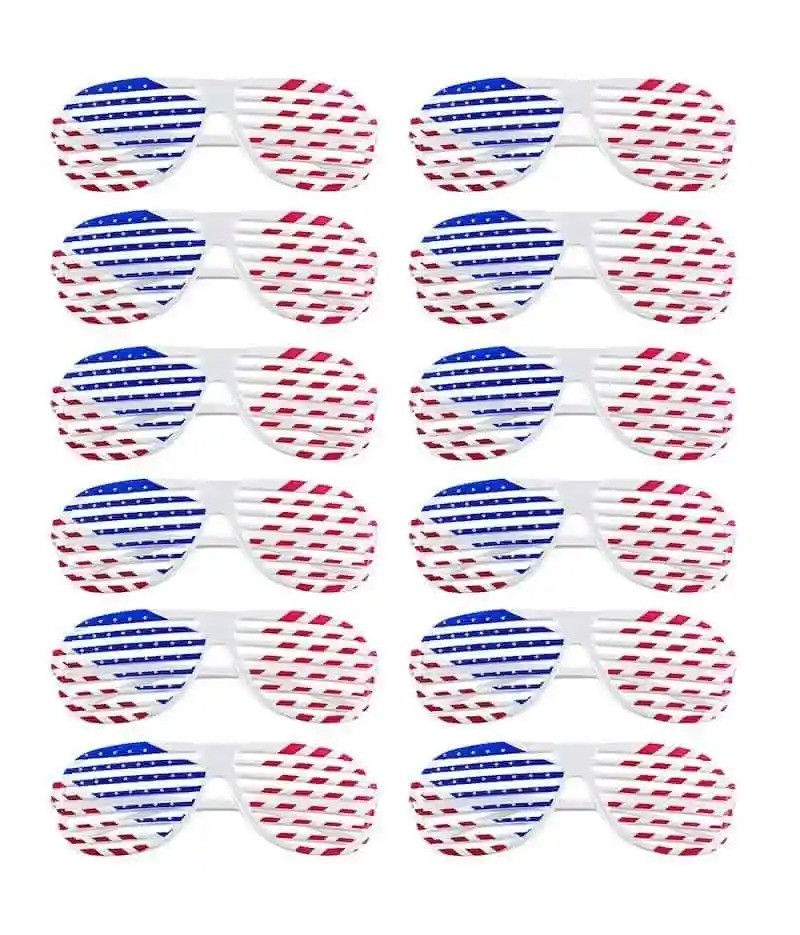 Patriotic Shutter Shades
An easy way to add a bit of flair to your outfit before heading to Fourth of July Events. These Red, White and Blue Shades don't have dark lenses (actually, they don't have any lenses at all), so you can sport these babies all day and night. Pick up a combo pack and get some for your whole crew.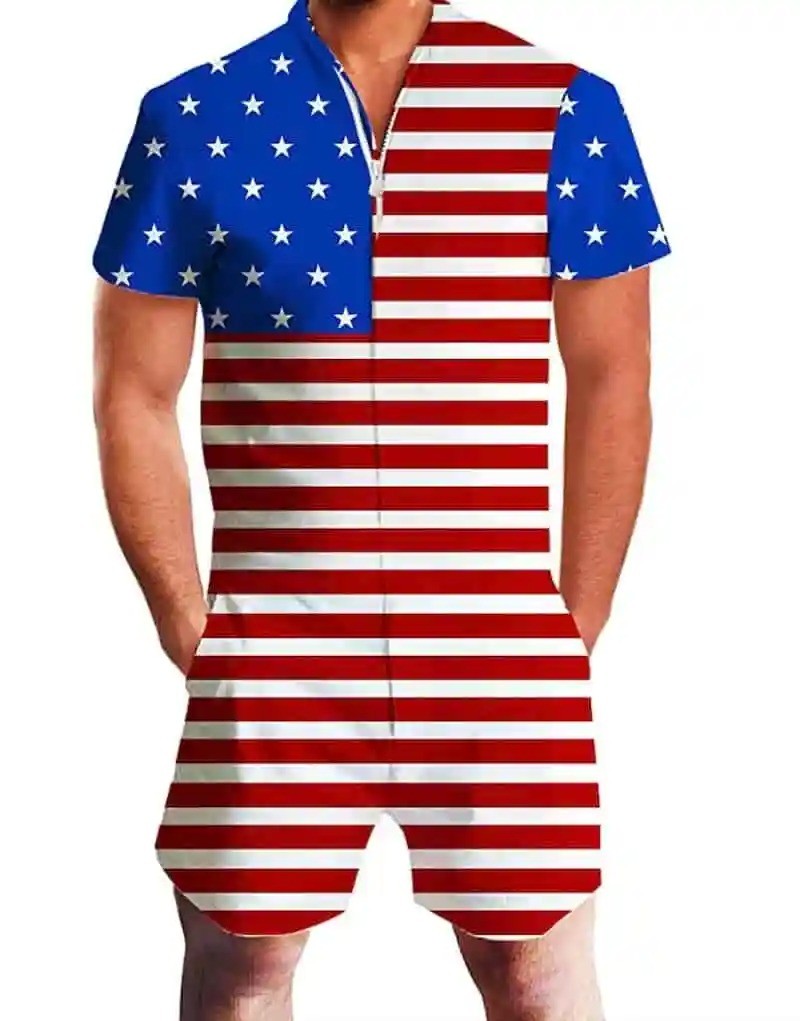 Men's American Flag Romper
If you are a guy that likes to make an impression when you show up casually late to your upcoming Independence Day party, then this will definitely get the job done. Wearing a romper to any occasion will surely get the party going, but if you strap on this sweet, American Flag inspired romper on the Fourth of July, there's no telling what might happen.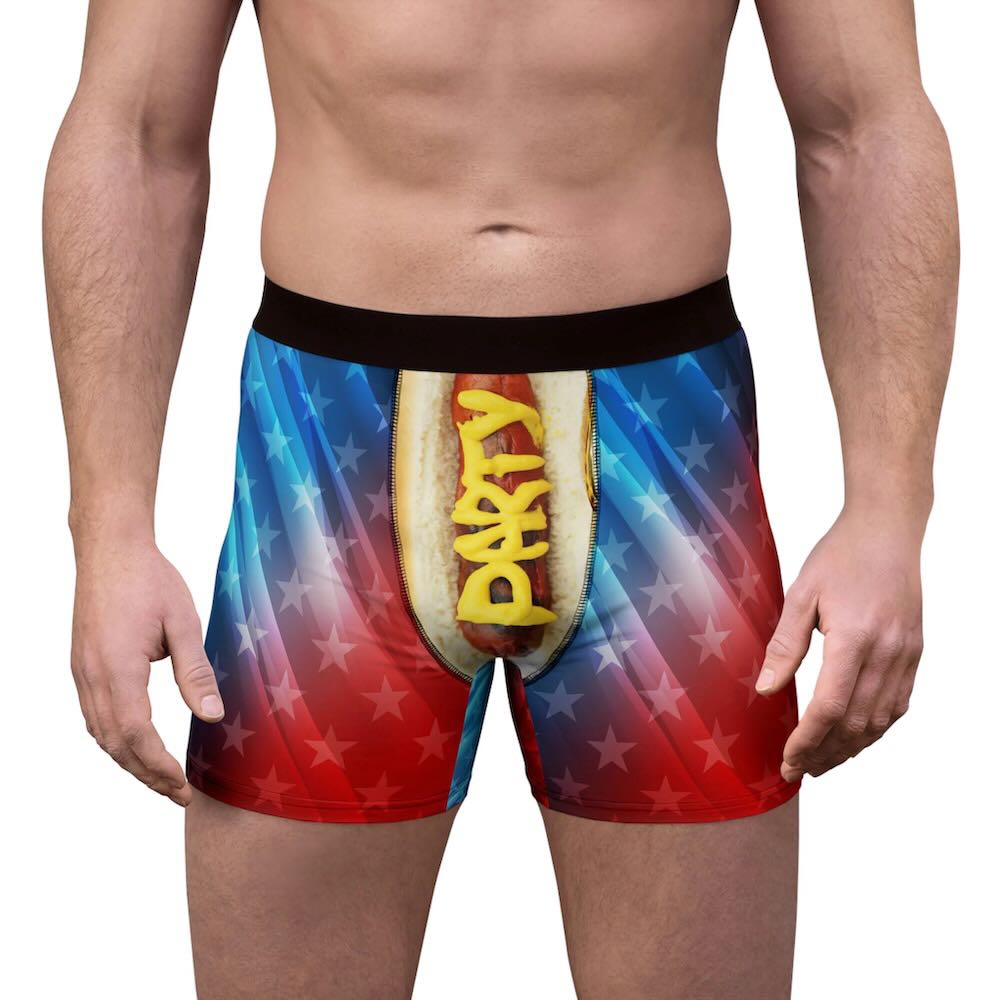 Fourth of July Hot Dog Boxers
What can you say about these sweet boxer briefs? I mean, look at the location of the hot dog print. Will these be discussed for years to come at design classes all over the world? Probably. Will wearing these under a pair of shorts or pants be awesome? Most likely. Will wearing these with just a pair of sandals and a tank top while drinking a 16oz. PBR make you a legend? I think you already know the answer to that.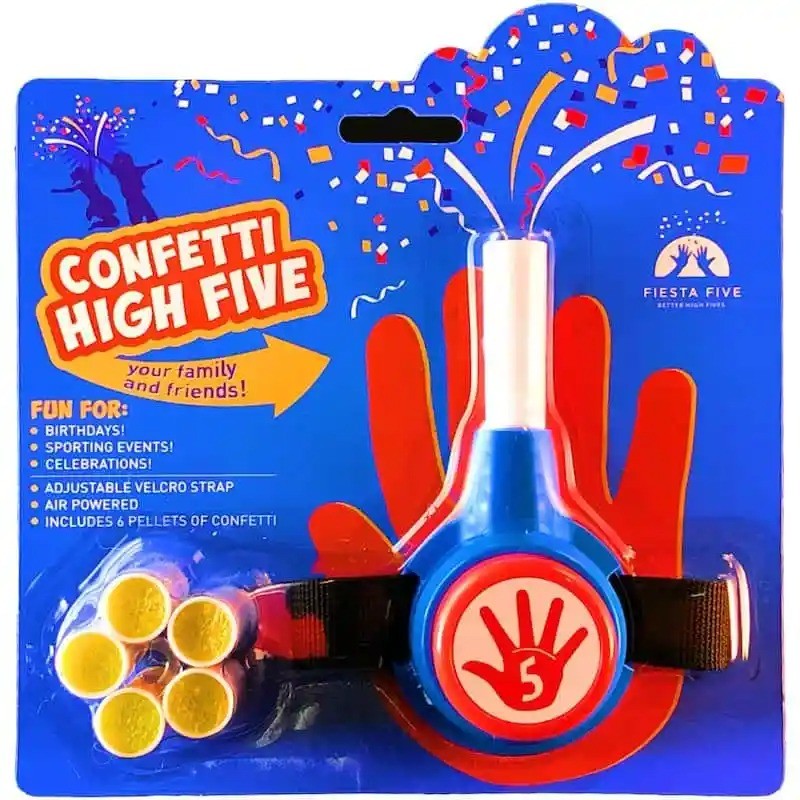 Confetti High Five Shooter
Do you like to High Five everyone you see? Are you that guy? While regular high fives can be fun, why not take it up a notch with the High Five Confetti Shooter. That's right, each high five will include a burst of confetti that will bring smiles to everyone around you. If you go to a house party, then the hosts may not be happy about cleaning up little pieces of confetti the next day, but, you know…YOLO.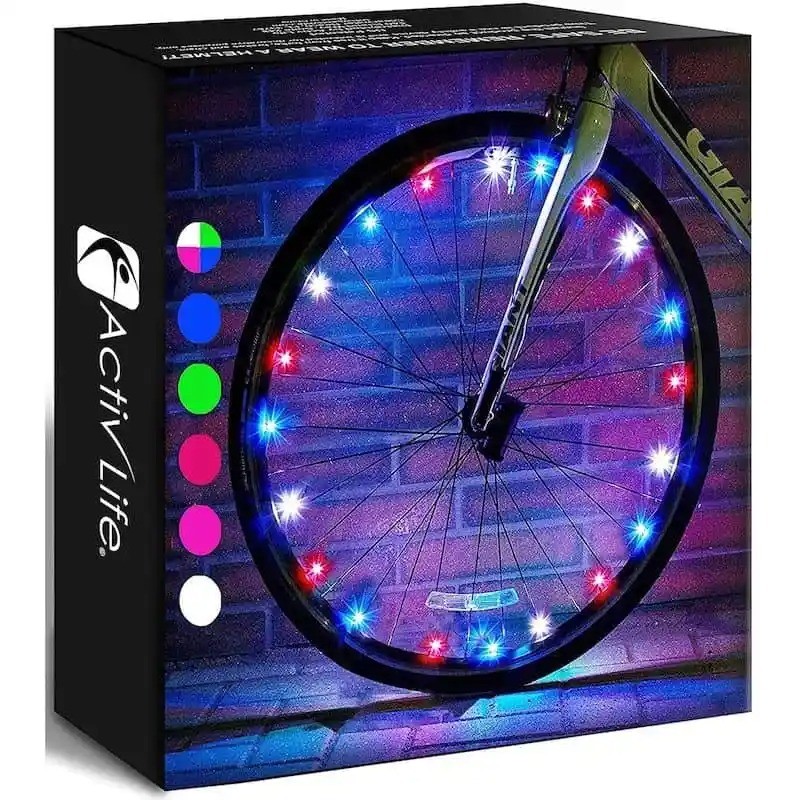 Fourth of July Bike Wheel Lights
If you are an active person, but still want to spread some Independence Day cheer, then why not deck out your bike with some festive flair. These red, white and blue lights easily attach to your bike wheels and look hella sweet. Cruise the city with these babies and no one will question your patriotism.
If you are planning on doing a lot of bike riding on the holiday, don't forget to pick up some Cycle Booty. Trust us, this after-ride cream will change your life.
CLICK HERE TO EXPERIENCE CYCLE BOOTY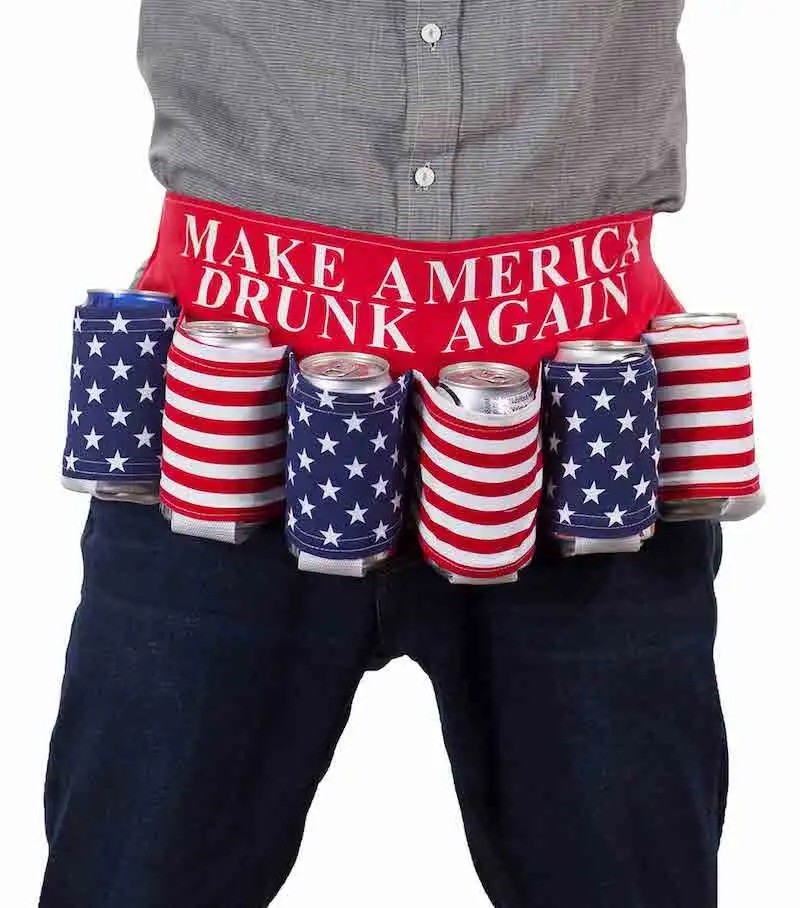 American Flag Beer Holder Belt
If you are heading to a house party, backyard BBQ or anywhere outside, don't make the mistake of not having a way to hold your beers. Sure, you could bring along a cooler or drop a sixer in your backpack, but with this amazing patriotic beer holder, your brewskis will always be within reach. It's the perfect balance of form and function and will make everyone around you happier.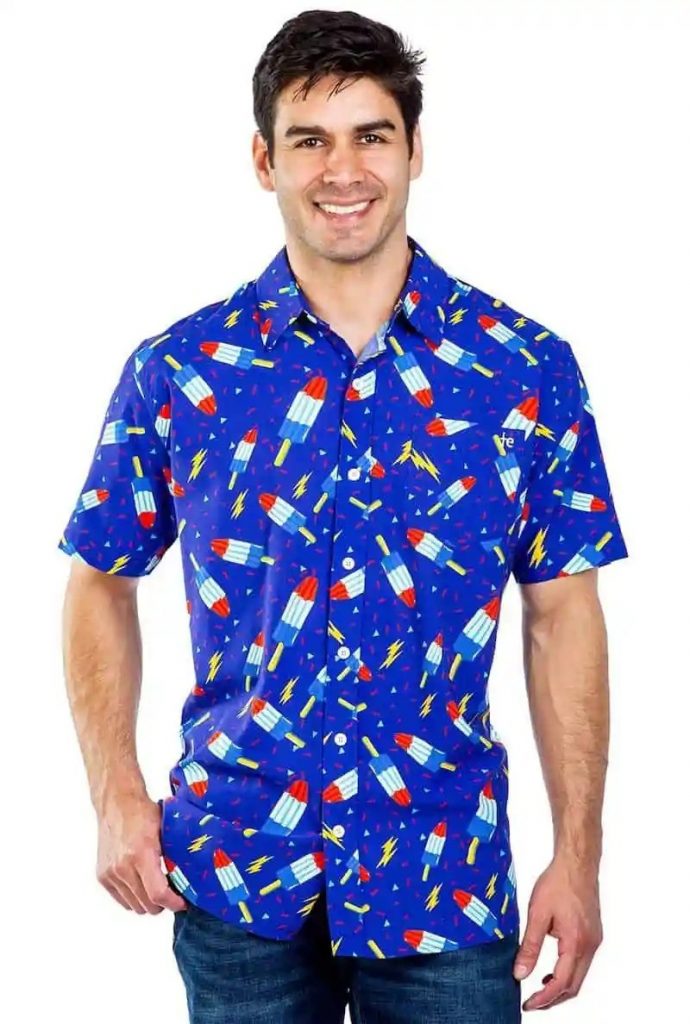 Tipsy Elves Fourth of July Shirt
There are a lot of options for things to wear to a Fourth of July Celebration like funny t-shirts, weird costumes and more, but if you want to wear a nice, quality shirt as well as let everyone know that you like to party, then this is the choice. Produced by Tipsy Elves (they don't only make the best Ugly Holiday Sweaters), you can expect a high quality shirt that will never go out of style.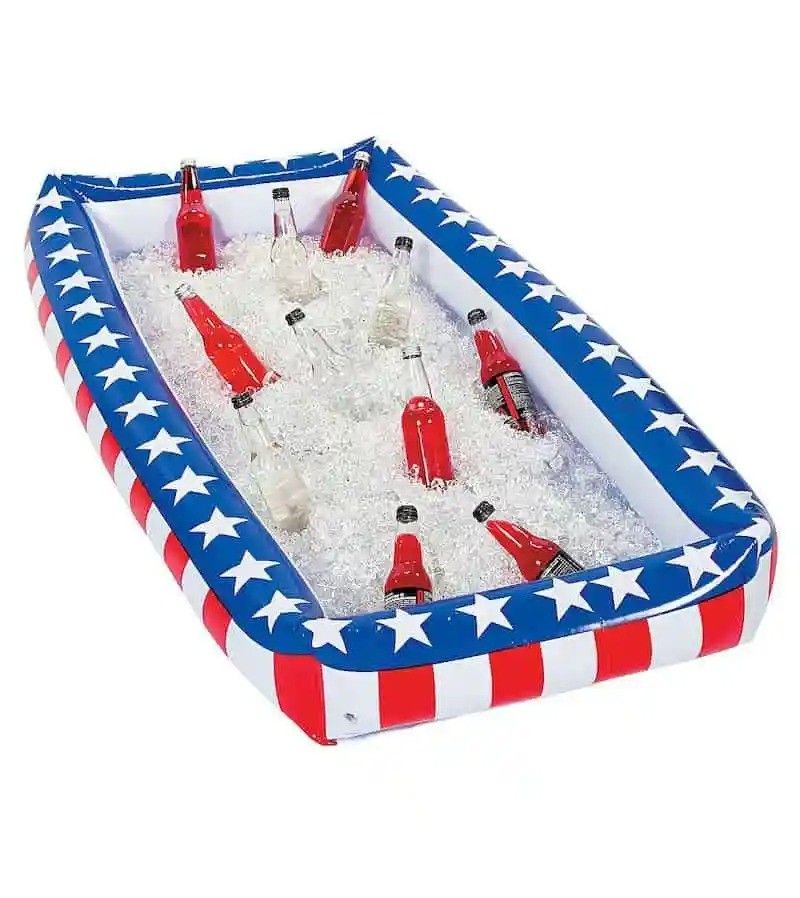 Inflatable Patriotic Bar
Do you need a way keep a massive amount of beers and white claws cold, while not taking away from the aesthetic value of your awesome Independence Day Decorations? Ditch those leaky, styrofoam coolers and upgrade to this sweet, inflatable, raft, cooler thing with a red, white and blue American Flag design. Put it on a table, float it in a pool or lay it on the grass. The possibilities are endless!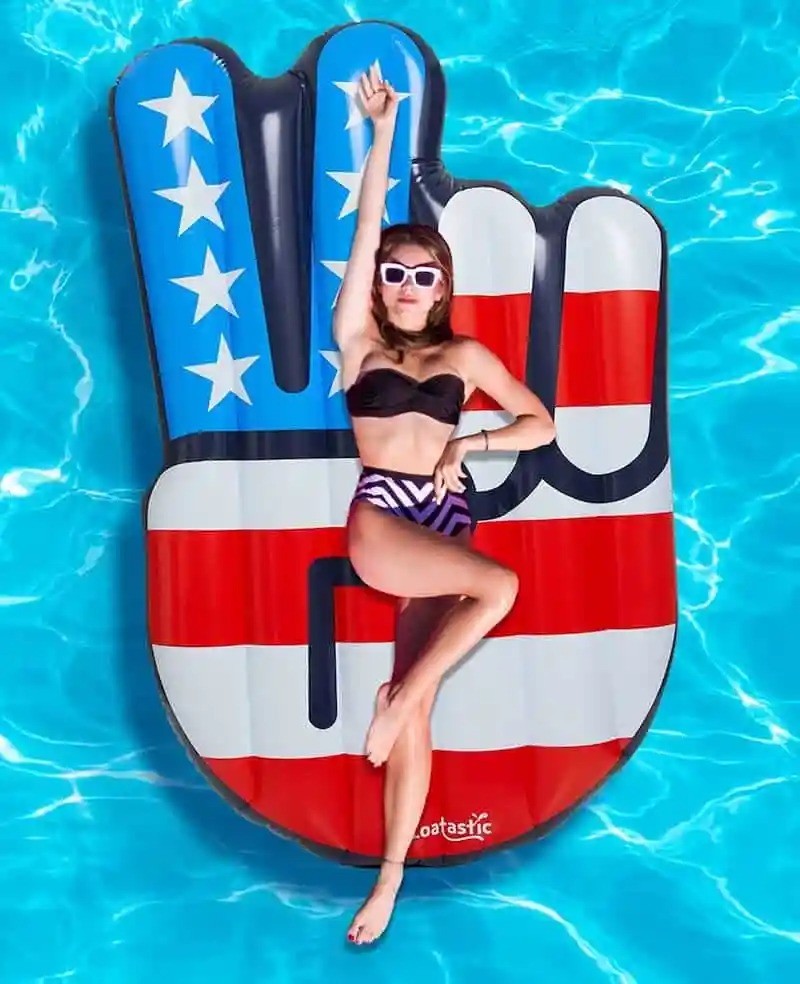 Fourth of July Pool Float
If you are celebrating anywhere other than the City of San Francisco or Anchorage, then the Fourth of July will most likely offer warm weather that is perfect for swimming in pools, lakes, the ocean and more. If you are luck enough to be attending an event that includes swimming options, then bring along this super cool raft and show everyone how awesome you are.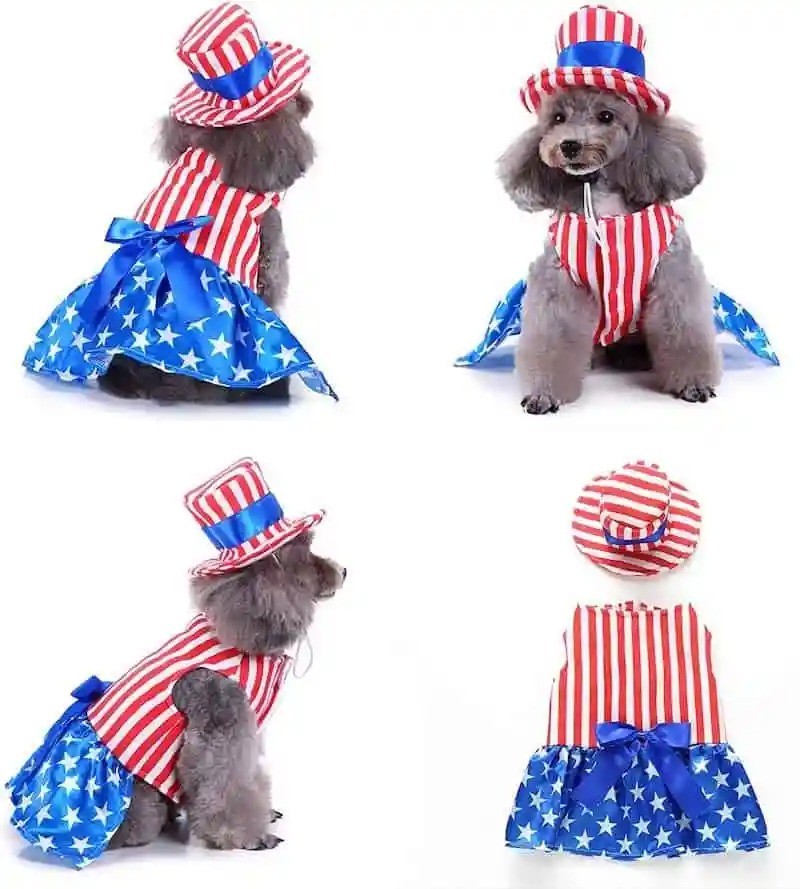 American Flag Dog Costume
It is common knowledge that dogs love the Fourth of July. Just kidding, dogs stress out all year about the Fourth of July Fireworks shows. The only way to make it better for them is to dress them in a silly costume and take lots of videos for Tik Tok and Instagram. Ok, in all honesty, the majority of dogs hate costumes as well. Regardless, these Independence Day dog costumes are really funny. If you do subject your dog to this humiliation, then make it up to them by giving them a run at the Fourth of July Buffet when the humans are done.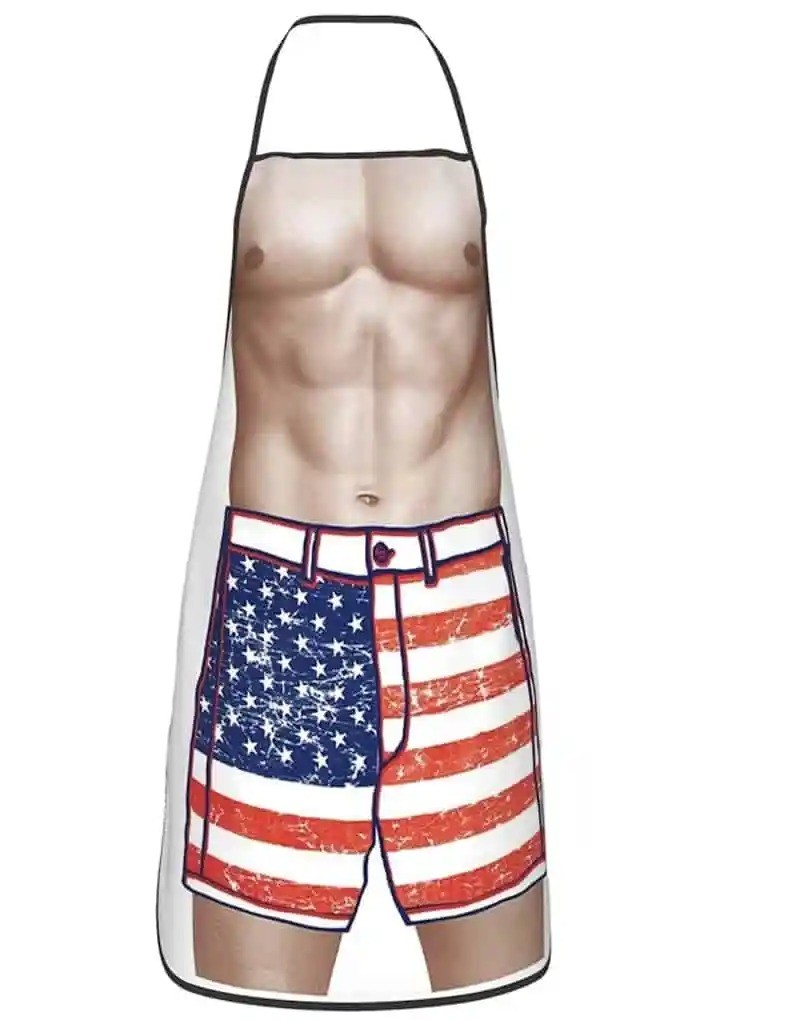 Patriotic Apron
Are you the grillmaster for your upcoming Fourth of July BBQ? It can get pretty serious making sure those burgers and hot dogs are done to perfection, so why not lighten the mood by wearing a super funny apron? Grab some patriotic paper plates, red plastic cups and some sweet red, white and blue table cloths to complete the theme.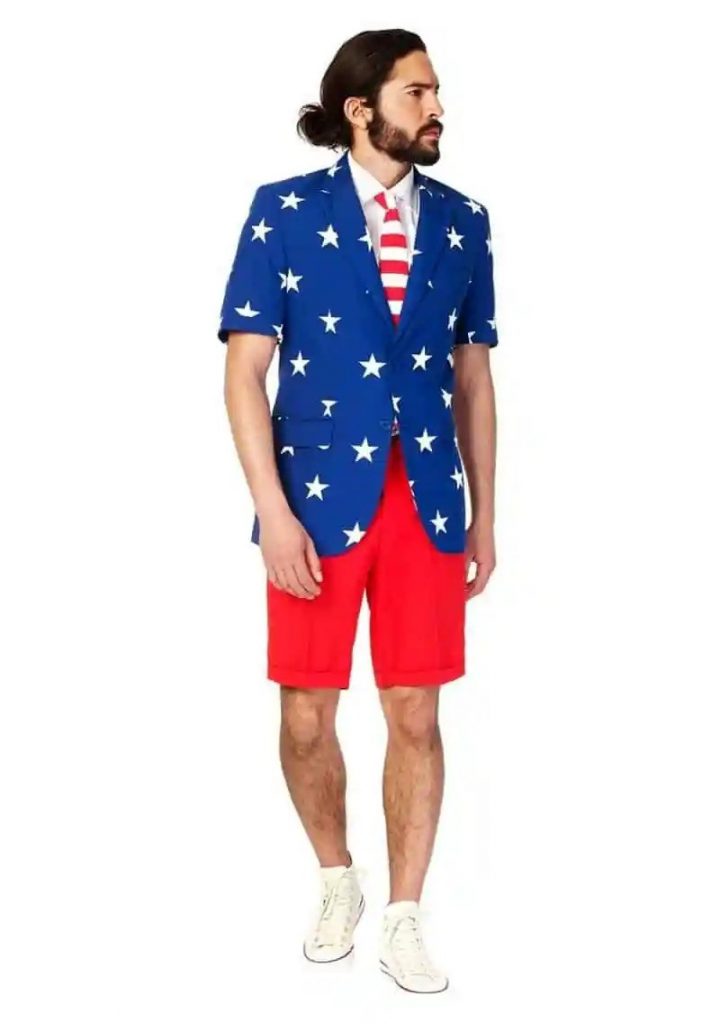 Fourth of July Short Suit
The best way to say "I'm kind of sophisticated, but I still like to party", this killer American Flag-inspired suit will instantly make you the life of the party. The set includes shorts, jacket and a tie, so you just need to choose a button down shirt and slip on some matching shoes (socks optional) and you are good to go. The perfect outfit to stand out at the Fourth of July San Francisco Pub Crawl.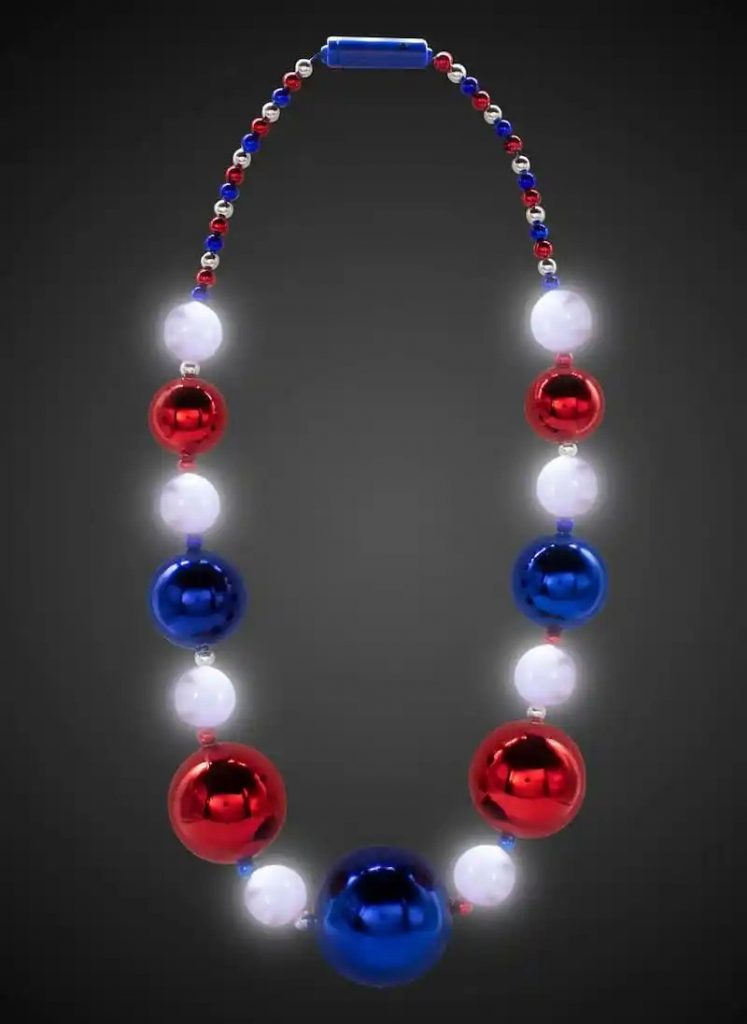 Jumbo Light Up Beads
Wearing some red, white and blue beads around your neck is a simple way to accessorize for the Fourth of July Holiday. However, if you want an easy way to show your patriotism, but want to make sure you stand out from the crowd, then these 41" beads will do the trick. Simply throw them around your neck, turn on the LED Lights and you are set for day and night.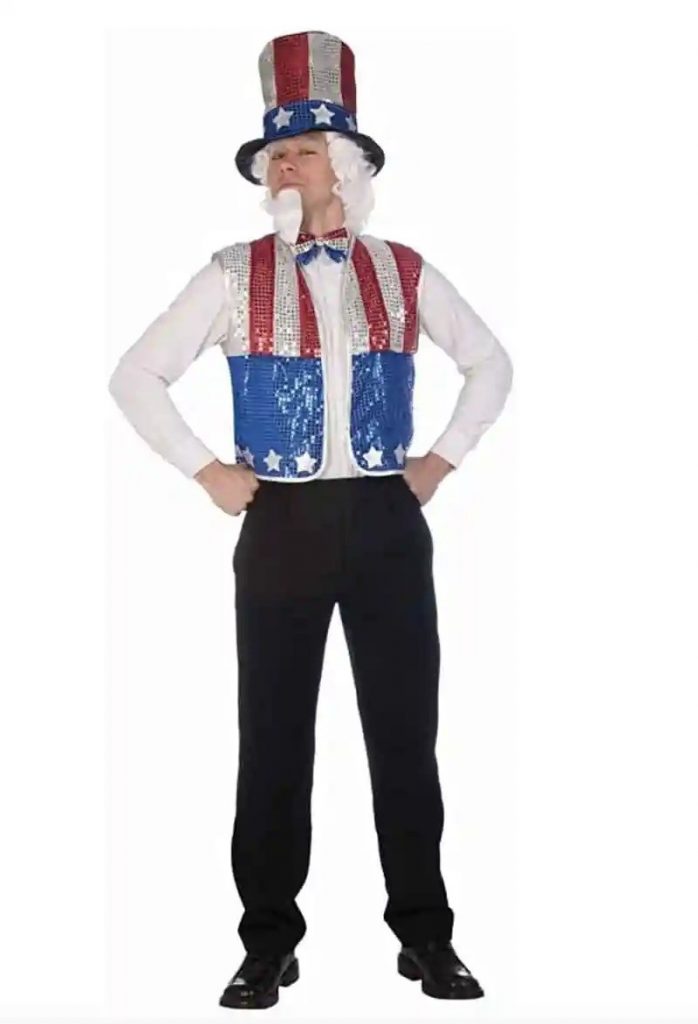 Uncle Sam Costume Kit
If you want to wear a ridiculous costume to liven up your Fourth of July Event, but are on a budget, then this Uncle Sam costume kit is for you. The accessories fit over any outfit to instantly upgrade your Independence Day street cred.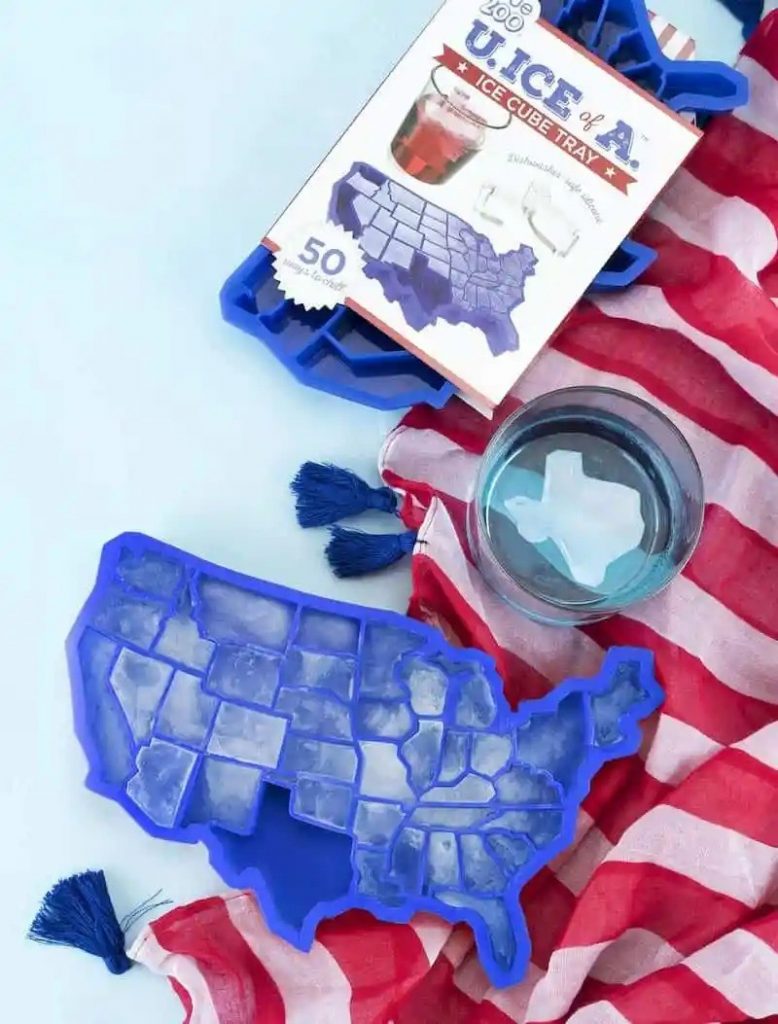 United States Ice Cube Tray
If you are having some people over to your house for the Fourth of July, tantalize your guests with this ice cube tray that will pump out an ice cube shaped like 38 of the 50 states. There really isn't a better "ice breaker" to get the party started. Get it?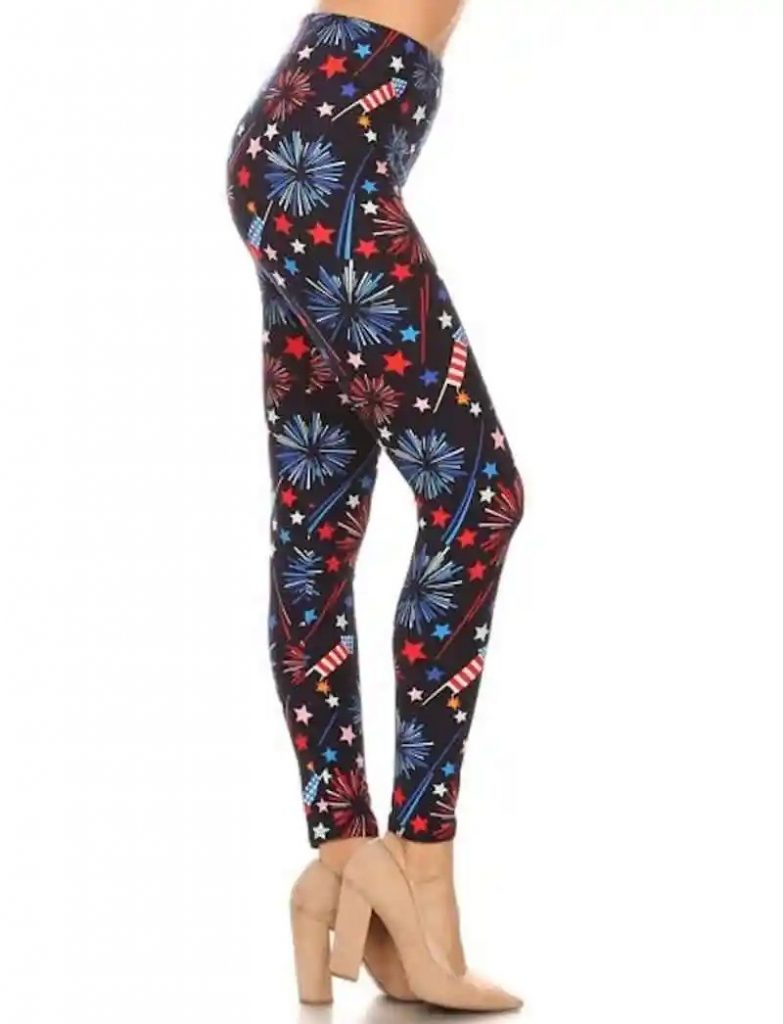 Fourth of July Fireworks Leggings
If you are a girl (or identify as a girl) or if you are a guy that likes to wear women's leggings, then you will love these festive Fourth of July themed leggings. These sweet bottoms are made of 92% polyester and 8% spandex (they will fit like a glove) and feature a nice assortment of fireworks images on a black background.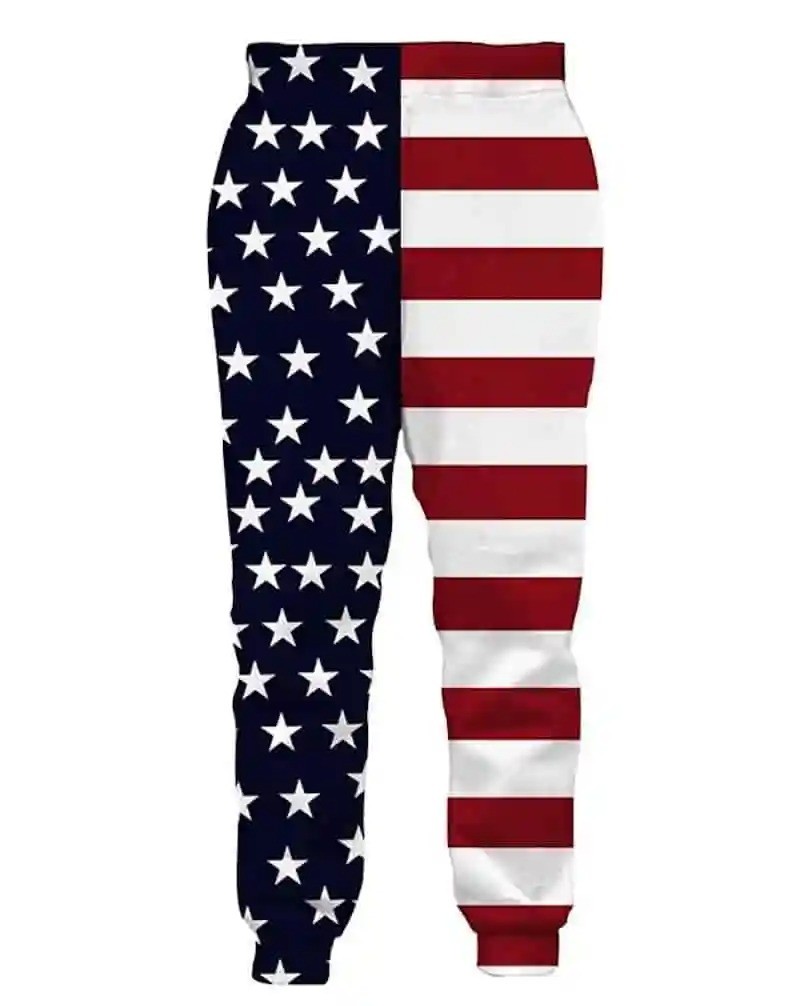 American Flag Pants
Bow to your Sensei! These baller pants look a lot like the Rex Kwon Do pants from Napoleon Dynamite, so not only are they great for Independence Day, but they are also the perfect pants to wear any day of the year when you want to kick some ass.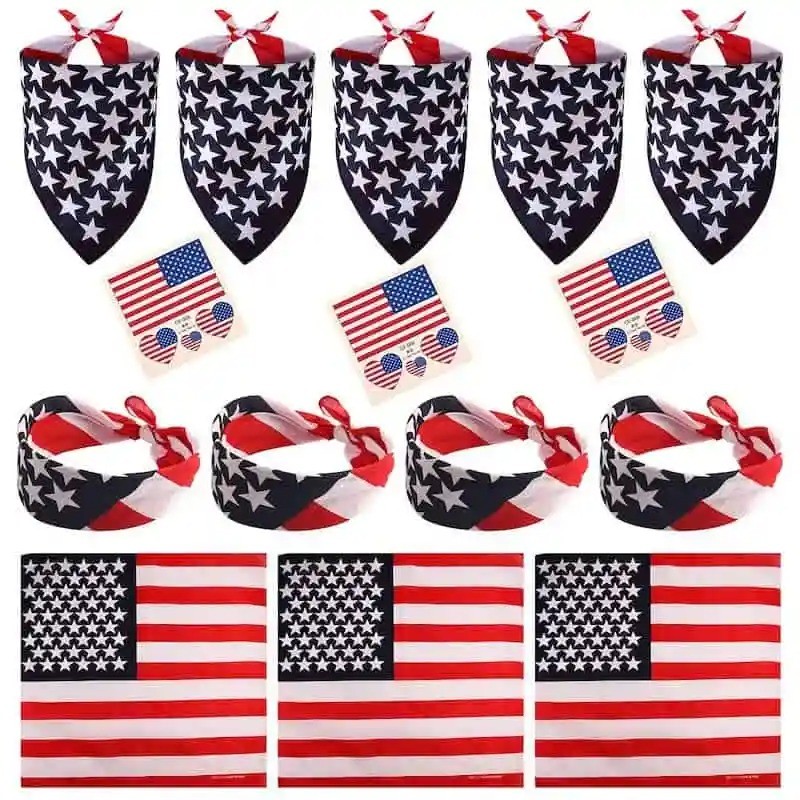 American Flag Bandanas
Another easy accessory for people who don't really like costumes, these bandanas can be worn in a variety of ways to add some red, white and blue flair to your outfit.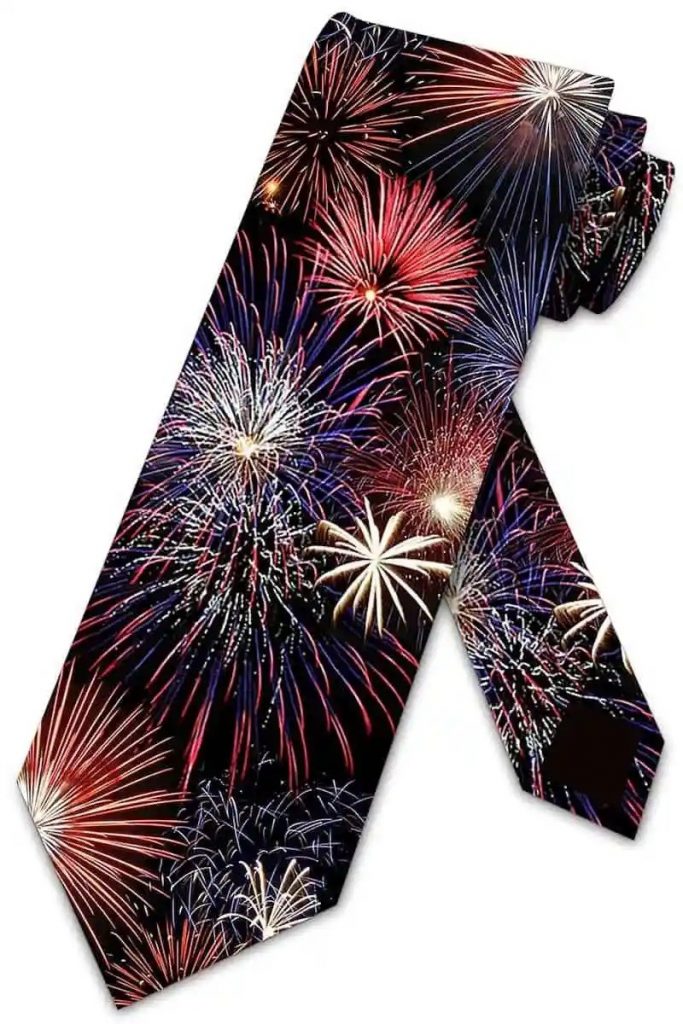 Fireworks Tie
If you love suits as much as Barney Stinson from "How I met Your Mother", but still want to add a little Fourth of July accent to your outfit, this fireworks tie will do the job. Though perfectly acceptable for Independence Day, this tie should not be worn any other time during the year.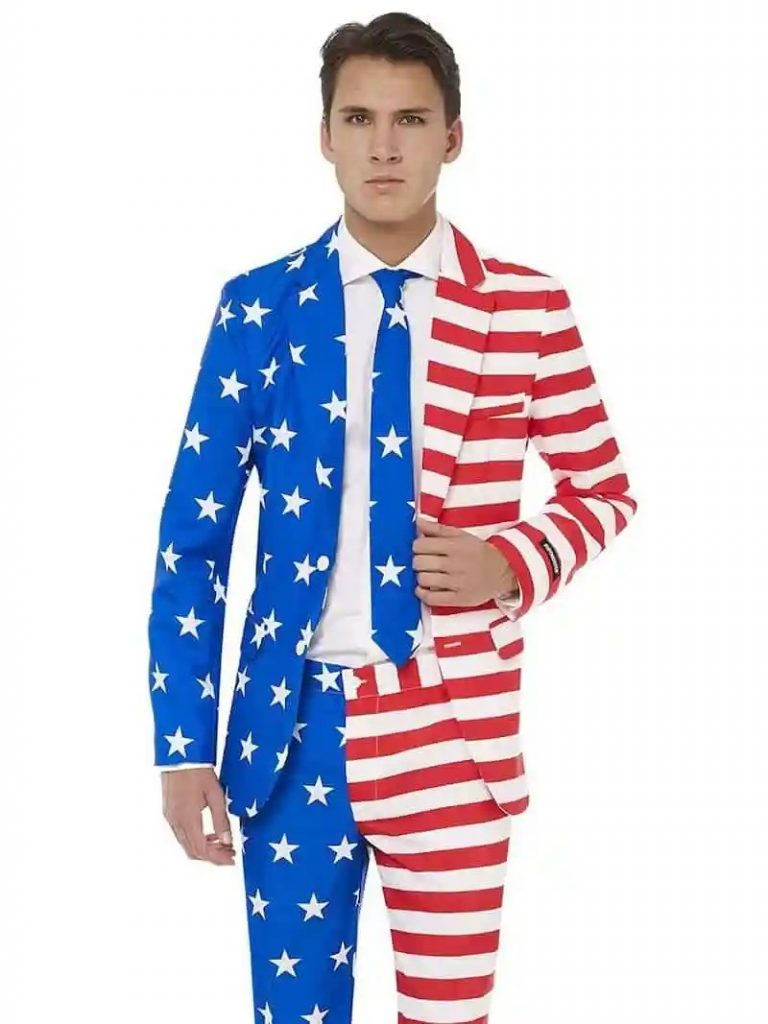 Fourth of July Flag Suit
This is a suit with an American Flag design. According to several sources on the dark web, it may also give you super powers, but assuming that this is actually fake news, it will still make you stand out at any Fourth of July event in the city.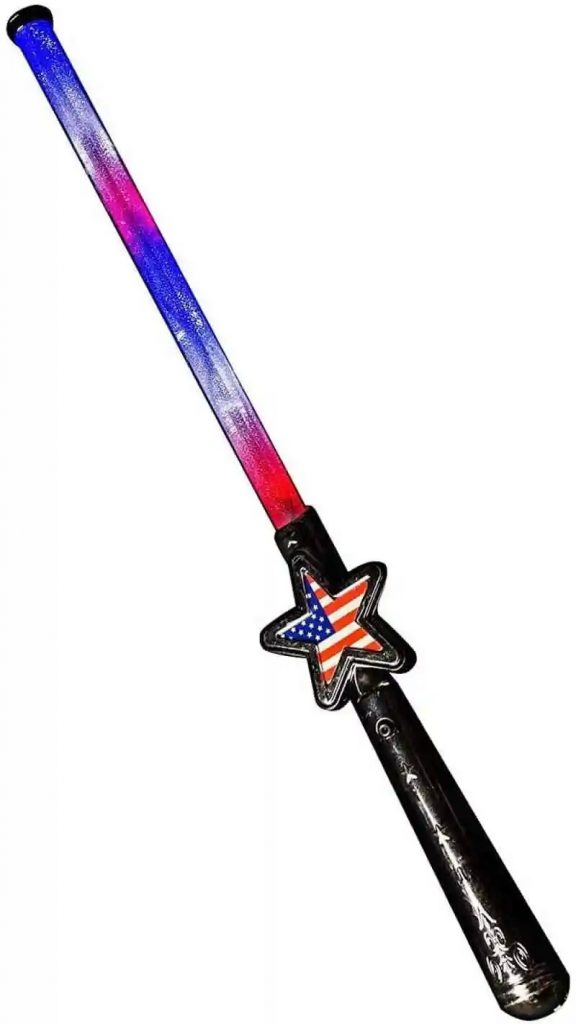 Fourth of July Star Wand
Do you need this light-up, red, white and blue wand with a star on it? Of course not. However, it will easily provide minutes of fun, especially at events with heavy drinking, until it ends up in the back of your storage unit with the other novelty items you purchased over the years, never to be seen again.