Fourth of July Pub Crawl Photos – 2023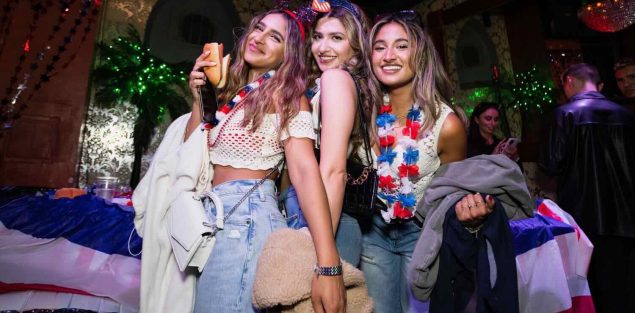 The Fourth of July Pub Crawl in San Francisco
San Francisco's annual Fourth of July Pub Crawl took the city by storm this past weekend. Over 500 participants joined in the daytime event, crawling to ten amazing bars, each offering a variety of holiday-themed drink specials. This year's event wasn't just about the clinking of glasses and toasting to freedom; it was a wild celebration of all things American complete with drinking, dancing and lots of contests before the fireworks show in the evening.
The festivities weren't limited to bar-hopping and throwing back drinks, though. Attendees enjoyed a hot dog eating contest and a pie-eating contest, which have become a quintessential Fourth of July tradition at the event. The CrawlSF Find the Gnome contest, added a dash of mystery and adventure to the day, as participants scoured the premises for hidden gnomes in a playful twist on the classic scavenger hunt.
Adding to the holiday atmosphere were the pulsating beats from various DJs that echoed through the city streets and party favors, handed out throughout the event, added a whimsical touch to the festive outfits of the participants.
While words can paint a vivid picture, we highly recommend checking out the photos from the event to truly capture the essence of the festivities. From the messy fun of the pie eating contest to the raging dance floor at Mayes Oyster House, our photographers captured it all.
If this sounds like your kind of celebration, make sure to mark your calendars for next year's event. Until then, enjoy the photo journey of this year's Fourth of July Pub Crawl and relive the magic crawl!
For anyone who wishes to keep the party going, don't miss out on the next event…The San Francisco Barbie Crawl! On Saturday, July 22, the CrawlSF Team will transform the Marina into a Barbie Dreamland to celebrate the release of the new Barbie Movie in Theaters on July 21.
Fourth of July Pub Crawl Photos
Click on any image to start the slideshow
See a photo that you like? We are happy to send you the high quality images! Contact us at [email protected].