During this time of year, we are blessed with a whole lotta opportunites to enjoy some great activities and events in or outside of the San Francisco Bay Area. Between Memorial Day, Juneteenth and The Fourth of July, we have a trifecta of three-day weekends and plenty of opportunities to enjoy time with friends, throw back some cocktails, go on a mini-vacation and more. If you are planning to stay in the Bay Area for Independence Day, then let the CrawlSF Team help you figure out the best things to do for the holiday.
This San Francisco Fourth of July guide is your go-to resource for discovering the top activities, events, and attractions throughout the Bay Area. From dazzling fireworks displays to festive parades, family-friendly activities to live music performances, we will help you navigate through the myriad of choices and create an unforgettable Independence Day experience.
Things to do in San Francisco for the Fourth of July
Independence Day is a great place to be in San Francisco, Oakland, San Jose and other places in the San Francisco Bay Area. You can find a variety of special events, pub crawls, concerts and more to celebrate the holiday leading up to the big fireworks shows all over the Bay Area.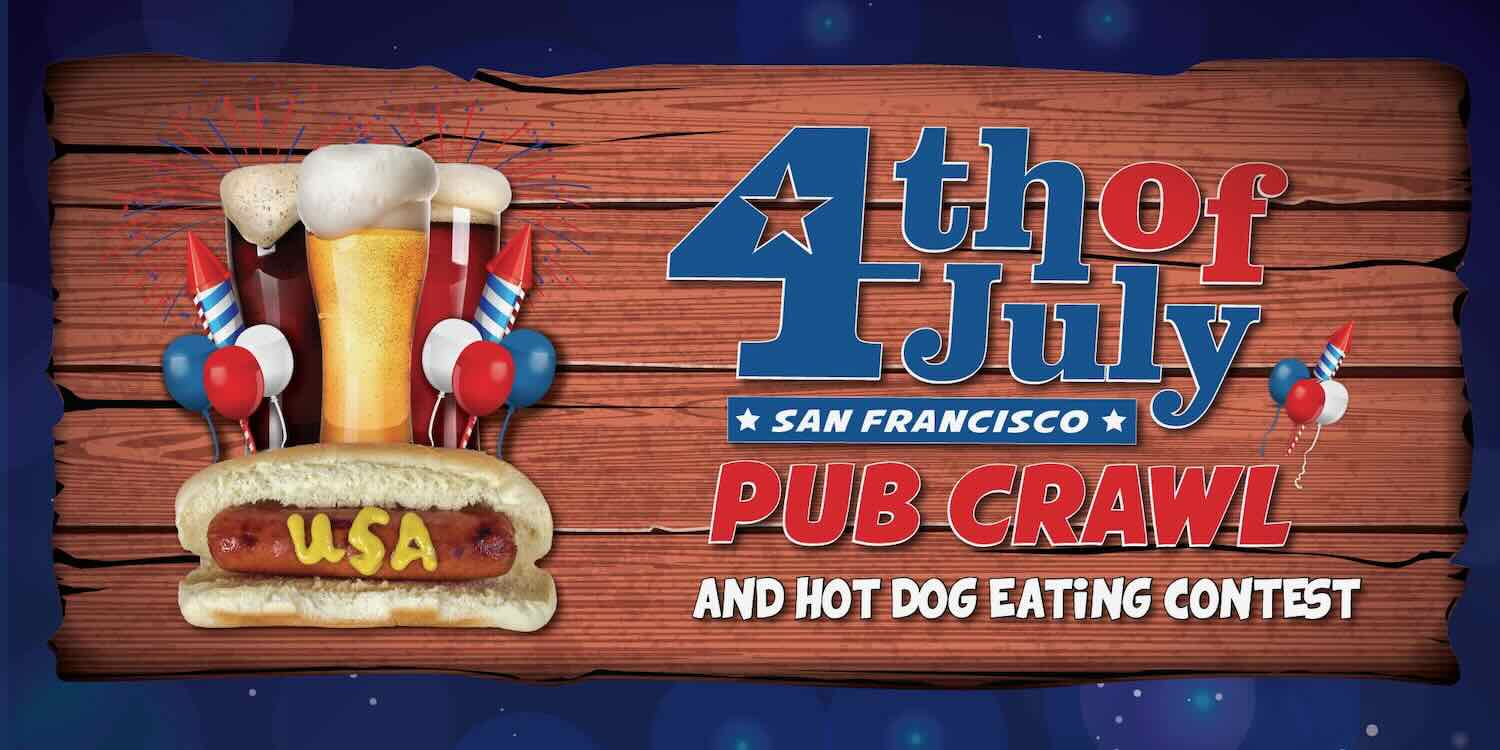 The San Francisco Fourth of July Pub Crawl
Looking for a unique way to celebrate the Fourth of July holiday in the San Francisco Bay Area? For over 10 years, CrawlSF has been producing one of the best party events in SF. The Fourth of July Pub Crawls offer two days of a traditional pub crawl experience infused with a patriotic twist. Featuring a well-curated selection of bars, drink specials and DJs as well as a hot dog eating contest and pie eating contest, the annual Independence Day event has become one of the biggest parties in the city.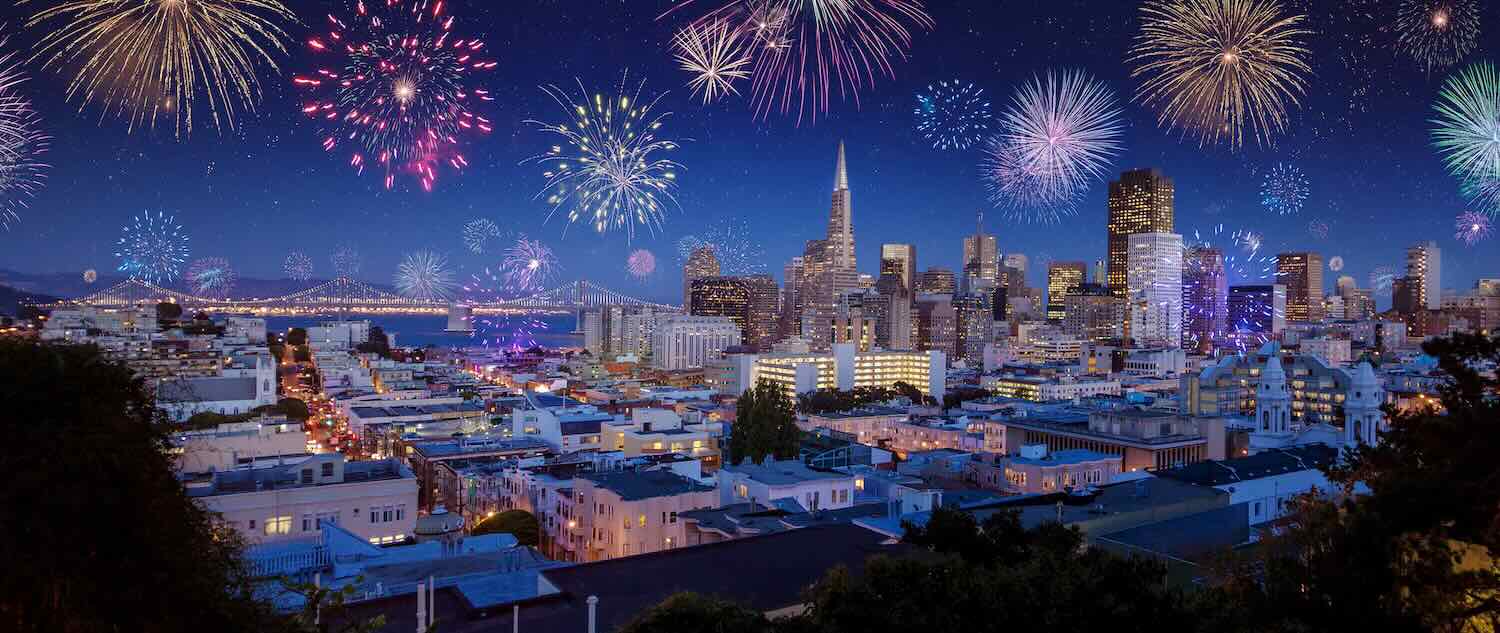 San Francisco Fireworks
There seems to be a lot of fireworks shows in San Francisco throughout the year including Giants Fireworks Night, at the Dreamforce conference, during Diwali and more. However, there are two days where the fireworks shows are bigger and better than the rest, New Year's Eve and The Fourth of July. With massive displays all over the bay, there's plenty of room for everyone to get a chance to enjoy the lights and sounds of celebratory fireworks.
The San Francisco Fourth of July Fireworks are an amazing thing to experience, especially on a clear night. Thanks to the expert setup from Pyro Spectaculars by Souza, the city offers 2 synchronized fireworks shows from two locations, barges in front of Pier 39 and at the end of Municipal Pier. You can view the show up close from Fisherman's Wharf, from a variety of rooftops like the San Francisco Art Institute and from elevated parks like Bernal Heights Park. You can also catch the show from across the Bay in Sausalito, Tiburon, Marin Headlands, Mount Tam, Treasure Island and more.
Aside from the big show in San Francisco, you can also see fireworks show at Great America, The Marin County Fair, Concord Pavilion, The Berkeley Marina, Shoreline Amphitheater and lots of other spots.
If you are heading out to see the fireworks at night, keep in mind that it is a really busy night all over the Bay Area so you can expect a lot of traffic. Make sure you give yourself some extra time to get to your destinations and, if you are planning on drinking, choose a designated driver or plan on taking an Uber home. Also, July in San Francisco can be cold, especially at night, so make sure you bring a jacket or some warm clothes.
The show begins a little after sundown, which is usually around 9:30PM.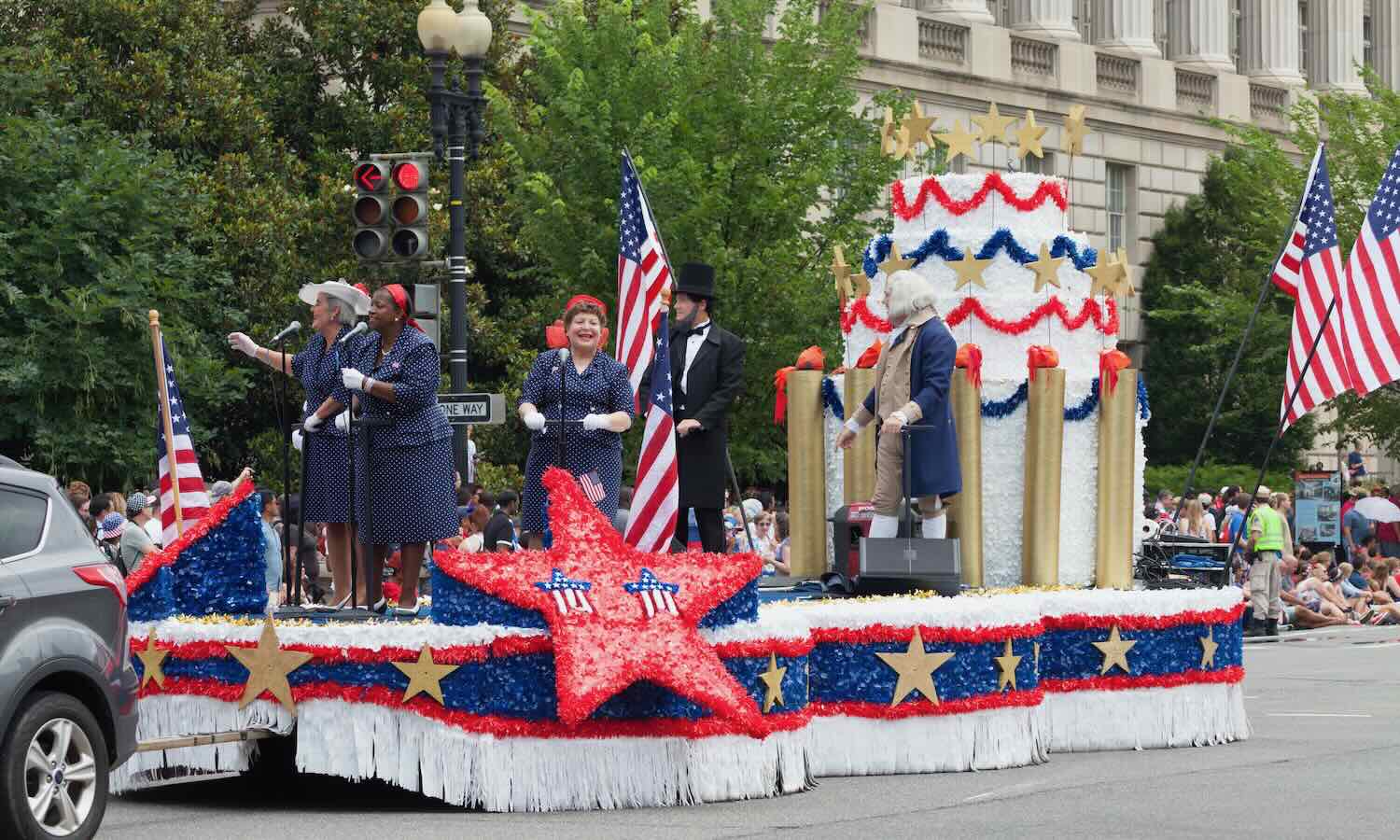 Fourth of July Parades
While the nighttime fireworks are usually the biggest attraction for Independence Day, the day is filled with fun events, backyard barbecues and, of course, parades! Throughout the Bay Area, the holiday brings communities together in a burst of colors, music, and patriotic spirit, with marching bands, cheerleaders, colorful floats & more.
Each Fourth of July Parade in the San Francisco Bay Area offers a unique experience, reflecting the character and charm of its host city. Whether you're in San Francisco, Oakland, Berkeley, or any other Bay Area community, you'll find parades that embody the local spirit, history, and traditions.
These events can get crowded so to make the most of your parade experience, arrive early to secure a prime viewing spot along the parade route. Don't forget to bring chairs, blankets, and snacks to ensure a comfortable and enjoyable time.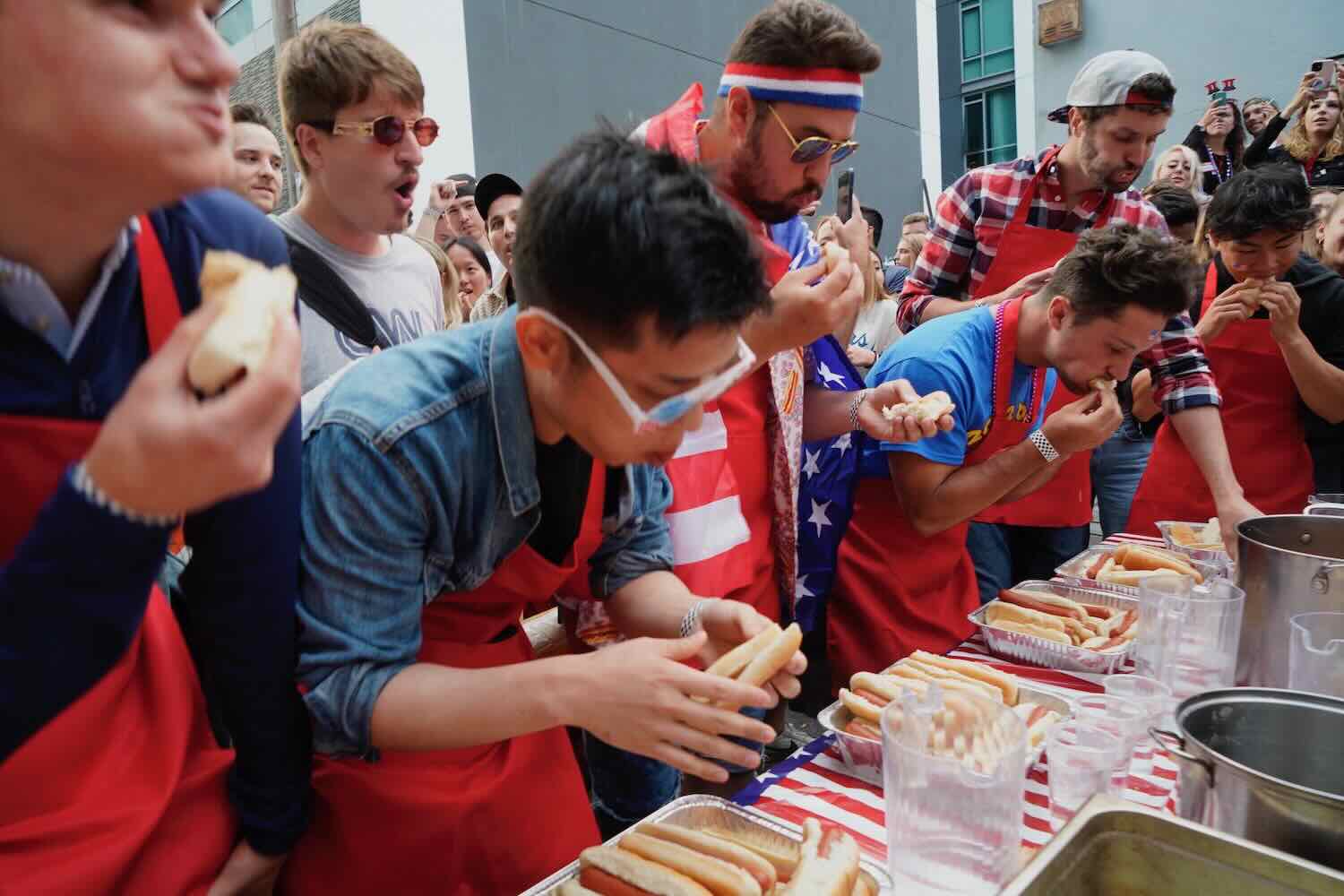 Hot Dog Eating Contest
If you love watching The Nathan's Hot Dog Eating Contest on TV, then why not check out a competitive eating competition live in San Francisco? This annual event from CrawlSF is a thrilling spectacle that attracts food enthusiasts, competitive eaters, and curious onlookers alike, all eager to witness the jaw-dropping feats of consuming copious amounts of hot dogs within a limited time frame.
Held during the Fourth of July Pub Crawl, this hot dog eating contest brings together participants from all walks of life, each vying for the prestigious title of the San Francisco Hot Dog Eating Champion. The competition is fierce, the stakes are high, and the atmosphere is electrifying.
Think you have what it takes to win? Fill out the contest entry form for your chance to show off your skills. If you're not ready to tackle the challenge yourself, fear not! The San Francisco Hot Dog Eating Contest is as entertaining for the audience as it is for the participants. Witnessing the triumphs, the struggles, and the sheer determination of the contestants is an experience that will leave you in awe.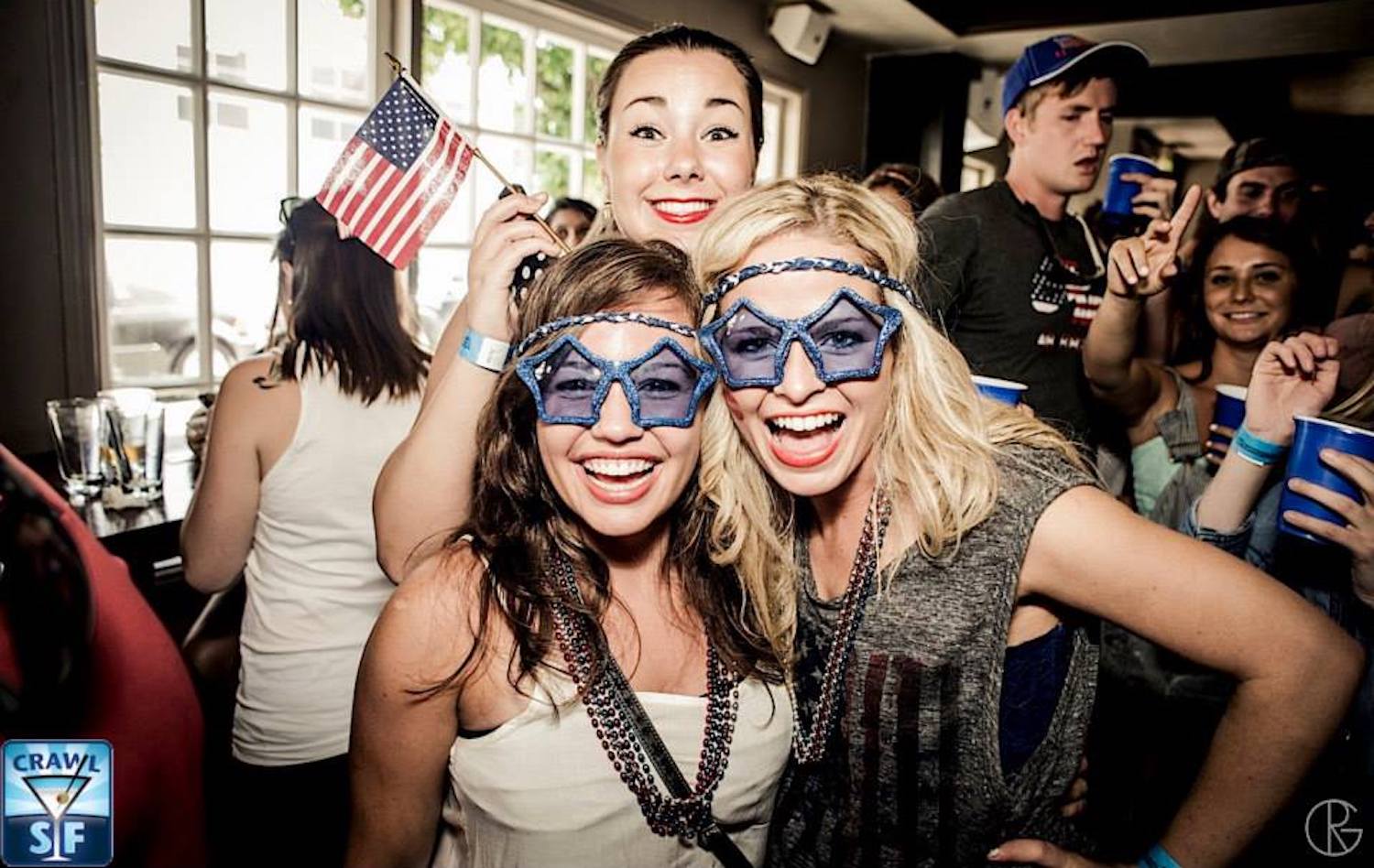 Fourth of July Events
Fireworks shows on July 4 provide a spectacular climax to the Independence Day Holiday, but you can also find a lot of great events around the San Francisco Bay Area leading up to the grand finale. You can find a mishmash of thing do to including parades, nightclub events, festivals, pub crawls and more throughout the Bay. Whether you are looking for a wild night out or a family-friendly festival, there are plenty of things to do for the holiday.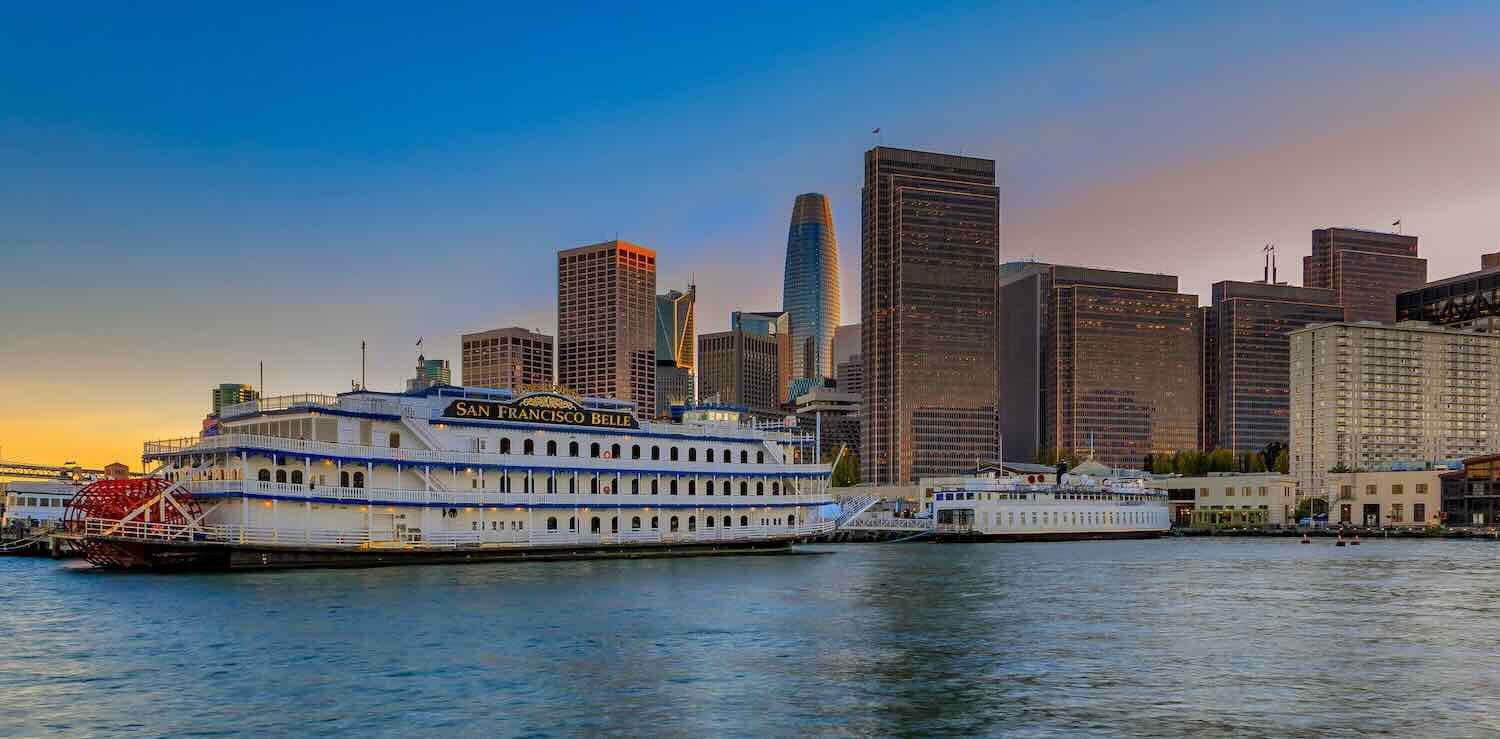 Fourth of July Cruises
Set sail for an unforgettable Fourth of July experience in the San Francisco Bay. If you're looking for a unique way to celebrate Independence Day, taking a cruise is a great option. Offering some impressive panoramic views and a front-row seat to the San Francisco fireworks shows, cruises provide a great way to celebrate with family and friends. There are a lot of different options, so make sure to check out the details before purchasing tickets. There are some all-inclusive cruises with an Open Bar, Dinner and DJs, alcohol-free cruises for families and everything in between. Make sure to book early as these ships have limited capacity and tend to sell out.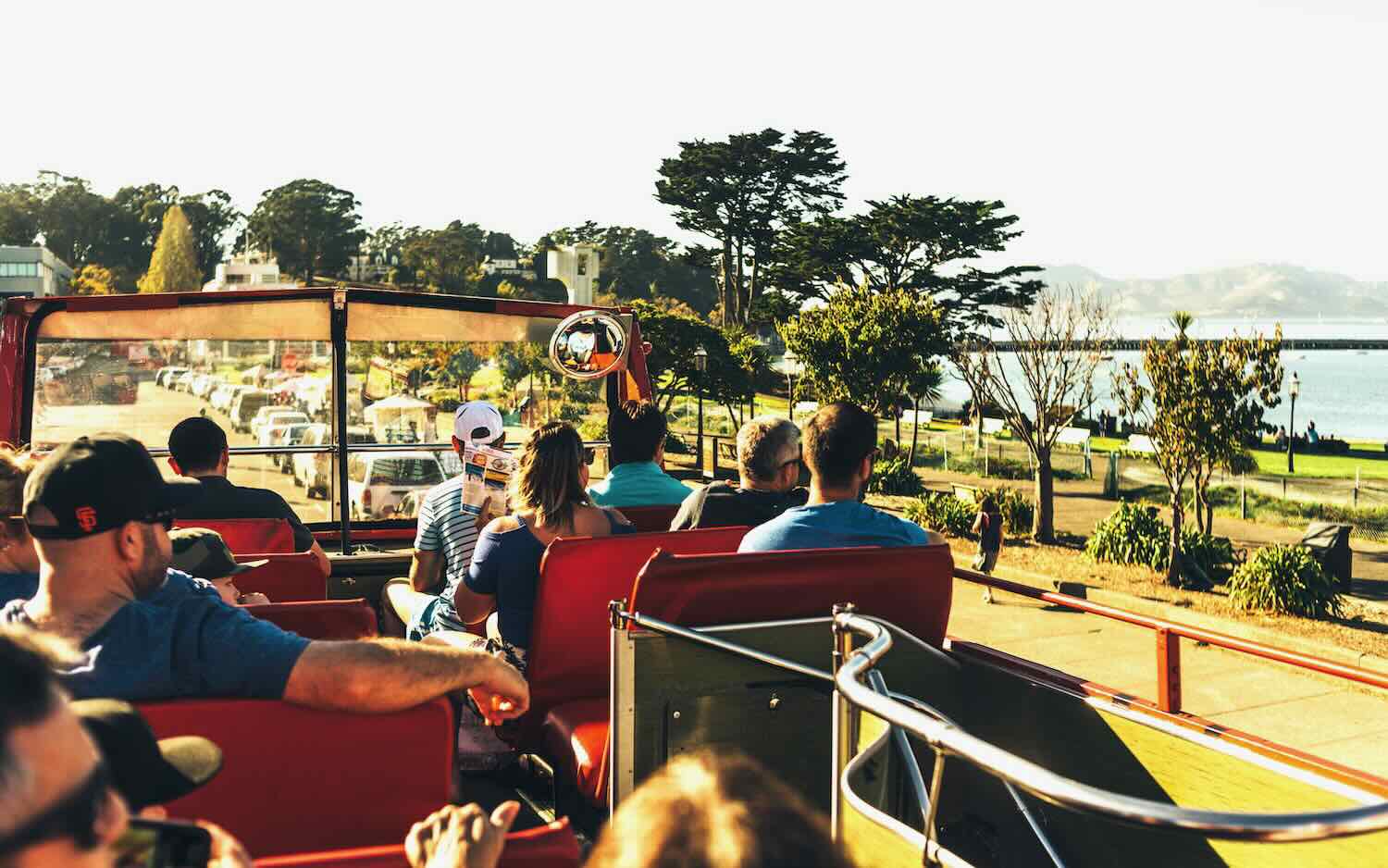 Fourth of July Activities and Tours
As the Fourth of July approaches, The San Francisco Bay Area becomes a popular destination for locals and visitors. From exploring iconic landmarks like Alcatraz and the Palace of Fine Arts to visiting museums or taking a scenic tour, the city presents a multitude of options to make your Independence Day in San Francisco a truly memorable one.
Immerse yourself in the city by embarking on a sightseeing tour that unravels the stories of its founding and the events that shaped its rich heritage. Discover the significance of landmarks such as Alcatraz Island, the Golden Gate Bridge, and Fisherman's Wharf as knowledgeable guides provide insights into their historical and cultural importance.
For a more immersive experience, consider exploring San Francisco's neighborhoods. From the colorful streets of Chinatown to the LGBTQ+ community in the Castro district, you can check out the local culture, sample culinary delights, and do some shopping at local stores.
Looking for a more relaxed experience? Why not check out one of San Francisco's parks? A city with 48 hills (yes, 48!), there are lots of parks with great views as well as some other cool neighborhood parks that are popular with locals on weekends and holidays. Dolores Park and Fort Mason are great options for people looking for a little more action, while Golden Gate Park, Alamo Pakk (home of the Painted Ladies) and Crissy Field offer a lot more things to do. If you are looking for a park with great views, Ina Coolbrith Park is a hidden gem in Russian Hill with the most instagram-worthy panoramic views of The Bay Bridge and Downtown San Francisco.
If you're looking to escape the city for a day, consider taking a day trip to explore the natural wonders that surround San Francisco. From the majestic redwood forests in Muir Woods to the vineyards of Napa Valley, these excursions provide an opportunity to rejuvenate amidst the beauty of nature while still being back in the city for the evening festivities.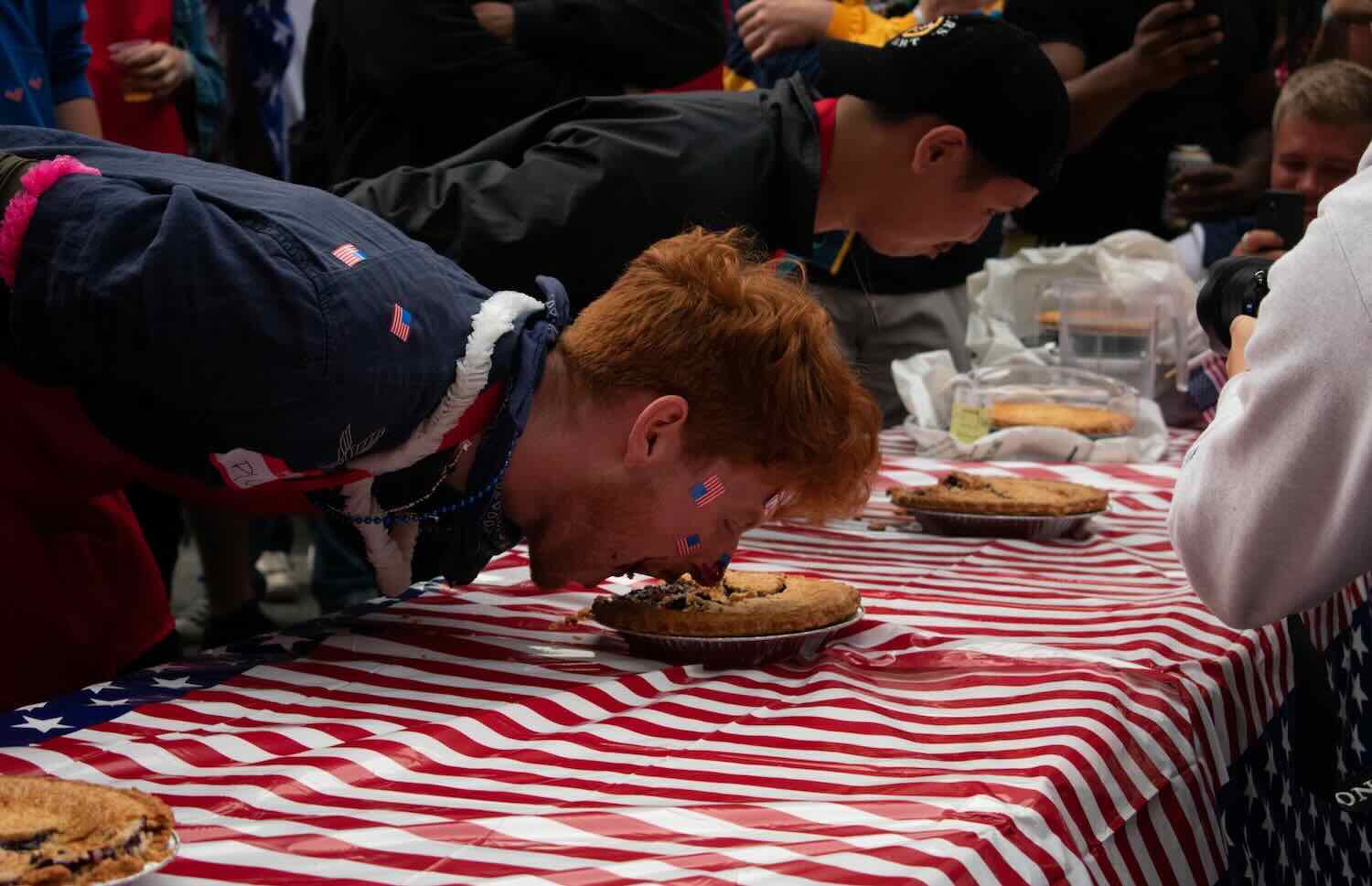 San Francisco Pie Eating Contest
Get ready to indulge in a delectable showdown at the San Francisco Pie Eating Contest! This mouthwatering event brings together competitive eaters and curious spectators for a thrilling display of gastronomic prowess and sweet satisfaction. Held during the San Francisco Fourth of July Pub Crawl, this contest is a delightful celebration of one of America's most beloved desserts.
Featured Events
Fourth of July Events Near Me: The Ultimate Holiday Guide
No Upcoming Events Avaialble
Holiday Insights
What's Happening in San Francisco on Fourth of July
Recommended Tours and Attractions
New & Most Popular Tours & Attractions