Fourth of July Parades in the San Francisco Bay Area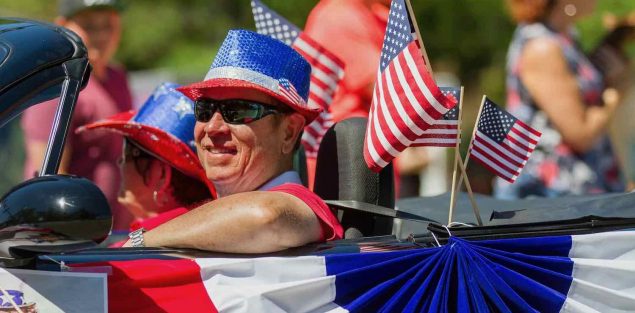 From sea to shining sea, Independence Day parades are an integral part of the Fourth of July celebrations in the United States. With their vivid floats, marching bands, and patriotic displays, these parades encapsulate the spirit of freedom, unity, and community that define this national holiday.
The Allure of Fourth of July Parades
Parades on the Fourth of July are a richly-rooted tradition, tracing their origins back to the earliest years of American independence. Today, they remain a beloved fixture of the holiday, offering communities a chance to come together and celebrate in a grand and public manner.
With their colorful floats and enthusiastic marchers, these parades are a captivating spectacle for all ages. Local businesses, organizations, school groups, and civic leaders participate, each contributing to the festive atmosphere. From the rhythmic beats of marching bands to the eye-catching displays of local fire and police departments, Fourth of July parades showcase the spirit of the community in a uniquely American way.
Fourth of July Parades in the San Francisco Bay Area
The San Francisco Bay Area, known for its wide variety of holiday celebrations, holds several parades that stand out in their salute to America's Independence Day. These parades not only echo the nation's unity and freedom but also highlight the distinctiveness of the Bay Area's communities.
Monday, July 3 | 6:30PM
Downtown Benicia
First Street, Benicia, CA 94510
Can't wait for Independence Day? Get the party started early in Benicia on July 3, 2023! Be there at 6:30 pm as 1st Street bursts into life with dancers, floats, and clowns at the Torchlight Parade. Groove to live music from East Bay Mudd and others, and prepare for a stunning drone light show painting the sky at 9:30 pm. It's an early Fourth of July celebration that's guaranteed to light up your night!
Tuesday, July 4 | 10AM
Downtown Redwood City
Brewster Ave & Winslow St, Redwood City, CA 94063
Celebrate Independence Day 2023 in Redwood City with a day packed with festivities! Start with a Pancake Breakfast at 8 am, followed by a parade at 10 am. Enjoy a day-long festival filled with arts, crafts, food, and kids' activities. Join artists at the Chalk Festival and end your day with a breathtaking fireworks show at 9:30 pm. A perfect day to celebrate 4th of July!
Website: http://www.parade.org/
Tuesday, July 4 | 9:30AM
Pleasant Hill Park
147 Gregory Ln, Pleasant Hill, CA 94523
Celebrate 4th of July 2023 in Pleasant Hill with a day full of fun. Start with a Firecracker 5K Race or kids' dash at 7:45 am, enjoy the downtown parade from 9:30-10:30 am, followed by live music, food, and inflatables at Pleasant Hill Park until 1:30 pm. End the day with a fireworks viewing party at College Park at 8:45PM (area opens at 6:30PM)
Website: https://phjuly4.com/
4. San Jose's Rose, White & Blue Parade & Street Festival
Tuesday, July 4 | 10AM
Lincoln High School
Brooklyn Ave & Dana Ave, San Jose, CA 95126
Join the historic Rose, White & Blue Parade in San Jose on Independence Day. Celebrating San Jose's diverse communities and agricultural heritage, the parade features classic cars, bands, dance groups, and local troupes. Start at Lincoln High School, follow the parade through Shasta/Hanchett and Rose Garden neighborhoods, and end with food trucks and local eateries open along The Alameda. The event is not just a celebration but a powerful call to action for equality, justice, and the end of systemic racism.
Website: https://www.rwbsj.org/the-parade
Tuesday, July 4 | 10AM
Mt. Diablo High School
2450 Grant St, Concord, CA
Join the celebration in Concord for an exhilarating day of fun! Kick-off at 8 am with the kid's fun run and 5k at Todos Santos Park, then enjoy the Independence Day Parade at 10 am. Head to Mt. Diablo High School at 4 pm for a lively festival featuring live music, a kids' carnival, local food, and vendor booths. The day concludes with a Fireworks Spectacular at 9 pm. Enjoy free entry to all events, except the fun run.
Website: http://www.concordjuly4th.com/
6. Sausalito's 4th of July Parade & Fireworks Celebration
Tuesday, July 4 | 10AM
Downtown Sausalito
Main St & 2nd St, Sausalito, CA 94965
The Sausalito 2023 4th of July Parade is set to be a spectacular event, kicking off at 10 a.m. The parade, filled with a wide range of entries, will march from Second and Main, to Caledonia Street, and conclude at Dunphy Park, where a delightful town picnic awaits. The community is also invited to participate in the 2023 T-shirt Design Contest. Donations for the annual fireworks show are encouraged and table reservations for the show can be made online. The day is also packed with various contests like Best Float, Best Car, Best Walking Group, Egg Toss, and Tug of War.
7. Foster City's Independence Day Parade, Festival & Fireworks
Tuesday, July 4 | 11:05AM
Leo J. Ryan Park
650 Shell Blvd, Foster City, CA
Join the Foster City Parks & Recreation, Lions of Foster City, and the Foster City Rotary Club for a vibrant Independence Day celebration at Leo Ryan Park. Enjoy a full day of games, food, entertainment, and a family and dog parade. Don't forget to register for the parade by 5pm on July 3rd. Cap off the day with a spectacular fireworks display starting at approximately 9:30 pm.
8. Danville 4th of July Parade
Tuesday, July 4 | 9AM
San Ramon Valley High School
501 Danville Blvd, Danville, CA 94526
Experience a memorable Independence Day celebration at the Kiwanis-Danville Parade, scheduled for July 4, 2023, from 9 am to noon in downtown Danville, California. This year, the parade is themed 'Celebrating our Educators', with Contra Costa County Teacher of the Year, Chavonta Edington, as Grand Marshal. Organized by the Kiwanis Club of San Ramon Valley and the Town of Danville, the annual parade brings together 30,000-40,000 spectators. The route starts at San Ramon Valley High School and ends at Town and Country Drive, offering ample viewing space for all.
Website: https://www.srvkiwanis.org/parade
9. Brentwood 4th of July Parade & Celebration w/ Drone Sky Show
Tuesday, July 4 | 9:30AM
Downtown Brentwood
Birch St & 1st St, Brentwood, CA 94513
Brentwood's electrifying 4th of July celebration in 2023 features a fun-filled morning parade, an all-day Carnique at City Park filled with food, games, and an Aerosmith tribute concert. The event culminates in a mesmerizing 12-minute Drone Sky Show, all in honor of Brentwood's 75th Anniversary. Enjoy an entire day filled with community fun, supporting local non-profits and celebrating patriotism in grand style.
10. Napa's Fourth of July Parade
Tuesday, July 4 | 10AM
Downtown Napa
2nd St & School St, Napa, CA 94559
Join the fun-filled and musically-charged Napa 4th of July Parade, hosted by the Napa Sunrise Rotary Club in downtown Napa on Tuesday, July 4, 2023. With the theme "Celebrating Music in the Napa Valley," the parade invites families to enjoy a day of patriotism and community celebration. Starting at 10 am, the event also includes the exciting President's Award judging session. No fireworks are announced for 2023. The Napa Sunrise Rotary Club, known for their dedication to community service and ethical values, has hosted and funded this annual parade since 2009.
Website: https://napa4thofjulyparade.com/
11. Scotts Valley's 4th of July Parade & Flyover
Tuesday, July 4 | 1PM
Downtown Scott's Valley
Scotts Valley Dr & Carbonero Way, Scotts Valley, CA 95066
Join the exciting 2023 4th of July Parade & Flyover in Scotts Valley. Although there won't be fireworks, get ready for an action-packed day of fun and community spirit. Sign up to participate in the parade, volunteer, or become a sponsor for this fantastic event. Don't miss out on the lively MC, Jack Crawford from DJ Music Now, and satisfy your taste buds with delicious food from Aunt Lali's, Togo's, and El Bueno Taco Truck. Check-in starts at 12:00 PM on Carbonero Way, and the parade begins at 1:00 PM. ADA parking and viewing are available at 5007 Scotts Valley Dr. Let's celebrate independence and togetherness in Scotts Valley.
12. Alameda Independence Day Parade
Tuesday, July 4 | 10AM
Downtown Alameda
Lincoln Ave & Park St, Alameda, CA 94501
The 46th Annual Alameda 4th of July Parade, renowned as the longest nationwide, kicks off at 10:00 am on July 4, 2023. The day begins with a charitable 5K run at 9:00 am. With a parade route spanning 3.3 miles and hosting over 170 entries with 2,500 participants, the event attracts over 60,000 spectators. The parade features a diverse range of entries from equestrians, dance troops, and community groups to local school bands and antique cars. Due to road repairs, the parade will proceed down Central Avenue this year. Street closures commence between 7:00 and 8:00 am.
13. Fremont 4th of July Parade
Tuesday, July 4 | 10AM
Downtown Fremont
Stevenson Blvd & Paseo Padre Pkwy, Fremont, CA 94538
Fremont's 4th of July Parade is back in full swing from 10:00 am to 12:00 pm in Downtown Fremont, embracing the joyous theme of "Happiness is…" Major roads will be closed during the event, impacting traffic and parking, with special parking arrangements available for handicapped attendees. The event, organized by a non-profit organization, is funded through community sponsorship and donations.
Website: https://fremont4th.org/
14. Martinez Hometown 4th of July Parade & Fireworks
Tuesday, July 4 | 10AM
Downtown Martinez
Main St & Court St, Martinez, CA 94553
Get ready to show off your patriotic spirit at the Downtown Martinez Fourth of July Parade. Beginning with a flag-raising ceremony, this annual parade features over 40 entries, encouraging local businesses, organizations, and even kids to join in the march. The event, proudly presented by Martinez Refining Company, also seeks volunteers to help ensure a successful celebration.
Website: https://downtownmartinez.org/4th-of-july-parade
15. Antioch Fourth of July Fireworks, Festival & Parade
Tuesday, July 4 | 4PM
Downtown Antioch
E St & W 2nd St, Antioch, CA 94509
Get ready for an explosive Fourth of July celebration in Antioch's historic Rivertown! Join us as we kick off the festivities with a sensational parade along W 2nd St. and W 3rd St. Be sure to secure your spot early to catch all the excitement. After the parade, head over to Waldie Plaza for an unforgettable experience. Indulge in delicious food from local vendors and trucks, groove to the rhythm of live performances by Tony Lindsay and Foreverland, and have a blast in the Games Zone at City Hall. As the sun sets, prepare to be dazzled by a breathtaking fireworks show that will light up the night sky.
Website: https://www.antiochca.gov/fourth-of-july-celebration/
16. Mission Terrace 4th of July Parade & Picnic
Tuesday, July 4 | 10AM
Mission Terrace Neighborhood
100 Capistrano AveSan Francisco, CA 94112
Get set for a sensational celebration at the 33rd annual Mission Terrace 4th of July Parade and Picnic. Join the New Mission Terrace Improvement Association and community partners as they kick off the festivities at 10:30AM on July 4th, 2023. The parade will march through the neighborhood, showcasing creatively decorated bicycles, strollers, and wagons in vibrant red, white, and blue. Afterward, head to Balboa Park for a delightful picnic and entertainment. This fantastic event is made possible by generous sponsors and promises to be a blast for all.
17. Moraga Dog Parade, Inflatables & July 4th Fireworks
Tuesday, July 4 | 11AM
Moraga Commons Park
1425 St Marys Rd, Moraga, CA 94556
Get ready to celebrate Independence Day in Moraga with an epic all-day festival at Commons Park! On July 4, join the city for a jam-packed day of excitement and entertainment. From 11 am to 10 pm, enjoy a range of activities, including a delightful dog parade, community booths, inflatable jumpies, and tantalizing food, wine, and beer options. As the sun sets, get ready for an incredible concert by the House Rockers and an awe-inspiring fireworks display at 9:30 pm. Show your support by donating to the Buy-A-Rocket Fireworks campaign and help keep the patriotic tradition alive. Don't miss out on this unforgettable celebration in Moraga Commons Park.
Website: https://www.moraga.ca.us/419/July-4-Celebration-Fireworks
18. American Canyon Independence Day Parade, Festival & Fireworks
Tuesday, July 4 | 3PM
Downtown American Canyon
W American Canyon Rd & Elliott DrAmerican Canyon, CA 94503
Get ready for the ultimate 4th of July celebration. Join us as we light up the day with a thrilling parade, a spectacular festival, and an awe-inspiring fireworks show. The parade will kick off at 3:00 pm, followed by a lively festival at Community Park II filled with food trucks, live music, and exciting activities for all ages. And don't forget to stick around for the grand finale—the most dazzling fireworks display in town. It's a day of fun, laughter, and community spirit that you won't want to miss. Come and celebrate the 4th of July with us in style!
Fourth of July parades are a captivating tradition that blend community spirit with national pride. They offer a memorable and shared experience that unites spectators in a common celebration of freedom and independence. In the San Francisco Bay Area, these parades are infused with local charm and diversity, reflecting the rich tapestry of cultures and communities in this dynamic region. Whether you're watching from the sun-drenched streets of Sausalito or amidst the city lights of San Francisco, there's no better way to mark Independence Day than by joining in the revelry of a Fourth of July parade.