The San Francisco Hot Dog Eating Contest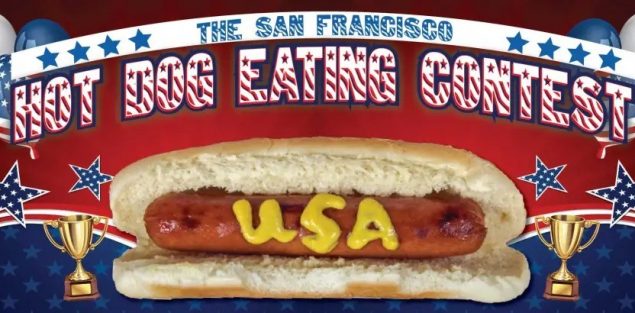 The Fourth of July is a great day to get out of the house, gather with friends and family, and take a break from the stresses of everyday life. America's Independence Day is an annual holiday that celebrates our country's freedom on the anniversary of the date when the Declaration of Independence was approved by the Continental Congress. The unanimous decision on July 4, 1776 led to the original 13 colonies claiming their independence from Great Britain.
Without a doubt, the most prominent part of Fourth of July celebrations would be the massive fireworks shows at dusk, but there are lots of events and things to do for the holiday. You can expect parades, block parties, festivals and lots of unique, regional events across the nation like the annual Nathan's Hot Dog Eating Contest that have become a staple part of the holiday.
If you always wanted to check out an Independence Day hot dog eating contest, but can't make the trip to Brooklyn, see the next best thing right in the San Francisco Bay Area. The San Francisco Hot Dog Eating contest takes place during the Fourth of July Pub Crawl every year and features a group of amazing competitive eaters throwing down hot dogs and competing for the coveted San Francisco Hot Dog Eating Champion trophy.
The event takes place at Mayes Oyster House at 7:30PM on Tuesday, July 4. Even better, the Hot Dog Eating Contest is free to attend! However, if you really want to take things up a notch, grab a ticket to the Fourth of July Pub Crawl and enjoy drink specials at some awesome bars along Polk Street before watching the contest and heading out the see the San Francisco fireworks at night. 
How to Enter the Hot Dog Eating Contest
Want to show off your competitive eating skills? Think you have what it takes to win?
CLICK HERE to enter the Hot Dog Eating Contest
San Francisco Hot Dog Eating Contest
Event Details:
Date: Tuesday, July 4, 2023
Times: 4PM to 10PM (Hot Dog Eating Contest at 7:30PM)
Location: Mayes Oyster House – (1233 Polk Street, San Francisco, CA 94109)
If you want to take things up a notch, grab a ticket the the San Francisco Fourth of July Pub Crawl as well! Your Pub Crawl Ticket gets you access to Cheap drink specials at your favorite Polk Street Bars including Mayes, Mcteagues, R Bar, Route 101, El Lopo, Lush Lounge and more! Click here for the details:
SAN FRANCISCO FOURTH OF JULY PUB CRAWL