Just a short(ish) trip from San Francisco, Lake Tahoe is a captivating all-season destination nestled in the heart of the Sierra Nevada Mountains. It's around a 4 hour drive from the San Francisco Bay Area (but busy weekend and snow can add several hours), Lake Tahoe offers visitors a chance to escape the hustle and bustle of city life and immerse themselves in an outdoor paradise. With a diverse range of activities and stunning landscapes, it's no wonder Lake Tahoe is a favorite destination for Bay Area residents and travelers from around the world.
Lake Tahoe, the largest alpine lake in North America, spans 22 miles long and 12 miles wide, with over 70 miles of pristine shoreline. Its breathtaking beauty is complemented by the crystal-clear waters, which reach depths of up to 1,645 feet. Surrounded by a tapestry of lush forests and towering peaks, Lake Tahoe provides an idyllic setting for adventure and relaxation all year long. It offers skiing, outdoor sports, boating, lake activities, casinos and all kinds of fun things to do.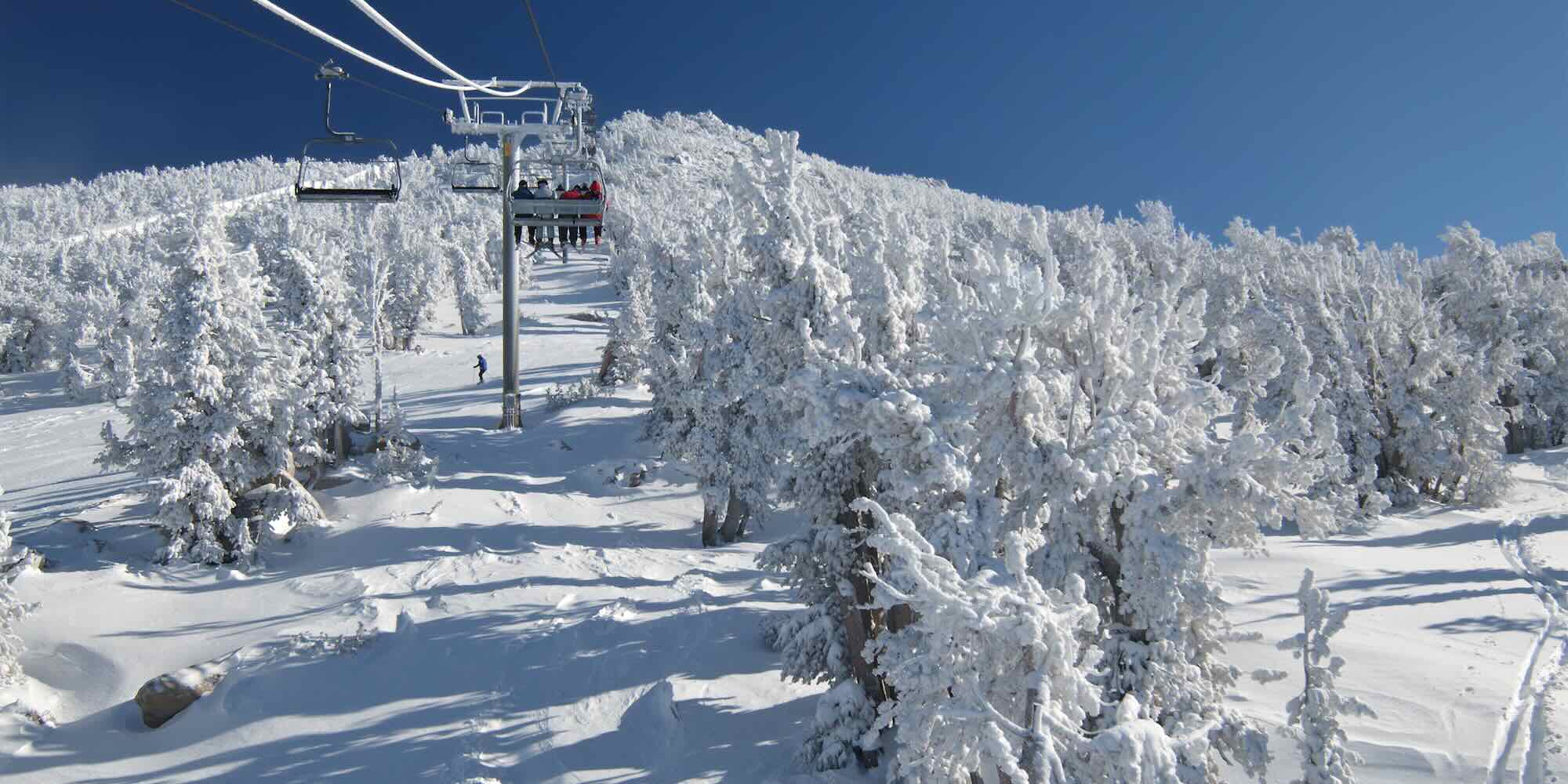 The Seasons of Lake Tahoe
Winter Wonderland:
When the snow begins to fall, Lake Tahoe transforms into a winter wonderland, offering world-class skiing and snowboarding at over a dozen nearby resorts, including Heavenly, Squaw Valley, and Northstar. Enjoy the exhilarating slopes, well-groomed trails, and picturesque views that make Lake Tahoe a skier's paradise. Don't forget to explore the numerous opportunities for snowshoeing, snowmobiling, and sledding to make your winter experience complete.
Spring and Summer Adventure:
As the snow melts away, the warmer months reveal a vibrant landscape teeming with outdoor activities. Discover the extensive network of hiking and mountain biking trails, with options for all skill levels, that showcase Tahoe's natural beauty. Experience the thrill of water sports such as kayaking, paddleboarding, and jet skiing, or relax on one of the many beautiful beaches that dot the shoreline. With countless ways to enjoy the great outdoors, you'll never run out of adventures to embark on during your Lake Tahoe visit.
Autumn Splendor:
Fall brings a kaleidoscope of colors to Lake Tahoe's picturesque landscape, offering a spectacular display of autumn foliage. This is the perfect time to explore the region's scenic drives, like the 72-mile Lake Tahoe Loop, which offers unparalleled views of the lake and surrounding mountains. Immerse yourself in the crisp mountain air while enjoying the breathtaking vistas and serene atmosphere.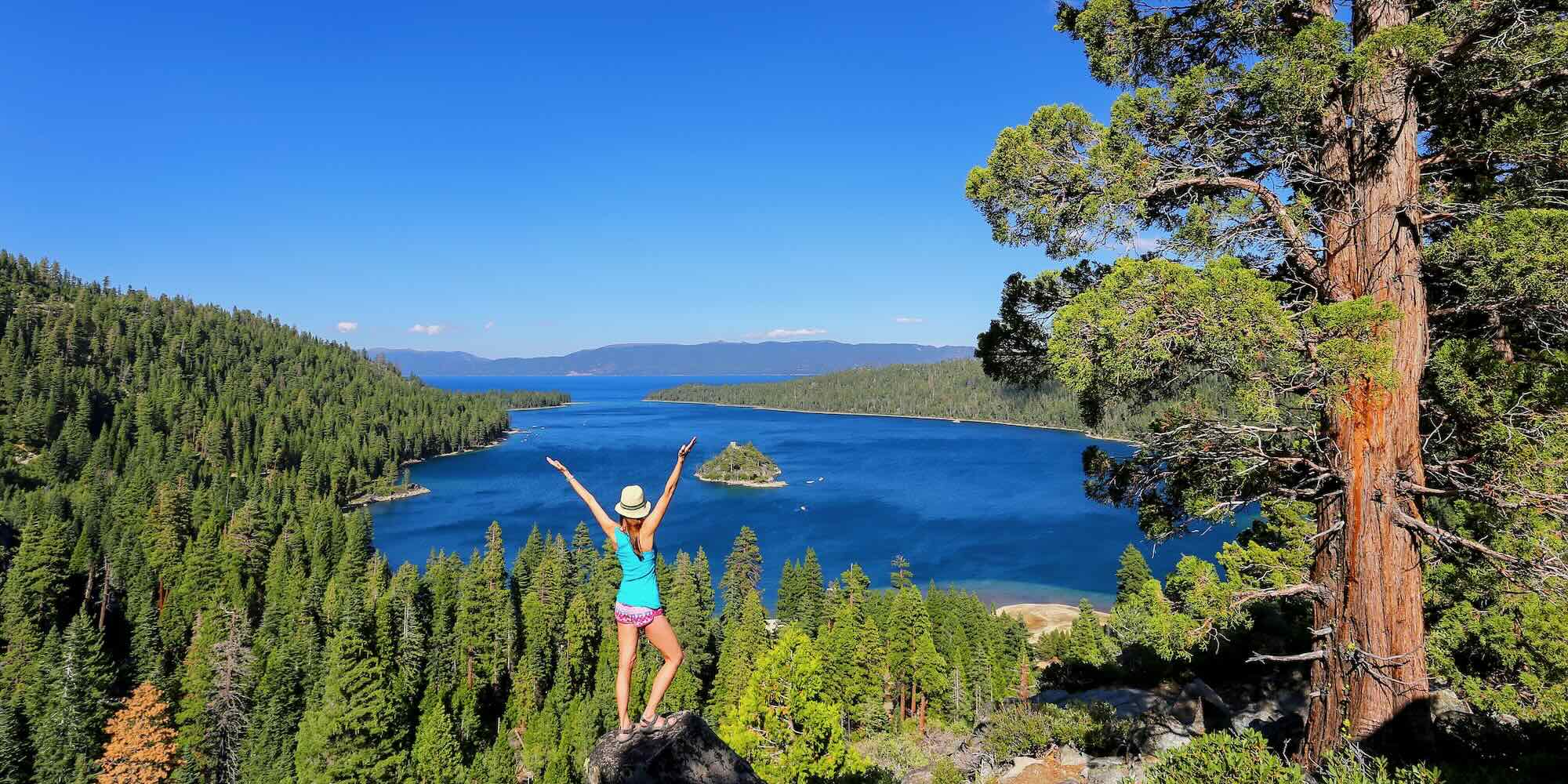 Why Bay Area Residents Love Lake Tahoe
Convenient and Accessible:
Lake Tahoe's close proximity to the San Francisco Bay Area makes it an ideal destination for a weekend getaway or an extended vacation. With a variety of transportation options, including car, bus, and even air travel, getting to Lake Tahoe has never been easier.
Diverse Experiences:
Lake Tahoe offers something for everyone. Whether you're seeking thrilling outdoor adventures, a relaxing retreat a party weekend with friends, or a family-friendly vacation, you'll find it here. The wide range of activities, accommodations, and dining options ensure that your Lake Tahoe experience is uniquely tailored to your preferences.
Escape the City:
For Bay Area residents, Lake Tahoe provides a refreshing change of pace from the daily grind of city life. The opportunity to reconnect with nature, breathe in fresh mountain air, and enjoy the tranquility of the great outdoors makes Lake Tahoe an irresistible escape.
A Great Place to Party:
The San Francisco Bay Area is an amazing place to live, but it is also close to a lot of great weekend getaways. Las Vegas, Los Angeles, Lake Tahoe and other great destinations are just a drive or a short plane ride away. Holiday weekends like the Fourth of July in Lake Tahoe offer numerous fun things to do for those that like to party hard. From gambling at the Casinos in South Lake to partying on the beaches, there are lots of fun ways to let loose in Tahoe.
Check out Lake Tahoe and experience the magic for yourself. With its unparalleled beauty and endless activities, it's no wonder Lake Tahoe is the ultimate destination for visitors all year long.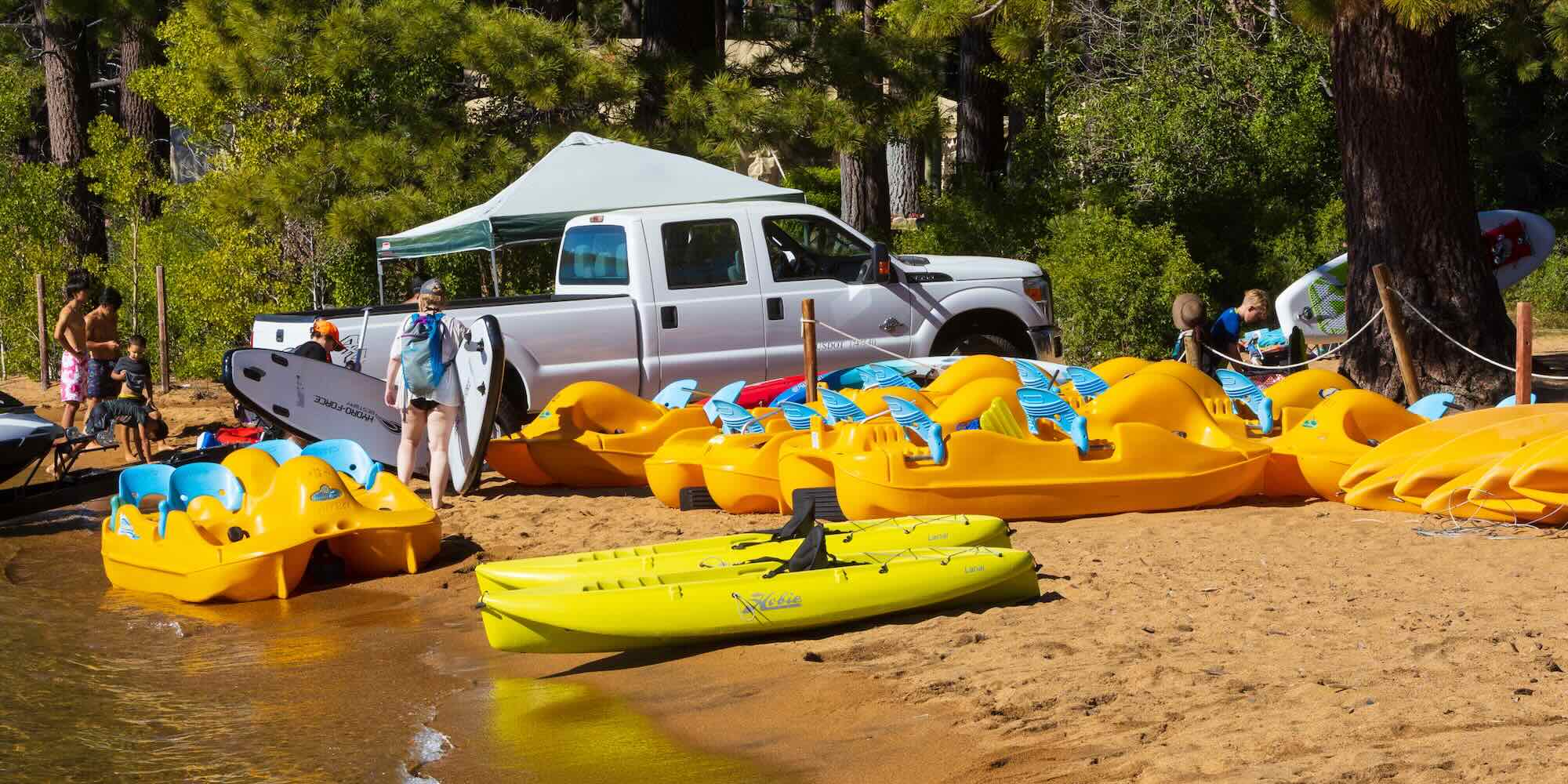 Best things to do in Lake Tahoe
Set amidst the stunning Sierra Nevada Mountains, Lake Tahoe is a year-round destination that offers more than just scenic beauty. From riveting winter sports competitions to terrific summer music festivals and holiday celebrations, Lake Tahoe is home to an exciting roster of events that cater to a wide range of interests. Let's journey through Lake Tahoe's event calendar to discover the best times to visit for holidays, music festivals, and unique regional festivities.
Winter Wonderland
The year kicks off with a bang in Lake Tahoe. As one of North America's premier skiing destinations, it hosts a series of winter sports events.
SnowGlobe Music Festival (December – January): Merging winter sports with music, the SnowGlobe Music Festival is a three-day event that sees the year out in style. Featuring a lineup of electronic music artists, live ski and snowboard demos, and an unforgettable New Year's Eve celebration, it's an exhilarating event not to be missed.
Ullr Fest (January): Taking place in North Lake Tahoe, Ullr Fest is a celebration of winter. Named after the Norse god of snow, the week-long festival includes fun activities like a polar bear swim, a sled racing competition, and a torchlight parade.
Spring Bloom
As winter subsides, Lake Tahoe springs to life with a burst of color and vitality.
Spring Loaded (March – April): This month-long festival celebrates the transition from winter to spring with a mix of on-mountain and off-mountain events. From live concerts and ski competitions to bar crawls and pond skimming, there's something for everyone at Spring Loaded.
Sun-Kissed Summers
Summers in Lake Tahoe are a time of outdoor concerts, water sports, and traditional holiday celebrations.
July 4th Celebrations (July): Lake Tahoe's Independence Day celebrations are legendary, featuring one of the most impressive fireworks displays in the country. The Lights on the Lake in South Tahoe and the firework shows in Kings Beach and Tahoe City on the North Shore are a sight to behold.
Lake Tahoe Shakespeare Festival (July – August): Experience Shakespeare with a scenic backdrop at Sand Harbor at the Lake Tahoe Nevada State Park. This summer festival offers mesmerizing performances of the Bard's best works, complete with a stunning sunset over the lake.
Lake Tahoe Music Festival (August): A summer evening under the stars listening to a symphony orchestra is a magical experience. The Lake Tahoe Music Festival offers five concerts over two weeks at various scenic outdoor locations around Lake Tahoe.
Autumn Splendor
Fall paints Lake Tahoe in spectacular hues of red, orange, and gold. It's a perfect time to enjoy the region's natural beauty and participate in cultural events.
Oktoberfest (October): Embrace Bavarian traditions at Camp Richardson's Oktoberfest in South Lake Tahoe. This weekend event features German food and desserts, craft booths, a bouncy house, face painting, and live music.
Tahoe City Harvest Festival (October): This event celebrates the bounty of fall with pumpkin carving contests, a cider press, arts and crafts booths, and a wine and beer garden.
Lake Tahoe is not only a natural wonderland, but it's also a hub for cultural, musical, and traditional events throughout the year. The best time to visit depends on your personal interests. Whether you're a winter sports enthusiast, a music lover, a Shakespeare fan, or someone who loves holiday festivities, Lake Tahoe has an event waiting for you in its calendar. It's this combination of nature and culture that makes Lake Tahoe such a compelling destination, at any time of the year.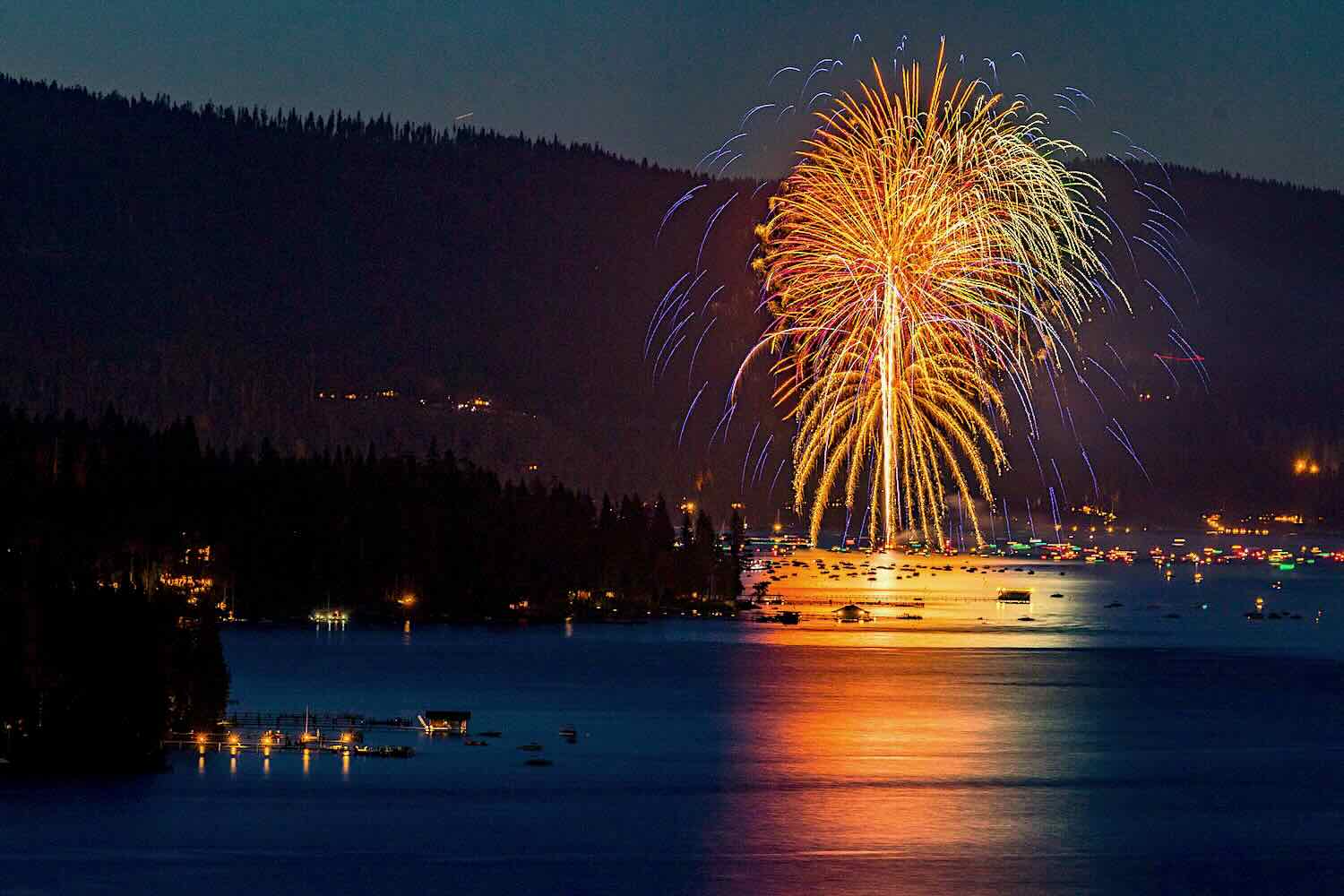 Celebrating Fourth of July in Lake Tahoe
Besides taking advantage of the world-class skiing and snowboarding that Lake Tahoe has to offer in the Winter, one of the most popular reasons for Bay Area residents to head up to the lake is for the Annual Fourth of July Celebrations. A weekend of non-stop parties, fireworks, sunbathing and more makes it the perfect place to celebrate the holiday. Although the city has cracked down on drinking during the Fourth of July, you can still expect an amazing time. Go boating on the lake, hang out with friends at Zephyr Cove or grab a Chambers Punch at Chambers Landing Bar & Grill and celebrate Independence Day in style.
Imagine spending your Fourth of July immersed in nature's grandeur, surrounded by towering pine trees, crystal clear waters, and a sky filled with a symphony of colors. This is exactly what you experience when you celebrate America's Independence Day in Lake Tahoe. As one of the most beautiful destinations in the United States, Lake Tahoe offers a unique and unforgettable Fourth of July experience, combining breathtaking natural beauty with traditional holiday festivities. This article explores what makes celebrating the Fourth of July in Lake Tahoe a remarkable experience.
A Day Packed With Activities
A Fourth of July celebration in Lake Tahoe starts long before the first firework lights up the night sky. The day is filled with a multitude of activities that cater to every age group and interest.
For the adventurous, the lake offers a host of water-based activities, from swimming and paddleboarding to jet-skiing and boating. Hiking trails are abundant for those who wish to explore the surrounding Sierra Nevada Mountains and take in panoramic views of the sparkling lake. Families can enjoy picnics on the beach, local parades, and outdoor concerts happening throughout the Lake Tahoe region.
Fireworks Displays Around The Lake
As the sun sets and the sky darkens, anticipation for the main event grows. Lake Tahoe is known for its grand fireworks displays, with two main events stealing the show:
Lights on the Lake Fireworks: South Lake Tahoe hosts the 'Lights on the Lake' fireworks display, which is frequently listed among the best in the nation. Fireworks are launched from barges in the middle of the lake, providing a spectacle of color and light mirrored by the lake's glassy surface.
North Lake Tahoe Fireworks: Kings Beach and Tahoe City on the North Shore also host impressive fireworks displays. Here, spectators can enjoy the show from the beach or from a boat on the lake, making for a truly magical experience.
Each of these fireworks displays is expertly choreographed to music, which is broadcast on local radio stations, adding another level of sensory delight to the spectacle.
Experiencing The Fireworks From The Water
One of the most unique aspects of a Lake Tahoe Fourth of July is the opportunity to view the fireworks from the water. Many visitors and locals opt to watch the displays from a boat on the lake. There's something truly special about being surrounded by the cool, clear waters of Lake Tahoe while the sky above you erupts in a festival of color and sound.
Several local companies offer Fourth of July cruises, providing a special vantage point, food and drink, and often live entertainment. For those with their own boats, popular viewing spots include Emerald Bay on the South Shore and off Kings Beach or Tahoe City on the North Shore.
Joining the Lake Tahoe Community
Celebrating the Fourth of July in Lake Tahoe is not just about the fireworks and the lake; it's about joining a warm and welcoming community. Despite the large influx of visitors, Lake Tahoe retains a strong sense of community. Local businesses host events, residents open their homes for BBQs and parties, and everyone comes together to celebrate this national holiday in one of the most beautiful locations in the country.
Fourth of July celebrations in Lake Tahoe are a unique blend of natural beauty, community spirit, and traditional holiday festivities. Whether you're relaxing on the beach, hiking through the mountains, cruising on the lake, or marveling at the fireworks, Independence Day in Lake Tahoe is an experience that encapsulates the heart and soul of American summer celebrations.
EXPLORE EVENTS
Upcoming San Francisco Events
No Upcoming Events Avaialble
Holiday Insights
What's Happening in San Francisco