San Francisco 49ers Shuttle Bus to Levi's Stadium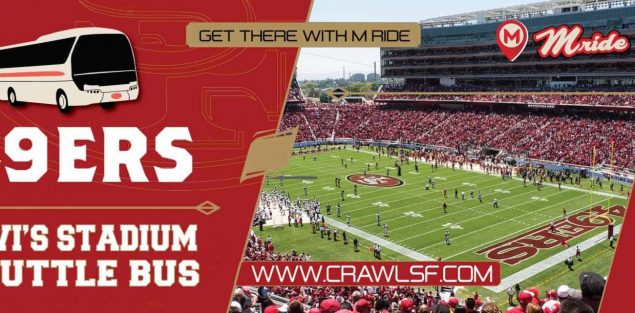 Whether you are a season ticket holder or just attend the occasional game, you probably know how difficult it can be to get to Levi's Stadium from most parts of the Bay Area. The game day traffic and crowded parking lots make driving a stressful (and expensive) experience and overcrowded public transportation can really ruin a fun 49ers game experience. If you are heading to a 49ers game at Levi's Stadium, get a ride on the M Ride 49ers shuttle for a fun and stress-free experience. 
Getting to the games from San Francisco is easy with M Ride. 49ers Shuttles pick up at Westwood SF about 4 hours before kickoff to make sure you have plenty of time to enjoy pregame festivities, get into the stadium and find your seat before the game starts. Shuttles park in Blue Lot 1, which is right in front of the stadium, so finding your ride home is easy. Shuttles depart from Levi's Stadium 30 minutes after the end of the game. 
Round-trip shuttle bus tickets from San Francisco to Levi's Stadium start at $49, but go up in price as the game date gets closer, so make sure to buy your tickets early. 
Need tickets to a game? CLICK HERE
UPCOMING 49ERS SHUTTLESROUND-TRIP TRANSPORTATION TO LEVIS STADIUM FROM SAN FRANCISCO
SAN FRANCISCO 49ERS SCHEDULE FOR 2022LEVI'S STADIUM
PRESEASON:
Friday, 8/12: Green Bay Packers (Home)
Saturday, 8/20: Minnesota Vikings (Away)
Thursday, 8/25: Houston Texans (Away)
REGULAR SEASON:
Sunday, 9/11: Chicago Bears (Away)
Sunday, 9/18: Seattle Seahawks (Home)
Sunday, 9/25: Denver Broncos (Away)
Monday, 10/3: Los Angeles Rams(Home)
Sunday, 10/9: Carolina Panthers (Away)
Sunday, 10/16: Atlanta Falcons (Away)
Sunday, 10/23: Kansas City Chiefs (Home)
Sunday, 10/30: Los Angeles Rams (Away)
Sunday, 11/13: Los Angeles Chargers (Home)
Monday, 11/21: Arizona Cardinals (Neutral Location: Mexico City)
Sunday, 11/27: New Orleans Saints (Home)
Sunday, 12/4: Miami Dolphins (Home)
Sunday, 12/11: Tampa Bay Buccaneers (Home)
Thursday, 12/15: Seattle Seahawks (Away)
Saturday, 12/24: Washington Commanders (Home)
Sunday, 1/1: Las Vegas Raiders (Away)
Sunday, 1/8: Arizona Cardinals (Home)