Pub Golf is Coming to San Francisco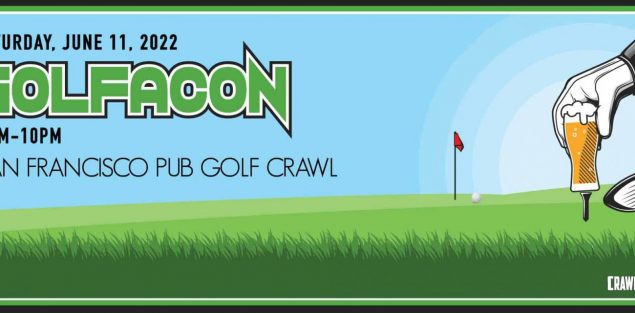 Do you like Pub Crawls? Are you a fan of golf? Do you enjoy theme parties and costumes? If so, then you may want to check out the upcoming San Francisco GolfaCon. The golf-themed pub crawl takes place on Saturday, June 11 from 4PM to 10PM.
San Francisco is known for having a large number of bars and restaurants, but did you know that it has the highest concentration of bars in the United States? According to Newsweek, San Francisco has a whopping 16.5 bars per 10,000 households, edging out other big bar cities like Maui (14.6 bars per 10,000 households), Reno (14 bars per 10,000 households), New Orleans (13.6 bars per 10,000 households) and a bunch of other fun, party cities. The large number of bars, conveniently organized into cool, bar areas in each San Francisco neighborhood, making it the perfect city for pub crawls. 
CrawlSF has been producing the best pub crawls in San Francisco for almost 20 years, so if you want to enjoy a fun day of bar-hopping, then don't miss out on some great upcoming events. The next pub crawl will be a pub golf event at some great Polk Street bars like Mayes Oyster House, Mcteagues, El Lopo, Lush Lounge, R Bar and more. The event kicks off at Mayes, where you can check in, get your wristbands and pick up a pub crawl scorecard. Each bar will feature some great drink specials on beers, cocktails and shots.
SAN FRANCISCO PUB GOLF DETAILS
Date: Saturday, June 11
Time: 4PM to 10PM
Check-in Times: 4PM to 8PM
Check-in Location: Mayes (1233 Polk Street, San Francisco, CA 94109)
Participating Bars: Mayes, McTeagues, Lush Lounge, El Lopo, R Bar & more.
Event Information: GOLFACON
Looking for some other great pub crawls. Here is the CrawlSF 2022 schedule:
7/2: Fourth of July Pub Crawl & Hot Dog Eating Contest
8/13: TBD
10/29: Halloween Pub Crawl DAY 1
10/30: Halloween Pub Crawl DAY 2
10/31: Halloween Pub Crawl DAY 3