How to Play Pub Golf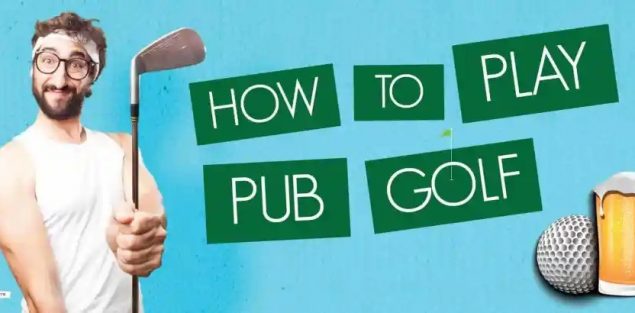 Looking for a great way to celebrate a birthday, commemorate a special occasion or just get the gang together for some good ol' fashioned bar hopping? Take things up a notch by planning a fun round of pub golf. No matter where you live, there are probably a few good bars where you can drink, eat and party, whether you want to do some day drinking or head out when the sun goes down. 
WHAT IS PUB GOLF?
At the most basic level, Pub Golf is recreational drinking activity where participants dress up in golf-themed attire and go on a pub crawl. To really stay on theme, you would choose a grouping of either 9 or 18 bars (representing the holes on a golf course) and each bar would have an activity that allows you to get anywhere from 1 to 5 "points" based on how well you do. However, depending on how many bars are in your area and how much you want to drink, you will most likely want to put together your own version of pub golf that suits your group the best.
HOW TO PLAY PUB GOLF
1. Figure out who is playing
Pub Golf is definitely a lot more fun when you have a big group. Once you have a few dates in mind, send out some texts, emails and/or social media messages to your crew and see who wants to join and what dates work best for everyone. If you want a big group of people participating, make sure to tell everyone to invite friends as well. The more the merrier! Once you have an idea of the numbers, you can decide if you want to put people together in twosomes or foursomes to make it more of a team activity. Knowing the amount of participants will also be good information to have if you want to contact the bars to let them know you are coming.
2. Choose the Bars
If you live in a big city, you will probably have a lot of great bar areas to choose from, but even if you live in a small town, you can still put together an amazing round of pub golf. When you are choosing bars, try to pick a few places that are close to each other to make it easier to get from place to place. You should also make sure that all of the bars on your list will be open (especially when you are doing a daytime pub crawl)
3. Set Up the Crawl
Once you have the date set, know who is attending and have chosen the bars, it is time to decide on how the pub crawl will work. Adding a gaming aspect to the event can be fun, but you can also just get everyone to dress up in golf-themed outfits and just crawl from bar to bar with your friends. If you choose to set up a full-blown pub golf crawl with scores, penalties, prizes and more, then there are a few things that you will need to figure out. Some of the main options include:
-Choose a drink or game for each hole
-Assign Par for each hole based number of sips, game score, etc.
-Create a list of penalties
-Create scorecards to keep scores
-Assign a caddie (if you need a designated driver or a sober person to be the responsible party)
-Choose whether you will compete individually or in teams
-Choose Team names (if you choose to compete in teams)
-Assign time limits at each bar (optional)
-Decide on Prizes
-Decide on the Forfeit Task(s)
Setting up the holes: Like a standard golf course, each bar will represent a "hole" on the pub crawl and each spot will have one or more tasks to be completed and an assigned "par" based on the difficulty of each task. Typically, these tasks would be based on how fast you drink the "par" drink, however you can also add some non-drinking options. Keep in mind that drinking one or more drinks at 9 or more bars could be a recipe for disaster for some of the participants.

Here is an example of a common setup for Pub Golf:
Beer Pint Pub Golf
-9 participating bars are chosen for the crawl
-Each bar will be assigned a "par" and a specific type of beer that you must drink. The par represents the number of sips that are allowed (ex. Par 3 = 3 sips to finish the drink)
-Scores are recorded on the Pub Golf scorecard, which take into account the number of sips to finish the designated drink as well as any possible penalties that you may have gotten.
-At the end of the 9 "holes" the player/team with the lowest score wins the game!
OPTIONAL SCORING OPTIONS:
While Pub Golf is a drinking event, you may want to mix things up by offering staggered non-drinking options to avoid any excessive drinking, passing out and throwing up. Some options include:
-Substitute a pint of water for a beer at one or more of the bars
-Subsitute a food option at one or more of the bars (ex. eat a hot dog in 4 bites for par)
-Play bar games. If any of the bars on the list have any games like Pop-a-Shot, Skeeball, Darts, etc, you can create challenges based on the scores. For example, if you choose a bar that has skeeball with a par of 4, you can set ranges that equate to strokes:
Your Skeeball Score // Your Golf Score
90-180 // Bogie (5)
180-240 // Par (4)
240-300 // Birdie (3)
300-500 // Eagle (2)
500+ // Hole in One (1)
Setting up non-drinking options can actually make pub golf a lot more fun and give some people who may not be big drinkers a way to compete.
Penalties
While not completely necessary, choosing some funny penalties can definitely add to the fun. Some penalty options include:
-Water Hazard: using the bathroom at certain bars
-Missing a hole
-Falling down
-Burping or Farting
-Cheating
-Public PDA
-Spilling a drink
-Spilling a drink on yourself
-Spilling a drink on someone else
-Dropping a full drink
Winners and Losers
After completing the final challenge at the last bar, you will turn in your scorecards to the caddie (aka the most responsible, most sober person) to add up to scores and choose the winner. The person or team with the lowest score will win the designated Pub Golf prizes. To make things even more fun at the end of the crawl, you can also decide what the person or persons with the highest scores will need to do (also known as a forfeit). Depending on how crazy your crew is, the losers may regret their terrible performance when they have to do a crazy or embarrassing task. Examples include:
–The Bare Ass: Running around the bar with your pants down
–The Streaker: Running naked in the streets
–The Screamer: Yell something embarrassing in a crowded place
–Ghost Post: Allow the winner access to your Facebook, Instagram, Tik-Tok, etc. and make a post of their choosing
WHAT TO WEAR FOR PUB GOLF
One fo the best parts about participating in themed events is dressing up in crazy outfits! After all, everything is more fun when you are in a costume. The good thing about Pub Golf is that it is a fairly easy theme and most of the things you need will probably already be hanging in your closet or chilling in the back of a drawer. Things like golf shirts, shorts, knee-high socks, athletic skirts, visors and pretty much anything plaid, argyle or bright will work. You can also add some fun accessories like inflatable golf clubs, sunglasses, wigs, golf shoes and more.
GET CREATIVE WITH YOUR TEAM NAMES
If you choose to put together teams (usually twosomes or foursomes), then each group will have the option to choose a funny team name. If you plan the Pub Golf event early enough, you should have time to get some branded items with your team name or team logo to wear to the event. Some sweet team names we have seen in the past include:
Fairway to Heaven
Dimpled Balls
Shooter McGavin
Angry Birdies
Balls Deep
Grip It & Sip It
Puff Caddie
Tiger's Wood
If you've made it this far, then you have read an extremely detailed writeup about how to play pub golf, however the most important thing thing to remember is that you are supposed to have fun! If you (or someone in your group) are an extremely organized planner and you want to set up a round of pub golf with all of the bells and whistles, then that is awesome. If you are not a big planner and just want to enjoy some bar hopping with friends, then you can always just dress up in some crazy costumes, head to your favorite bars and see where the day takes you.