Pier 39 San Francisco Fireworks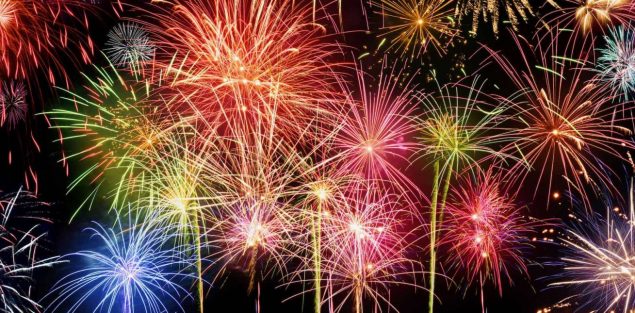 Witness the celebratory joy of the Fourth of July at PIER 39 as the skies sparkle red, white & blue. After a long hiatus, the fireworks show is confirmed for 2021, so get ready for a fun day in Fisherman's Wharf at this annual San Francisco Event. At 9:30pm, look to the sky for San Francisco's spectacular fireworks display. Grab your friends and family, throw on your Independence Day flair (CLICK HERE for some suggestions) and take advantage of PIER 39's incredible 180-degree views of the Bay. 
Looking for something fun to do before the fireworks? Check out the San Francisco Fourth of July Pub Crawl on Polk Street. The event will take place over 2 days (Saturday, July 3 from 2PM to 10PM and Sunday, July 4 from 4PM to 10PM) and will feature some amazing discounted beers, cocktails and shots at some of the best bars in the city. CLICK HERE for details.
Event Details:
Pier 39 Annual San Francisco Fireworks Show
Date: Sunday, July 4, 2021
Start Time: Show starts at approximately 9:30PM
End Time: The fireworks show will end between 9:50PM and 10PM
Location Address:
Pier 39
The Embarcadero
San Francisco, CA 94133
Website: pier39.com
Frequently asked questions about PIER 39's 4th of July Celebration:
What's going on at The PIER on July 4th?
Pier 39 is a fun place to go on any day of the year, but the Fourth of July offers a variety of fun activities to help make the holiday special. 2021 won't have the normal selection of exhibits and live music that occurs in other years due to the uncertainty that existed before restrictions were lifted, but Pier 39 and the surrounding areas in Fisherman's Wharf have a large number of restaurants, bars, shops, street performers, art exhibits and more. Get to the area early to explore before finding a place to watch the fireworks show at dusk.
Where is the best place to watch fireworks at PIER 39?
The fireworks will be shot off from two different spots, barges located at the end of PIER 39 as well as at the Municipal Pier. If you're on or near the pier, the best place to watch the show is along the perimeter road, toward the Bay End. There is no reserved seating or viewing areas, so make sure to scope out a good spot early. The fireworks show should last around 20 minutes.
Don't want to deal with the crowds at Pier 39? CLICK HERE for some other great places to see the show.
How late will Pier 39 businesses stay open?
PIER 39 businesses will be open until at least 9:30pm, however some businesses may stay open later. If you want to go to a specific place, contact individual businesses, restaurants, etc. for more information and to inquire about reservations.
Where should I park near Pier 39?
There will be parking available in the PIER 39 Parking Garage. The covered parking structure is located directly across the street from the pier. Special event rate is $10/hour with a $80 daily maximum. The parking garage will fill up quickly on Independence Day, so make sure to get there early. Please note that there will be a lot of traffic throughout the day.
What are the public transportation options?
If you're already in the city, you can get to Pier 39 on MUNI's historic E-Line or F-Line street car; the 8, 8X, 39 or 47 bus; or BART. San Francisco's famous cable cars also drop off just a few blocks from Pier 39. For more information, call 888-500-INFO, go to 511.org or dial 511 on your cell phone. For Amtrak shuttle options, visit the Amtrak website at www.amtrak.com or call 800-USA-RAIL.
Anything else I should know?
You can only consume alcoholic beverages inside the place of purchase. San Francisco's open container laws prohibit the drinking of alcoholic beverages in the Pier 39 common area, along the streets and in any other public areas.