Halloween at Great America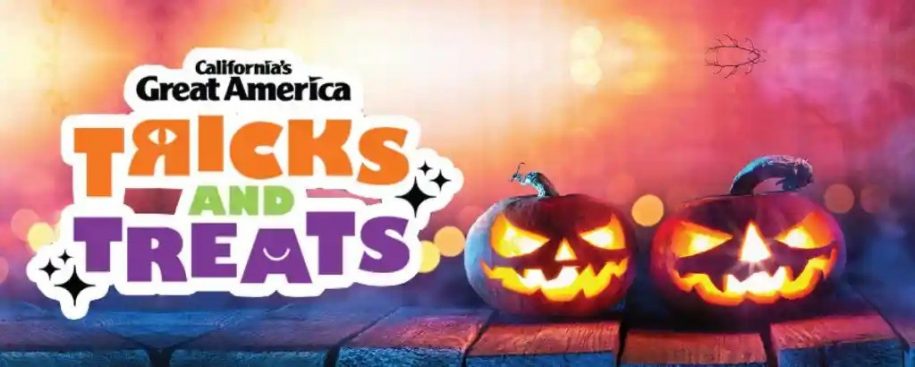 Great America is offering a new Halloween experience for 2022. As a replacement for the long-running Halloween Haunt at Great America, a new adventure is launching at the famous theme park in Santa Clara. Tricks and Treats is a new Halloween-themed experience that will focus more on fun and fantasy than terror, shocks and scares. Enjoy a entertaining day at the park that will be suitable for adults and kids of all ages.
There are plenty of places to visit if you are looking for some scares that will haunt you long after Halloween ends. Fear Overload Scream Park in San Leandro, Scream Park in Sacramento and The Los Angeles Haunted Hayride all offer an experience that will satisfy even the most extreme thrill-seekers. Or, if you want to visit the scariest Halloween location in America, you can head to Mckamey Manor in Tennessee, where you have to sign a 40-page waiver before attempting to make it through the attraction. If you a different kind of experience, one that is a little more treat than trick, the Great America's Halloween Tricks and Treats is definitely worth a visit.
The attraction will feature two main areas with different themes. The Land of Tricks features 2 areas, Ickyville and Spooky Spires. Ickyville focuses on all things mucky, goopy, clammy, stinky and gross, while Spooky Spires offers a slightly scary vibe in a 1920s haunted village. The Land of Treats is a unique section of the park, which also has 2 areas, Everfall and Sweet Tooth Acres. Everfall has the feel of Autumn, with pumpkins, glowing candles and sweet smells like pumpkin spice and fresh-baked fall foods like Chicken Pot Pie. Sweet Tooth Acres covers one of the most important parts of Halloween, trick-or-treating!
In addition to the special Tricks and Treats features, all of the most popular rides will be open so you can enjoy the full Great America experience.
Tricks and Treats admission is included with the Pre-K, Gold and Platinum Great America Passes. If you don't have a season pass, you can purchase a day pass.
SPECIAL ACTIVITIES FOR KIDS
Gorgeous Gourds: Pumpkin decorating station
Wagon-Along Story Stroll: Ride wagons through winding paths of hay bales and pumpkins
Kindness Rocks: Rock decorating station
Pick Your Pop Stand: Lollipop stand with prizes
Trick or Treat Trail: Kids can go trick-or-treating at 8 fun stands
Mask Makers Mash: Create your own Halloween Mask
Skeletons of Fun: Games area
Beanboozled: Wheel game
Frame Worthy Frights: Large crowd-sourced paint by numbers mural
LIVE ENTERTAINMENT
Main Stage: The Incantation, Good Nightmares, Costume Council
Everfall: Bonfire Tales, The Great Craft Off, Forest Friends Marionettes, The Harvest Duet
Sweet Tooth Acres: The Fun-Sized Four, The Candy Corns
Ickyville: The Gross Out Gauntlet, The Snots, Clean up Crew, Creature Features
Spooky Spires: The Spectral Sisters, Disco Crypt Yard