Halloween at Great America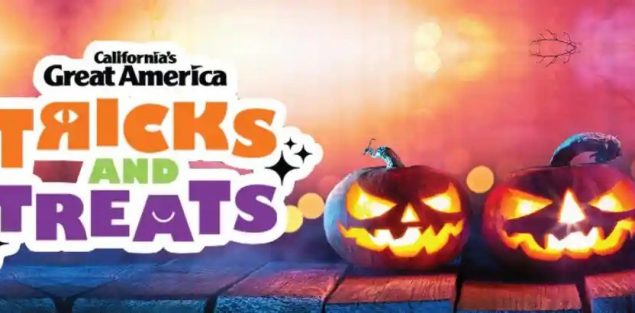 Great America launched a new Halloween experience in 2022. As a replacement for the long-running Halloween Haunt at Great America, a new adventure is here at the famous theme park in Santa Clara. Tricks and Treats is a new Halloween-themed experience that will focus more on fun and fantasy than terror, shocks and scares. Enjoy a entertaining day at the park that will be suitable for adults and kids of all ages.
There are plenty of places to visit if you are looking for some scares that will haunt you long after Halloween ends. Haunted Houses and attractions like Fear Overload Scream Park in San Leandro, Scream Park in Sacramento and The Los Angeles Haunted Hayride all offer an experience that will satisfy even the most extreme thrill-seekers. Or, if you want to visit the scariest Halloween location in America, you can head to Mckamey Manor in Tennessee, where you have to sign a 40-page waiver before attempting to make it through the attraction. If you a different kind of experience, one that is a little more treat than trick, the Great America's Halloween Tricks and Treats is definitely worth a visit.
The attraction will feature two main areas with different themes. The Land of Tricks features 2 areas, Ickyville and Spooky Spires. Ickyville focuses on all things mucky, goopy, clammy, stinky and gross, while Spooky Spires offers a slightly scary vibe in a 1920s haunted village. The Land of Treats is a unique section of the park, which also has 2 areas, Everfall and Sweet Tooth Acres. Everfall has the feel of Autumn, with pumpkins, glowing candles and sweet smells like pumpkin spice and fresh-baked fall foods like Chicken Pot Pie. Sweet Tooth Acres covers one of the most important parts of Halloween, trick-or-treating!
In addition to the special Tricks and Treats features, all of the most popular rides will be open so you can enjoy the full Great America experience.
Tricks and Treats admission is included with the Pre-K, Gold and Platinum Great America Passes. If you don't have a season pass, you can purchase a day pass.
SPECIAL ACTIVITIES FOR KIDS
Gorgeous Gourds: Pumpkin decorating station
Wagon-Along Story Stroll: Ride wagons through winding paths of hay bales and pumpkins
Kindness Rocks: Rock decorating station
Pick Your Pop Stand: Lollipop stand with prizes
Trick or Treat Trail: Kids can go trick-or-treating at 8 fun stands
Mask Makers Mash: Create your own Halloween Mask
Skeletons of Fun: Games area
Beanboozled: Wheel game
Frame Worthy Frights: Large crowd-sourced paint by numbers mural
LIVE ENTERTAINMENT
Main Stage: The Incantation, Good Nightmares, Costume Council
Everfall: Bonfire Tales, The Great Craft Off, Forest Friends Marionettes, The Harvest Duet
Sweet Tooth Acres: The Fun-Sized Four, The Candy Corns
Ickyville: The Gross Out Gauntlet, The Snots, Clean up Crew, Creature Features
Spooky Spires: The Spectral Sisters, Disco Crypt Yard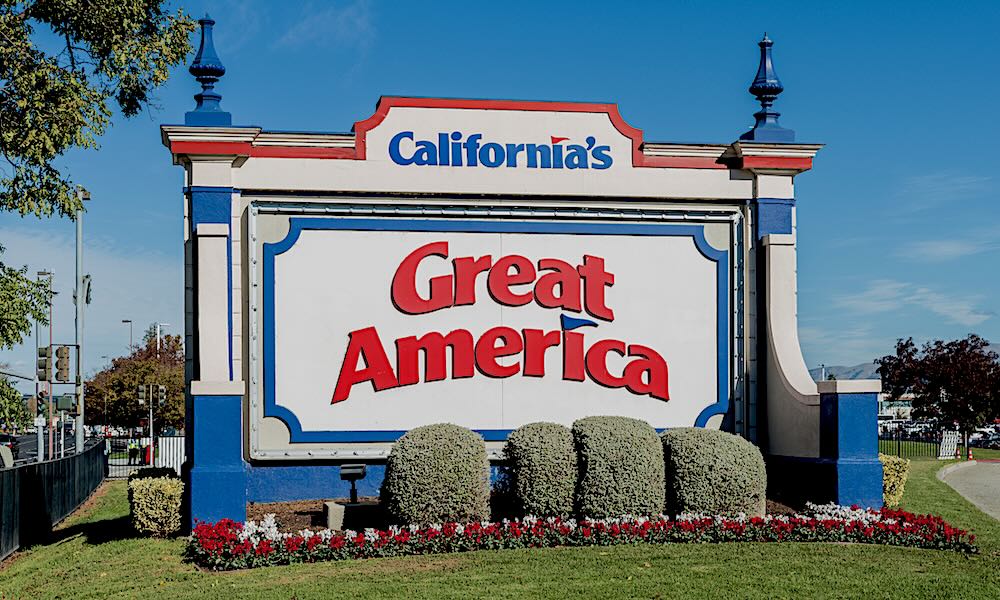 A Spine-Chilling Celebration: California's Great America Transforms for Tricks and Treats
California's Great America presents Tricks and Treats: Sept. 22 – Oct. 28, 2023
Are you ready for a Halloween adventure like no other in the vibrant heart of the San Francisco Bay Area? Look no further than California's Great America's Tricks and Treats event! From the tiniest goblins to the wisest ghouls, there's something devilishly delightful for everyone to enjoy during this spooktacular season. Brace yourselves for a frightfully fun journey filled with mouthwatering seasonal treats, eerie beverages, and, of course, heaps of candy. Tricks and Treats is a cornucopia of excitement, boasting two distinctive realms where you can choose your thrill.
As you step into this haunted wonderland, the choice is yours: venture into the Land of Tricks, where playful spookiness reigns supreme, or saunter through the charming boulevards of the Land of Treats, reminiscent of cozy fall festivals. Dive into the depths of Tricks and savor the sinister sights of Ickyville and the macabre charm of Spooky Spires. Or, for those with a sweet tooth, revel in the festive vibes of Everfall and Sweet Tooth Acres. But wait, there's more—our most popular rides are fully operational during this Halloween extravaganza, promising thrills and chills that can only be found at California's Great America.
Ticket Options:
CLICK HERE TO PURCHASE TICKETS
Tricks and Treats Tickets: $39.99
Save up to $30 off the front gate price
Single Day Admission
Includes Available Rides
Plus applicable fees.
Tricks and Treats Bring-a-Friend Tickets: $34.99
Save up to $35 off the front gate price
Single Day Admission
Includes Available Rides
Plus applicable fees. Valid on date chosen at purchase. Must be accompanied by a valid Season Passholder.
The Realms of Tricks and Treats:
Land of Tricks: Ickyville
Get ready for a symphony of "Eww! Yuck! Gross!" If your Halloween cravings include all things slimy, squirming, goopy, and malodorous, then Ickyville is your twisted sanctuary. Chuckle at the chaotic antics of the Clean Up Crew as they tackle the aftermath of ghastly messes.
Land of Tricks: Spooky Spires
Gothic elegance meets 1920s charm at Spooky Spires, a village inhabited by delightfully deadpan locals who can't wait to spend time with you. Feel the rhythm of the Jelly of the Month Club Show, where surprises lurk around every corner. Fancy a game or two? At our macabre carnival games, everyone's a winner! But beware of The Bride of Frank's Ice Cream, a tantalizingly swirled black and white ice cream cone that conceals a deliciously chilling secret.
Land of Treats: Everfall
If your ideal autumn involves softly glowing candles, pumpkin spice, and cozy flannel, Everfall will transport you to a classic fall dream. Join us for heartwarming campfire stories, acoustic renditions of seasonal hits, pumpkin decorating, and idyllic spots for photos. Savor delectable fall foods like our Butternut Squash Flatbread and Sweet Apple Betty.
Land of Treats: Sweet Tooth Acres
Down on the farm, where candy corn and lollipop trees flourish, we revel in the sweetest treats imaginable. Explore the enchanting world of our candy-switching witch, and don't forget to indulge in some trick-or-treating along our incredibly sweet Trick or Treat Trail.
Fall Festival Food with a Twist:
At Tricks and Treats, our culinary offerings are a hauntingly delicious affair, with mischievous twists that add a touch of ghastly fun. Whether you're craving sweet treats like Pumpkin Beignets or savory delights like Dia de los Muertos Tamales, we've got something to satisfy every foodie's palate. And for our older ghosts and ghouls, we've brewed up a bewitching selection of potions, elixirs, and magical brews.
Halloween Activities for All:
In each captivating land, you'll discover Halloween activities to enchant witches and warlocks of all ages. Challenge your mummy to zany games, untangle mysteries, meet a cast of peculiar characters, and strut your stuff in a Halloween costume contest. Get crafty with seasonal make-and-take creations, including pumpkin decorating, and dance to sizzling beats. Don't forget to attend Tricks and Treats in your own fabulous costume!
Live Halloween Entertainment:
Prepare to be spellbound by live entertainment around every corner. Gather 'round and enjoy the captivating music of talented performers, or listen to folklore spun by master storytellers. It's an enchanting experience that families and friends can enjoy together.