Even if you can't make it to Brooklyn for the Annual Nathan's Hot Dog Eating Contest, you can still see some great hot dog eating action in San Francisco on the Fourth of July.
The San Francisco Hot Dog Contest will take place during the Fourth of July Pub Crawl on Tuesday, July 4 at Mayes Oyster House. The contest will take place starting at 7:30PM, which will give you plenty of time to head to your favorite spot to watch the San Francisco Fireworks at 9:30PM.
Hot Dog Eating Contest Location: Mayes Oyster House
Pub Crawl Times: 4PM to 10PM
Hot Dog Eating Contest Times: 7:30PM to 8PM
CLICK HERE TO ENTER THE HOT DOG EATING CONTEST
Don't like hot dogs? Test your skills at the San Francisco Pie Eating Contest.
CLICK HERE TO ENTER THE PIE EATING CONTEST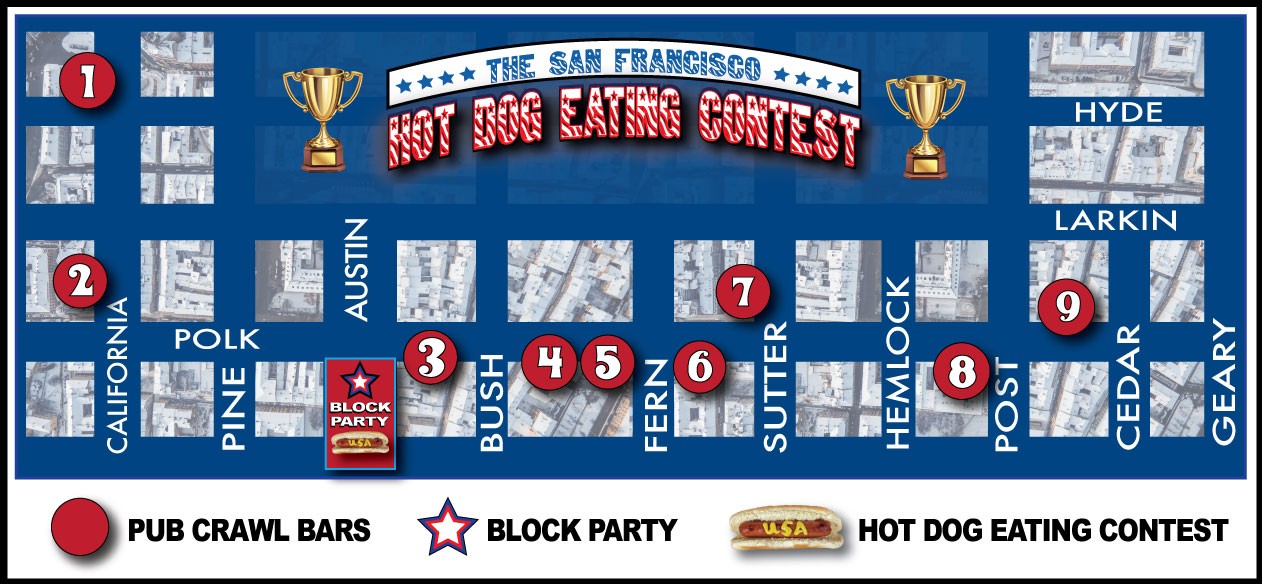 Think you have what it takes to win?
Whether you are a competitive eater, an amateur with a huge appetite or just really like hot dogs, you are welcome to enter (space is limited, however). Simply fill out the form and you will be contacted if you are chosen to be one of the lucky participants. 
CLICK HERE to enter the Hot Dog Eating Contest
If you want to take things up a notch, grab a ticket the the Pub Crawl as well and get Cheap drinks at some great bars on Polk Street from 4PM to 10PM. Click here for the details:
El Lopo
1327 Polk Street San Francisco, CA 94109