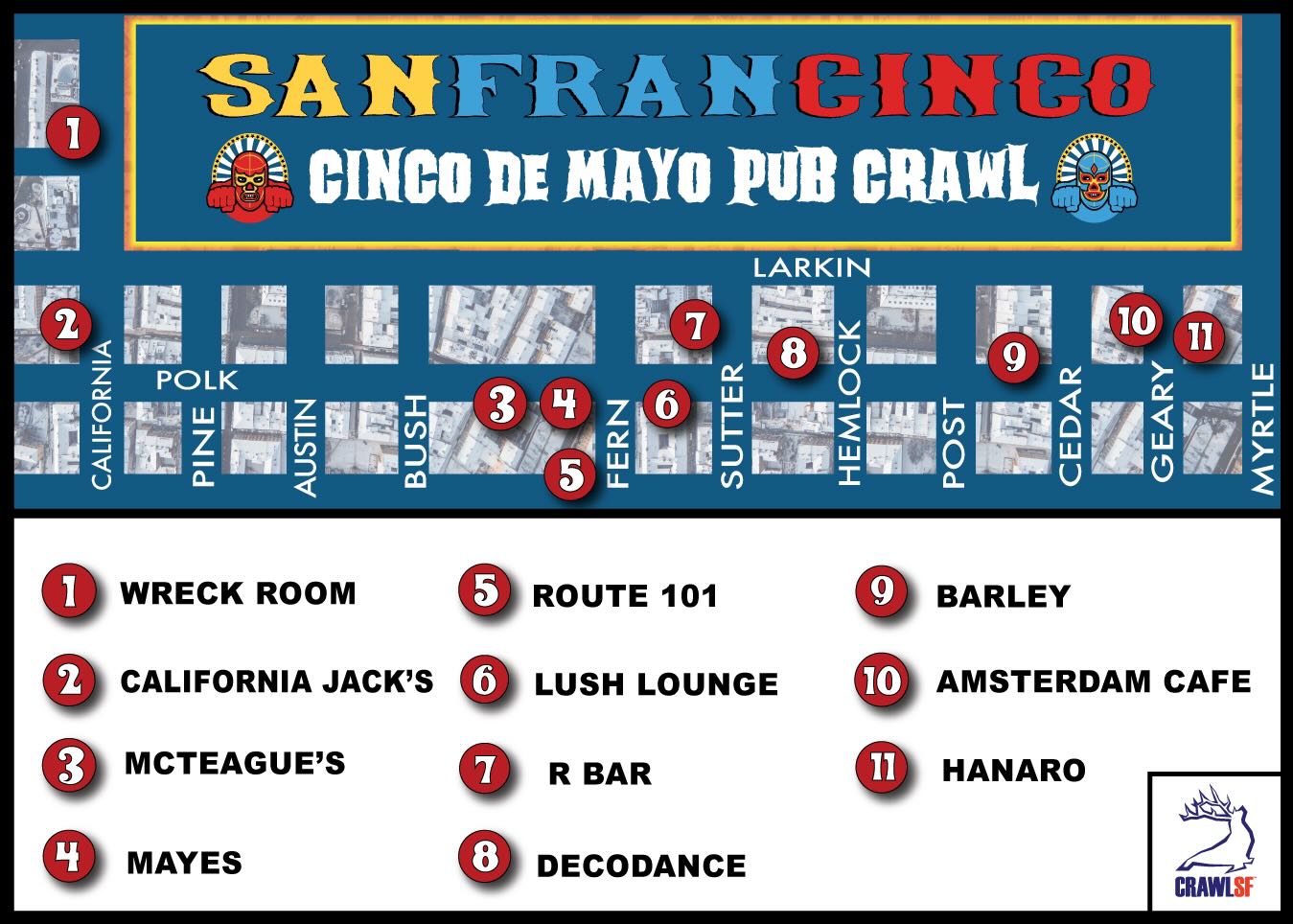 San Francisco Cinco De Mayo
Bars & Specials
1. Wreck Room: $3 Tecate Cans, $4 Astral Blanco Tequila Shots, $4 Astral Blanco Mules, $5 Corona Premium Drafts
2. California Jacks: $3 Modelo Cans, $4 Tequila Soda, $4 Tequila Shots
3. McTeagues: $3 beer (Boneyard IPA/Deschutes Hazy/Shock Top)$4 Cuervo Tradicional Shot, $4 Paloma Cocktail, $5 Bottle of Corona/Modelo, $7 Cuervo Tradicional Margarita
4. Mayes: $3 Bottled Beer, $4 Dirty Shirley, $4 Tequila Shots, $6 Whiskey Ginger, $8 Peach Pleasure
5. Route 101: $3 Modelo, $3 Tecate, $4 Astral Tequila Shots, $4 Blanco Tequila Sangria, $5 Corona
6. Lush Lounge: $3 Draft Lager, $4 Raspberry Lemon Drop shot, $4 Green Appletini, $5 Watermelon Fizzzz, $6 Vodka Soda, $6 Stone IPA
7. R Bar: $3 Tecate, $4 Slake Whiskey, $5 Vodka Sodas
8. Decodance: $3 Tecate, $4 Lychee Shots, $4 Wiskey/Coke, $5 Tequila/Soda +$1 (any juice), $9 Margarita- tequila, citrus, agave (add Fresh strawberry +$1), $10 Mezcalita- mezcal, citrus, agave, $12 some like it hot- mezcal, passionfruit, spicy toasted sesame oil, citrus, agave, $12 Sunset- Tequila, Aperol, Elderflower, Citrus, Grapefruit Juice
9. Barley: $3 Soonish Beer, $4 Sangria, $4 Deep Barley Shot, $5 Sake Drop, $5 Sangria Drop
10. Amsterdam Cafe: $5 Amsterdam Blonde Ale, $3 Jell-O Shot, $3 Fireball, $7 Mac and Cheese, $7 Pretzel, $7 Sausage with Pretzel Bun
11. Hanaro: $3 Coors Light, $4 Margarita (Tequila, Sour Apple), $4 Besos (Tequila, Chocolate Raspberry, $5 Whiskey Sour (Whiskey, Cranberry), $5 Squirtarita (Tequila, Squirt), $5 Tequila Shot
Find The Gnome Contest
Get ready for a whirlwind of excitement and friendly competition during the Cinco De Mayo Pub Crawl in San Francisco with the "Find The Gnome" contest! This captivating treasure hunt takes the already thrilling two-day pub crawl to a whole new level of fun.

As you journey through the bars on the Cinco De Mayo Pub Crawl, tap into your inner explorer and keep a keen eye out for the elusive gnomes hidden in clever nooks and crannies.

Once you've successfully located one of these mischievous gnomes, make your way back to the check-in area at Mayes Oyster House to claim your fantastic prizes, including a CrawlSF swag bag and a CrawlSF Season Pass. This amazing reward gives you complimentary access to future pub crawls, letting the good times roll all year round!

To ensure a fair and enjoyable experience for all participants, each person is allowed to find one gnome and claim the associated prizes. So, rally your friends, ignite your sense of adventure, and dive into the thrilling gnome-seeking escapade during the Cinco De Mayo Pub Crawl in San Francisco.
The Next Pub Crawl!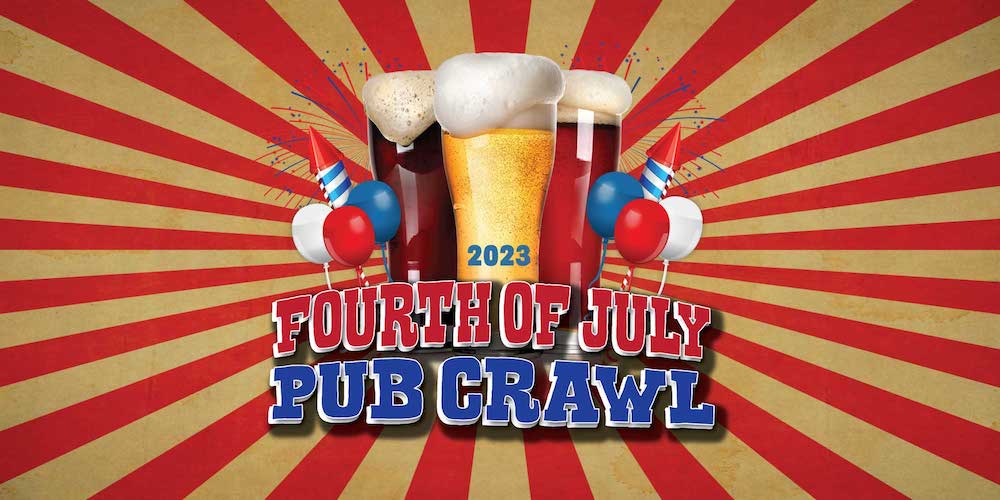 gather your crew
Join Your Ultimate San Francisco Pub Crawl
Upcoming Events in San Francisco
Planning an event? Add it to the list
Contribute to SF's best list of what's happening today and tomorrow