Bus Rentals in the Bay Area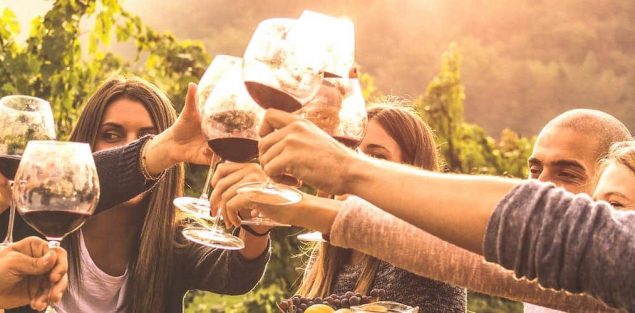 THE BEST WAY TO RENT A BUS
Do you have a special event in San Francisco coming up? Upgrade the experience with a charter bus rental from CrawlSF! We make it easy to rent a bus for weddings, business meetings, winery tours, airport transfers, bachelorette parties and more. We have a wide variety of sprinters and buses, so you can be confident that you can get the perfect vehicle for your event. 
Renting a bus is a great way to make an upcoming event, business meeting or special occasion even better. Whether you want to rent a sprinter for a small group winery tour or need multiple coach buses for a large company event, CrawlSF can take care of all your transportation needs. In partnership with Abiano Limo, M Ride and Great Party Bus, we have a huge fleet of vehicles ready for any occasion. Are you worried about the stress of the booking process? No need to worry. CrawlSF makes the rental bus booking process as easy as possible, so you can focus on all the other important details. Our experienced booking agents and transportation concierges will take you through each step of the bus rental process and make sure that you get the best vehicle for the job, at a price you can afford.
Our fleet of vehicles includes the best SUVs, Sprinters, Party Buses and more, so you can get the exact vehicle that you want. Our experienced drivers will make sure that your vehicles are ready to go as they take you to all of your destinations before returning you home safely. To get the booking process started, you will just need to know the date of the booking, approximate times, number of people, destination ideas and some other basic information so that we can get an idea of what you need. Once we know the primary details, we can start to put together a rough itinerary with estimated loading and drive times as well as a list of available vehicles with pricing. Need help deciding on some destinations? Our team has set up many winery tours, sightseeing tours, bachelorette parties, club crawls and more, so let us know what you are looking for and we can give you some great recommendations on wineries, bars, nightclubs, restaurants and more.
We offer bus rental services in San Francisco, San Jose, Oakland, Sacramento and every city throughout the Bay Area, so no matter where you want to go, we will take you there…
OUR FLEET
When you need transportation services, choosing the right vehicle for the job is an important part of the process. Our fleet is one of the biggest in the Bay Area, so we are able to offer a wide variety of different vehicles for groups of any size. All of our vehicles are clean and sanitized after each use according to federal guidelines to keep you safe. Choosing a vehicle comes down to how many people and what type of occasion. If you have a small group of people, you can choose from Town Cars, Sedans, Limousines and executive SUVs. Medium sized groups of people from 15 to 40 people can choose from a variety of Sprinters, Vans and Minibuses. Large groups can take advantage of our 55-passenger motor coaches, which are capable of transporting a large number of people for events like business conferences and music festivals. We also have a large variety of custom party buses that range from 15 to 45 people and include fun amenities like disco lights, mini bars, dance floors and more. No matter which one you choose, you can be confident that you will get a clean, luxury vehicle with an amazing, professional driver to take you to all of your destinations.
Luxury SUV: For groups up to 6 people. Perfect for a night on the town and airport pickups
Sprinter: Perfect for groups of up to 15 people. Our luxury Mercedes Sprinters offer a luxury experience for birthdays, concert shuttles and more.
Minibus: Perfect for medium sized groups up to 36 people. These are a popular choice for winery tours, club crawls and birthdays.
Party Bus: Party buses are similar to a minibus, but offer wraparound seating, dancing poles, disco lights and more. Party Buses can hold up to 45 people. 
Motorcoach: If you have a large group of people, Motorcoaches are a great choice. With seating for up to 55 people, they are the perfect choice for large events, festivals and conferences.