Oakland Bus Rentals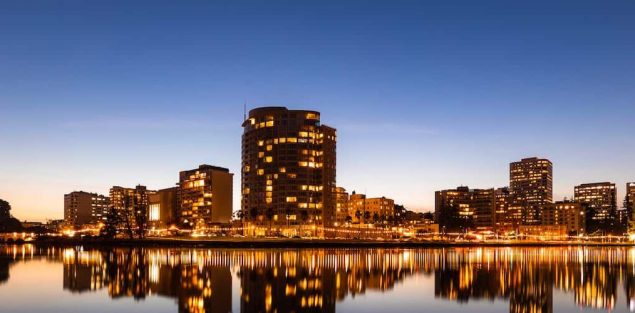 The Best Way to Rent a Bus in Oakland
A unique city located in the San Francisco Bay Area, Oakland is a fun place to visit and is surrounded by a huge variety of attractions. Besides the fun things to do in the City of Oakland, you can easily make a day trip to San Francisco, Silicon Valley, Monterrey, Yosemite, Napa Valley and more. Whether you are visiting or a local, if you need transportation services in Oakland, CrawlSF can help! Oakland is a great starting place for trips to Wine Country, Lake Tahoe, San Francisco and other great places. If you have a group of friends that want to get together to go to a concert, celebrate a birthday, party it up on a club crawl or any other activity, let us take care of all the details. We have a large selection of Party Buses, Luxury SUVs, Vans, Coach Buses and specialty vehicles that can handle groups of any size. Contact us today and let us know your transportation needs. 
Popular Bus Rentals in Oakland
There are many reasons to rent a bus in Oakland, California, but the CrawlSF Team is here to help. No matter how many people or where you want to go, we can handle the job and make sure you get to all of your destinations in style. Some of the more popular bus rental options include:

Yosemite: About a 3 hour drive from Oakland, Yosemite National Park is a great place for a day trip, although camping at least one night is recommended. It averages almost 5 million visitors per year, so it is one of the most popular National Parks to visit and can be crowded during the peak times. There are a lot of cool and unique areas within the 1200 square mile park, but the most popular attractions are Tunnel View (to get that perfect Yosemite picture for the socials), Half Dome, El Capitan and the various beaches, waterfalls and hiking trails throughout the park. While you can drive your own vehicle, why not rent a sweet bus and leave the driving to us? Having a private charter will allow you to enjoy the drive, check out the scenery along the way and since it can be a little bit or a workout to visit Yosemite, relax or take a nap on the ride home.

Weddings: Whether you have a wedding taking place in Oakland or have opted for one of the amazing locations outside the city like Napa Valley, San Francisco or Half Moon Bay, you will most likely want to add some transportation options for guests. We can provide airport pickups, shuttles back and forth to the reception and ceremony, as well as specialty or vintage vehicles for the grand arrival of the Bride and Groom.

Concert Shuttles: Have tickets to an upcoming concert? While Oakland has a lot of great music venues like Fox Theater Oakland, The New Parish and Yoshi's, if you want to head out to Shoreline Amphitheater, SAP Center San Jose, Chase Center or one of the many awesome concert venues around the Bay Area, you probably know that there isn't always an easy way to get to these spots without driving and paying for parking. If you have at least a small group of people who are all heading to the same show, renting a party bus or a minibus can be a fun and affordable way to get there. Plus, you don't have to worry about drinking and driving, so everyone in your group can let loose and have some fun.

Wine Tasting Tours: No matter what Bay Area City you are in, you are probably within driving distance of one of the best wine regions in the world. From Oakland, you can be in Sonoma or Napa Valley in less than an hour and will have your choice of over 800 wineries in the area to visit. Party Buses are the perfect compliment to a Napa Valley Winery Tour. You can bring together a group of friends and family aboard a sweet bus with all the bells and whistles and head to wine country for some delicious reds, whites and sparkling wines. The best part about renting a party bus is that you won't have to worry about a thing. We will take care of setting the itinerary, making the necessary reservations, driving you to each destination and even taking care of any special requests that you may have (balloons, stocked mini bar, decorations, catered food, etc.) so that you can enjoy yourself from start to finish.