San Francisco Bus Rentals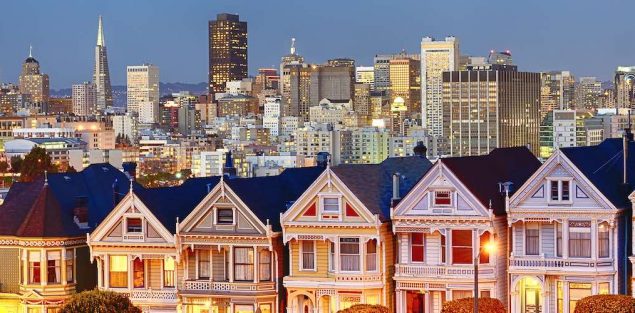 The Best Way to Rent a Bus in San Francisco
San Francisco is an amazing city with a rich, cultural history. From the Gold Rush in 1849 to the Summer of Love, the City By The Bay's history has created a plethora of interesting things to do and sights to see. Whether you are a local or visiting for the first time, you will have a lot of San Francisco events and activities to fill up your time. If you have an event or special occasion coming up, why not upgrade your experience with a San Francisco Bus Rental. Renting a Town Car, Sprinter, Party Bus or other vehicle can make any occasion more fun by eliminating the need to drive, find parking and deal with expensive Ubers. Whether you have a small group or a large group, we have a full fleet of luxury vehicles ready to pick you up and take you to all of your destinations. The process of renting a bus in San Francisco is easy with CrawlSF. Our partner companies, M Ride, Great Party Bus and Abiano Limo have decades of experience in the transportation industry and can not only provide great vehicles at affordable prices, but can help you through every step of the booking process to make sure that you get everything that you want.
Things to do in San Francisco
San Francisco is a beautiful city in Northern California and one of the top tourist cities in the Nation. The center of the greater San Francisco Bay Area, which includes Oakland, San Jose and more, it is a popular place to visit due to the diverse number of activities, landmarks that are recognized worldwide and a bustling culinary food scene. A large number of unique neighborhoods make up the city, each with their own feel and culture, such as North Beach, The Mission District, The Marina, SOMA, Haight -Ashbury, Russian Hill and more. A visit to San Francisco, also affectionately known as "The City by the Bay", will greet you with a huge number of different things to do and things to see like The Golden Gate Bridge, Coit Tower, Alcatraz, Muir Woods, Silicon Valley and more. There are many rights of passage as well, like trying an Irish Coffee at the Buena Vista Cafe (credited with bringing the delicious coffee drink to the United States), having some Cioppino at Tadich Grill, riding a cable car up California Street, munching on some Dungeness Crab at Fisherman's Wharf and many other options so it may take you more than one trip to do it all.
While there are almost too many cool things to do in San Francisco to keep track of, there are definitely some that stand out from the others. San Francisco bus rentals offer a great way to see the city or surrounding attractions without having to worry about driving and parking and it also makes getting to your destination more fun. Renting a bus in San Francisco or taking one of the many awesome tours that are available will give you a chance to see the best that the Bay Area has to offer. Here are some of the most popular tours and bus rental options in San Francisco:
Muir Woods Tours: Located just across the Golden Gate Bridge in Mill Valley, California, Muir Woods is a place that you need to see to really understand its true beauty. Muir Woods is a forest, but more importantly, a forest that is made up of old growth coast redwoods. These redwood trees, which happen to be the tallest living things on earth, tower into the sky with some reaching over 250 feet tall and 30 feet in diameter at its base. It is an incredible and almost humbling feeling to walk amongst these ancient trees and see their massive size in person. The longevity of these impressive trees is one of the reasons they are able to grow so tall, with most trees being around 500 to 700 years old, but some are estimated to be over 2,000 years old. A visit to Muir Woods give you a chance to hike one of several different trails, walk through the redwood forest, and check out the local flora and wildlife. It is estimated that Muir Woods is home to over 380 plant and animal species, so you never know what you may see on your visit. Visiting Muir Woods requires reservations due to the huge number of people that visit every year, but you can make things easy on yourself and rent a bus from CrawlSF and we will take care of all the details for you.
San Francisco Winery Tours: With one of the best wine regions in the world just about an hour from San Francisco, renting a bus for a wine tour is one of the more popular activities in the area. Wine Country, made up predominantly of Napa Valley and Sonoma Valley, is home to over 800 wineries of all types and sizes growing grapes for Cabernet Sauvignon, Chardonnay, Pinot Noir, Sauvignon Blanc and more. There are also acres of orchards and fields of olive trees, so make sure to check out some of the olive oil tastings and grab some fresh produce before you leave. If you are looking to rent a bus for a winery tour to Napa Valley or Sonoma Valley, CrawlSF can not only provide you with a driver and a great vehicle for the trip, but also help you take care of all the details. If you are not sure what wineries to visit, where to eat and what else to do, our team can help you set up the perfect itinerary, make reservations and make sure you have the best time possible. We have a variety of vehicles that can handle groups of any size, so whether you have a small group of 10 in a Sprinter or a group of 30+ in a Party Bus, we can provide the perfect ride for the trip.
San Francisco Sightseeing Tours: If you are visiting San Francisco, you may be a little overwhelmed by all of the cool things to do, but doing a sightseeing tour will give you an easy way to see the best attractions in SF all in one trip. Renting a bus for a sightseeing tour of San Francisco is easy with CrawlSF. Our experienced booking agents will help you choose a great vehicle as well as set up an itinerary that lets you see all of the best tourist attractions at your own pace. Popular choices include driving across the Golden Gate Bridge, Pier 39, Alcatraz, Haight-Ashbury and more.
San Francisco Pub Crawls: Even though San Francisco is only 49 square miles, there are a huge amount of bars of all kinds across the city. Whether you are celebrating a special occasion or are just getting the gang together for a night of debauchery, renting a party bus for a good old fashioned pub crawl is a guaranteed good time. While you could just walk from bar to bar or call an Uber, a party bus lets you keep the whole group together as you head to you favorite San Francisco bars and will allow you to keep the party going as you head from destination to destination. The CrawlSF Team knows the bars in San Francisco better than anyone, so we can help you decide where to go and even call ahead to make sure you don't spend any time waiting in line.