Warriors Championship Parade Details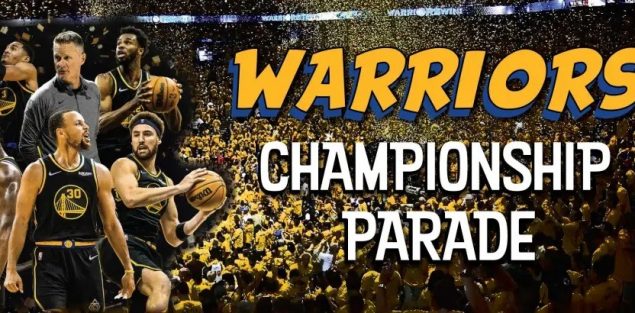 San Francisco Bay Area sports teams have seen a huge number of championship appearances and wins since the San Francisco Giants won the World Series in 2010. Since then, we have been treated to 3 World Series wins and 4 NBA Championships as well as 2 Superbowl appearances for the 49ers and even an NHL Stanley Cup Finals run by the San Jose Sharks in 2016. Each win results in a coveted Championship Parade to let fans get up close to the teams and celebrate their victories. Despite the Golden State Warriors making it to the NBA Finals 6 times in the past 8 years, we haven't gotten to celebrate a Championship since 2018 when the Dubs shut out the Cleveland Cavaliers 4 to 0. 
After a couple of seasons plagued with injuries, The Warriors have once again brought the Larry O'Brien Championship Trophy back to the San Francisco Bay Area. The is the first NBA Championship for the Warriors since making the move to their new San Francisco home, Chase Center, on October 5, 2019.
While there was also quite a bit of celebrating after the win on Thursday (and through the weekend), the city is gearing up for the official celebration and parade that will take place on Monday, June 20. Presented by Rakuten, the company prominently displayed on the Warriors uniforms, the parade will take place starting at 11:20AM.
WARRIORS CHAMPIONSHIP PARADE DETAILS
Date: Monday, June 20, 2022
Times: 11:20AM to 2PM
Location: The 1.4 mile parade will begin near the intersection of Market and Main Streets and continue down Market to 8th Street.
TV Coverage: If you can't make it to the parade, but still want to check out the festivities, you can watch it live on the NBC Sports Bay Area website. The coverage will start at 9:30AM in the studio and continue with live coverage of the parade.
Warriors Championship Merchandise will be available at 2 locations:
Post Street between Montgomery& Kearny
4th Street between Market & Stevenson
Both locations will be open to the public from 8AM to 2PM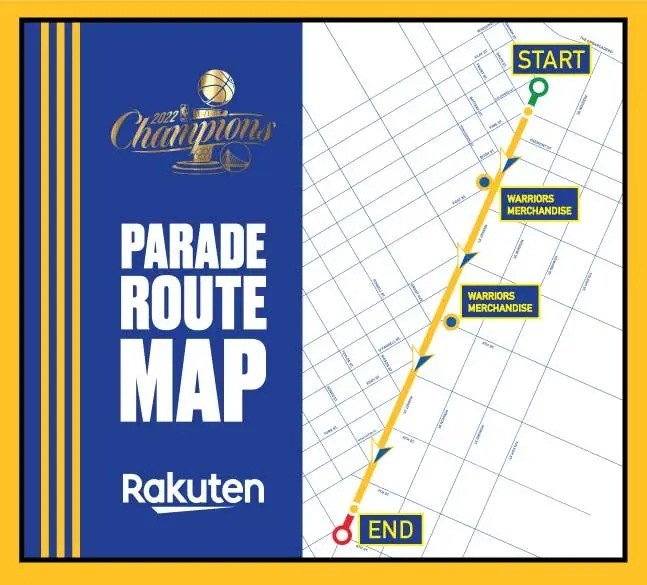 GETTING TO THE WARRIORS CHAMPIONSHIP PARADE
As with any major event in San Francisco, you can expect a large number of street closures, which can cause some potential issues with transportation.
List of Street Closures
Drumm Street from Sacramento Street to Market Street (Only the Easternmost lane)
Spear Street from Market Street to Howard Street (Mission Street will remain open)
Drumm Street from California Street to Market Street
Hyde Street from Market Street to McAllister Street
Grove Street from Hyde Street to Van Ness Ave.
Hayes Street from Market Street to Larkin Street
Main Street from Howard Street to Market Street (Mission Street will remain open)
Steuart Street from Howard Street to Market Street
9th Street from Mission Street to Market Street (The Easternmost lane will be closed)
Market Street from Main Street to 9th Street ( the cross streets will remain open)
Polk Street from Hayes Street to McAllister Street
Market Street from Main Street to Steuart Street
All intersections on Market Street from Main Street to 9th Street
8th Street from Market Street to Mission Street
Driving and parking in FiDi and SOMA on a normal day is extremely difficult (and can be very expensive if you park in a garage), so with the large number of attendees and the street closures, you can expect it to be even worse during the event. Using public transportation or taking and Uber is highly recommended. Check out the BART and MUNI websites for details on public transportation options.

WHAT TO BRING TO THE PARADE
The City of San Francisco and The Golden State Warriors are looking forward to a fun and safe celebration. If you are in attendance, please report anything unusual or unsafe directly to the San Francisco Police Department. In addition, a list of guideline on what you can and can't bring to the event is available on the Golden State Warriors website.
What you should bring:
Hats
Sunscreen
Water
Light Jacket
Blue and Gold clothing and Warriors Apparel
Signs and Banners are permitted, however there are some guidelines that must be followed:
Nothing larger than 18″x18″
Signs cannot include any inflammatory or obscene text or images
You cannot obstruct views or sight-lines of the parade
What to leave at home:
Bicycles
Fireworks of any kind
Drones (Flying drones or carrying drones into the event are not permitted under any circumstance)
Scooters
Laser Pointers
Any kind of alcoholic beverages
Glass Containers/Cans
Drugs
Container with hard sides (thermoses, coolers, etc.)
Weapons or anything that could be used as a weapon (this includes poles, brooms, etc.)
Any sharp Items
Pop-up Tents
Folding Chairs
Large Umbrellas