Second Sky Festival Lineup and Set Times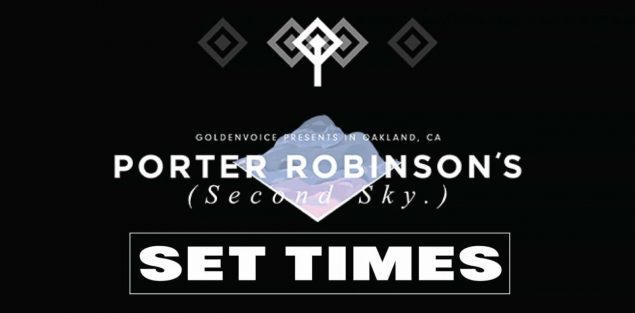 The Bay Area's newest festival, Porter Robinson's Second Sky Music Festival, will take place on Saturday, June 15 and Sunday, June 16 at Middle Harbor Shoreline Park in Oakland. The much anticipated event will feature an impressive lineup of electronic acts, curated by Porter Robinson and Golden Voice. Initially launched a a one day event, the festival has grown to 2 days with Porter Robinson headlining each day.
To help increase attendance for opening acts, both days will start out with a Virtual Self, a side project of Porter Robinson offering much different sound inspired by techno in the late 90s. The Second Sky lineup includes other huge acts including Madeon, Cashmere Cat and more as well as a special guest on Sunday.
Need a ride to the show? M Ride is offering round-trip shuttle rides from 2 convenient locations in San Francisco.
Second Sky Festival Set Times
Saturday, June 15
12PM to 12:30PM Virtual Self
12:30PM to 1:20PM Nina Las Vegas
1:40PM to 2:15PM Wednesday Campanella
2:30PM to 3:10PM Anamanaguchi
3:25PM to 4:05PM Chrome Sparks
4:20PM to 5PM Kero Kero Bonito
5:15PM to 6:05PM G Jones
6:10PM to 7:10PM Cashmere Cat
7:10PM to 8:10PM Madeon (DJ Set)
8:25PM to 9:55PM Porter Robinson
Sunday, June 16
12PM to 12:30PM Virtual Self
12:30PM to 1:20PM Nina Las Vegas
1:40PM to 2:15PM Wednesday Campanella
2:30PM to 3:10PM Anamanaguchi
3:25PM to 4:05PM Chrome Sparks
4:20PM to 5PM Kero Kero Bonito
5:10PM to 6:10PM Cashmere Cat
6:10PM to 7:10PM SPECIAL GUEST
7:10PM to 8:10PM Madeon (DJ Set)
8:25PM to 9:55PM Porter Robinson