San Francisco's Biggest Ugly Sweater Party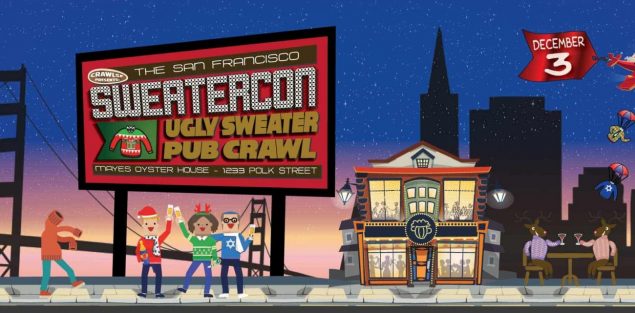 The holidays are a great time to kick back and reflect on the past year, do some shopping, gather with family & friends and, of course, enjoy some great holiday parties. If you are staying local for the Holiday Season or if you are traveling to the San Francisco Bay Area, then you will have a lot of great events and activities to choose from. However, if you are looking for the perfect opportunity to wear that awesome, ugly holiday sweater that has been chilling in your bottom drawer all year, then you won't want to miss San Francisco's SweaterCon.
The Annual SweaterCon Pub Crawl is San Francisco's biggest ugly sweater Holiday Party! Similar to Crawloween, LepraCon and other great CrawlSF events, SweaterCon is pub crawl that takes place along Polk Street in Polk Gulch and Lower Nob Hill. The 9th Annual event will take place on Saturday, December 3 from 4PM to 10PM at some amazing San Francisco bars including Mayes Oyster House, Mcteague's, Lush Lounge, El Lopo, Barley, R Bar, California Jacks, Wreck Room, Hanaro, Amsterdam Cafe and more! Each venue will be offering drink specials, free cover, DJs and more. Drink Specials for the 2022 SweaterCon Pub Crawl will include Jell-O Shots, Gingerbread Sangria, Mulled Wine, Grinch Punch, Eggnog Shots, Kyiv Mules, Fireball, Navidad Lager, Santa's Sangria, Peach Pleasure, Raspberry Lemon Drop Shots, Holiday Mules and more.
The event is a "Holiday" Pub Crawl, so whether you celebrate Christmas, Hanukkah, Kwanzaa, Diwali, Festivus or don't celebrate anything at all, you are welcome to join us to celebrate with a group of fun, open-minded people as we dance, drink and cruise from bar to bar. Ugly Sweaters are highly recommended (not mandatory), but you can feel free to dress up in any holiday-related gear that makes you happy. You don't need to dress up for the event, however everything is more fun in a costume!
Updated event information available on the official SweaterCon website: https://www.sweatercon.com.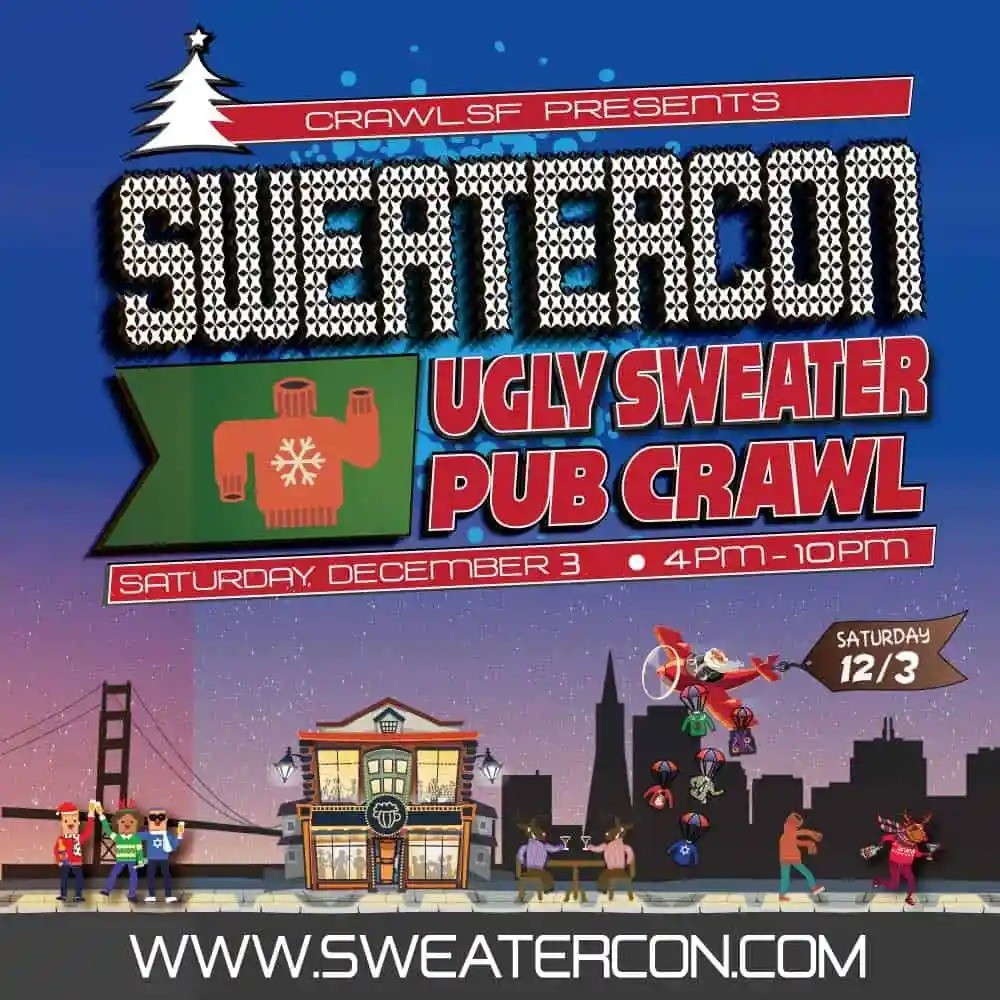 Event Details:
Date: Saturday, December 3
Times: 4PM to 10PM
Check in Location:
Mayes Oyster House
1233 Polk Street
San Francisco, CA 94109
*Check-in for the event will be outside of Mayes from 4PM to 8PM. Pease arrive before 8PM to pick up your Pub Crawl Wristbands and Maps.
The Bars:
Mayes, Lush Lunge, Barley, R Bar, Amsterdam Cafe, Mcteague's Saloon, Hanaro, Wreck Room, California Jacks, El Lopo and more!