San Francisco Halloween Photos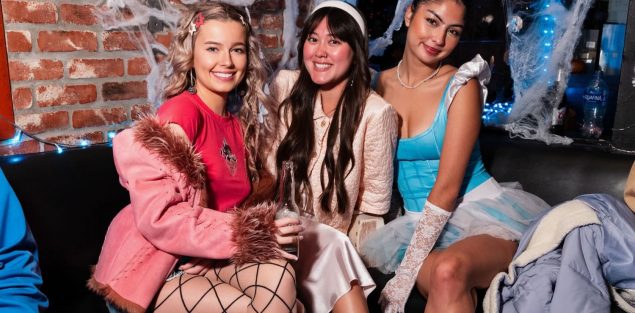 As the fog rolled over San Francisco, the city lit up with the ghoulish glimmer of the annual San Francisco Halloween Pub Crawl, organized by CrawlSF. From Friday, October 27th, through Halloween night, over 15,000 costumed crawlers took to the streets for the largest Halloween party San Francisco. The event spanned four iconic neighborhoods: The Marina, Polk Gulch, Russian Hill, and North Beach, transforming them into a massive playground for adults in disguise.
CrawlSF curated an incredible lineup of bars that became the stages for this Annual Halloween party. Mayes, McTeagues, Tupelo, Del Mar and more than thirty other local haunts opened their doors to the crowds. The tickets to this event weren't just a pass to the festivities but included exclusive drink specials, free party bus rides along the crawl route, and admission to various contests and DJ-hosted dance floors.
The weekend was an amazing experience. Elaborate Halloween costumes ranged from the terrifying to the hilarious and the 'Find the Gnome' contest added an element of mystery and excitement, sending attendees on a hunt for the elusive creatures. The DJs spun an eclectic mix of music that kept the energy high and the party going well into the night.
Whether you attended Crawloween or just want to see what it was like for participants, we have created a few galleries with pictures of the bars, halloween costumes, people riding the party bus and more.
San Francisco Halloween Pub Crawl Photos – Volume 1
San Francisco Halloween Pub Crawl Photos – Volume 2
San Francisco Halloween Pub Crawl Photos – Volume 3
As the echoes of Halloween fade, CrawlSF is already brewing up more fun events. The calendar includes upcoming events like The SweaterCon Ugly Sweater Pub Crawl, The Taylor Swift Pub Crawl, and the legendary St. Patrick's Day Pub Crawl. For those eager to join the next party, signing up for the CrawlSF mailing list and following on social media is the best way to stay updated. With an event roster like this, there's no shortage of fun to be had in the Bay Area!
So, whether you're a local looking to see your city in a new light or a traveler seeking the pulse of San Francisco's nightlife, CrawlSF events are the ticket to a good time. Visit CrawlSF's Event Calendar to find things to do and subscribe for a heads-up on future gatherings. After all, the next pub crawl is just around the corner, and you wouldn't want to miss it. Join us, and be part of San Francisco's most anticipated social events of the year!
2024 CrawlSF Pub Crawls
Saturday, February 17: Taylor Swift Pub Crawl
Friday, March 15: St. Patrick's Day Pub Crawl – DAY 1
Saturday, March 16: St. Patrick's Day Pub Crawl – DAY 2
Sunday, March 17: St. Patrick's Day Pub Crawl – DAY 3
Saturday, April 20: Neon Club Crawl
Saturday, May 4: Cinco De Mayo Pub Crawl – DAY 1
Sunday, May 5: Cinco De Mayo Pub Crawl – DAY 2
Thursday, July 4: Fourth of July Pub Crawl & Hot Dog Eating Contest
Saturday, July 27: Crawlympics
Saturday, August 24: Festicrawl
Saturday, September 21: Barbie Crawl
Friday, October 25: San Francisco Halloween Pub Crawl – DAY 1
Saturday, October 26: San Francisco Halloween Pub Crawl – DAY 2
Thursday, October 31: San Francisco Halloween Pub Crawl – DAY 3
Saturday, November 16: TBD
Saturday, December 14: SweaterCon 2024