San Francisco Fleet Week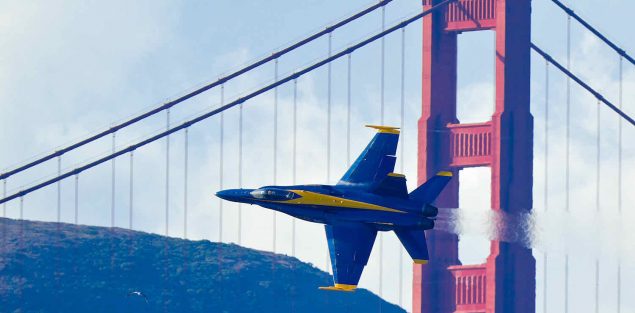 One of the best annual events in San Francisco, Fleet Week is here! Get ready for a weekend full of rooftop parties, flowing libations, awesome air shows and more! Check out the schedule and plan your weekend (and leave some extra time if you are driving…traffic will be a nightmare). Fleet Week will take place from Sunday, October 2 to Monday, October 10, with the main air shows taking place on Friday, Saturday and Sunday. 
This year, the Air Show will include The U.S. Navy Blue Angels, United States Marines Fat Albert, United 777, U.S. Navy F-35C Demo, C-17 Demo, U.S. Navy Leap Frogs Parachute Team, U.S. Coast Guard C-27 Demo, U.S. Coast Gurad MH-65 DemoThe Patriot Jet Team, P-8 Demo, P-3 Demo, Greg Coyler Ace Maker T-33 and the U.S. Coast Guard M-60. Needless to say, there will be a bunch of great planes, tricks and performances throughout the day for San Francisco Fleet Week 2022!
2022 San Francisco Fleet Week Air Show Schedule:
Thursday, October 6, 1PM to 5PM Air Show practice
Friday, October 7, 12PM to 4PM Air Show
Saturday, October 8, 12PM to 4PM Air Show
Sunday, October 9, 12PM to 4PM Air Show
Monday, October 10: 10AM Blue Angels departure from the Bay Area
Where to Watch the Air Show
Best Viewing Spots
Pier 39: You will be close to the action, but it gets really crowded here. However, it's a great place to see most of the show. Try to find a spot with a clear view of the Golden Gate Bridge.
Aquatic Park: There is a small stadium here with seats facing out over the bay. You will get a great view of the Fleet Week San Francisco Air Show from here, although the maneuvers over the Golden Gate Bridge will be harder to see.
Crissy Field: There will be fewer people on this side, which makes it a nicer viewing area. This is a great place to see the Blue Angels' maneuvers near the bridge. It is a little further away from the main action though, so the trees may block out a little bit of the show.
Marina Green: Just to the east of Crissy Field is the Marina Green. This large green space offers a great look at the air show. You can also buy premium tickets for this area so you don't have to fight for a place to watch the fun. Tickets for the premium section are already on sale.
TRANSPORTATION:
Muni: The San Francisco Municipal Transportation Agency will be providing extra Muni service for Fleet Week.
Caltrain: Extra capacity will be provided Saturday Saturday and Sunday morning for passengers heading to Fleet Week, as well as extra capacity post event.
Angel Island-Tiburon Ferry: A unique way to view both the Parade of Ships and Air Show. Click here for details
CRUISES:
Red & White Fleet Fleet Week Cruise
Amazing afternoon cruise to see the San Francisco Air Show and the Blue Angels
Cruise is offered on all 3 main air show days (Friday, Saturday & Sunday)
Cruise leaves at 2pm on Friday, 10/7 and 2:30PM on Saturday, 10/8 and Sunday, 10/9 (make sure to arrive at least 30 minutes before departure for boarding)
Incredible views of the show on multiple decks. The views don't get better than this!
Light snacks and beverages will be available for purchase
Ship departs from Pier 43 1/2 located in Fisherman's Wharf
Tickets are available for $85 (Adults 18+) and $65 for Youth (ages 5-17)
Children under 5 are free
Air Show Lunch Cruise on the San Francisco Belle
Cruises will take place on Friday, Saturday and Sunday (October 7-9)
Departure Time is 2:30PM, but boarding will start at 1:30PM. Arrive early to board and get a good spot!
2 Hour Cruise (2:30PM to 4:30PM)
Complimentary Lunch Buffet is included. Buffet will feature an assortment of salads, entrees and desserts
Complimentary drinks will be provided. Enjoy sparkling wine, tea, coffee, soft drinks, orange juice and more. Cocktails, wine and beer will be available for purchase.
Enjoy music played by a live DJ
Seating will be assigned at large tables
Tickets start at $100 with discounts for Children and Military. Kids under 3 are free.
Blue & Gold 2-Hour Cruise
Cruise will take place on Saturday and Sunday
Ship departs at 1:30PM and boarding starts at 1:15PM (45 minutes advance arrival in recommended)
A Box lunch from Hard Rock Cafe (sandwich, water, cookie & chips) will be provided
Cruise will have soft drinks and alcoholic beverages available for purchase
Tickets are $110 for Adults (18+), $85 for Children (5-12) and free for kids under 5 years of age.
Military/Senior discount available for $95
Seating is unassigned
Cruise on the SS Jeremiah O'Brien
Cruises will be offered on Saturday, October 8 (10am to 5pm) and Sunday, October 9 (10AM to 5PM)
Ship departs from Fisherman's Wharf (Pier 45)
Enjoy an amazing Cruise around the San Francisco bay and then score a prime spot for the air show.
Get front row seats to the air show from 12pm to 4pm (Blue Angels fly starting at 3PM)
There will be complimentary drinks and food aboard the ship
Coffee and donuts provided to passengers as you board
Includes a hot dog lunch courtesy of Annie's Hot Dogs
You are also welcome to bring your own lunch
Complimentary Wine, Beer, water and soft drinks available throughout the cruise
Enjoy live Music from the E-Ticket Band
Tickets are available for Adults for $165 and Children (ages 5-16) for $100
Family package available for $110/person (2 adults and 2 children)
Click below for Tickets
SATURDAY, OCTOBER 8 CRUISE
SUNDAY, OCTOBER 9 CRUISE
Fleet Week Float
Leave from one of three locations: Berkeley, Tiburon, or San Francisco
Leaves Berkeley Marina at 11:30am
Leaves from Tiburon at 12pm
Leaves from SF at 12:30pm
4 to 5 hour cruise depending on departure location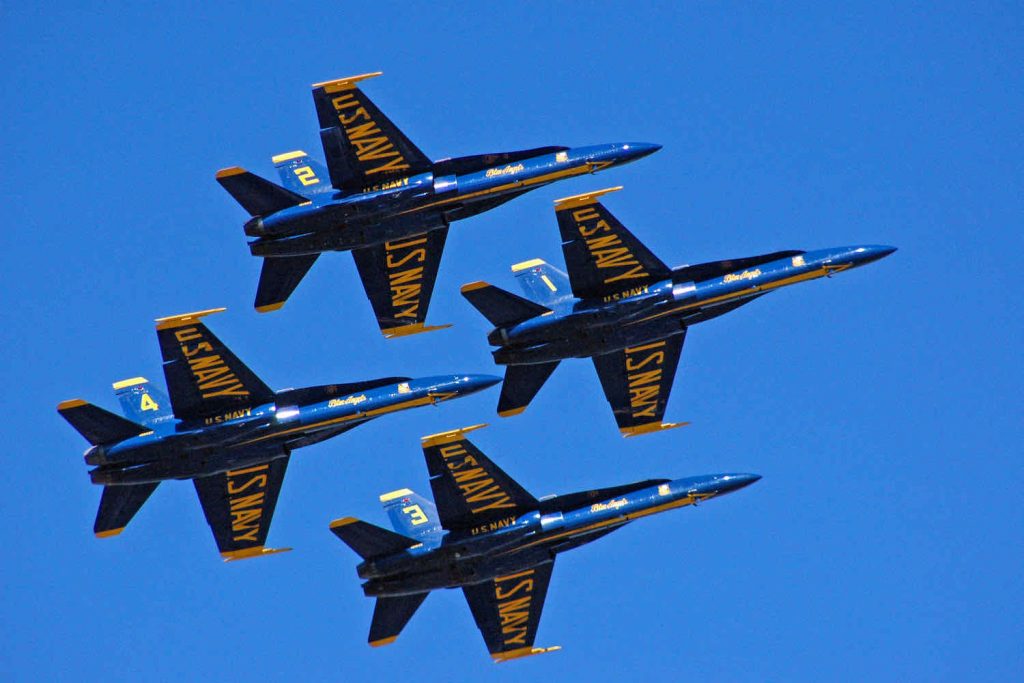 SAN FRANCISCO FLEET WEEK
Here is the Full Schedule of Events for San Francisco Fleet Week 2022:
Wednesday, 10/5:
9AM – 5PM: Veterans Art Exhibit at 625 Sutter Street
10AM – 4PM: Ship Tours (Pier 35, Pier 30/32 & Pier 19)
12PM: 1st Marine Division Brass Band at Patricia's Green (Hayes Valley)
12PM: Southwest Destroyers at 555 California
12PM: Southwest Woodwind Quintet at Sunset Branch Library
3PM: Southwest Woodwind Quintet at 163 London Street
6PM: Southwest Brass Band at Japantown Peace Plaza
Thursday, 10/6:
9AM – 5PM: Veterans Art Exhibit at 625 Sutter Street
10AM – 4PM: Ship Tours at Pier 35, Pier 30/32 and Pier 19
12PM: Southwest Wind Quartet Live at The Ferry Building
3PM: US Air Force Band of The Golden West at Presidio Visitor Center
5PM: Southwest Destroyers at Pier 39
5:30PM: Southwest Brass Band at Jane Warner Plaza
6PM: Brass Quintet Live at The San Francisco Zoo
6PM – 8PM: Honor Our Fallen Tribute Concert at The Herbst Theater
Friday, 10/7:
9AM – 5PM: Veterans Art Exhibit at 625 Sutter Street
10AM – 4PM: Humanitarian Assistance Village at The Marina Green
11AM – 4PM: STEM Center at The Marina Green
11AM: Parade of Ships (San Francisco Waterfront)
12PM – 4PM: Air Show (3PM Blue Angels)
12PM : 1st Marine Division Brass Band at Cable Car Turnaround
12PM: Southwest Brass Band at Golden Gate Park Band Shell
1PM: Old George Popular Music Group at Union Square Plaza
5PM: Southwest Destroyers at ier 39
6PM: 1st Division Marine Division Ceremonial Band Live in The Mission
Saturday, 10/8:
9AM – 5PM: Veterans Art Exhibit at 625 Sutter Street
10AM – 4PM: Humanitarian Assistance Village at The Marina Green
10AM – 4PM: Ship Tours at Pier 35 & Pier 30/32 & Pier 19
11AM – 4PM: STEM Center at The Marina Green
10AM – 2PM: K9 Heroes at Duboce Park
10:30AM: 1st Division Marine Division Ceremonial Band at Duboce Park
12PM: Southwest Brass Band at Crab Wheel Plaza
1PM: 1st Marine Division Brass Band at  at Polk & Jackson
1PM: Southwest Woodwind Quintet Live in Chinatown
4PM: 1st Marine Division Brass Band at West Portal Courtyard
7PM – 10PM: Old George Popular Music Group at Westwood
Sunday, 10/9:
9AM: Blessing of The Fleet at Presidio Chapel
10AM – 4PM: Humanitarian Assistance Village at Marina Green
10AM – 4PM: U.S. Navy Ship Tours at Pier 35 & Pier 30/32
11AM – 4PM: STEM Center at The Marina Green
12PM – 4PM: Air Show w/ Blue Angels at 3PM
11:30AM: 1st Marine Division Ceremonial Band (Jefferson & Powell to Washington Park)
11:30AM: Southwest Ceremonial Band (Jefferson & Powell to Washington Park)

Monday, 10/10:
7PM: 1st Marine Division Brass Band at Bayview Dr. George W Davis Senior Center