Ride the Great Party Bus to San Francisco Concerts and Events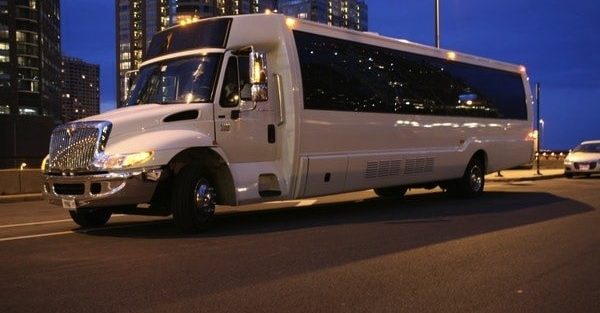 The Great Party Bus is San Francisco's favorite Party Bus company with round trip rides to all the Best Concerts, Sporting Events, Wineries and more in the Bay Area. Grab a single ride or set yourself up for the year with a 3, 5 or 10 Pack.
RESERVE YOUR DISCOUNTED SEAT NOW AND CHOOSE YOUR PARTY BUS LATER. TICKETS CAN BE USED FOR ANY 2014 PARTY BUS!
Party bus rides will be offered to most events at Shoreline Amphitheater, SAP Center San Jose and Oracle Arena as well as Outside Lands, Bottle Rock, Treasure Island Music Festival and more! Busses will be leaving from either Bar None (1980 Union Street) or the Parlor (2801 Leavenworth) and some will stop at Bart on the way to specific events. Official pick up and drop off locations are released at least 6 weeks before each event.
Busses will feature music for the ride, plus non-alcoholic drinks and a few other surprises. All busses are BYOB so feel free to make your own party! Each Party bus pickup location will feature a special pre-party to get everyone in the mood.
Here is a list of upcoming Party Busses. More will be added as shows/festivals get announced. Are we missing something? Send an e-mail to [email protected] with the details!
3/25: Kings of Leon (SAP Center)
3/27: Lorde (FOX THEATER)
4/12: Bay Area Craft Beer Festival (Martinez, ca)
4/15-4/16: The Knife (FOX THEATER)
4/17: Empire of the Sun (FOX THEATER)
5/1: Armin Vna Buren (SAP CENTER)
5/10: Tim Mcgraw shoreline
5/10: Guiness Oyster Fest 11am to 7PM
5/28: Bruno Mars
5/30-6/1: Bottlerock Music Festival
5/31: Toby Keith shoreline
6/3: Lady Gaga (SAP CENTER)
6/15: Lady Antebellum shoreline
6/21: Vans Warped Tour shoreline
7/23: Motley Crue shoreline
7/26: Journey and Steve Miller BAnd shoreline
7/30: Arcade Fire shoreline
7/31: Dierks Bentley shoreline
8/8: Outside Lands8/9: Outside LAnds
8/9: Miranda Lambert shoreline
8/10: Outside Lands
8/11: Justin Timberlake  (SAP CENTER)
8/15: Bruno Mars (SAP CENTER)
8/23: Rascall Flats shoreline
Sep: Launch Festival Sacramento
9/6: Keith Urban shoreline
9/13: Blake Shelton shoreline
9/27: Jason Aldean shoreline
Oct: Treasure Island Music Festival
10/18: Luke Bryan shoreline