Golden State Warriors Schedule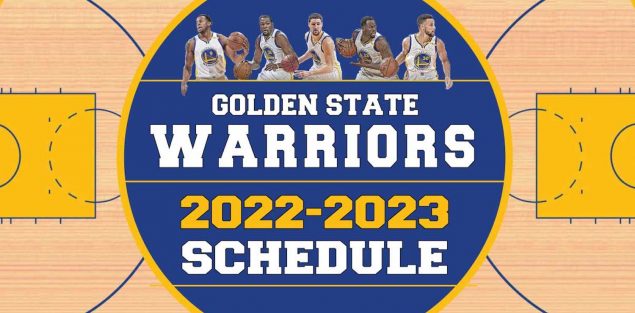 With a 103-90 Game 6 win over the Boston Celtics, the Golden State Warriors became the 2021-2022 NBA Champions and brought their 7th Championship to the Bay Area. With 6 NBA Finals appearances and 4 Championships in the last 8 years, the sky is the limit for this magical squad. Comfortably settled in their new home at Chase Center, The Warriors are looking forward to another incredible season and hopefully, another Championship.
The Warriors start the season with preseason games against the Washington Wizards, Los Angeles Lakers, Portland Trail Blazers and Denver Nuggets before the start of the 2022-2023 regular season with a home game against the Los Angeles Lakers on Tuesday, October 18. Prior to the Lakers game on 10/18, there will be a special pregame ceremony where the Warriors players and staff will receive their 2022 NBA Championship Rings.
Tickets are available for all games, but good seats at Chase Center don't come cheap. Expect to pay at least $300 just to get in the door and up to $20,000 for coveted court-side seats. However, if you really want to check out a game, you will probably want to buy tickets as soon as possible as ticket prices will increase dramatically if the Warriors look like they are on another Championship Run.
GOLDEN STATE WARRIORS HOME SCHEDULE
PRESEASON
Sunday, 10/9: Golden State Warriors vs. Los Angeles Lakers
Tuesday, 10/11: Golden State Warriors vs. Portland Trail Blazers
Friday, 10/14: Golden State Warriors vs. Denver Nuggets
REGULAR SEASON
OCTOBER 2022
Tuesday, 10/18: Golden State Warriors vs. Los Angeles Lakers
Friday, 10/21: Golden State Warriors vs. Denver Nugget
Sunday, 10/23: Golden State Warriors vs. Sacramento Kings
Thursday, 10/27: Golden State Warriors vs. Miami Heat
NOVEMBER 2022
Monday, 11/7: Golden State Warriors vs. Sacramento Kings
Friday, 11/11: Golden State Warriors vs. Cleveland Cavaliers
Monday, 11/14: Golden State Warriors vs. San Antonio Spurs
Friday, 11/18: Golden State Warriors vs. New York Knicks
Wednesday, 11/23: Golden State Warriors vs. Los Angeles Clippers
Friday, 11/25: Golden State Warriors vs. Utah Jazz
DECEMBER 2022
Friday, 12/2: Golden State Warriors vs. Chicago Bulls
Saturday, 12/3: Golden State Warriors vs. Houston Rockets
Monday, 12/5: Golden State Warriors vs. Indiana Pacers
Saturday, 12/10: Golden State Warriors vs. Boston Celtics
Sunday, 12/25: Golden State Warriors vs. Memphis Grizzlies
Tuesday, 12/27: Golden State Warriors vs. Charlotte Hornets
Wednesday, 12/28: Golden State Warriors vs. Utah Jazz
Friday, 12/30: Golden State Warriors vs. Portland Trailblazers
JANUARY 2023
Monday, 1/2: Golden State Warriors vs. Atlanta Hawks
Wednesday, 1/4: Golden State Warriors vs. Detroit Pistons
Saturday, 1/7: Golden State Warriors vs. Orlando Magic
Tuesday, 1/10: Golden State Warriors vs. Phoenix Suns
Sunday, 1/22: Golden State Warriors vs. Brooklyn Nets
Wednesday, 1/25: Golden State Warriors vs. Memphis Grizzlies
Friday, 1/27: Golden State Warriors vs. Toronto Raptors
FEBRUARY 2023
Saturday, 2/4: Golden State Warriors vs. Dallas Mavericks
Monday, 2/6: Golden State Warriors vs. Oklahoma City Thunder
Saturday, 2/11: Golden State Warriors vs. Los Angeles Lakers
Monday, 2/13: Golden State Warriors vs. Washington Wizards
Friday, 2/24: Golden State Warriors vs. Houston Rockets
Sunday, 2/26: Golden State Warriors vs. Minnesota Timberwolves
Tuesday, 2/28: Golden State Warriors vs. Portland Trailblazers
MARCH 2023
Thursday, 3/2: Golden State Warriors vs. Los Angeles Clippers
Friday, 3/3: Golden State Warriors vs. New Orleans Pelicans
Saturday, 3/11: Golden State Warriors vs. Milwaukee Bucks
Monday, 3/13: Golden State Warriors vs. Phoenix Suns
Friday, 3/24: Golden State Warriors vs. Philadelphia 76ers
Sunday, 3/26: Golden State Warriors vs. Minnesota Timberwolves
Tuesday, 3/28: Golden State Warriors vs. New Orleans Pelicans
Friday, 3/31: Golden State Warriors vs. San Antonio Spurs
APRIL 2023
Tuesday, 4/4: Golden State Warriors vs. Oklahoma City Thunder