Golden State Warriors 2018-2019 Tickets & Pre-Sale Offer Code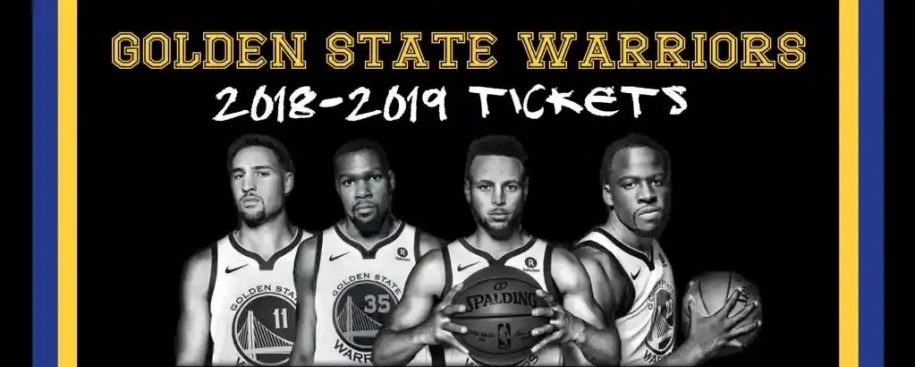 With back-to-back NBA Championships under their belt, the Golden State Warriors will be going for Championship #3. A Third Championship in a row will tie them with the Los Angeles Lakers and Chicago Bulls for the 2nd longest NBA Championship win streak and get them one step closer to the legendary 8 year Championship win streak by the Boston Boston Celtics from 1959 to 1966.
Want to grab some tickets? Golden State Warriors Tickets for the 2018-2019 Season will be on sale at 2PM on Thursday, September 13.
Grab your tickets early HERE: http://fave.co/2NIdVMa  (enter code STORE for Pre-Sale Access)
Golden State Warriors 2018-2019 Schedule:
OCTOBER
Tuesday, 10/6 – vs. Oklahoma City Thunder, 7:30 PM
Friday, 10/19 – at Utah Jazz, 7:30 PM
Sunday, 10/21 – at Denver Nuggets, 5 PM
Monday, 10/22 – vs. Phoenix Suns, 7:30 PM
Wednesday, 10/24 – vs. Washington Wizards, 7:30 PM
Friday, 10/26 – at New York Knicks, 4:30 PM
Sunday, 10/28 – at Brooklyn Nets, 2 PM
Monday, 10/29 – at Chicago Bulls, 5 PM
Wednesday, 10/31 – vs. New Orleans Pelicans, 7:30 PM
NOVEMBER
Friday, 11/2 – vs. Minnesota Timberwolves, 7:30 PM
Monday, 11/5 – vs. Memphis Grizzlies, 7:30 PM
Thursday, 11/8 – vs. Milwaukee Bucks, 7:30 PM
Saturday, 11/10 – vs. Brooklyn Nets, 6 PM
Monday, 11/12 – at Los Angeles Clippers, 7:30 PM
Tuesday, 11/13 – vs. Atlanta Hawks, 7:30 PM
Thursday, 11/15 – at Houston Rockets, 5 PM
Saturday, 11/17 – at Dallas Mavericks, 5:30 PM
Sunday, 11/18 – at San Antonio Spurs, 4 PM
Wednesday, 11/21 – vs. Oklahoma City Thunder, 7:30 PM
Friday, 11/23 – vs. Blazers, 7:30 PM
Saturday, 11/24 – vs. Sacramento Kings, 5:30 PM
Monday, 11/26 – vs. Orlando Magic, 7:30 PM
Thursday, 11/29 – at Toronto Raptors, 5 PM
DECEMBER
Saturday, 12/1 – at Detroit Pistons, 4 PM
Monday, 12/3 – at Atlanta Hawks, 4:30 PM
Wednesday, 12/5 – at Cleveland Cavaliers, 4 PM
Friday, 12/7 – at Milwaukee Bucks, 6:30 PM
Monday, 12/10 – vs. Minnesota Timberwolves, 7:30 PM
Wednesday, 12/12 – vs. Toronto Raptors, 7:30 PM
Friday, 12/14 – at Sacramento Kings, 7 PM
Monday, 12/17 – vs. Memphis Grizzlies, 7:30 PM
Wednesday, 12/19 – at Utah Jazz, 6 PM
Saturday, 12/22 – vs. Dallas Mavericks, 5:30 PM
Sunday, 12/23 – vs. Los Angeles Clippers, 6 PM
Tuesday, 12/25 – vs. Los Angeles Lakers, 5 PM
Thursday, 12/27 vs. Blazers, 7:30 PM
Saturday, 12/29 – at Portland Trail Blazers, 7 PM
Monday, 12/31 – at Phoenix Suns, 6 PM
JANUARY
Thursday, 1/3 – vs. Houston Rockets, 7:30 PM
Saturday, 1/5 – at Sacramento Kings, 7 PM
Tuesday, 1/8 – vs New York Knicks, 7:30 PM
Friday, 1/11 – vs. Chicago Bulls, 7:30 PM
Sunday, 1/13 – at Dallas Mavericks, 4 PM
Tuesday, 1/15 – at Denver Nuggets, 6 PM
Wednesday, 1/16 – vs. New Orleans Pelicans, 7:30 PM
Friday, 1/18 – at Los Angeles Clippers, 7:30 PM
Monday, 1/21 – at Los Angeles Lakers, 7:30 PM
Thursday, 1/24 – at Washington Wizards, 5 PM
Saturday, 1/26 – at Boston Celtics, 5:30 PM
Monday, 1/28 – at Indiana Pacers, 4 PM
Thursday, 1/31 – vs. Philadelphia 76ers, 7:30 PM
FEBRUARY
Saturday, 2/2 – vs Los Angeles Lakers, 5:30 PM
Wednesday, 2/6 – vs. San Antonio Spurs, 7:30 PM
Friday, 2/8 – at Phoenix Suns, 6 PM
Sunday, 2/10 – vs Miami Heat, 5:30 PM
Tuesday, 2/12 – vs Utah Jazz, 7:30 PM
Wednesday, 2/13 – at Blazers, 7 PM
Thursday, 2/21 – vs. Sacramento Kings, 7:30 PM
Saturday, 2/23 – vs. Houston Rockets, 5:30 PM
Monday, 2/25 – at Charlotte Hornets. 4 PM
Wednesday, 2/27 – at Miami Heat, 4:30 PM
Thursday, 2/28 – at Orlando Magic, 4 PM
MARCH
Saturday, 3/2 – at Philadelphia 76ers, 5:30 PM
Tuesday, 3/5 – vs. Boston Celtics, 7:30 PM
Friday, 3/8 – vs. Denver Nuggets, 7:30 PM
Sunday, 3/10 – vs. Phoenix Suns, 6 PM
Wednesday, 3/13 – at Houston Rockets, 6:30 PM
Saturday, 3/16 – at Oklahoma City Thunder, 5:30 PM
Monday, 3/18 – at San Antonio Spurs, 5 PM
Tuesday, 3/19 – at Minnesota Timberwolves, 5 PM
Thursday, 3/21 – vs. Indiana Pacers, 7:30 PM
Saturday, 3/23 – vs. Dallas Mavericks, 5:30 PM
Sunday, 3/24 – vs. Detroit Pistons, 6 PM
Wednesday, 3/27 – at Memphis Grizzlies, 5 PM
Friday, 3/29 – at Minnesota Timberwolves, 5 PM
Sunday, 3/31 – vs. Charlotte Hornets, 5:30 PM
APRIL
Tuesday, 4/2 – vs. Denver Nuggets, 7:30 PM
Thursday, 4/4 – at Los Angeles Lakers, 7:30 PM
Friday, 4/5 – vs. Cleveland Cavaliers, 7:30 PM
Sunday, 4/7 – vs. Los Angeles Clippers, 5:30 PM
Tuesday, 4/9 – at New Orleans Pelicans, 5 PM
Wednesday, 4/10 – at Memphis Grizzlies, 5 PM