Comedy
The Comedy Scene in San Francisco
San Francisco has been a hub for comedy since the early days of vaudeville. From the legendary Punch Line comedy club to the many open mic nights around town, there is no shortage of places to catch a laugh in the City by the Bay. With its vibrant culture and diverse population, San Francisco has become a breeding ground for some of the best comedians in the world.
A Brief History of Comedy in San Francisco
The history of comedy in San Francisco dates back to the late 1800s when vaudeville acts began performing at theaters throughout the city. In the 1950s, legendary comedians like Lenny Bruce, Mort Sahl, and Phyllis Diller got their start performing at the Hungry i club. This was back when the club was located in North Beach, preceding a move to Ghirardelli Square. The club closed in 1970, however the name was used for a strip club that opened on Broadway, which still stands today, although in recent years, it has changed from a strip club to a bar. In the 1960s, the San Francisco comedy scene exploded with the emergence of counterculture and the rise of the hippie movement. Comedians like Robin Williams, Ellen DeGeneres and Paula Poundstone honed their craft in city's legendary comedy clubs. In 1978, The Punch Line opened its doors and quickly became one of the most iconic comedy clubs in America. It was here that Robin Williams made his first big break into stand-up comedy, launching him into stardom. Since then, many other famous comedians have graced The Punch Line's stage including Ellen DeGeneres, Dave Chappelle, Chris Rock and more. The list of legendary comedians that performed at Punchline also includes Robin Williams, Sarah Silverman, Zach Galifianakis, Jerry Seinfeld, Bill Burr, Drew Carey and lots of others. 
In the 1980s, the comedy scene in San Francisco shifted from traditional stand-up to more avant-garde, alternative, and experimental forms. This trend was led by comedians like Dana Carvey, Bobcat Goldthwait, and Margaret Cho, who brought a new style of comedy to the city. In recent years, San Francisco's comedy scene has exploded with new venues popping up all over town offering everything from improv to sketch shows. Fun Cheap SF, a local events company, hosts the HellaSecret comedy shows, which are always a great choice for those looking to laugh. There are now dozens of open mics every week where aspiring comedians can hone their craft and get noticed by industry professionals.
Famous Shows & Comedians From The SF Bay Area
Some of the most famous shows to come out of San Francisco include "Totally Biased with W Kamau Bell" which aired on FX from 2012-2013 and "The Sarah Silverman Program" which ran on Comedy Central from 2007-2010. Other notable comedians from the area include Margaret Cho, Ali Wong, Aparna Nancherla, Robin Williams and Moshe Kasher, Sam Jay, Will Durst among many others.
---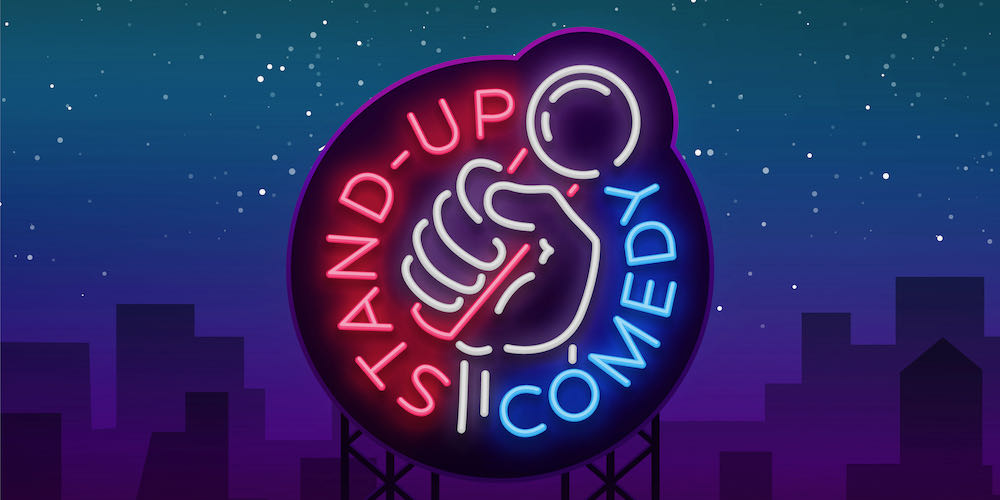 ---
Top Venues For Comedy Shows In SF
If you're looking for a good laugh in San Francisco, here are some of our top picks for comedy venues:
The Punch Line: This legendary club is located on Battery Street and features some of today's biggest names in stand-up comedy as well as up-and-coming talent.
EndGames Improv: This theater offers improv classes as well as weekly performances featuring local troupes such as Mission Improvable and BATS Improv.
Marrakech: Located on Hyde Street near Union Square, this Moroccan restaurant hosts an open mic night every Tuesday night featuring local comics trying out new material.
Secret Improv Society: This underground theater offers improv classes as well as weekly performances featuring some of SF's best improvisers.
Cobb's comedy Club: Located between North Beach and Fisherman's Wharf, Cobb's attracts some of the biggest comedians around.
Best Of SF Stand-Up Comedy: Every Friday at Variety Preview Theater you can catch a fresh line-up of SF's best comics performing their latest sets.
Interesting Facts About Comedy in San Francisco:
San Francisco has a thriving comedy scene with over 30 comedy clubs and theaters that host stand-up shows, improv, and sketch comedy.

The city is known for its open-minded and accepting audience, which allows comedians to push the boundaries and experiment with their material.

San Francisco has a thriving community of comedians who support each other, collaborate on projects, and host events to promote the local comedy scene.

The hungry i club, a legendary comedy club that operated from the 1950s to the 1970s, was known for launching the careers of many famous comedians.

The Punchline Comedy Club, which opened in 1978, is one of the oldest and most respected comedy clubs in the city.

The comedy scene in San Francisco has also produced many influential comedy festivals, such as the San Francisco International Comedy Competition and the Sketchfest Comedy Festival.

Comedy clubs and theaters in San Francisco continue to host a variety of comedy shows, including stand-up, improv, and sketch comedy.

During the COVID-19 pandemic, many comedy venues shifted to online and hybrid shows, allowing audiences to enjoy comedy from the comfort of their own homes.

San Francisco remains a hub for comedic talent, with many local comedians making a name for themselves both in the city and beyond.
Why San Francisco Is A Great City For Comedy Shows
San Francisco is home to some great comedic talent and it also boasts an audience that is passionate about live entertainment and eager to support local artists. With so many venues offering everything from improv to stand-up shows, there's something for everyone when it comes to finding laughs in this great city! Additionally, with its vibrant culture and diverse population, San Francisco provides plenty of inspiration for comedians looking for new material or ideas for their next bit!
Top Reasons Why San Francisco is a Great City for Comedy Shows:
A vibrant and supportive comedy community.

A rich history of comedic talent.

Open-minded and accepting audiences.

A thriving scene with over 30 comedy clubs and theaters.

Innovative and experimental approach to comedy.

A hub for comedic talent and a melting pot of diverse cultures.

An abundance of comedy festivals and events.

A vibrant cultural scene with a rich history of artistic expression.
Planning an event? Add it to the list
Contribute to SF's best list of what's happening today and tomorrow
gather your crew
Enjoy the best events in San Francisco