Although San Francisco is a coastal city with lots of beaches and miles of coastline along the Pacific Ocean, the moderate Mediterranean climate offers a much different experience than other beach towns across the nation. While most of the country (and even some nearby California cities) experience hot summer days, SF rarely sees temperatures above 80 degrees. If you are dreaming of your next tropical getaway, but can't wait until your next vacation, enjoy the next best thing at the Crawltiki Pub Crawl in San Francisco. 
CrawlSF and Funcheap have partnered up to bring you some amazing beach feels and tropical vibes at San Francisco's first tropical-themed, tiki party pub crawl. While we can't promise bright sunshine and a  perfect temperature of 88 degrees, you can expect some amazing tropical drinks, tiki-themed decor, island-inspired music mixed with current EDM, hip-hop and rock hits, free leis and party favors and a few special surprises to add to the experience. Take in an island experience and a perfect San Francisco staycation at Crawltiki. 
Event Details:

 
Date and Times: Saturday, August 13: 4PM to 10PM
Check-in Location: Mayes Oyster House (1233 Polk Street, San Francisco, CA 94109)
Check-in Times: 4PM to 8PM
***************
EVENT WEBSITE: CRAWLTIKI.COM
You can head to Mayes Oyster House anytime between 4PM and 8PM to check-in for the event. Look for the Mayes Tiki Hut and show your event ticket to pick up your event wristband and pub crawl maps as well as some fun, tropical-themed swag. 
While it isn't required, feel free to dress up for the theme. Floral dresses, Hawaiian shirts, khaki shorts, grass skirts, oversized beach hats, sunglasses, straw hats, flower leis, coconut bras, board shorts and lots of other items will be perfect for the event. 
Drink Specials:
Pub Crawl Specials include Frozen Pina Coladas, Calicraft Tiki Time Tropical Wheat, Mai Tais, 818 Tequila Shots, Hawaiian Punch, Strawberry Lemonade Jell-O Shots, Pineapple Punch, Zombie Shots, Raspberry Lemon Drop Sots, Strawberry Spritzers, Peach Pleasure, Modelo, Tiki Rum Punch, Tecate, Sangria and more
The Bars:
Mayes Oyster House, Mcteague's Saloon, R Bar, Route 101, Lush Lounge, Piroo, Barley, California Jack's and Wreck Room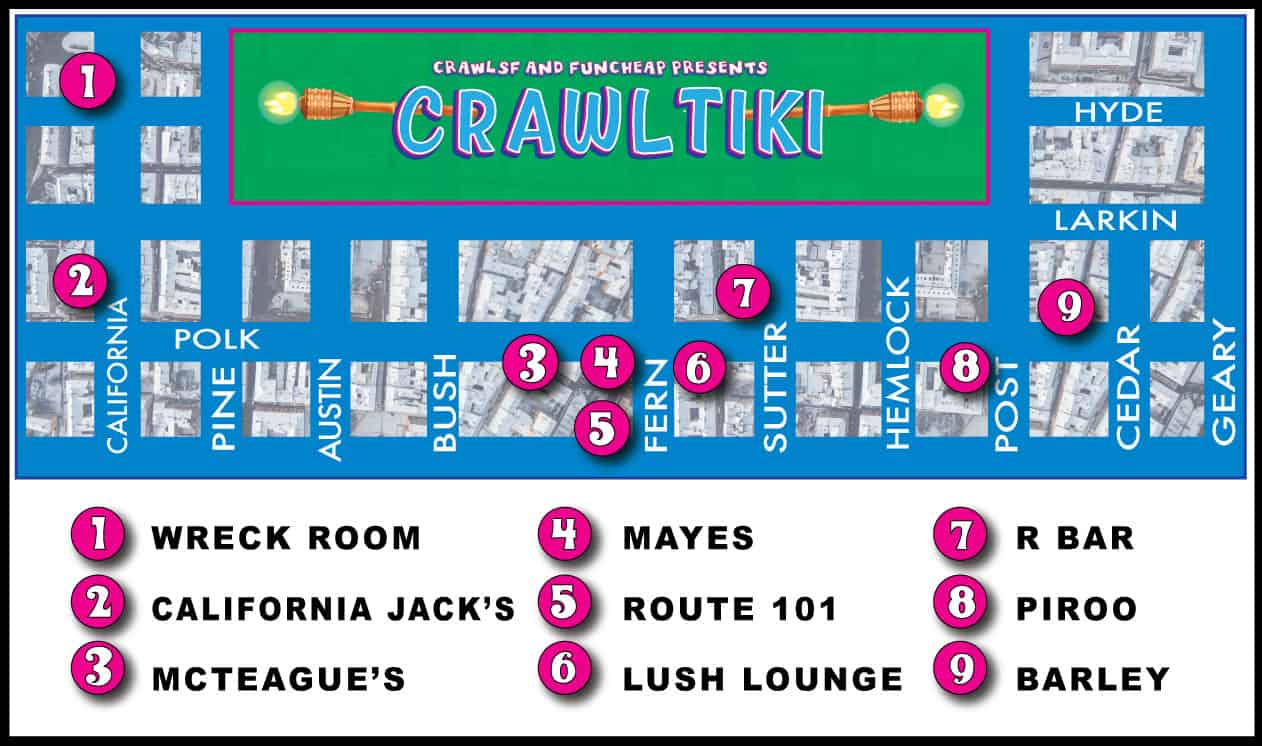 Mayes Oyster House
1233 Polk Street San Francisco, CA 94123