Get Ready for San Francisco's Biggest Halloween Party
There are lots of ways to celebrate Halloween in San Francisco. You can go to a haunted house, spend the day at a pumpkin patch, hand out candy to little trick 'r treaters and more. However, if you are really looking for the most outrageous, debaucherous and crazy Halloween party in the city, then CrawlSF's San Francisco Halloween Pub Crawl is the place to be. Throw on a costume, enjoy amazing drink specials and lose your inhibitions at San Francisco's biggest Halloween Event.
Ladies and ghouls, Barbies and Kens and Halloween-lovers, grab your creative costumes and gather the crew, because one of the best nights of your life is lurking just around the corner! As the fog creeps over the city (Hi Karl!) and the moon casts a haunting glow, San Francisco's Lower Polk Street transforms into a place where dreams are made: the legendary three-day Halloween Pub Crawl. And guess what? The spooktacular kickoff is on Friday, October 27th. Buckle up, buttercups; this isn't your grandma's bingo night.

Halloween Pub Crawl Details for Friday, October 27:
(For Details about the Halloween Pub Crawl on Saturday, October 28, Click Here. For Details about the Halloween Pub Crawl on Tuesday, October 31, Click Here)
Event Date: Friday October 27
Event Times: 6PM to 11PM
Check-in Location:
Mayes Oyster House
1233 Polk Street
San Francisco, Ca 94109
Check-in Times: 6PM to 9PM (you must pick up your wristband by 9PM. Specials available until 11PM)
Participating Bars:
Mayes Oyster House, R Bar, Wreck Room, Mcteagues, Decodance, Hanaro, Amsterdam Cafe, Route 101, California Jacks, El Lopo, Lush Lounge and more!
Tickets Include:
Drink Specials at Participating Bars
Free Admission to participating Bars (No Cover)
Party Favors
DJs
Find the Gnome Contest
and more!
Updated Information about the event can be found on the Crawloween Microsite.
Bars and Specials:
Below is the map from the first day of the 2022 Halloween Pub Crawl. Check back closer to the event date to see the updated map and specials for 2023.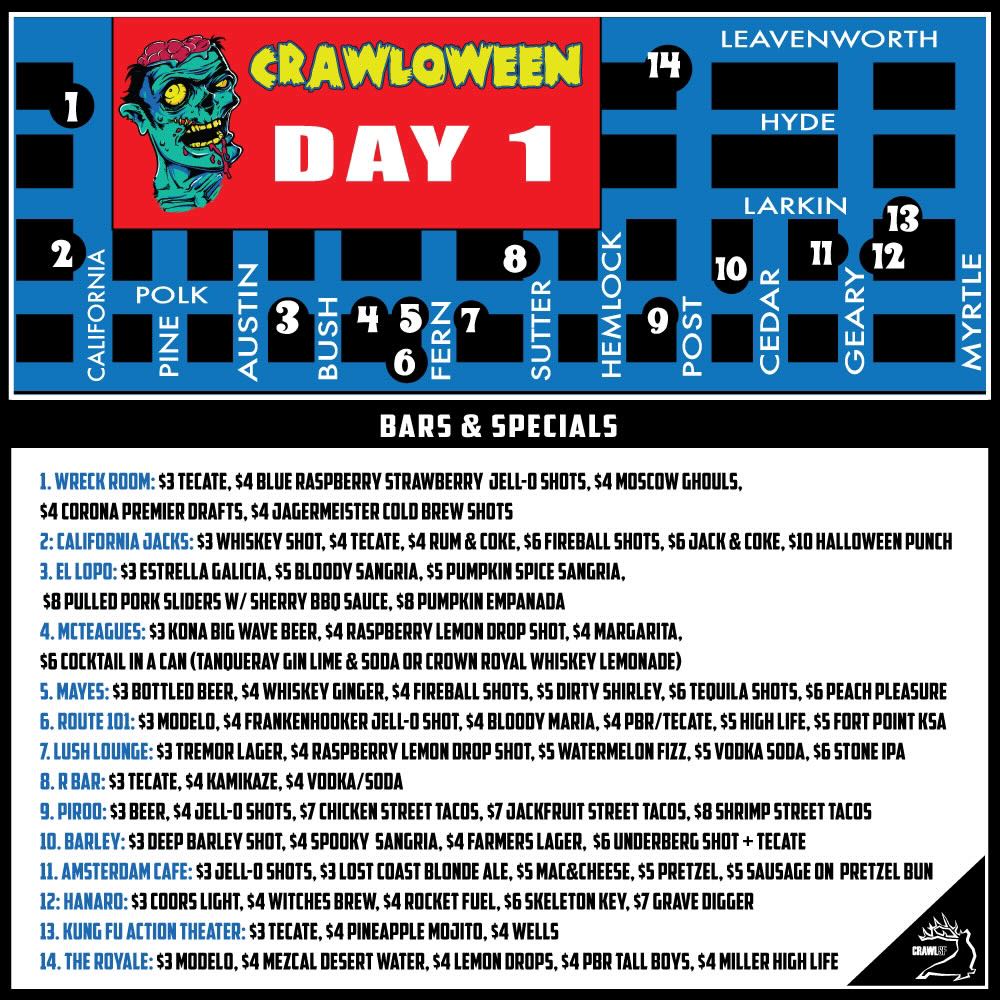 Dress to Impress
Since every occasion is a little more fun when you are wearing a costume, Halloween is your chance to show off your creativity and enjoy a wild night of partying with your friends. Whether you want to sport a unique individual costume, funny halloween costume with your significant other or get the whole gang together for an impressive group costume, you are going to slay and have an amazing time at the event. If you are having a hard time deciding on your 2023 Halloween Costume, check out our Halloween Costume Guide for some great inspiration. Choose your amazing costume, do a fit check and then head down Polk Street for some adult Halloween fun.
Event Highlights
From Oysters to Elixirs: The Haunting Begins at Mayes
Our eerie escapade starts at the one of the best party spots in SF,  Mayes Oyster House. While you probably won't find any oysters at Mayes on the day of the pub crawl, you will find the gateway to the most epic Halloween rager in the city. Put on your event wristbands, grab your pub crawl map and get ready to rage.
Spellbinding Stops & Ghoulish Grooves
Lower Polk Street becomes a bewitched boulevard for the event. Slide, slither, or dance your way to the pub crawl bars that have opened their crypts just for you. From the tantalizing tones of Mcteagues to the mystical vibes of California Jacks, you will find some drink specials that will get the party started.
Not Just Spirits: DJs, Party Favors & Gnomey Surprises
While the drinks flow freely, let the beats of our DJs cast a spell on your feet. And because no Halloween party is complete without some bewitching bling, expect party favors that will make even Dracula jealous.
Don't sleep on the "Find The Gnome Contest". Think you have the witchy wits to find our hidden gnomes? Put your detective skills to the test and search for the sneaky Halloween gnomes hidden at the participating bars. Lucky gnome-finders will be treated to some amazing prizes like gift bags and CrawlSF Season Passes.
Why Is This The Best Halloween Event in San Francisco?
In a city known for its amazing concerts, festivals and events, the Halloween Pub Crawl is the undead cherry on top. It's a bussin blend of fantastic bars, captivating characters (yes, that's you in that fabulous costume!), and memories that'll last long after your vampire tan fades.
So, what are you waiting for? Round up your coven, grab your capes, and broomsticks, and mark your calendars. The San Francisco Halloween Pub Crawl is not just an event; it's an experience, a story, a night of magic and mischief.
See you there… if you dare!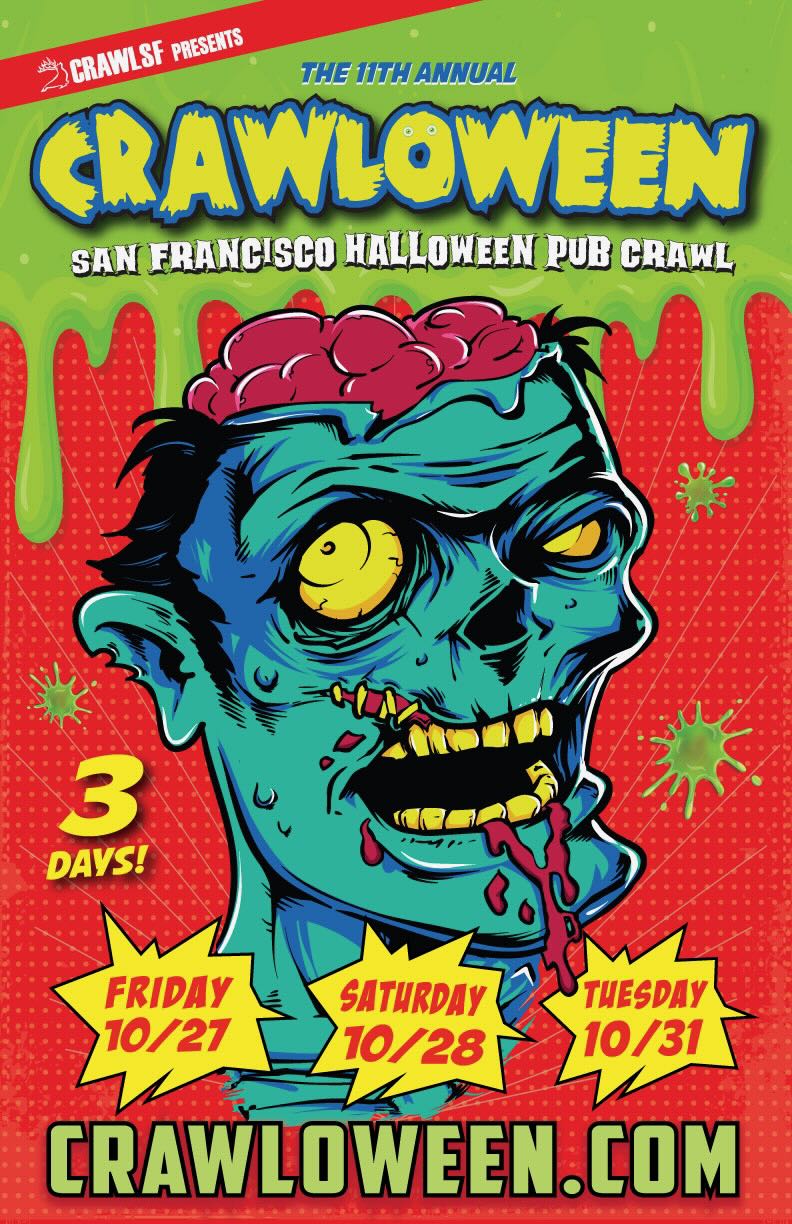 Mayes
1233 Polk Street San Francisco, CA 94109