23 BARS – 5000+ ATTENDEES – $3 BEERS – $3 COCKTAILS – $3 SHOTS – FREE M RIDE PARTY SHUTTLE
THE BIGGEST HALLOWEEN PUB CRAWL IN SF!
PUB CRAWL DETAILS:
PUB CRAWL CHECK-IN LOCATIONS & TIMES:
You can check in at any of the locations below:
Early Check-in: Mayes will start offering drink specials at NOON!
Mayes (1233 Polk Street): 12PM to 6PM *early check-in
Playland (1117 Polk Street): 3PM to 6PM
Rouge (Broadyway @ Polk): 2PM to 8PM
*The check-in at Mayes is usually the busiest location. We recommend checking in at Playland or Rouge to avoid waiting in any lines.
*You can check in at any of the locations. Specials Will be available from 2PM to 10PM at all of the bars unless otherwise noted. 
THE BARS AND SPECIALS: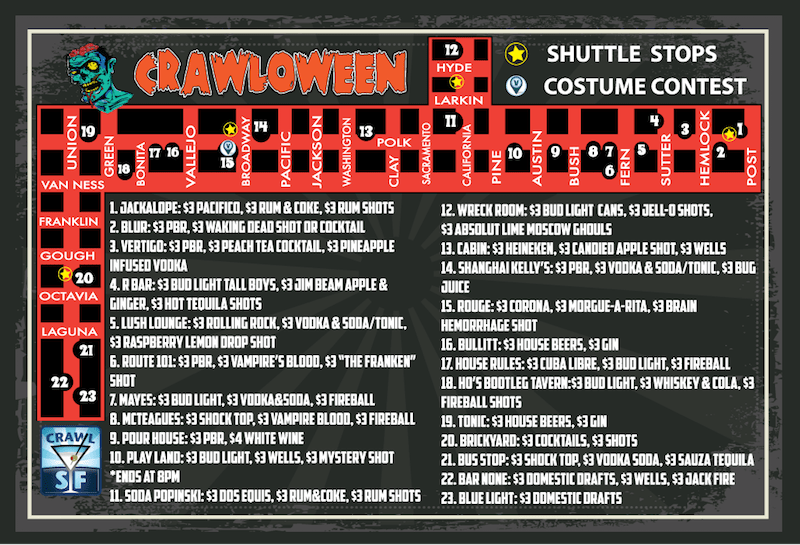 HALLOWEEN COSTUME CONTEST
Have a great Halloween Costume?
Enter to win the San Francisco Halloween Costume Contest at the Annual Crawloween Pub Crawl! The contest will take place at Rouge from 2PM to 10PM. Individual and Group Prizes will be awarded!
To enter the contest, download the Veameeapp and look for the photo backdrop at Rouge. Anyone can enter the contest by submitting a short video clip. The costume video that gets the most votes will win the prize.
THE AFTERPARTY:
DEAD ZEPPELIN AT HOTEL ZEPPELIN
Saturday, October 28 from 9PM to 2AM
FREE M RIDE PUB CRAWL SHUTTLE:
With 20 Bars on the Pub Crawl, there are a lot of cool spots to go to. Make things easier with the M Ride Pub Crawl Shuttle. We will have shuttles going along the Pub Crawl Route and you can hop on/hop off as you please! The Buses will run from 3PM to 8PM.
M Ride San Francisco Party Bus Information: http://www.mride.com
Bus Hop On/Hop Off Locations:
JACKALOPE: (POST & POLK))
WRECK ROOM: (HYDE & CALIFORNIA)
ROUGE: (POLK & BROADWAY)
BRICKYARD: (UNION & OCTAVIA)
*Buses will run in a continuous loop
OTHER STUFF:
 COSTUMES: Although not required, we would love for everyone to wear a costume!
PHOTOS: We have 4 Photographers at the Pub Crawl, so make sure to get some great shots with your group!
CRAWLSF VIPs: CrawlSF Season Pass Holders will be on the list +1. Just go to the Pub Crawl Check-in and show your ID to check in.
HOW DOES THIS WORK? Once you check in and receive your wristband and Pub Crawl Map, you can choose your own path. There will be too many people to be on a specific schedule, so you can just follow the crowd at your own pace. Specials will be available at ALL the bars during the event times.
---
Partners and Sponsors:
M Ride San Francisco Transportation  CrawlSF San Francisco Pub Crawls  The SF Bus | Alavati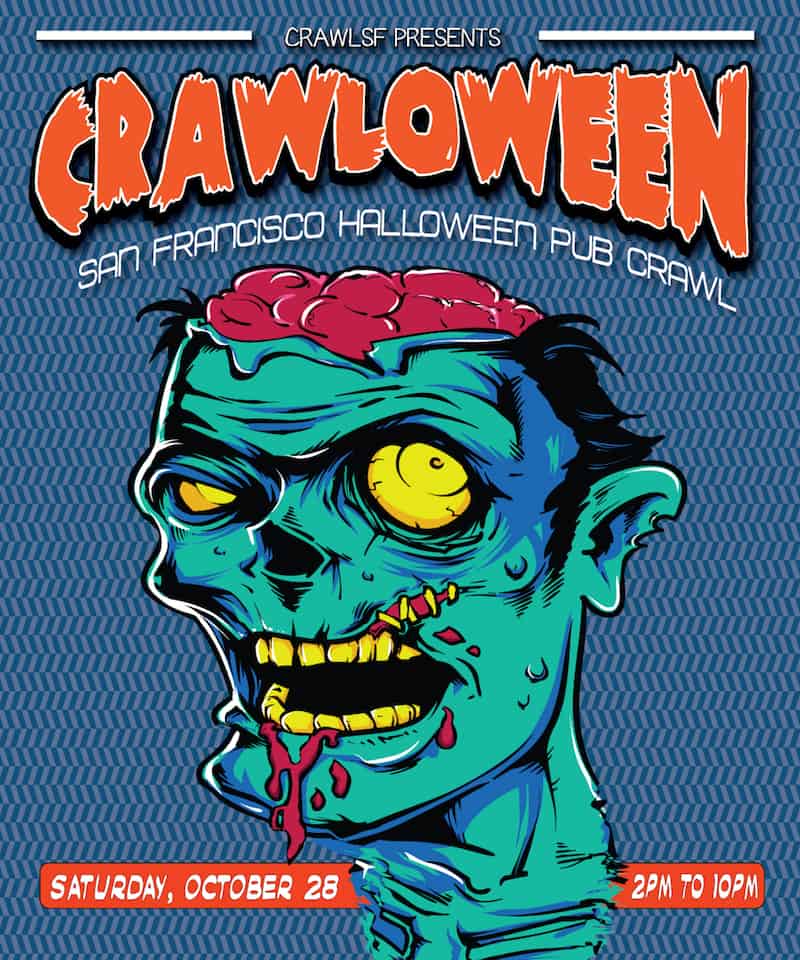 Mayes
1233 Polk Street San Francisco, CA 94109