Colossal Clusterfest is the ultimate experience for comedy fanatics and pop culture junkies. Comedians, bands and attractions are spread across multiple outdoor and indoor stages in the heart of San Francisco for a weekend that'll make everyone you meet thereafter jealous. Immerse yourself in your favorite shows. Laugh your ass off with your favorite performers live. Dance the weekend away with some of the coolest bands ever. Surround yourself with like-minded folks who will accept you for the weirdo you are.
Tickets go on sale this Thursday, March 2nd at 10am PT on clusterfest.com.
IT'S ALWAYS SUNNY IN PHILADELPHIA EXPERIENCE
The worst bar in Philadelphia is coming to Colossal Clusterfest. That's right: We've packed up Paddy's Pub and brought it to the Bay Area — minus the numerous health code violations. You'll practically be one of the gang as you:
HANG OUT IN A RE-CREATION OF PADDY'S PUB,

complete with a disgusting bathroom that is seriously only for photo ops

ENJOY THE GANG'S CUISINE

when local restaurants turn them into delicious dishes including Rum Ham, Beef and Beer and local craft brews

TAKE TO A STAGE

that will be host to Flipadelphia, trivia, musical performances and surprise guests.
SEINFELD EXPERIENCE
Even if you've been banned from Joe's fruit stand, you're welcome at Colossal Clusterfest's salute to all things Seinfeld. Make a Kramer entrance and spout as many Costanza quotes as you want. You wanna scream "I was in the pool"? Scream away. And while you're at it, visit:
A FULL-SCALE RECREATION

of Jerry's apartment

A FESTIVUS POLE

that will be host to the world's largest Festivus celebration, including (of course) feats of strength and the airing of grievances

A SEINFELD SMORGASBORD

featuring classic foods from Monk's Cafe and the Soup Nazi
SOUTH PARK EXPERIENCE
Now's your chance to heed the opening theme's advice and head on down to South Park, where all of the show's most iconic scenes and characters are waiting for you from occasional drop-ins to regulars, Randy to everyone's favorite fat-ass, Cartman. Finally, you can experience the charms of Colorado's quietest little mountain town firsthand, including:
SHAREABLE MOMENTS

from South Park's history built in the show's signature style and ready to be explored

A MEMBERBERRY BALL PIT

excited to reminisce with you about all the cultural touchstones you cherish

A SMALL-TOWN FOOD COURT

featuring Tweek Bros Coffee, Casa Bonita, Les Bos, Raisins and Whistlin' Willy's Pizza Gulch

A MANBEARPIG ROAST

that, don't worry, is just a pig

A CHILI CON CARNIVAL

featuring culinary delights from around the Bay Area — all of which will be Tenorman-free, promise
FOOD & DRINK:
Local San Francisco chefs and restaurants will pop up as eateries from iconic comedy shows. Sips and suds from California's wine country and a selection of craft beer will be available for your choosing. We'll have something to keep everyone's taste buds delighted.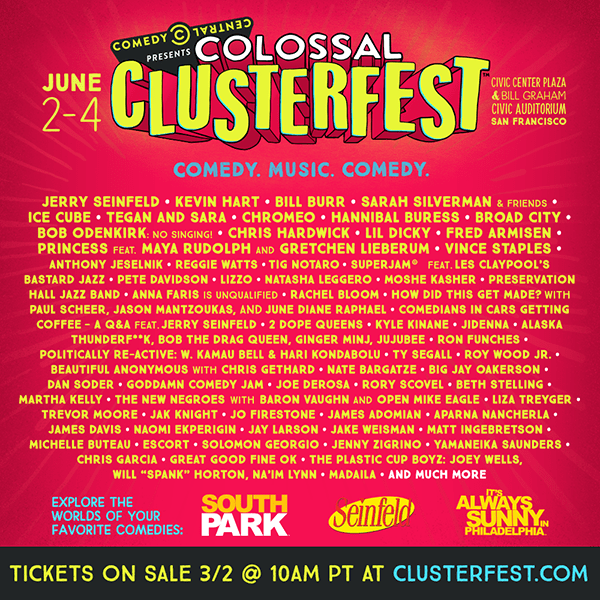 Bill Graham
99 Grove St, San Francisco, CA 94102