You can now get a San Francisco 49ers License Plate in California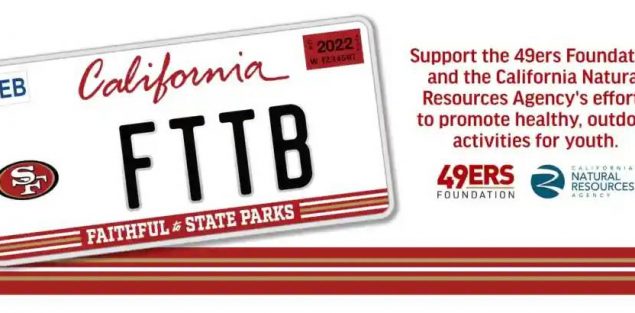 Are you a San Francisco 49ers fan that has pretty much every piece of memorabilia that you can think of? Well, if you live in California, you can be one of the first people ever to sport an official California license plate that pays tribute to the Niners. And speaking of tributes, proceeds from sales of the new plates will benefit the California Natural Resources Agency, a group that serves to protect and manage parks and outdoor recreational areas, as well as the 49ers Foundation. So, in addition to showing some love for the 49ers, you can also help preserve the beauty of California and create more youth programs in the Bay Area. That sounds like a win-win for everyone. 
The new license plates will feature a white background with the iconic San Francisco 49ers logo on the left side and "Faithful to State Parks" proudly displayed along the bottom.
You can pre-order the new license plates now, but in order for the State of California to produce the plates, at least 7,500 people must place an order. Pricing starts at $50 for a sequential plate or $103 for a Personalized plate.
For more details, visit the San Francisco 49ers website.