The 2018 San Francisco Hot Dog Eating Champion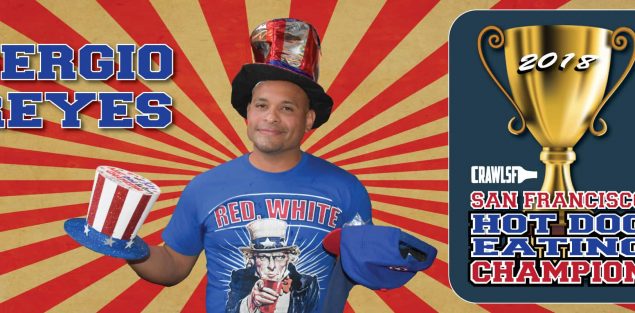 The San Francisco Hot Dog Eating Contest after the Annual CrawlSF Fourth of July Pub Crawl is one of our favorite events of the year! Over 800 people came to Union Street to enjoy cheap drinks, music, dancing and to see San Francisco's best competitive eaters eat massive amounts of hot dogs. The contest took place at Hollow Cow and 8 lucky contenders battled it out for the title of San Francisco Hot Dog Eating Champion.
Each participant was given a plate of 12 massive hot dogs and a bucket of water with 5 minutes to finish as many as possible. The Winner, Sergio Reyes came out way ahead of the competition with only 4 hot dogs left after the timer ran out.
THE WINNER: Sergio Reyes
Born and raised in San Francisco, Sergio has dreamed of being a competitor on the competitive eating circuit since seeing the iconic pie eating competition in the movie, Stand by Me. Win or lose, Sergio enjoys entering all types of competitions from big to small, but the stages will be getting bigger and bigger as he continues his competitive eating career. With around 15 competitions under his belt, he is looking forward to his next big events, the California State Qualifier and Championship on July 20 & July 21. After making it to the Championship round for the last 4 years, this could be the year he takes home the gold!
Check out Sergio's previous competitive eating contests HERE.
Congrats to all of the participants! We are looking forward to the next one. See you at the next Pub Crawl!
Hot Dog Eating Contest Photos