SantaCon San Francisco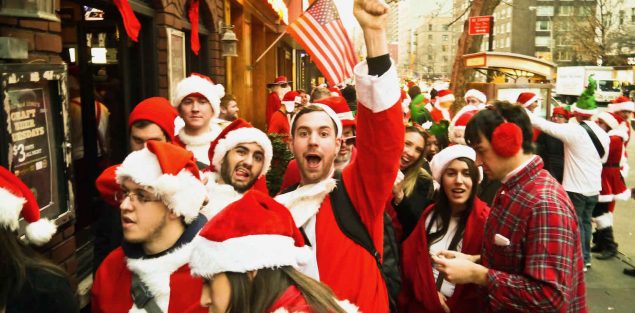 SantaCon Event Details, Times, Locations and more
Whether you love it or hate it, Santacon will take place in San Francisco on Saturday, December 10. The Annual Holiday event, created by Rob Schmitt in 1994, actually started in San Francisco before spreading to most major cities in the Nation and even a few International locations. If you haven't been to a Santacon before, you should definitely experience this unique and fun event at least once. Simply throw on your Santa Suit and head to Union Square on 12/10 and get ready for fun time.
The San Francisco Santacon event will take place on Saturday, 12/10. By design, the event doesn't really have a lot of structure and it has never been a completely organized event. There are no specific participating bars, drink specials or end time, so you just kind of see where the day takes you. If you want to follow the official Santacon crowd, then you will want to head to Union Square at 12PM. Make sure to wear a Santa Costume (or an elf costume or something Holiday-related) and bring a toy for Toys for Tots. Look for Santa Tom, drop off your unwrapped toy and then gather your crew for a long day of drinking and debauchery.  Updated event information available through the Original Facebook group 
EVENT DETAILS:
Santacon 2022
Date: Saturday, December 10
Location: Meet in Union Square
Times: The event kicks off at 12PM and there is no official ending time.
Cost: Santacon is and always will be Free to attend.
This is a 21+ event
A Note about SantaCon Tickets:
Although the official Santacon event is free, there are always some sneaky Grinches that create ticketed events and promote them as the official event. Do not buy tickets from these people.
Since there are no official neighborhoods or bars for the event, You can pretty much head to any of your favorite spots when you leave Union Square. If you are trying to figure out where to go, Mayes (1233 Polk Street) is a great spot to start. There are lots of great spots like Mcteagues, Lush Lounge, Route 101, Wreck Room, California Jacks, R Bar and more in the area so you will have a lot of great bars to choose from that are all in walking distance.
How to enjoy Santacon in San Francisco:
-Do not buy tickets to Santacon. There are no tickets for this event, so you will never need to purchase one.
-Don't ruin it for everyone. Understandably, there are people who aren't happy about drunk Santas running through the city and causing problems. While there is absolutely nothing wrong with throwing on a Santa costume and enjoying some daytime drinking, there are some activities which can threaten the future of Santacon in San Francisco. Please refrain from fighting, destroying property, stealing anything, public urination and any general bad behavior.
-Some bars may not openly welcome Santas. There are plenty of options, so please respect these businesses.
-Don't forget to eat. Santas who drink all day without eating tend to turn into Bad Santas later on in the day. Do yourself a favor and grab a mid-crawl snack to make sure you have a fun and safe day.
-Help out your fellow Santas. If you see someone trying to take advantage of a Santa or cause issues, do you best to help them out.
-Bartenders and Servers are going to have a long and stressful day trying to make sure all of the participants get all of the drinks and food that they need. Please be patient and kind to these hard-working friends and make sure to give them a generous tip, if possible.
-There's nothing worse than being lonely around the Holidays. If you see some Santas without any Santa friends, try inviting them to join your group. A nice gesture and a smile can make all the difference!
-Pace yourself. It is easy to get overly excited when you see thousands of Santas running through the streets of San Francisco, however getting too drunk early in the day is not fun for anyone. If you have had too much to drink, there's no shame in calling it a day and heading home.