YES! SantaCon 2023 is happening in San Francisco. The event will take place on Saturday, December 9. 
Event: SantaCon 2023
Date: December 9, 2023
Times: 12PM to ?
Starting Point: Union Square
Cost: FREE (ticketed events are not official SantaCon Events)
Bring: Unwrapped Toy Donations
Before heading to the event, please read the official SantaCon Guidelines HERE
Santacon San Francisco will take place on Saturday, December 11. While there is no set time for the event, the toy drop-off to benefit the San Francisco Fire Department Toy Drive will take place in Union Square at 12PM. Santa Tom will be there to collect donations of new, unwrapped toys that will be donated to the Toys for Tots program. See the Original Facebook group for details.
Message from Santa Tom on Facebook:
"Please bring a new, unwrapped toy for the San Francisco Fire Department toy drive. Please bring your vaccination cards. Please bring your IDs. Pretty bring lots of cash and please tip well. I'm looking forward to seeing all of you on Saturday, December 11th at Noon in Union Square, San Francisco!!!!"
This SantaCon event is Free to attend. For ages: 21+
Because, unfortunately, there is no central coordination this year, SantaCon(s) will start at various nearby locations. We recommend starting at Mayes (1233 Polk Street) if you want join the crowd. Lower Polk Street has an awesome selection of bars including Mayes, Mcteagues, Barley, Route 101, El Lopo, R Bar, Lush Lounge, Providence and more who will be welcoming all Santas!
Note 1: All genuine SantaCon gatherings in the city have identified themselves as no cover/free to attend. Please don't get scammed by profiteers trying to sell you tickets. There is NO registration fee or any registration requirement to attend SantaCon. If anyone is charging you a fee, it's fraudulent.
Note 2: Santa has become aware of journalists and publications with a vendetta against SantaCon. They will be looking to produce bad stories about you. Please be nice, make Santa proud, and make the city of San Francisco love you.
-Make new friends and if you see lonely Santas who want to hang out with other Santas, invite them to join your group.
-Watch out for fellow Santas. If you see a Santa getting wasted or being taken advantage of by someone, look out out for them and help them stay safe.
-Be nice to bartenders and bar staff. It's usually a crazy time and the bar staff is trying to serve everyone. Be patient. Don't be "that" jerk. Tip well.
-If you or your friends have had too much to drink, pace yourself. Maybe it's time to call it a day and go home. No one likes messy Santa around.
-Carry enough cash for drinks. Most bars will be "CASH ONLY" for SantaCon.
Want to keep the party going? Check out the SweaterCon Ugly Sweater Pub Crawl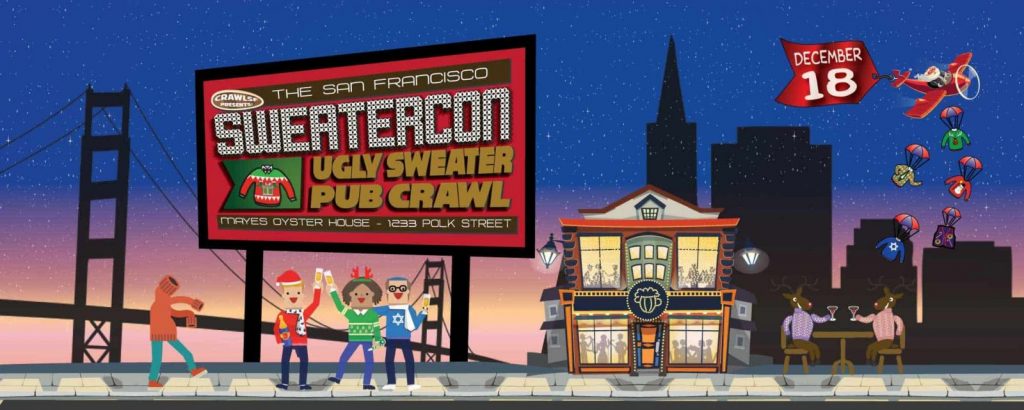 Welcome to the spirited and exciting SantaCon San Francisco! We're excited you're here for the grandest Christmas-themed celebration in the Golden City. SantaCon is an annual gathering that brings together thousands of festive individuals from all over the city, each person adorning their most cheerful Santa gear.
Every corner of the city is about to turn into a magical wonderland of red and white. As you spread the holiday cheer with your Santa hat, beard, and twinkling eyes, remember that SantaCon is more than just a costumed celebration. It's a festive gathering of unity, goodwill, and jolly fun!
As we kick off this event, expect to immerse yourself in caroling, parades, parties, and charity drives, while enjoying the beautiful backdrop of San Francisco. Remember to take a moment to appreciate the uniqueness of the SantaCon experience; the grandeur of the Golden Gate Bridge, the majesty of our skyscrapers, all peppered with holiday lights and Santas of every conceivable style.
As we come together for SantaCon San Francisco 2023, we urge everyone to embrace the spirit of the season – to be merry, be giving, and above all, be kind. Let's cherish our time together, spreading joy and cheer throughout our beloved city.
Happy SantaCon, San Francisco!
Mayes
1233 Polk Street San Francisco, CA 94109