Live Music is Back! Check out the Noise Pop Festival 2022 Lineup.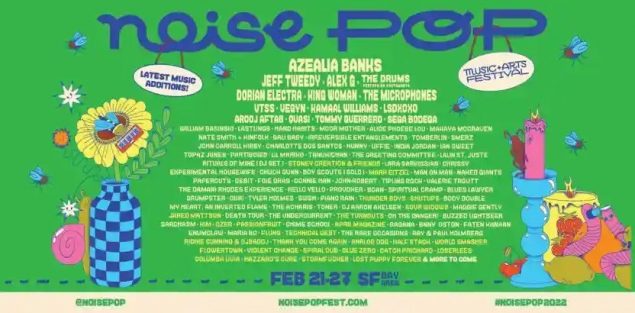 A week-long music festival that kicks off live music for the year, Noise Pop Festival is a great way to see a large number of diverse artists at the best music venues in San Francisco. The annual event has been a staple in the San Francisco Bay Area since it began in 1993, boasting an incredible list of past performers including The Flaming Lips, Bright Eyes, Die Antwoord, Built to Spill, Modest Mouse, Spoon, Death Cab for Cutie, Jimmy Eat World, The White Stripes, Silversun Pickups, Cold War Kids, Matt & Kim, We Were Promised Jetpacks, Chvrches, Phoebe Bridgers, The Joy Formidable and many more. Noise Pop allows you to see established artists or up and coming bands in smaller, intimate venues and experience music in the best way possible. 
After taking a year off due to COVID restrictions, Noise Pop Festival is back again for 2022 with another impressive lineup.
Festival Badges are Sold Out, but you can still purchase tickets to individual shows:
Monday, 2/21:
Tuesday, 2/22:
Wednesday, February 23
Thursday, February 24
Friday, February 25
Saturday, February 26
Sunday, February 27

EVENT DETAILS:
Dates:
2/21/2022 to 2/27/2022
Official Website:
Participating Venues:
Zeitgeist, Amado's, Alamo Drafthouse Cinema, The New Parish, The Fillmore, Bender's Bar & Grill, Gray Area, Bottom of the Hill, Fifth Arrow, Swedish American Hall, August Hall, The Chapel, Balboa Theater, Rickshaw Stop, The Lab, SF Jazz Center, DNA Lounge, Brick & Mortar Music Hall, The Warfield, Great American Music Hall and DNA Lounge
Full Noise Pop Festival Lineup:
Azealia Banks, The Drums (Performing Portamento), Jeff Tweedy, Alex G, King Woman, Dorian Electra, The Microphones, VTSS, Vegyn, Kamaal Williams, Quasi, Sega Bodega, Titus Andronicus (Performing The Monitor), LSDXOXO, Arooj Aftab, Hand Habits, Tommy Guerrero, Lastlings, Nate Smith + KINFOLK, Irreversible Entanglements, Bali Baby, Tomberlin, Moor Mother, Alice Phoebe Lou, William Basinski, John Carroll Kirby, India Jordan, Makaya McCraven, Charlotte Dos Santos, HUNNY, Smerz, Topaz Jones, Partiboi69, Lil Mariko, Uffie, Ian Sweet, Tanukichan, Experimental Housewife, Space Ghost, Chuck Gunn, The Greeting Committee, MAN ON MAN, Naked Giants, Lalin St Juste, Rituals of Mine (DJ Set), Lara Sarkissian, Papercuts, Boy Scouts (Solo), Debit, Foie Gras, Connie Han, Chrissy, Valerie Troutt, Provoker, BOAN, Swsh, The Damani Rhodes Experience, Hello Yello, John-Robert, Tipling Rock, Piano Rain, Toner, Body Double, My Heart An Inverted Flame, The Acharis, Tyler Holmes, DJ Aaron Axelsen, Sour Widows, Grumpster, Spiritual Cramp, Blues Lawyer, Ouri, Ragana, Bnny, Faten Kanaan, Death Tour, OSTON, The Undercurrent, Maggie Gently, Sarchasm, Chime School, Oh The Danger!, Maria BC, Buzzed Lightbeer, suade, The Rare Occasions, Enumclaw, Ray and Paul Holmberg