415 Day Pub Crawl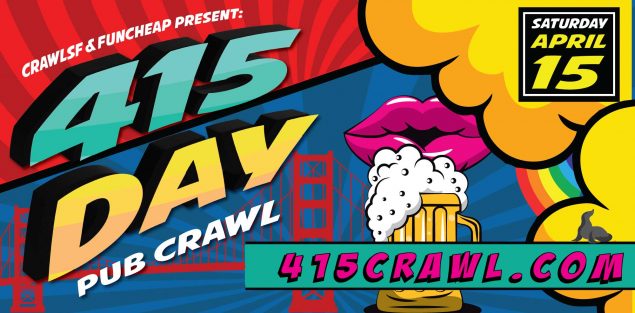 Unleash Your Inner Party Animal at the Unforgettable 415 Day Pub Crawl in San Francisco!
Do you have plans for April 15th? Cancel them! The most exhilarating event of the year is back in San Francisco, and you won't want to miss it! The iconic 415 Day Pub Crawl is returning to the "City by the Bay," and it's the perfect opportunity for you to let loose and celebrate the unique spirit of San Francisco.
What is 415 Day?
415 Day is a one-of-a-kind holiday that embraces the pride and unity of San Francisco. Named after the city's iconic area code, 415 Day is a tribute to the vibrant culture, diversity, and history that define this beautiful metropolis. It's a day when locals and visitors alike come together to celebrate the essence of San Francisco, sharing unforgettable memories and experiences.
The 415 Day Pub Crawl
The 415 Day Pub Crawl is an annual extravaganza that offers partygoers the chance to immerse themselves in San Francisco's legendary nightlife. On Saturday, April 15th, from 4 PM to 10 PM, join fellow revelers as they hop between the city's most beloved bars and hotspots, all while celebrating the spirit of the 415.
Event Date: Saturday, April 15
Event Times: 4PM to 10PM
Check-in: Mayes Oyster House (1233 Polk Street, San Francisco, Ca 94109). You can check in from 4PM to 8PM.
The Bars: Mayes, Mcteagues, El Lopo, Wreck Room, California Jacks, Hanaro, Amsterdam Cafe, Route 101, Lush Lounge, Barley & more
Tickets include: Admission to the Pub Crawl, Drink Specials, Party Favors, Free Entry to participating bars and more.

Why Should you go to the 415 Day Pub Crawl?
This isn't your average pub crawl. The 415 Day Pub Crawl is an amazing opportunity to embark on a night filled with laughter, dancing, and toasting to the extraordinary spirit of San Francisco. You'll meet new friends, snap photos, and create memories that will last a lifetime. Plus, with an incredible lineup of participating bars, there's something for everyone at the 415 Day Pub Crawl.
Pub Crawl Tickets
Secure your spot at the 415 Day Pub Crawl by purchasing tickets starting at just $12. Be warned, though, as the price will increase as the event approaches. Your ticket grants you access to a night filled with amazing drink specials, energetic DJs, free entry to all participating bars, party favors, and so much more!
Check-In and Participating Bars
Kick off the night by checking in at Mayes Oyster House (1233 Polk Street, San Francisco, CA 94123). From there, embark on your unforgettable journey through participating bars, including Mayes Oyster House, Wreck Room, R Bar, California Jacks, Barley, Amsterdam Cafe, McTeagues, Decodance, El Lopo, Route 101, Lush Lounge, and many more! Each venue offers its own unique ambiance, signature drinks, and irresistible vibe, ensuring that the 415 Day Pub Crawl caters to every partygoer's taste.
Stay in the Loop
For up-to-date information, exclusive offers, and insider tips, visit the event microsite at https://415crawl.com/. You'll find everything you need to make your 415 Day Pub Crawl experience truly unforgettable.
So, are you ready to raise a glass to San Francisco's rich heritage and lively spirit? Don't miss out on this extraordinary opportunity to celebrate San Francisco 415 Day in the most memorable way possible. Grab your tickets now, and prepare to unleash your inner party animal at the 415 Day Pub Crawl!