Where you can go Topless in the United States
Compared to some countries, The United States may seem to have a very conservative view on nudity, sex, drugs and other controversial topics. However, if you look hard enough, there are some areas that allow you to get away with a lot more than you would think. I mean, 10 years ago it would have seemed crazy to actually be able to buy weed legally, and now we have public cannabis stores, weed bars, cannabis events and just about anything you would have flown to Amsterdam for back in the day. Sex and nudity will always be a hot topics and while it may be some time before you can see a nipple on TV, there are actually quite a few place where public nudity isn't frowned upon. From nude beaches in San Francisco to just being able to walk around topless throughout a state, things have definitely gotten a lot less conservative in recent years.
From Time Magazine:
"Local officials in the Venice Beach neighborhood of Los Angeles voiced support this week for allowing women to sunbathe topless, calling the move "a serious equality issue" and citing the city's Italian namesake as one of many European regions where toplessness is socially acceptable. But topless sunbathing is illegal in the city and county of Los Angeles, and the local disagreement is just the skin of a patchwork of nudity laws and customs that vary by state and municipality across the country.
The vast majority of states actually have laws on the books making clear that women can't be arrested under state law solely for being topless in settings where it's OK for men. But many local ordinances ban the practice anyway. And there's plenty of grey area for police officers to make their own interpretations and make arrests for "public indecency" or "disorderly conduct."
Celebrities like Chelsea Handler and Miley Cyrus have been public critics of what they call a double-standard that women face when it comes to going shirtless, and have tried to get Instagram to stop taking down photos of breasts, garnering some support with the hashtag #FreeTheNipple. Scout Willis, daughter of the actor Bruce Willis, recently illustrated the point that women are technically permitted to walk the streets of New York City topless—but not to post topless photos on Instagram—by posting shirtless photos of herself on city sidewalks to Twitter."
The Map Below from Go Topless shows a simple map of where you may have an easier time enjoying a walk with your breasts exposed.
The green colored states are those where top freedom is in effect.
The orange colored ones have ambiguous state laws on the matter.
The red colored ones are the ones where the mere showing of the female breast in public is illegal according to state law.
Though the majority of states are top free, some cities in those states have passed (unconstitutional) ordinances that annul the state's top free statute.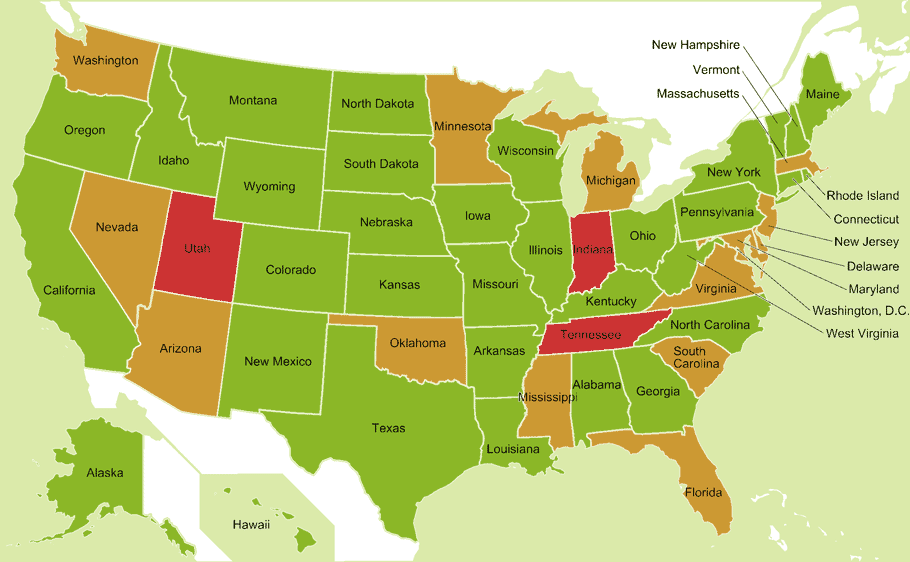 The following cities are officially topless "tested":
Asheville, NC
Austin, TX,
Boulder, CO
Columbus, OH
Eugene, OR
Honolulu, HI
Keene, NH
Key West, FL at Fantasy Fest
Madison, WI,
New Orleans, LA, at Mardi Gras
New York City
Portland, Or,
Santa Fe, NM
South Miami Beach, FL (on the beach)
Washington, DC
It is also legal to be topless in public in the following countries:
Canada
(more countries to be added soon)
How can I find out if my city is topless?
Simply google the city name and its municipal code and key in the word "nudity". Do the same for the county where the city is located to be sure. Consult with an attorney.
Can I be arrested for going topless in a topless city?
Even if a top free law is firmly in effect, the police can still arrest you under the pretense of "disorderly conduct". Don't be intimidated! You can sue the city back for wrongful arrest (if your only crime was to go topless). That is what Phoenix Feeley did in NYC in 2005.