Where to Find the Best Ice Cream in San Francisco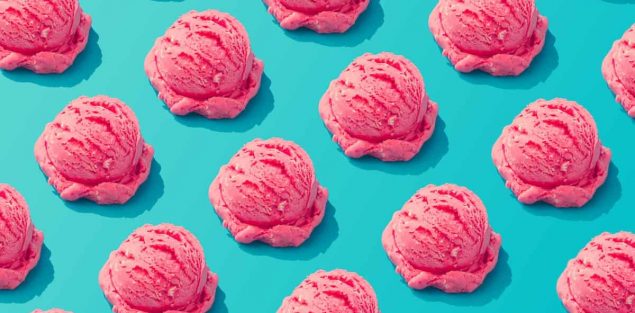 San Francisco's Best Ice Cream

No matter what kind of cuisine, San Francisco always seems to provide a big selection of creative options brought to you by cutting edge chefs and entrepreneurs. From burgers to cupcakes and beyond, you can always find a variety of takes on any type of food. If you have a hankerin' for some delicious, creamy, sweet and gooey ice cream in San Francisco, you will have a lot of options to choose from. From San Francisco staples like Swensen's and Polly Ann to newer additions like Salt & Straw and Smitten, you can find flavors from basic Vanilla to epicurean delights like Strawberry Honey Balsamic w/ Black Pepper. Choosing the best places will depend on your individual tastes, but we have listed some of our favorites, which should give you a great place to start.
Fun Fact: National Ice Cream Day is on the third Sunday in July. Make sure to celebrate with a scoop!
The Best Ice Cream in San Francisco
The Polly Ann Ice Cream brand started in 1955 and despite several moves, different owners and a two year hiatus from 2003-2005, they have held strong to the enormous catalog of over 500 ice cream flavors. The Sunset ice cream shop opened in its current location in 2005 on 39th and Noriega and has continued its tradition as one of the best places to get ice cream in San Francisco. They offer 50 flavors at a time, which include traditional favorites plus delicious occasional unconventional offerings like Black Sesame, Thai Tea, Star Wars, Honey Dew and Taro.
Polly Ann Ice Cream
3138 Noriega St.
San Francisco, CA 94122
415-664-2472

Website: https://pollyann.com/

Swensen's

It all started back in 1948 when Earle Swensen decided to open a small ice cream store in Russian Hill. The first "all natural" premium ice cream store in the United States, little did he know that the little shop would still be going strong 70 years later with over 300 outlets worldwide and 180 flavors to their name. You can still get a scoop at the original store located on Union and Hyde.

Swensen's
1999 Hyde St.
San Francisco, CA 94109
415-775-6818

Website: http://www.swensens.com/

Smitten Ice Cream

The beauty of Smitten Ice Cream is in its simplicity. They use only the freshest, local ingredients and make the ice cream while you wait in their patented ice cream machine. In just 90 seconds, you can get the freshest ice cream around. Popular flavors include Salted Caramel, Brookies 'N Cream and, our favorite, Fresh Strawberry.

Smitten Ice Cream
432 Octavia St. UNIT 1A
San Francisco, CA 94102
415-863-1518

Website: https://www.smittenicecream.com/

Salt & Straw

Salt & Straw has gotten a lot of attention for pushing flavor boundaries in its unique flavors offered at each store. The "chef driven" ice cream shop focuses on the small batch process using the freshest local ingredients to create some of the most delicious ice cream you have ever tasted. Although their flavors change often, you can always find a great selection year round. Favorites include Honey Lavender, Salted Malted Chocolate Chip Cookie Dough and Strawberry Honey Balsamic w/ Black Pepper.

Salt & Straw
2201 Fillmore St.
San Francisco, CA 94115
415-829-2803

Website: http://www.saltandstraw.com/

Bi-Rite Creamery

A popular ice cream shop in the Mission, Bi-Rite Creamery offers hand-crafted small batch ice creams with unique flavor profiles like Balsamic Strawberry, Black Sesame and Honey Lavender.

Bi-Rite Creamery
3692 18th St.
San Francisco, CA 94110
415-626-5600

Website: https://biritemarket.com/creamery/

The Baked Bear

This ice cream shop started in San Diego by two childhood friends has grown to over 25 locations in the United States due to the delicious and unique ice cream sandwiches, cookies and the popular Bear Bowl. You can customize ice cream sandwiches to your liking by choosing the Top & Bottom (brownies, cookies, butter cake, etc.), Ice Cream Flavor (Bear Batter, Blackberry Crumble, Butter Brittle Cake and more) and your Toppings (Hot Caramel, Fruity Pebbles, Sprinkles and more).

The Baked Bear
303 Columbus Ave.
San Francisco, CA 94133
415-992-2327

Website: https://www.thebakedbear.com/

CREAM San Francisco

Similar to the Baked Bear, CREAM is all about the ice cream sandwiches. From Delicious fresh-baked cookies like Butter Sugar, CREAMfetti and Snickerdoodle to creative ice cream flavors like Birthday Cake, Butterscotch Brew and Blueberry Cheesecake, you can customize an amazing treat that tastes as good as it looks.

CREAM San Francisco
3106 16th St.
San Francisco, CA 94103
415-400-4551

Website: http://creamnation.com/San-Francisco
Other Great San Francisco Ice Cream Options
Mitchell's Ice Cream
688 San Jose Avenue
San Francisco, CA 94110
415-648-2300

Website: http://mitchellsicecream.com/

Over The Moon Creamery
2144 Chestnut Street
San Francisco, CA 94109
415-359-0055

Website: http://overthemoonsf.com/

Humphry Slocombe
2790a Harrison Street
San Francisco, CA 94110

Website: http://www.humphryslocombe.com/

Philmore Creamery
1840 Fillmore St.
San Francisco, CA 94115
415-400-4076

Website: http://www.philmorecreamery.com/

Xanath
951 Valencia St.
San Francisco, CA 94110
415-648-8996

Website: http://www.xanath.com/home.html

Ice Cream Bar
815 Cole St.
San Francisco, CA 94117
415-742-4932

Website: http://theicecreambarsf.com/

Joe's Ice Cream
5420 Geary Blvd.
San Francisco, CA 94121
415-751-1950

Website: http://www.joesicecream.com/

Milkbomb
1717 17th Street
San Francisco, CA 94103
415-780-4429

Website: https://www.milkbombicecream.com/