The Oldest Bars in San Francisco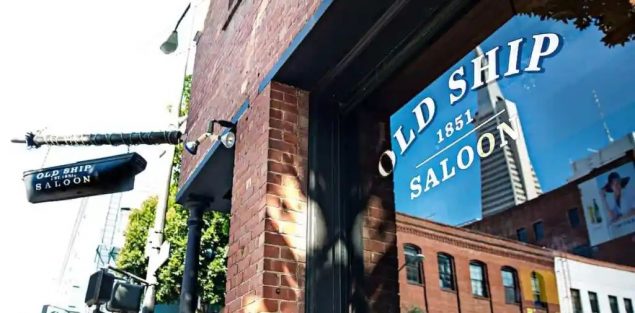 SAN FRANCISCO'S OLDEST BARS
HISTORIC LOCATIONS DATING BACK TO 1851
From the San Francisco Fire of 1851, which destroyed nearly 75% of the city to the 1906 earthquake, San Francisco has been through a lot. However, despite the historical disasters, there are some businesses that have stood the test of time. From the oldest SF businesses, Tadich Grill and Boudin Bakery, which both started in 1849 to other famous spots like Levi Strauss & Co, The Cliff House and more, San Francisco has some great historical places to check out. Some of these places date back to the Gold Rush, which opened due to the mass migration to Northern California and caused the San Francisco population to go from just 200 people in 1846 to over 150,000 people in 1857. The Forty-Niners that came to the area in search of riches developed a need for good watering holes after a hard day of work. Below is a list of the oldest bars in SF starting from the Old Ship Saloon in 1851.
Old Ship Saloon
Old Ship Saloon
est. 1851
Neighborhood: Jackson Square
The Old Ship Saloon got its name because, well, it is literally made from a ship. In 1849, a ship called Arkansas ran in to a storm an ended up grounded on Alcatraz Island. Since it was damaged beyond repair, an entrepreneur decided to tow the ship to San Francisco and use the parts of the ship to build The Old Ship Saloon and cater to sailors and people in the area looking for gold. It is still open today and is a fun place to go to for drinks and food. If you do head the the historic bar, make sure to order a Pisco Punch.
Old Ship Saloon
298 Pacific Ave.
San Francisco, CA 94111
415-788-94111
Website: http://theoldshipsf.com/
Elixir
Elixir
est. 1858
Neighborhood: The Mission
The second oldest operating bar in San Francisco, Elixir is a popular mission bar to grab drinks with friends. The original Mission Plank Road, which started at Mission Dolores and went through the busy Yerba Buena area ended at the Elixir. Although this bar became a casualty of the San Francisco Fire in 1906, it was one of few bars that were rebuilt in the original spot. Through the years, the bar went by a number of different names includingThe Hunt-In Club, Swede's and La Bandita, however the owners were careful to keep as many original fixtures and features as they could.
Elixir
3200 16th St.
San Francisco, CA 94103
415-552-1633
Website: http://www.elixirsf.com/
The Saloon
The Saloon
est. 1861
Neighborhood: North Beach
The Saloon is a cool spot in North Beach, which has done a great job at keeping the indoor and outdoor design as close to the original as possible. The Outside of the bar looks almost exactly as it did in the 1870s and the inside, despite undergoing some much-needed renovations, still boasts the original bar, which was installed in the 1860s. This is a great place to go to grab some drinks and see some impressive live jazz music.
The Saloon
1232 Grant Ave.
San Francisco, CA 94133
415-989-7666
Website: http://sfblues.net/Saloon.html
Northstar Cafe
Northstar Cafe
est. 1882
Neighborhood: North Beach
The Northstar Cafe has had an impressive history as a saloon, a prohibition-era speakeasy and a restaurant since it originally opened in 1882. While the building has gone through several renovations, you can still feel the history as you walk through the door. The Northstar Cafe is still going strong after all of these years and is the perfect spot to visit if you are looking for a place with a friendly, neighborhood vibe, lots of tvs to watch sports, great bartenders and a popcorn machine.
Northstar Cafe
1560 Powell St.
San Francisco, CA 94133
415-397-0577
Shotwell's Beer Saloon
Shotwell's Beer Saloon
est. 1891
Neighborhood: The Mission
Located in The Mission near other historic bars, Elixir and Homestead, Shotwells originally opened as a "grocery saloon" which had a market in the front and a saloon in the back room. This existed until after the 1906 fire when grocery saloons were outlawed in an effort to keep children out of saloons and then during prohibition, they only operated the market business. Finally, in 1934 this historic watering hole became a bar for good and has been serving great drinks ever since. This Mission Bar features Beer, Cider & Wine, pool tables and a dog-friendly environment.
Shotwell's Beer Saloon
3349 20th St.
San Francisco, CA 94110
415-506-7305
Website: http://www.shotwellsbar.com/
Little Shamrock
Little Shamrock
est. 1893
Neighborhood: Inner Sunset
*The bar was initially left off this list, but thanks to Reddit user @ChronosDuststorm for letting us know!
Although it opened more than 30 years after the old Ship Saloon, some people consider The Little Shamrock to be the oldest bar in San Francisco. That is, the oldest continuously operating bar in San Francisco. All the other bars on this list have either shut down due to prohibition, burned down due to the 1906 Earthquake and Fire, or ceased doing business for a period of time since they opened. A stopped clock is hanging inside the bar with an inscription reading "No tick since April 18, 1906" as a reminder that they made it through the 1906 earthquake unscathed. Today, the historic bar is still open for business and a popular destination in the Inner sunset for people of all ages.
Little Shamrock
807 Lincoln Way
San Francisco, CA 94122
415-661-0060
Other Historic San Francisco Bars:
Bus Stop
Bus Stop
est. 1900
Neighborhood: The Marina
1901 Union St.
San Francisco, CA 94123
415-567-6905
Website: http://www.busstop-sf.com/
The Homestead
The Homestead
est. 1902
Neighborhood: The Mission
2301 Folsom St.
San Francisco, CA 94110
415-282-4663
Website: http://www.homesteadsf.com/
Hotel Utah
Hotel Utah
est. 1908
Neighborhood: SOMA
500 4th St.
San Francisco, CA 94107
415-546-6300
Website: http://www.hotelutah.com/