Seven Reasons to eat at Cinderella Bakery & Cafe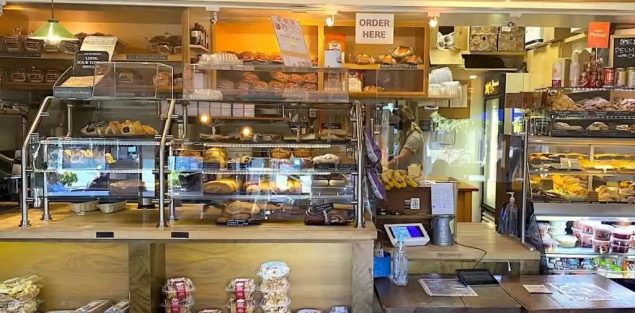 CINDERELLA BAKERY & CAFE
I came across Cinderella Cafe while doing research about the best bakeries in San Francisco. Despite living in San Francisco for 20 years, I had never heard of this place and one look at the menu on their website had me hooked. Being a Polish guy who grew up eating handmade pierogies, halupki, potato cakes and other traditional dishes, I have been a little disappointed with the lack of Polish food options. However, the good news is that a lot of Russian foods are basically the same as their Polish counterparts. So when I checked out the menu and saw Russian Dumplings and Golubtsy, my girlfriend and I hopped in the car and headed to 6th and Balboa to see if the food was good as it sounds. Here are seven solid reasons to get out of the house and enjoy some delicious treats at this great San Francisco Restaurant in the Inner Richmond.
*Note: We were not paid to write this review. This spot was really so good that we wanted to sing its praises from the top of a mountain. Only we didn't have a mountain, nor would anyone really hear us that well, so we decided to write a review article.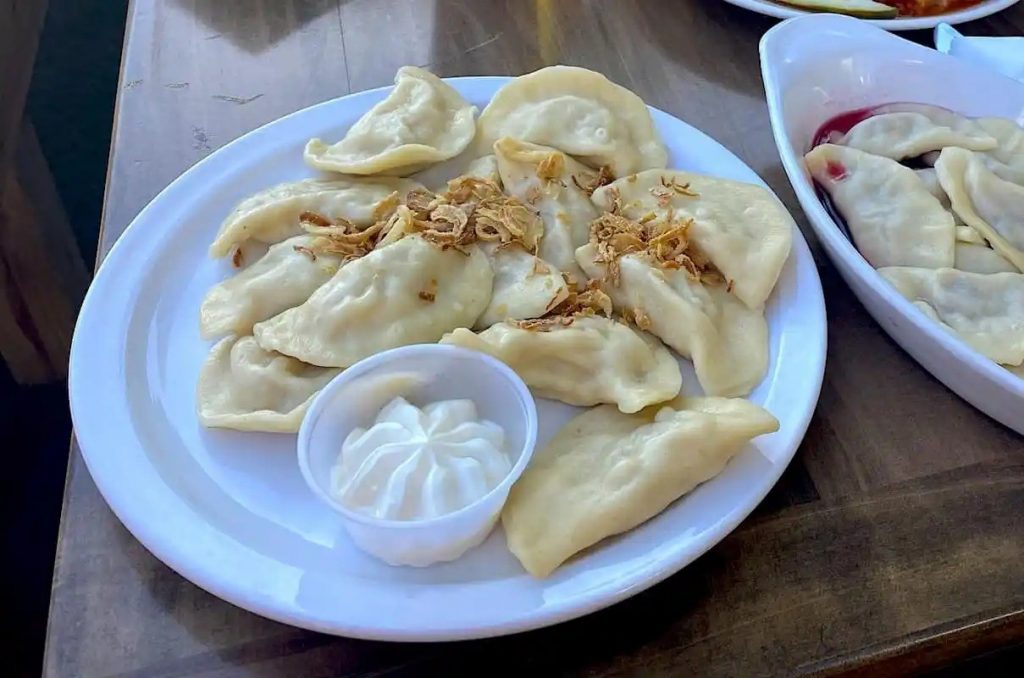 1. Russian Boiled Dumplings (with potato and fried onion filling)
I'm not going to bury the lede on this one, I went to Cinderella Bakery & Cafe for the Russian Boiled Dumplings with potato and fried onion filling and they were AMAZING. They were also pretty damn close to the ones my grandma used to make. These heavenly little dumplings were boiled to perfection with a soft & chewy dough filled with a delicious mix of potato and onion and served with a little cup of sour cream. These little babies melt in your mouth and the flavors were perfect. It was also a large serving for only $9.50, so you get a lot of bang for your buck.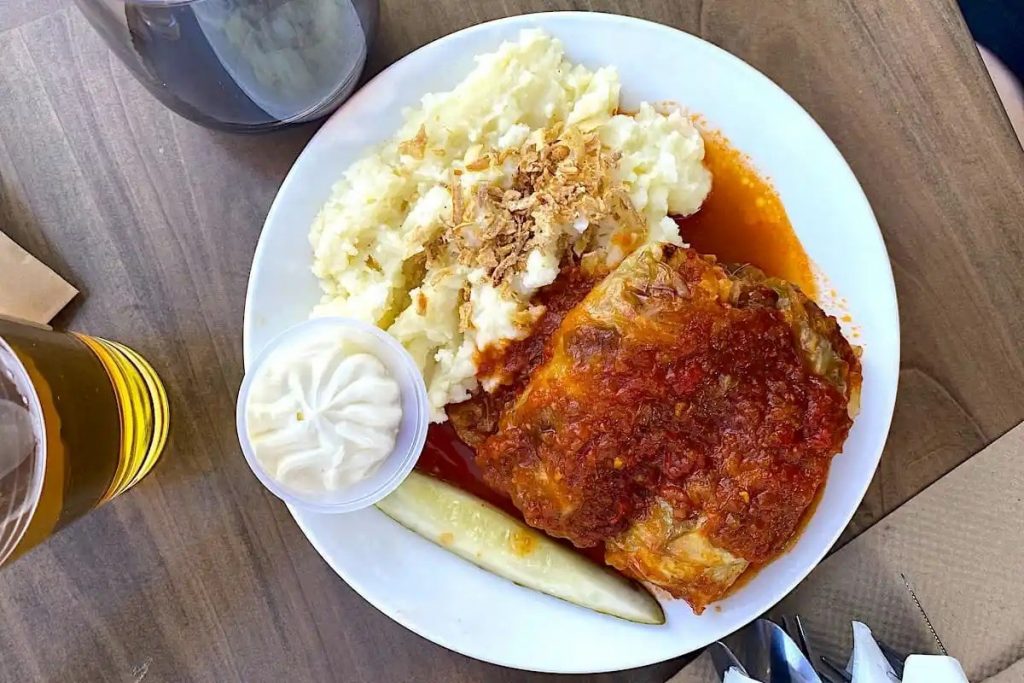 2. Golubtsy
Basically the same thing as the Polish Halupki, the Golubtsy at Cinderella Bakery & Cafe is a mixture of beef, rice and spices wrapped in cabbage, baked and then smothered in a tasty, tomato vegetable sauce. You get 2 large golubtsy and a side of real mashed potatoes covered in fried onions and a side of sour cream. It's a huge portion and the flavors are amazing.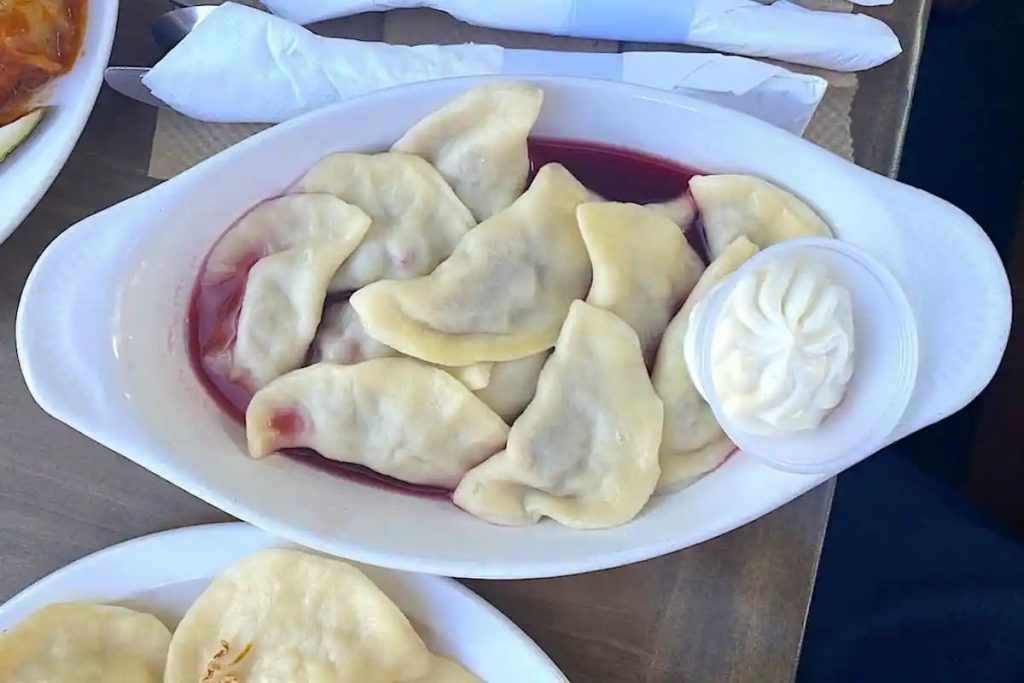 3. Russian Boiled Dumplings (with sour cherries)
That's right, they have more than one option for dumplings. These tasty treats are maybe a little bit more of a dessert than an entree, but who says you need to eat the sweet stuff last? The dumpling is the same as the potato and onion version, however the inside is filled with sour cherries and cherry syrup and, of course, it comes with a side of sour cream. While sour cherry flavor mixed with sour cream may sound a little odd, it actually is an amazing flavor combination.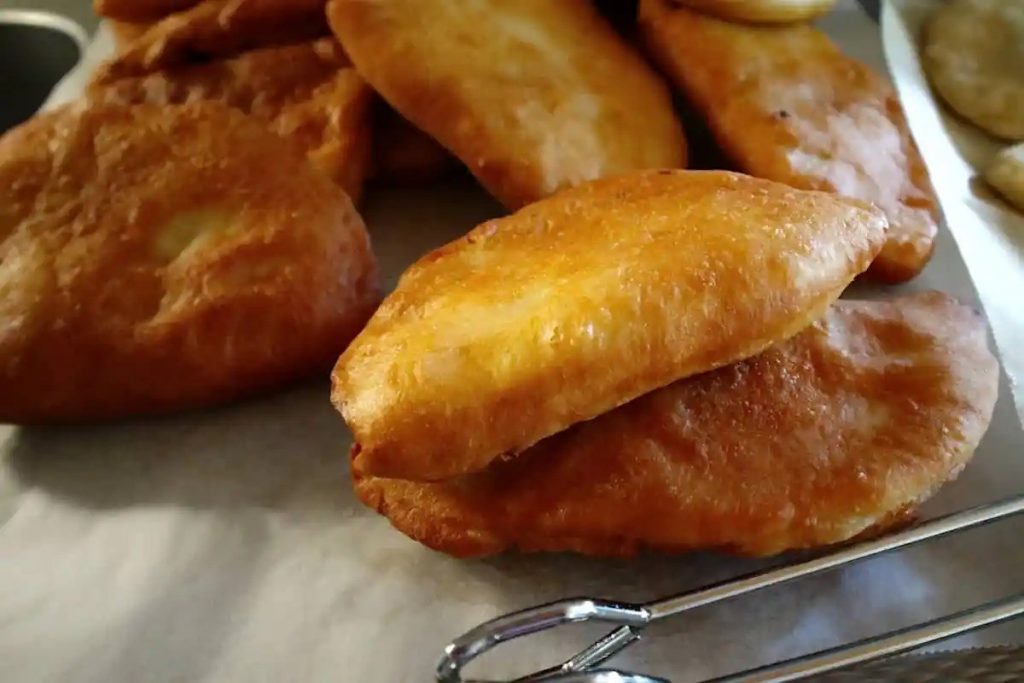 4. Beef & Gorgonzola Piroshki
If you asked me last week if I liked piroshki, I would have probably said "They're OK, I guess" . The few times that I had a piroshki, they were usually a little too "bready" and the fillings weren't really that flavorful. I realize that I just hadn't had a good piroshki. Anyway, now I am a fan. We initially tried to order beef and cheddar, but they weren't available, so we went with the beef & gorgonzola and we were pleasantly surprised. The outer dough was perfectly fried and the beef and cheese mixture was really flavorful.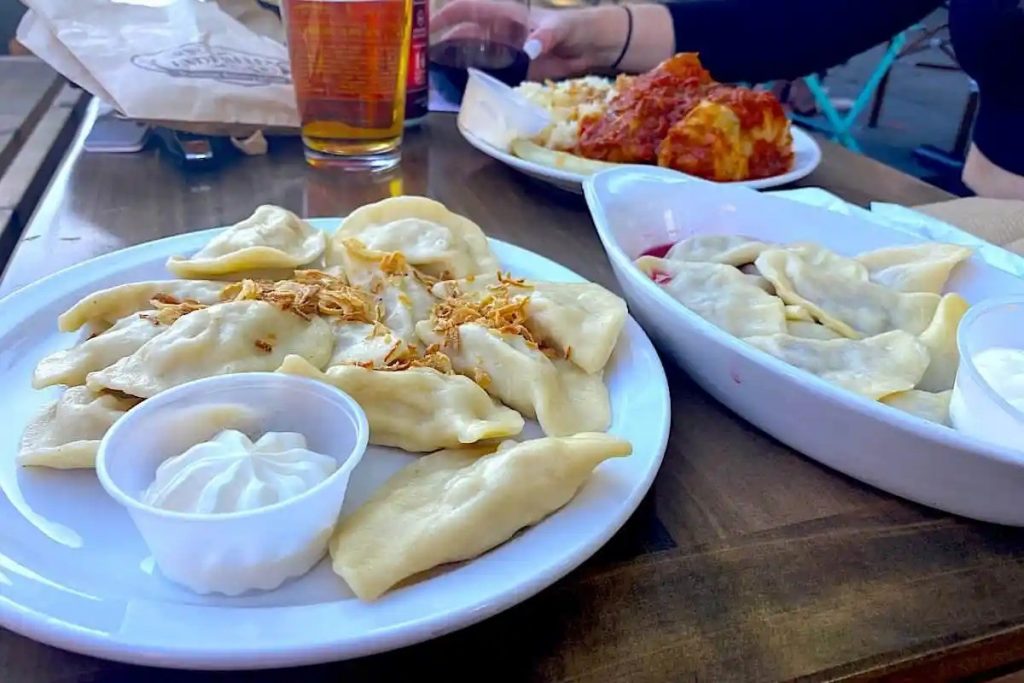 5. Affordable Pricing and Big Portions
Every item that we ordered seemed to be a large portion for the price. For two people, we ordered one beer, one glass of wine, one beef & gorgonzola piroshki, two orders of dumplings and the golubtsy entree and the whole meal was less than $60. Now $60 isn't exactly a cheap meal, except for the fact that we were completely stuffed and still took home 6 dumplings, a golubtsy and some mashed potatoes, which made a delicious, filling lunch the next day.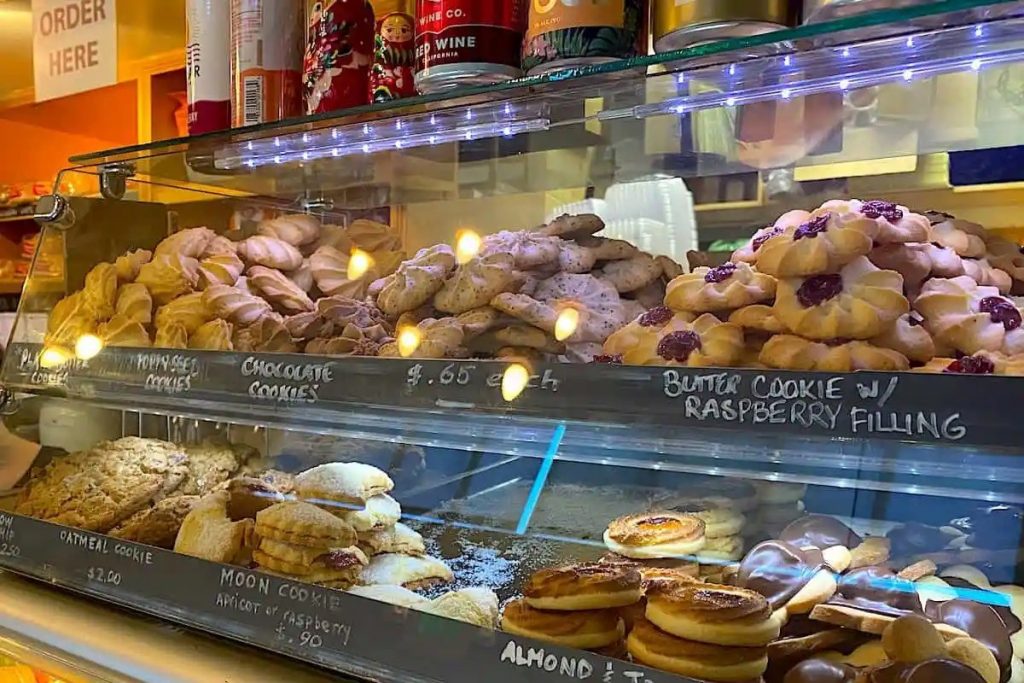 6. The Bakery
Since you have to order your food inside, you are forced to stare at the large, glass cases showing off a great assortment of cookies, pastries and more. So naturally, after stuffing yourself full of dumplings, you will be drawn back in to pick up a few sweet treats to take home with you. While we only tried a few things like the apricot butter cookies, sweet pretzels and the cream horn, we can't imagine that you can go wrong with anything they have to offer.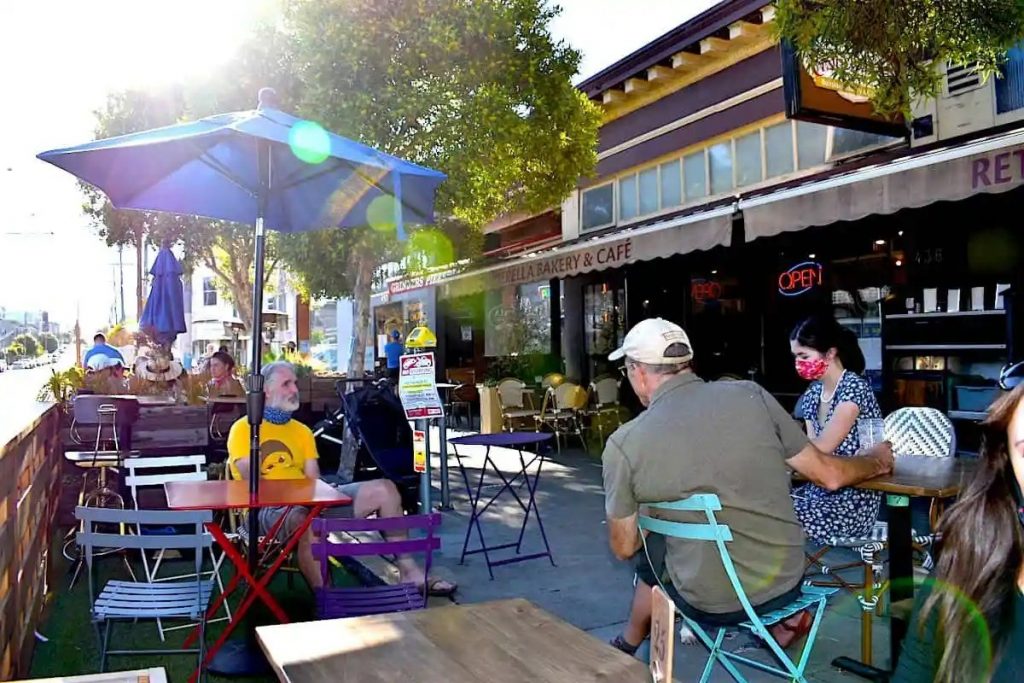 7. The Outdoor Patio
If you are reading this during the while the coronavirus restrictions are still in place, then the outdoor patio is an important feature. Cinderella Bakery & Cafe, along with neighboring restaurants like Grinders Pizzeria and Foghorn Taproom, have built some large outdoor dining areas, perfect for social distancing with friends.
So there you have it. Cinderella Bakery & Cafe is a great little spot with delicious, cheap and filling meals that you enjoy on their outdoor patio. Now grab some friends and get out of the house for a while!