The Chestnut and Fillmore Pub Crawl is back.
On Saturday, June 18, CrawlSF will be taking over the Marina for another crazy pub crawl. The fun will kick off at Campus and each bar will feature $3 Beers, $3 Drinks, $3 Shots and other great specials.
The Bars: Campus, Monaghans, Stock and Trade, Jaxson, Eastside West, and more!
Check in will be at Campus from 4PM to 6:30PM and the Pub Crawl Specials will go until 8PM!
---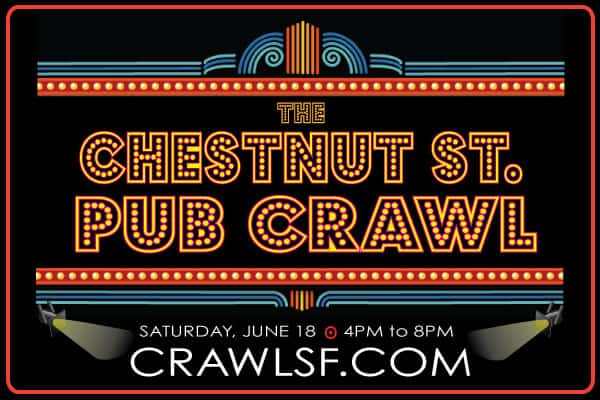 Upcoming CrawlSF Pub Crawls:
6/18: Chestnut Street Pub Crawl
7/3: July 4th Pub Crawl and Hot Dog Eating Contest
7/4: July 4th Pub Crawl
7/16: The 14th Annual Union Street Pub Crawl
8/6: Hayes Valley Pub Crawl
9/17: The 14th Annual North Beach Bar RUn
10/29: Crawloween: San Francisco Halloween Pub Crawl
10/31: Adult Trick 'r Treating Pub Crawl
11/23: The Turkey Trot Pub Crawl
12/3: CrawlSF Ugly Sweater Holiday Crawl
---
Pub Crawl Details:
CHECK-IN: The check-in for the Pub Crawl will be at Maye's from 4PM to 8:00PM. Please bring a copy of your order confirmation (you can also show us on your phone) and we will give you your Wristband and Pub Crawl Map.
CRAWLSF VIPs: CrawlSF VIP Card Holders will be on the list +1. Just go to the VIP line and show your ID to check in.
How does this work? Once you check in and receive your wristband and Pub Crawl Map, you can choose your own path. There will be too many people to be on a specific schedule (like 30 minutes per bar), so you can just follow the crowd at your own pace.
Other Stuff: We will have a couple photographers at the Crawl and some other fun stuff. Feel free to wear a weird costume or do anything to make things even crazier for you!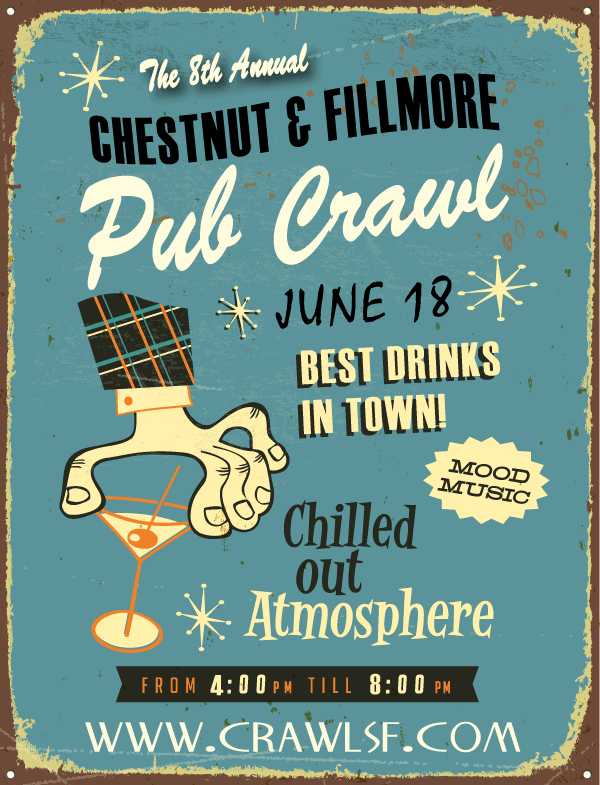 Campus
2241 Chestnut Street, San Francisco, CA 94123