Coachella Set Times, Pool Parties and Last Minute Tips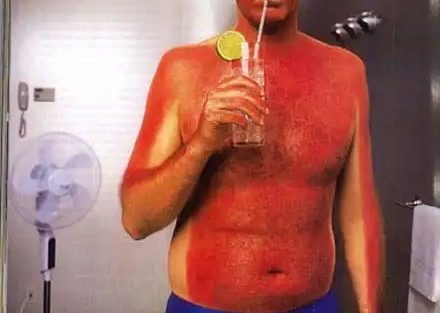 One of the best music festivals in the United States, Coachella is finally here! Whether you are a first timer or seasoned veteran, it's easy to forget some of the simple things. Here is a guide to help you get along:
Set Times:
FRIDAY SET TIMES: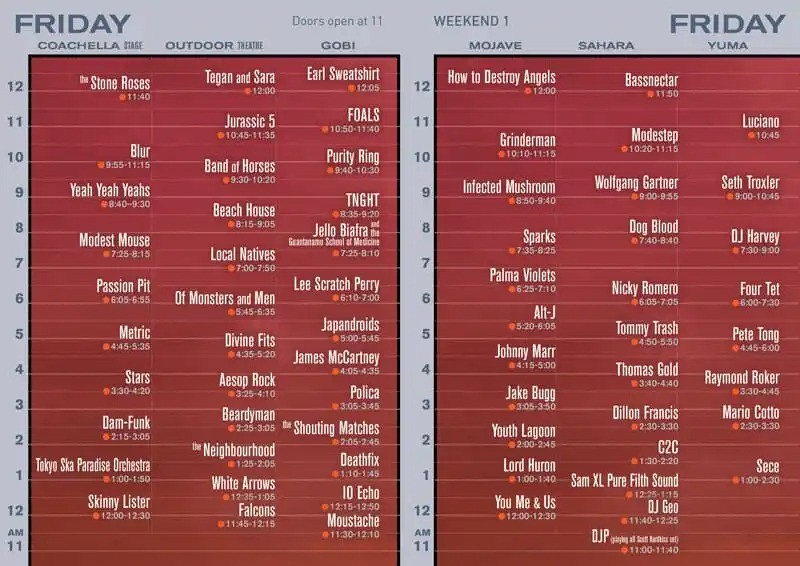 Coachella Stage:
Skinny Lister, 12-12:30 p.m.
Tokyo Ska Paradise Orchestra, 1-1:50 p.m.
Dam-Funk, 2:15-3:05 p.m.
Stars, 3:30-4:20 p.m.
Metric, 4:45-5:35 p.m.
Passion Pit, 6:05-6:55 p.m.
Modest Mouse, 7:25-8:15 p.m.
Yeah Yeah Yeahs, 8:40- 9:30 p.m.
Blur, 9:55-11:15 p.m.
The Stone Roses, 11:40 p.m.
Outdoor Theatre
Falcons, 11:45 a.m.-12:15 p.m.
White Arrows, 12:35-1:05 p.m.
The Neighbourhood, 1:25-2:05 p.m.
Beardyman, 2:25-3:05 p.m.
Aesop Rock, 3:25-4:10 p.m.
Divine Fits, 4:35-5:20 p.m.
Of Monsters and Men, 5:45-6:35 p.m.
Local Natives, 7-7:50 p.m.
Beach House, 8:15-9:05 p.m.
Band of Horses, 9:30-10:20 p.m.
Jurassic5, 10:45-11:35 p.m.
Tegan and Sara, 12 a.m.
Gobi Tent
Moustache, 11:30 a.m.- 12:10 p.m.
Io Echo, 12:15-12:50 p.m.
Deathfix, 1:10-1:45 p.m.
The Shouting Matches, 2:05-2:45 p.m.
Polica, 3:05-3:45 p.m.
James McCartney, 4:05-4:35 p.m.
Japandroids, 5-5:45 p.m.
Lee "Scratch" Perry, 6:10-7 p.m.
Jello Biafra and the Guantanamo School of Medicine, 7:25-8:10 p.m.
TNGHT, 8:35-9:20 p.m.
Purity Ring, 9:40-10:30 p.m.
Foals, 10:50-11:40 p.m.
Earl Sweatshirt, 12:05 a.m.
Mojave Tent
You Me & Us, 12-12:30 p.m.
Lord Huron, 1-1:40 p.m.
Youth Lagoon, 2-2:45 p.m.
Jake Bugg, 3:05-3:50 p.m.
Johnny Marr, 4:15- 5 p.m.
Alt-J, 5:20-6:05 p.m.
Palma Violets, 6:25-7:10 p.m.
Sparks, 7:35-8:25 p.m.
Infected Mushroom, 8:50-9:40 p.m.
Grinderman, 10:10-11:15 p.m.
How to Destroy Angels, 12 a.m.
Sahara Tent
DJP, 11-11:40 a.m.
DJ Geo, 11:40-12:25 p.m.
Sam XL Pure Filth Sound, 12:25-1:15 p.m.
C2C, 1:30-2:20 p.m.
Dillon Francis, 2:30-3:30 p.m.
Thomas Gold, 3:40-4:40 p.m.
Tommy Trash, 4:50-5:50 p.m.
Nicky Romero, 6:05-7:05 p.m.
Dog Blood, 7:40-8:40 p.m.
Wolfgang Gartner, 9-9:55 p.m.
Modestep, 10:20-11:15 p.m.
Bassnectar, 11:50 p.m.
Yuma Tent
Sece, 1-2:30 p.m.
Mario Cotto, 2:30-3:30 p.m.
Raymond Roker, 3:30-4:45 p.m.
Pete Tong, 4:45-6 p.m.
Four Tet, 6-7:30 p.m.
DJ Harvey, 7:30-9 p.m.
Seth Troxler, 9-10:45 p.m.
Luciano, 10:45 p.m.
SATURDAY SET TIMES: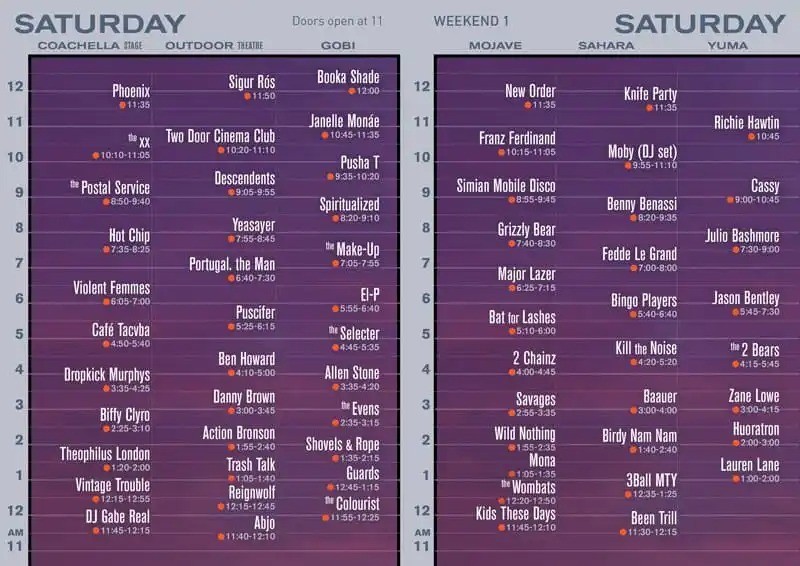 Coachella stage
Gabe Real, 11:45 a.m.-12:15 p.m.
Vintage Trouble, 12:15-12:55 p.m.
Theophilus London, 1:20-2 p.m.
Biffy Clyro, 2:25-3:10 p.m.
Dropkick Murphys, 3:35-4:25 p.m.
Cafe Tacvba, 4:50-5:40 p.m.
Violent Femmes, 6:05-7 p.m.
Hot Chip, 7:35-8:25 p.m.
The Postal Service, 8:50-9:40 p.m.
The xx, 10:10-11:05 p.m.
Phoenix, 11:35 p.m.
Outdoor Theatre
Abjo, 11:40 a.m.-12:10 p.m.
Reignwolf, 12:15-12:45 p.m.
Trash Talk, 1:05-1:40 p.m.
Action Bronson, 1:55-2:40 p.m.
Danny Brown, 3-3:45 p.m.
Ben Howard, 4:10-5 p.m.
Puscifer, 5:25-6:15 p.m.
Portugal. The Man, 6:40-7:30 p.m.
Yeasayer, 7:55-8:45 p.m.
Descendents, 9:05-9:55 p.m.
Two Door Cinema Club, 10:20-11:10 p.m.
Sigur Ros, 11:50 p.m.
Gobi Tent
The Colourist, 11:55 a.m.-12:25 p.m.
Guards, 12:45-1:15 p.m.
Shovels and Rope, 1:35-2:15 p.m.
The Evens, 2:35-3:15 p.m.
Allen Stone, 3:35-4:20 p.m.
The Selecter, 4:45-5:35 p.m.
El-P, 5:55-6:40 p.m.
The Make-Up, 7:05-7:55 p.m.
Spiritualized, 8:20-9:10 p.m.
Pusha T, 9:35-10:20 p.m.
Janelle Monae, 10:45-11:35 p.m.
Booka Shade, 12 a.m.
Mojave Tent
Kids These Days, 11:45 a.m.-12:10 p.m.
The Wombats, 12:20-12:50 p.m.
Mona, 1:05-1:35 p.m.
Wild Nothing, 1:55-2:35 p.m.
Savages, 2:55-3:35 p.m.
2 Chainz, 4-4:45 p.m.
Bat for Lashes, 5:10-6 p.m.
Major Lazer, 6:25-7:15 p.m.
Grizzly Bear, 7:40-8:30 p.m.
Simian Mobile Disco, 8:55-9:45 p.m.
Franz Ferdinand, 10:15-11:05 p.m.
New Order, 11:35 p.m.
Sahara Tent
Been Trill, 11:30-12:15 p.m.
3BallMTY, 12:35-1:25 p.m.
Birdy Nam Nam, 1:40-2:40 p.m.
Baauer, 3-4 p.m.
Kill the Noise, 4:20-5:20 p.m.
Bingo Players, 5:40-6:40 p.m.
Fedde Le Grand, 7-8 p.m.
Benny Benassi, 8:20-9:35 p.m.
Moby DJ Set, 9:55-11:10 p.m.
Knife Party, 11:35 p.m.
Yuma Tent
Lauren Lane, 1-2 p.m.
Huoratron, 2-3 p.m.
Zane Lowe, 3-4:15 p.m.
The 2 Bears, 4:15-5:45 p.m.
Jason Bentley, 5:45-7:30 p.m.
Julio Bashmore, 7:30-9 p.m.
Cassy, 9-10:45 p.m.
Richie Hawtin, 10:45 p.m.
SUNDAY SET TIMES: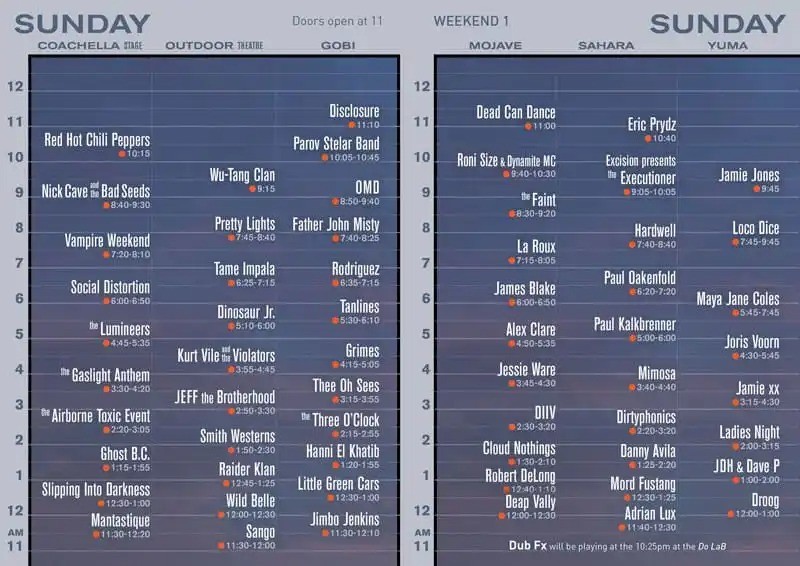 Coachella Stage
Mantastique, 11:30 a.m.-12:20 p.m.
Slipping Into Darkness, 12:30-1 p.m.
Ghost B.C., 1:15-1:55 p.m.
The Airborne Toxic Event, 2:20-3:05 p.m.
The Gaslight Anthem, 3:30-4:20 p.m.
The Lumineers, 4:45-5:35 p.m.
Social Distortion, 6-6:50 p.m.
Vampire Weekend, 7:20-8:10 p.m.
Nick Cave and the Bad Seeds, 8:40-9:30 p.m.
Red Hot Chili Peppers, 10:15 p.m.
Outdoor Theatre
Sango, 11:30-12 p.m.
Wild Belle, 12-12:30 p.m.
Raider Klan, 12:45-1:25 p.m.
Smith Westerns, 1:50-2:30 p.m.
JEFF the Brotherhood, 2:50-3:30 p.m.
Kurt Vile and the Violators, 3:55-4:45 p.m.
Dinosaur Jr., 5:10-6 p.m.
Tame Impala, 6:25-7:15 p.m.
Pretty Lights, 7:45-8:40 p.m.
Wu-Tang Clan, 9:15 p.m.
Gobi Tent
Jimbo Jenkins, 11:30 a.m.-12:10 p.m.
Little Green Cars, 12:30-1 p.m.
Hanni El Khatib, 1:20-1:55 p.m.
The Three O'Clock, 2:15-2:55 p.m.
Thee Oh Sees, 3:15-3:55 p.m.
Grimes, 4:15-5:05 p.m.
Tanlines, 5:30-6:10 p.m.
Rodriguez, 6:35-7:15 p.m.
Father John Misty, 7:40-8:25 p.m.
OMD, 8:50-9:40 p.m.
Parov Stelar Band, 10:05-10:45 p.m.
Disclosure, 11:10 p.m.
Mojave Tent
Deap Vally, 12-12:30 p.m.
Robert DeLong, 12:40-1:10 p.m.
Cloud Nothings, 1:30-2:10 p.m.
DIIV, 2:30-3:20 p.m.
Jessie Ware, 3:45-4:30 p.m.
Alex Clare, 4:50-5:35 p.m.
James Blake, 6-6:50 p.m.
La Roux, 7:15-8:05 p.m.
The Faint, 8:30-9:20 p.m.
Roni Size and Dynamite MC, 9:40-10:30 p.m.
Dead Can Dance, 11 p.m.
Sahara Tent
Adrian Lux, 11:40 a.m.-12:30 p.m.
Mord Fustang, 12:30-1:25 p.m.
Danny Avila, 1:25-2:20 p.m.
Dirtyphonics, 2:20-3:20 p.m.
Mimosa, 3:40-4:40 p.m.
Paul Kalkbrenner, 5-6 p.m.
Paul Oakenfold, 6:20-7:20 p.m.
Hardwell 7:40-8:40 p.m.
Excision presents The Executioner, 9:05-10:05 p.m.
Eric Prydz, 10:40 p.m.
Yuma Tent
Droog, 12-1 p.m.
JDH and Dave P, 1-2 p.m.
Ladies Night, 2-3:15 p.m.
Jamie xx, 3:15-4:30 p.m.
Joris Voorn, 4:30-5:45 p.m.
Maya Jane Coles, 5:45-7:45 p.m.
Loco Dice, 7:45-9:45 p.m.
Jamie Jones, 9:45 p.m.
AND HERE IS THE MAP: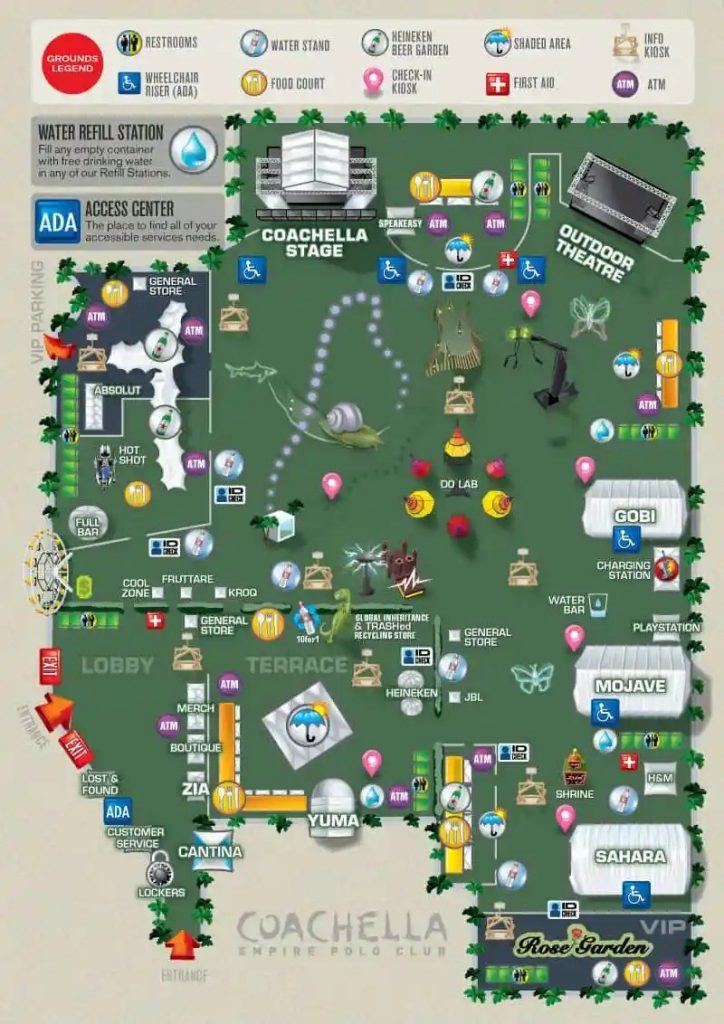 Some Tips and Tricks:
Coachella Tips & Tricks
Water, Agua, H20!
Many Coachella rookies are so excited for their first weekend of Coachella that they forget to drink water! This can be particularly dangerous when mixing dancing, drugs and sun. A good rule of thumb is to drink at least 1 water bottle every 2 hours.
Wear Sun block
The sunshine and warm weather is what makes Coachella so much fun. But too many of my friends had a good day 1 turn into an awful day 2 and 3 because of a bad sunburn. Lesson learned: lather up! Waterproof SPF 50 is recommended.
Comfortable shoes and clothes
Many people forget this simple fact: you will be on your feet for at least 13 hours a day during the Coachella weekend. Trendy and fashionable shoes may seem like a cool idea for the first hour or so, but by the time it's midnight you will wish you had worn something more practical. Also, many people tend to forgot that deserts get very cold at night. Always bring something warm for the night time. You will thank me for this one!
Take a photo of your contact information
If you plan on bringing a digital camera, make sure to snap a pic of your name and phone number. If someone finds your camera and peers through your photos, they'll know who to contact. Most everyone at Coachella seems to be one of the few places were 100% of the people are nice. Over the years at Coachella, I've lost my debit card, cell phone, ID and car keys. All items were returned to the lost and found!
Buy merchandise on the first day
The Coachella merchandise tent turns into a zoo everynight as all the fetival goers are heading for the exits. I've personally waited in a merch line for 30 minutes only to learn that the shirt I wanted was sold out. The trick here is to buy your merch at the beginning of the first day.
Have a physical meeting spot with for you and your friends
"The ferris wheel ticket booth", "back left corner of the Mojave tent" and the "entrance to the Heineken beer garden" are all examples of unique physical spots that you can meet your friends should you get separated. See tip #7
Text affirmative statements
Cell phone reception at Coachella is spotty at best because rural Indio's cell tower infrastructure was not designed to handle 85,000 cell phones in such a small area. So never text "where are you?" to a friend because it could be hours before they receive it. And when you get a response, your plans could have changed. Instead, text an affirmative statement like "meet at the merch tent at 8:00pm"
Bring a small flashlight
Not only is this an essential item for Coachella campers, but a small flashlight is very useful for the festival as well. Coachella veterans know that it is easy to lose your group of friends while walking through the crowds at night. If you have a flashlight (preferably one with a blinker) the leader of your group can hold it up while walking through the crowds so that the rest of the group won't lose site of him/her.
Beware the beer garden
Drinking lot's of alcohol and 100 degree weather don't mix well. Save the boozin' until the sun goes down. Plus, the $8 beers don't feel too good on the wallet.
Bring a positive attitude
Everyone comes to Coachella to see their favorite bands and to have a good time. Accordingly, everyone is in a great mood (probably the best mood they'll be in all year). Don't bring eggy vibes and ruin other peoples good times. Think about the other festival goers and don't be selfish. Don't block other people's view of the stage with a sign or your girlfriend on your shoulders. Don't push and shove to make your way to the front of the stage. If you want to be up close for your favorite band, get their early!
Bring Earplugs – The music is LOUD! Especially if you're in the front row of the mainstage.  I never understood why people stand directly in front of the speakers in the Sahara without ear protection.  After All, that ringing in your ear after the festival is permanent hearing damage. If you want to be able to enjoy the music 30 years from now, you MUST wear ear protection at Coachella (and all other concerts).  I recommend the Hearos High Fidelity Musician's ear plugs because they're cheap and effective.  And they come with a free case.  These earplugs won't muffle the music, but instead, bring it down to a reasonable and safe decibel level.
Bring porta-pottie necessities – The Coachella porta-potties are notoriously dirty and smelly. Stepping into a small human waste box that has been baking in 100°+ heat all day is quite an experience. If you're camping, be sure to bring extra seat covers (grab some from a local fast food restaurant on your way out to the festival), toilet paper, baby wipes and hand sanitizer.
Be prepared for allergic reactions – Bring your anti-allergy medicine because the dry dust and grass on the festival grounds irritates most people's eyes and throat.
Save your cell phone battery – It's very annoying to lose your group of friends only to discover your cell phone is dead.  There are no charging stations in the festival grounds (but there are some at the campgrounds).  So, turn off your wi-fi, bluetooth, data and close all of your iPhone background apps.  You don't need any of these battery draining features while you're at the festival.  Enjoy the music, don't sit around taking instagrams of the ferris wheel all day.
Put medication in original bottle – Unless you want your birth control pill to be mistaken for an ecstasy biscuit and to be confiscated by security, be sure to keep your meds in the prescription bottle. Even worse still, you're detained by the police for trying to smuggle drugs into the festival.
Condoms & breath mints
Leave for the festival early every morning – If you're staying at a hotel or condominium, as oppose to camping, make sure to leave for the festival very early. Traffic can get very congested around the Polo Fields. I stayed at La Quinta Resort my first year (just a few miles away) and it took me almost 2 hours to get to the Festival.
Rent a locker – Non-campers should consider renting a locker (use this site to book a locker).  It's a good idea to keep a warm sweater, or even jeans, in your locker so that you can be prepared for the cold desert nights.  The locker is also a great place to store any beers that you might have snuck into the festival grounds.
Remember it takes time to get from stage to stage – If there's a band you really want to see, make sure you leave early to get there. It can take a good 30 minutes to walk between the Sahara tent and the mainstage when it's crowded.
Don't buy or sell drugs from/to strangers – There are lots of undercover cops at Coachella looking to buy drugs from friendly festival goers. Don't let your weekend be ruined by spending a night in the Indio police station. Besides, drugs are bad (see the Naked Wizard video below). If you do find yourself in trouble with the law at Coachella, be sure to contact Forest Wilkerson, a La Quinta-based defense attorney who has experience in dealing with Coachella-related incidents. Her office can be reached (available night and weekends) at 760-777-4322. Save this number to your phone's contacts now!
Print out the setlist (bonus tip!) – Festival staff do hand out set time pamphlets, but don't spend time looking for one. Print out the set times before you arrive and highlight the artists you want to see. Making a plan is the best way to maximize your time
Godzilla After Party
Who: Anyone that gets a ticket. THIS WILL SELL OUT
What: The mother-load of all Coachella after parties (it goes until 8:00am the next morning). There are going to be stories about this party for years to come. They also have a second weekend event! Lineup includes Slice n Dice, Kicks n Licks, Bais Haus, Bones and Troy Kurtz. See image above for full lineup.
When: Saturday April 13th. 10:00pm – 8:00am PREPARE FOR A LONG NIGHT
Where: Private Ranch in Thermal, 54950 Tyler St, Thermal, California 92774
Neon Carnival
Who: People on the guest list, celebrities and wannabe celebrities. There are no details on how to get on to the list. Although I've heard you can just show up and wait in line.
What: The Neon Carnival is exactly what it sounds like… giant slides, bumper cars, carnival games and a neon ferris wheel. Only replace the kids and carnies with LA scenesters.
When: Saturday April 13, 2013.
Where: Tradition Aviation. 86400 Lightning St, Thermal, CA. (About 15 minutes from Coachella).
Filter's Yacht Club Party
Who: Anyone on the guest list, you'll just need to RSVP.
What: Full bar, product giveaways, food and performances from Penguin Prison, St. Lucia and several DJs.
When: Thursday April 11th and Thursday April 18th. 9:00pm – 1:00am.
Where: TBA. Last year it was at the Corona Yacht Club: 46600 Tyler St Coachella, CA 92236. (About 20 minutes from Coachella).
SPIN HOUSE
Who: People on the list.
What: SPIN presents SPIN House—a day-long pool party filled with drinks, ping pong and performances by ANTWON, King Tuff, Nite Jewel and Chrome Sparks. Be sure to hashtag photos #SPINHouse to be printed on-site.  Admission based on capacity, 21+. RSVP here.
When: Saturday April 13th, Noon to 5:00pm
Where: The Commune At Ace Hotel & Swim Club (701 E Palm Canyon Dr)
Desert Gold / The Doover
Who: Guests of the ACE Hotel in Palm Springs and friends. The pool party is free, open to the public and all ages. The nighttime events are free but are 21+ only.
What: Pool parties, night parties, Jamaican food, DJs, KCRW and Flying Lotus. All sorts of debauchery. FlyLo plays Thursday night before Coachella (April 11) from 10:00pm to 2:00am. That enough should be a reason to get over to the ACE Hotel!
When: All of Coachella week, April 11th – 21st. 10 days of parties.
Where: ACE Hotel, 701 E Palm Canyon Dr, Palm Springs, CA 92264 (45 minutes from Coachella)
Desert Weekender / SS13 Launch Party
Who: Saguaro Hotel guests + Friends.
What: Forever 21 and Revolve Clothing are putting on this event. Not many details available, but updated will be made available here.
When: April 12th
Where: The Saguaro Hotel, 1800 E Palm Canyon Drive, Palm Springs, CA (45 minutes from Coachella)
Vestal Village
Who: People in the surfing retail industry + those who know someone that works for Vestal.
What: Setup by Vestal Watches, it's a village of tents and RVs that exists for 3 days out of the year. The big hit last year was the slip-and-slide with a launch ramp into a pool.  LA Riots will be performing this year!
When: April 12th – 14th
Where: In the middle of nowhere, next to a horse farm.
Riveria Hotel
Who: Riveria Hotel guests. A 3-night stay is required for access, but that hasn't stopped people in the past for rolling up and pretending they stay there.
What: The Riveria's "Beauty & the Beat" is back. What is it? A pool party complete with a beer garden and a spa for instant mini-massages.
When: April 12th – 14th, and 19th-21st.
Where: Riveria Palm Springs, 1600 N Indian Canyon Dr, Palm Springs, CA 92262
LACOSTE L!VE
Who: Douchey people invited by Lacoste, celebrities and wannabe celebrities.
What: DJs, hipsters and Lacoste product giveaways. Get more info here.
When: Saturday and Sunday, April 13th & 14th.
Where: Somewhere in Thermal
Volt Valley
Who: Coachella "VIPs."  Whatever that means.
What: Hot air balloon rides, zip lines and free food.  Plus Patron Margaritas. Details.
When: Saturday and Sunday, April 13th & 14th, noon – 6pm.
Where: Somewhere in Indio
The Campgrounds
Who: All of the campers at Coachella and people with a Coachella wristband.
What: Drinking + drugs + debauchery. Dodgeball, silent discos, roller rinks, movies, beer pong, corn hole etc. etc.
When: All weekend
Where: Empire Polo Fields – Camping Area
JUST ADDED:
Legacy Villas Pool Party by RollingTuff.com **[CANCELLED]**
CANCELLED
Who: Legacy Villas guests and those who pay the $5 entrance free.
What: The crew at RollingTuff.com are bringing you one awesome pool party.  Judging by the DJs on the bill, if there's one pool party to attend this Coachella weekend, it's this one.  Not to mention it's just minutes from the Polo Fields. Must RSVP – [email protected]
When: Saturday, April 13th.
Where: Legacy Villas,  48613 Classic Dr La Quinta, CA 92253. (Only 10 minutes from Coachella)
THIS EVENT HAS BEEN CANCELLED. A MESSAGE FROM ROLLINGTUFF.COM:
**For reasons beyond our control, our Party at the Legacy Villa Pools will be canceled.**
The real reason is because the Legacy Villas Freaked out after they saw how many people were attending and made the event no longer open to the public. Renters, homeowners and guests of homeowners only. We would apologize to all of our fans for trying to make it out but it's not our fault and you should all get an apology from the Legacy Villas.
We could have still thrown the party but we don't like people telling us how to throw our own parties, we throw our parties the way we want to. So we unfortunately would rather pull out than throw a half ass party where its not open to the public. Sorry to all of the guest who we were excited to party along with us but ROLLINGTUFF doesn't throw half ass parties.
yours truly,
the crew from ROLLINGTUFF
Renaissance Esmeralda Resort Pool & After Parties
Who: People willing to shell out a few thousand dollars for table service.
What: Vegas-style pool parties have come to Coachella.  Nervo, Chuckie, Morgan Page, Ned Shepard and Sultan will be DJing a series of pool and after parties.  The parties are hosted by XS, Surrender and Absolut Vodka.
When: All first weekend of Coachella.  See above posters for exact times and dates. Buy tickets here.
Where: Renaissance Esmeralda Resort. 44-400 Indian Wells Ln, Indian Wells, CA. (About 20 minutes to Coachella).
Studio Africa – Diesel + EDUN
Who: People that RSVP by emailing [email protected]
What: Classic Coachella pre-party, but without a pool. DJ sets by White Light White Heat (w/ members of the Strokes), Monkeytap and others.
When: All weekend, April 12th – 14th
Where: Tally HorseRanch, 55075 Monroe Street, La Quinta, CA 92253 (Literally 5 minutes away from Coachella. You could walk if you had to).
H&M
Who: You have to know someone at H&M
What: A party hosted by Santigold
When: 12:00 to 4:00, Saturday April 13th.
Where: The Merv Griffin Estate, 81345 Avenue 54, La Quinta, CA 92253 (2 minutes away from Coachella).
ShopBazzar Poolside Fete
Who: Invite Only
What: Mia Morretti DJing and free manicures (really?)
When: All weekend
Where: The Park Palm Springs Pool, 4200 E Palm Canyon Dr, Palm Springs, CA 92264(about 40 minutes from Coachella)
The Guess Hotel
Who: Again, you have to know someone
What: A preview of Guess' new "Festival" collection. Music by Alex Merrell, DJ Kurch and Travis Emmons. Another Palm Springs event that's far away from the Coachella grounds.
When: 12:00 – 5:00pm Saturday and Sunday, April 13th and 14th.
Where: Viceroy Hotel Pool. 415 S Belardo Rd Palm Springs, CA (45 minutes from Coachella).
NAS & Hennessy VS Present Details @ Midnight
Who: RSVP to [email protected]
What: An after party hosted by NAS, should be a good time. Music by Zen Freeman and DJ Politik. 21+
When: Friday April 12th @ 10:00pm
Where: unknown
Flaunt & Le Baron present New Guantanamo
Who: RSVP to [email protected]
What: After party with music by Kitsuné
When: Friday April 12th, 11:00pm 6:00am (all nighter!)
Where: 85591 Grapefruit Blvd., Coachella, CA 92236 (~10 minutes from Coachella)
Wildfox + Friends House Party
Who: Must be invited (print out the image above).
What: A good ole' house party, but with Bag Raiders DJing. Anna Lunoe, Brendan Fallis and Hannah Bronfman too.
When: Friday April 12th. 10:00 – late….
Where: Somewhere in Rancho Mirage
Jeremy Scott + Adidas Party
Details unknown, feel free to contact me me to share.
McDonald's Premium McWrap party
Who: McDonald's lovers (I'm loving it).  Invite only.  RSVP to [email protected]
What: LA Club Bootsy Bellows is co-hosting this party which features performances by Manufactured Superstars, Capital Cities, Eletrik People, Beefowl, Ferras and Wade Crescent.  Rumor has it that Carmen Electra is the "host."
When: Saturday April 13th, 2:00 – 7:00pm
Where: Park at 39001 Monterey Avenue in Rancho Mirage.  Shuttle service will be provided to the estate.