EAT LIKE A SAN FRANCISCAN: THE BEST CIOPPINO IN NORTH BEACH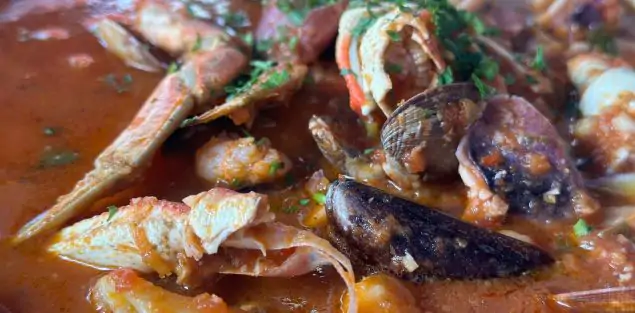 During the days of the Gold Rush, people came from all over in hope of achieving great fortune. A large number Italian immigrants made San Francisco's North Beach Neighborhood their home. Among them, a large number of fishermen from Liguria's Capital City, Genoa. They inspired the creation of one of San Francisco's most famous dishes, "Cioppino". The dish is a tomato-based seafood stew.
Since it is Italian Heritage month, Crawl SF has decided to deep dive into the history of this quintessential Bay Area dish and to seek out the best in the city. However, there is much debate as to the origins of the dish. Some say it is not an Italian dish at all, but strictly a San Franciscan creation. Others say the dish originated in Liguria. There seems to be a little truth in both theories.
According to American Food writer, Coleman Andrews, there is a classic Genoese dish, a "fisherman's Stew" of sorts, called " il ciuppin" in the Genoese dialect. Andrew claims il ciuppin is just the corruption of the Genoese word for "little soup"; suppin. It seems logical that the name and recipe we know today is derived from this Ligurian Stew.
There is a San Francisco Legend, recently printed in Ruth Carlson's book Secret San Francisco: A Guide to the Weird, Wonderful, and Obscure. Carlson claims the name is derived from the fisherman saying "chip in" when they had a bad catch and went around with a pot gathering scraps from other fisherman down by the wharf. The phrase chip in is said to have morphed into the name Cioppino. A rustic stew of garlic, onions, tomatoes and whatever scraps the daily catch would provide was often made by the down on his luck fisherman. This dish over time would become known in San Francisco as Cioppino.
Though the origins of the dish may never be defined, two things are certain. First, San Francisco is the city best known for Cioppino and it is a part of the native culinary culture here. Second, It is absolutely delicious. In search of the best Cioppino in San Francisco, we found ourselves in North Beach.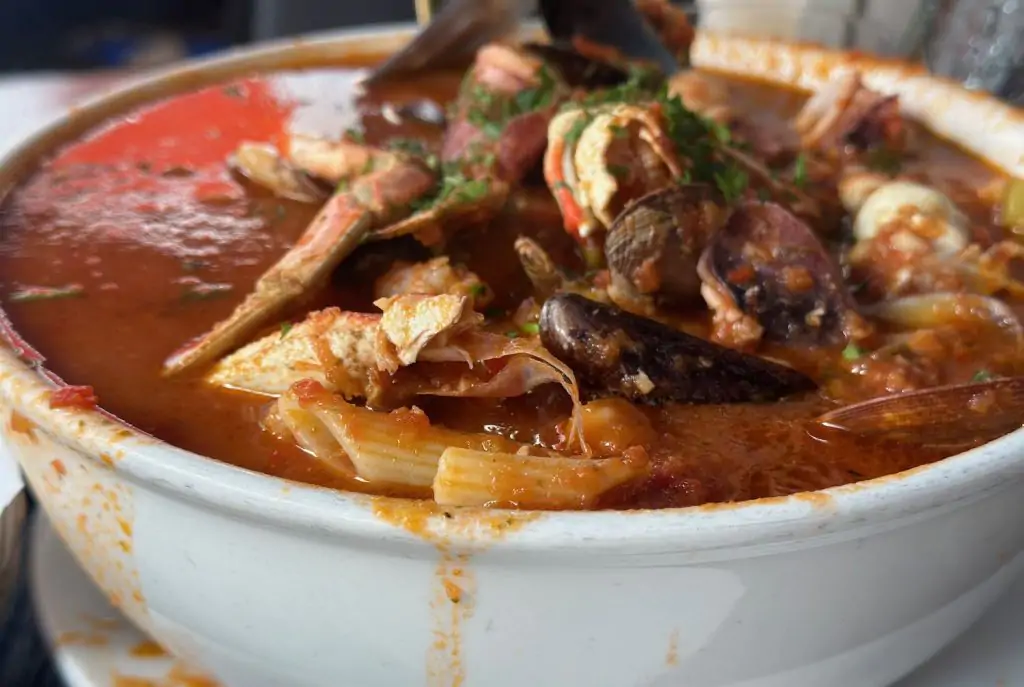 The Cioppino at Sotto Mare Oysteria and Seafood Restaurant is an absolute must try. The restaurant is located along Green Street, in a row of restaurants with outdoor seating. It has a very European feel and the streets are always crowded with people out enjoying the vibrant North Beach neighborhood. Their menu boasts, "The best damn Cioppino" and we agree. It comes out in an oversized bowl with a very generous portion of fresh, local seafood including, bay shrimp, prawns, bay scallops, Dungeness crab, calamari, clams and mussels in a hearty, flavorful tomato sauce with ziti pasta. Although they claim the dish is big enough for two, It can definitely feed more than two depending on how hungry you are. It is $54.95, which is a great value, considering the portion size. The bread they serve is fresh and doughy on the inside with a nice crust on the outside. It is the perfect way to enjoy the generous portion of tomato based broth. It goes well with a simple white wine or a Peroni Lager.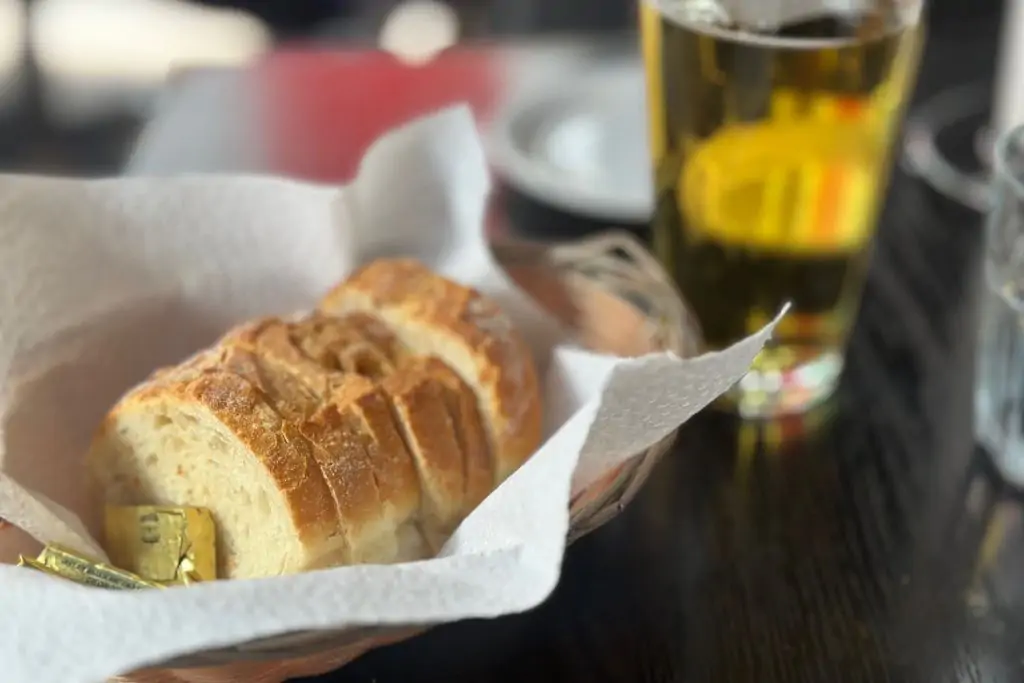 If you are looking for the perfect spot to gather for a long leisurely lunch on a sunny afternoon with a group of friends, Sotto Mare is a great choice.
Sotto Mare
552 Green St
San Francisco, CA 94133
(415) 398-3181