Eat Like a Sicilian: Crawl SF's Guide to the Best Arancini in the Bay Area.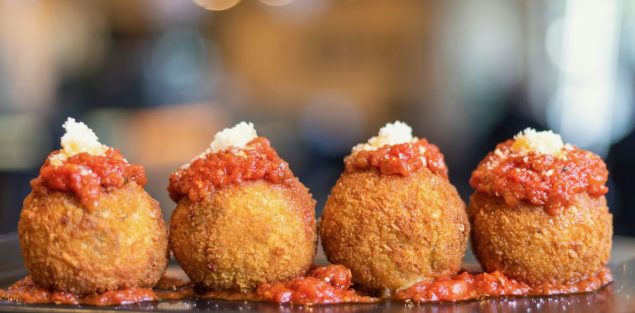 October is Italian Heritage Month in San Francisco. It is the perfect time a year to explore San Francisco's Italian Culture and Italian food scene. CrawlSF has decided to start with Sicily's favorite street food; the arancini. Arancini are delightful rice balls, often seasoned with saffron, filled with cheese, peas or meat and breaded and fried. Often they are served with a dipping sauce. They are the ultimate Italian comfort food. In Rome they are called Suppli. There are many places to get delicious arancini in the Bay Area. Here are some of our favorites.
Original Joe's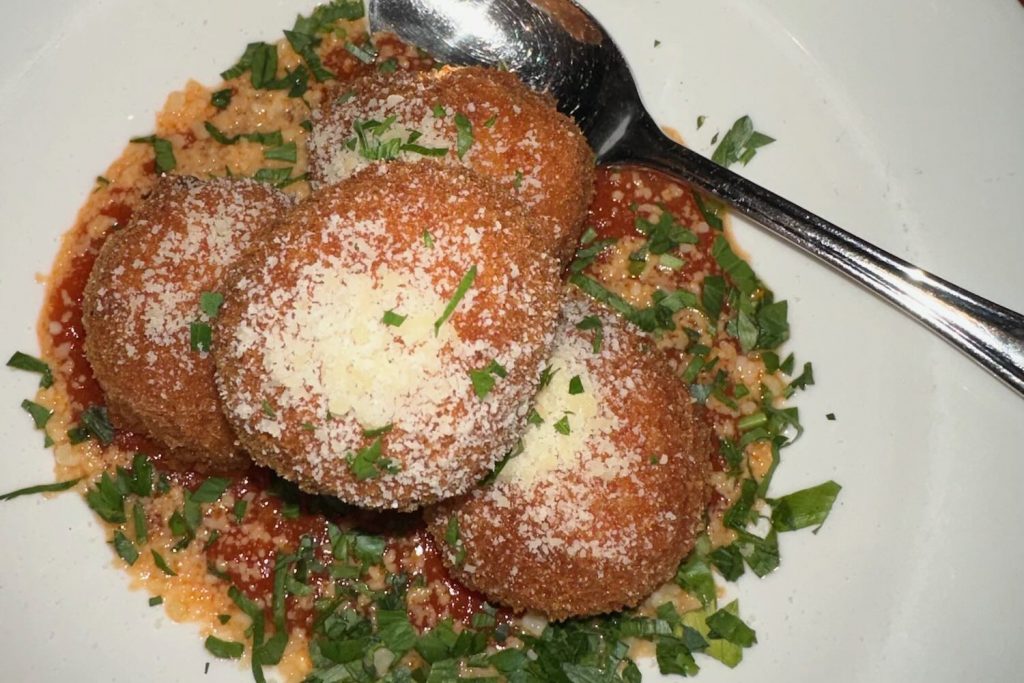 There are businesses in every town that, in a sense, define the place. Old Original Joe's, affectionately referred to as "OJ's", by its many regulars, is among the businesses that define San Francisco. There are certain restaurants and bars throughout the city that have served as San Francisco's extended "living room" over the years because of their approachable, down to earth and friendly nature. They serve a comforting meal or an honest drink, at a decent price, along with a side of warm, genuine hospitality. Locals know the owners and staff by name. It is a sense of true community and an extended family. Joe's offers all of this and so much more. OJ's has been serving heaping portions of Italian comfort food, since Ante "tony" Rodin opened the doors to its original location, at 144 Taylor Street, in 1937. After a tragic fire in 2007, the business soon moved into its Union Street location, which is even a better fit, as it is in the heart of San Francisco's beloved Italian neighborhood; North Beach. Their menu includes Arancini, among the appetizer selections. The portion is generous and they are crispy on the outside and filled with gooey cheese. The marinara sauce that accompanies them is absolutely delicious. If you are looking for straight forward, traditional Arancini, OJ's definitely delivers.
Original Joe's (North Beach)
601 Union St
San Francisco, CA 94133
Poggio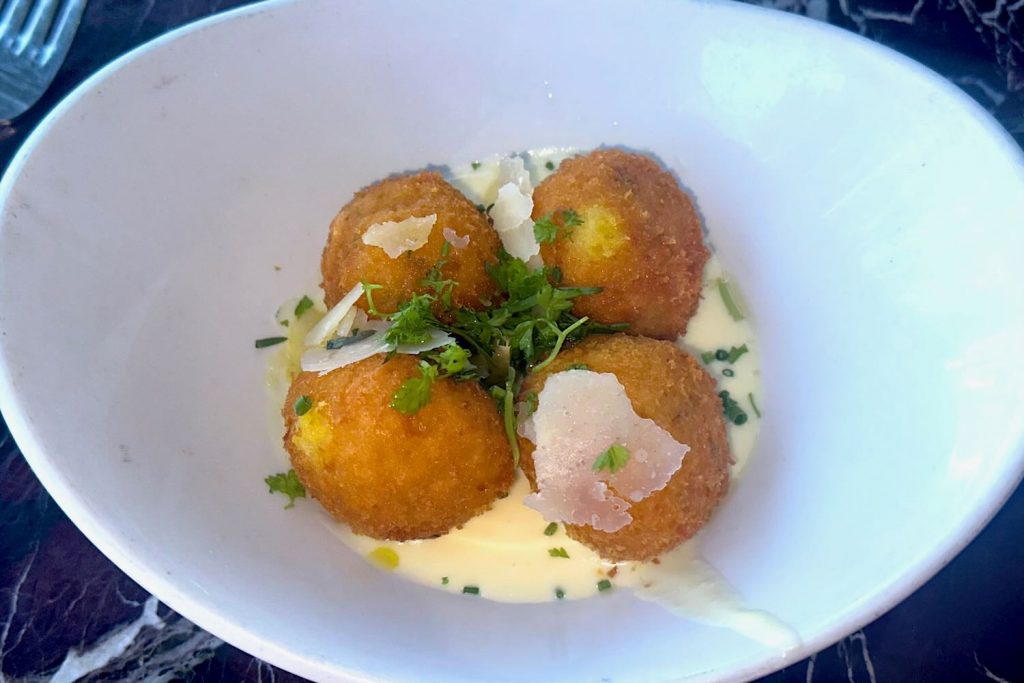 Just a Ferry Ride across the Bay, Poggio's in Sausalito, offers Italian dining with a beautiful view of the Bay. Now in its 20th year, the restaurant has become a beloved Bay Area institution. Larry Mindel, the founder of Poggio was also behind beloved Italian concepts, that, although gone for quite some time, are not forgotten; Ciao near the Civic Center and Prego in Cow Hollow. The kitchen is currently run by the talented Executive Chef Benjamin Balesteri, who delivers a sensational experience every time. On a recent outing to Poggio, my waiter told me that the chef gets up early and takes a fishing boat out on the bay. This is where the fresh catch of the day comes from. They are also well known for their wood fired ribeye steak and the Bay Area's famous "Tony Negroni" cocktail, which is a great pairing with their Arancini appetizer. 

The Arancini is a little more elevated at Poggio, with seasoned with saffron and fines herbs, filled with Parmigiano Reggiano , and served with a Fontina Funduta. The Fontina Fonduta is a decadent cheese sauce that is so good you will scrape the last remains out of the bowl, not leaving a drop behind. It is the perfect snack to enjoy at the bar with a couple of cocktails or glasses of vino Italiano.
Poggio
777 Bridgeway
Sausalito, CA 94965
Bella Trattoria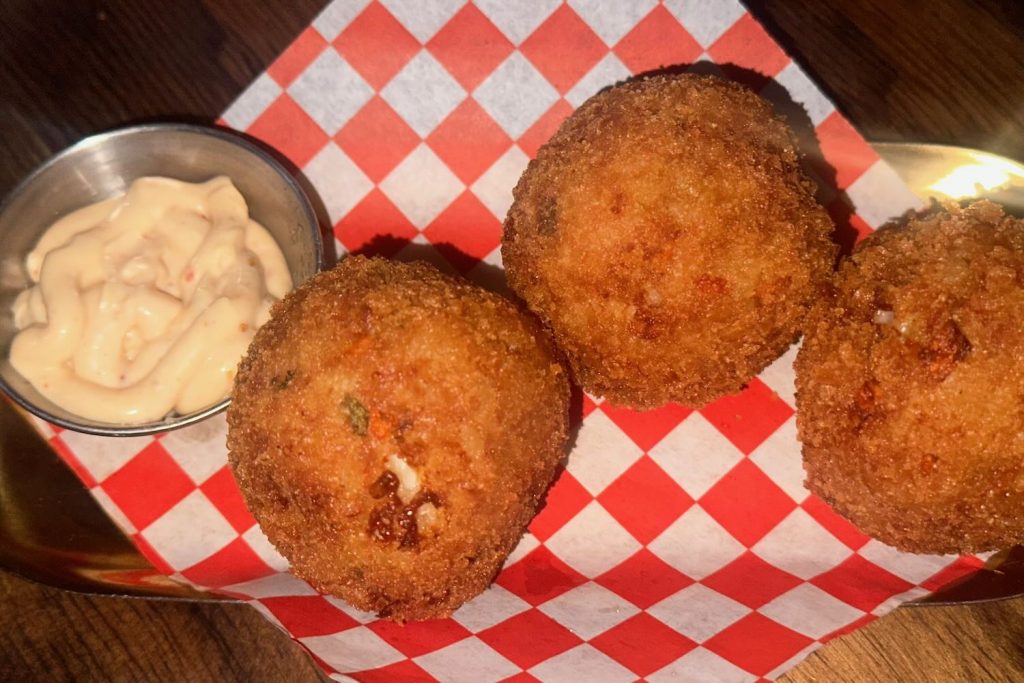 Located along Geary Boulevard, in the Inner Richmond District, is a delightful little haven of Italian Food. Bella offers delicious home made pasta, including a table side preparation of Caccio Pepe that is to die for, Italian Wines by the glass, and a nice selection of Italian Amaro and Italian inspired cocktails. It is nice enough for a date night or special celebration but comfortable and affordable enough to also serve as a neighborhood watering hole that sees many weekly regulars. The manager is a native of the Amalfi Coast and his big personality and genuine hospitality adds something extra special to the experience. He even makes house-made limoncello on the premise. The Arancini, which are listed as, "Suppli Napoletana", on the menu, are huge and absolutely delicious. They are stuffed with a generous portion of mozzarella and come with a delicious garlic aioli. Bella is a perfect place to go with a few friends, as the portions are generous. The arancini are so good, it is hard to stop eating them and to save room for the other courses. They make a great Aperol Spritz, which accompanies this decadent starter perfectly.
Bella Trattoria
3854 Geary Blvd
San Francisco, CA
Cafe Sport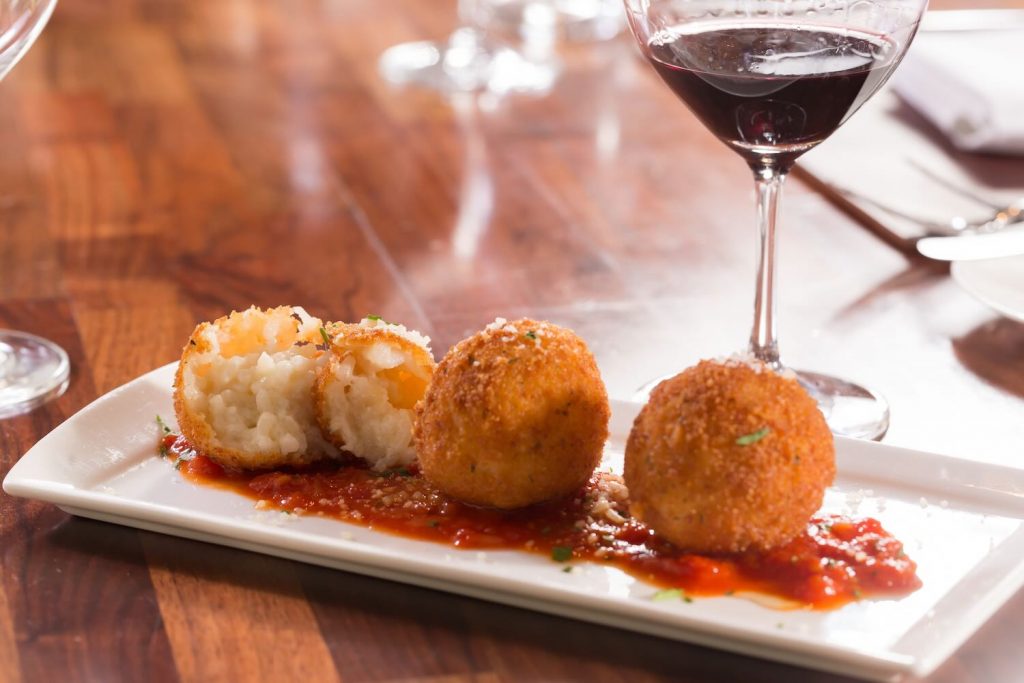 Cafe Sport is a place I walked by without giving a second look for years. Recently a friend introduced me to the spot and I was more than pleasantly surprised. I was sorry I had not tried it much sooner. It looks touristy but the food is spot on, fresh and beautifully presented. It is a fun, casual place with outdoor sidewalk seating, along Green Street. The dishes are inspired from Sicilian Cooking.
The Arancini at Cafe Sport will not disappoint. They are fried to crispy perfection, filled with melted mozzerella and come with a delicious tangy marinara sauce. They offer crisp, refreshing Peroni Lager on their beer menu, which goes quite nicely with the beloved Italian Comfort food dish. I highly recommend starting with an order of Arancini and trying one of their fresh seafood selections as a main course. You will be pleasantly surprised! Do not judged this book by its cover or you will miss out on a truly great culinary experience.
Cafe Sport
574 Green St
San Francisco, CA 94133
Sociale Restaurant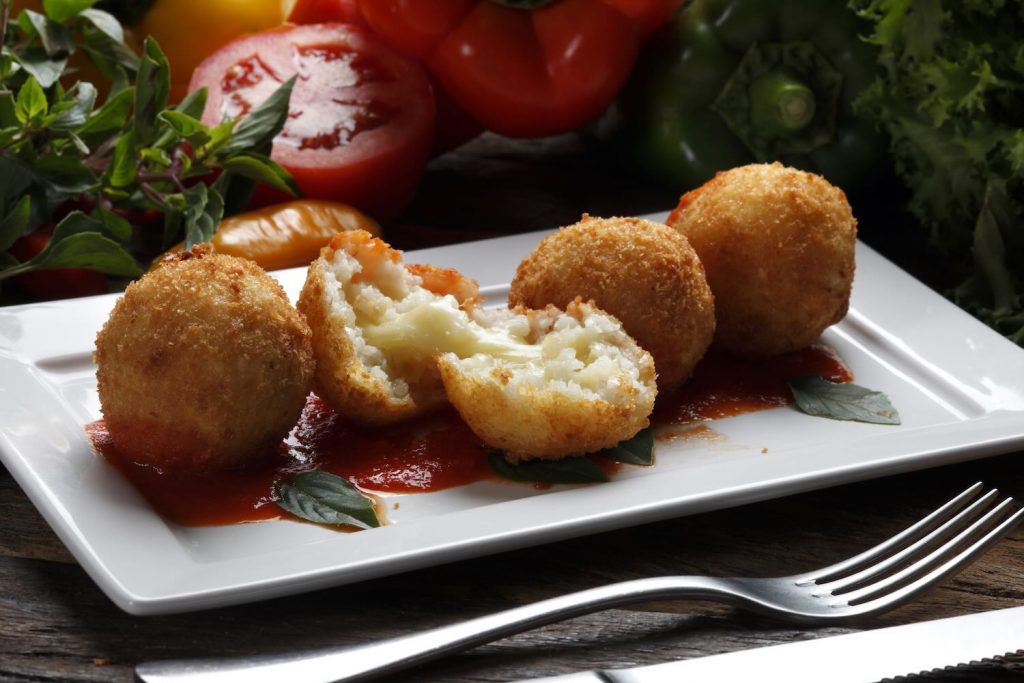 While it is not exactly Arancini that this beloved Laurel Heights neighborhood trattoria serves, I would be remiss not to mention Sociale's addictive Fried Olives. If you like Arancini, you will love this appetizer. The chef stuffs breaded green olives with fontina cheese and fries them to gooey perfection. They are simply served on a bed of greens tossed in some vinaigrette. No dipping sauce is required. The Italian White Wines offered at Sociale are excellent and offer many great pairings to accompany this must have appetizer. I highly recommend the Lambrusco, Franciacorta or Arneis. They offer seating on their charming patio, tucked away from the street on Sacramento. They are open for lunch and dinner.
Sociale Restaurant
3665 Sacramento Street
San Francisco CA 94118
What is Arancini?
Arancini: The Italian Delight of Crispy, Cheesy Goodness
Picture this: you're strolling through the charming streets of Italy, and you catch the irresistible aroma of something frying to golden perfection. You follow your nose to a local café, and there it is – arancini. But what exactly is this mouthwatering treat that seems to beckon food lovers from near and far?
Arancini, pronounced "ah-rahn-CHEE-nee," are delightful Italian snacks that are sure to make your taste buds dance with joy. These little bites are a true culinary treasure, offering a crispy, golden exterior that gives way to a warm, cheesy, and flavorful center.
The Basics: What Are Arancini?
At its core, arancini are deep-fried rice balls, and they have a fascinating history that stretches back to the sunny shores of Sicily. The name "arancini" itself is derived from the Italian word "arancia," meaning "orange." Why the name? Well, these delicious morsels are often shaped like oranges, but they're not citrus fruits – they're savory, and oh so satisfying.
The Art of Arancini Making
Arancini are crafted from leftover risotto, a creamy and rich Italian rice dish. The leftover risotto is transformed into small, spherical balls or sometimes cone shapes, which are then coated in breadcrumbs and deep-fried to a crispy, golden brown. The frying process not only adds that irresistible crunch but also imparts a beautiful golden hue to these little gems.
The Surprise Inside
But what truly sets arancini apart is what's hidden inside that crispy shell. The core of an arancino is often filled with a delectable mixture, which can vary depending on the chef's creativity and regional influences. The most common filling includes creamy mozzarella cheese, savory ragù (meat sauce), and sometimes a hint of peas or saffron for extra flavor and color.
Imagine taking a bite into one of these golden orbs – the crispy exterior gives way to a molten, cheesy center, mingling with the flavors of tender rice and savory sauce. It's a delightful explosion of tastes and textures in every bite.
A Taste of Italy, Wherever You Are
Arancini are not only a beloved treat in Italy but have also found their way onto menus around the world. They're perfect for snacking, as appetizers, or even as a comforting meal on their own. Whether you're enjoying them in a Sicilian street market, at a traditional Italian restaurant, or whipping up a batch in your own kitchen, arancini are sure to satisfy your craving for a taste of Italy.