Barbie Pub Crawl Event Photos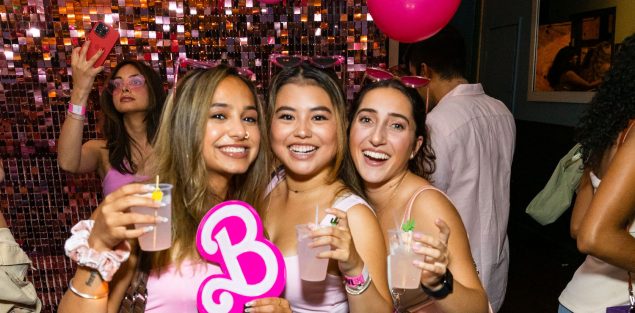 San Francisco's Barbie Pub Crawl: A Glittering Night in Pictures
San Francisco witnessed a delightful blend of nostalgia and festivity as over 3,000 enthusiasts joined the Barbie Pub Crawl, transforming the city into a Barbie wonderland for one unforgettable day. There were 15 participating bars in The Marina, each decked out with barbie-themed decorations, offering amazing drink specials like the Spicy Kenergy, Purple Beers, the Tipsy Barbie Cocktail, Barbie Slushies, Malibu Barbie Shots and more. Bar themes included Barbie's Beach House, Ken's Den, Barbie's Candy Shop, 80s Retro Barbie, Barbie's Car Wash and for those looking for some dicey debauchery, Barbie's Kinky Playhouse.
It was at Jaxson where the music truly came alive, thanks to the pulsating beats of DJ Yo Celly and DJ Barbs. But the excitement didn't end there! Attendees participated in an array of entertaining contests, from the playful Ken and Barbie Costume Contest, a Barbie Girl Sing-a-long, a mechanical bull riding challenge and the fun-filled bubble gum blowing competition.
Dressing up was optional, but most of the attendees chose to show off their Barbie and Ken style in a big way. There were lots of great pink outfits, sweet accessories and sparkles all around. However, despite all of the amazing costumes, we have to give a special shout out to all of the Weird Barbies in attendance who did an amazing job paying homage to those mangled barbie dolls that kids messed up in a special sort of way.
Relive the magic of the event through our collection of photos. Witness the glitz, the glam, and the unforgettable moments that made the Barbie Pub Crawl an absolute sensation.
And if these images ignite a spark of excitement, mark your calendars. CrawlSF is gearing up for another enthralling event: The San Francisco Halloween Pub Crawl! And for those who can't get enough of the Barbie magic, worry not! The Barbie Pub Crawl will be making a grand comeback in 2024. Be ready to relive the magic, or experience it for the first time.
Barbie Pub Crawl Photos
Click on any image to start the slideshow (* There is an issue with the slideshow only showing the first 100 photos on some platforms. If you are having issues, you can view the gallery on the Barbie Crawl website HERE)
Want a high quality version of any photo? Send an email to [email protected].