Axe Throwing in San Francisco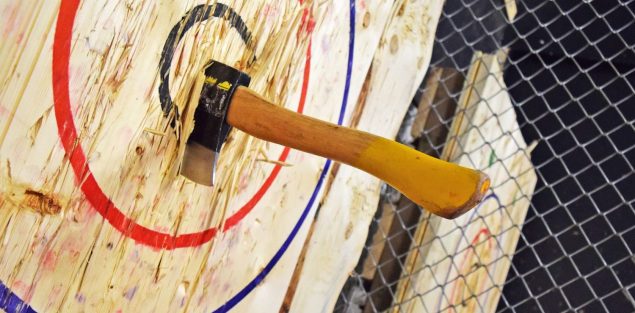 Unleash Your Inner Warrior at Bad Axe Throwing San Francisco
Nestled in Daly City, a stone's throw away from the bustling life of San Francisco, is an adrenaline-charged escapade waiting for you – Bad Axe Throwing. If you are trying to find some interesting things to do for Halloween, throwing sharp axes seems to fit in perfectly with the theme of the holiday.
Starting at a mere $26.98, it's an adventure that won't break the bank but promises an experience you won't soon forget.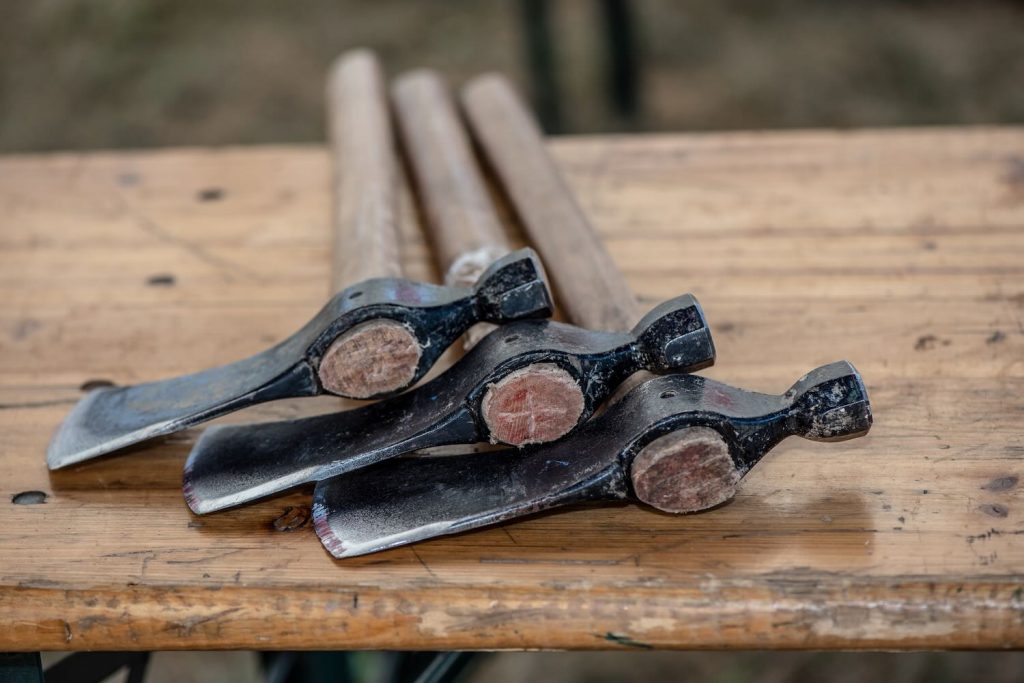 Why Axe Throwing?
While it may have its roots in the Canadian wilderness as a beloved backyard hobby, axe throwing has taken urban areas by storm! It's not just about throwing an axe and hoping for the best. It's about finesse, precision, and the satisfying 'thunk' as the axe finds its mark. And worry not, greenhorns! Regardless of whether you've held an axe before, Bad Axe has got your back.
Here's What Awaits You:
Safety First: An in-depth safety briefing ensures your adventure is injury-free.
Axe-pert Guidance: Every thrower gets a dedicated coach, ensuring you go from zero to bullseye hero in no time!
Diverse Trick Shots: Keep things interesting with a range of trick shots – both simple and advanced.
Competitive Fun: An hour of your day here translates to mastering a fresh, exhilarating, and competitive skill.
The Axe Throwing Journey:
Venture into a 45-minute immersive axe-throwing experience where experts brief you, teach you, and guide you. With their seasoned techniques, you'll not only master the basics but will soon be engrossed in exciting games, competing with fellow throwers. Who knows, by the end, you might just clinch the title of the 'ultimate axe throwing champion'!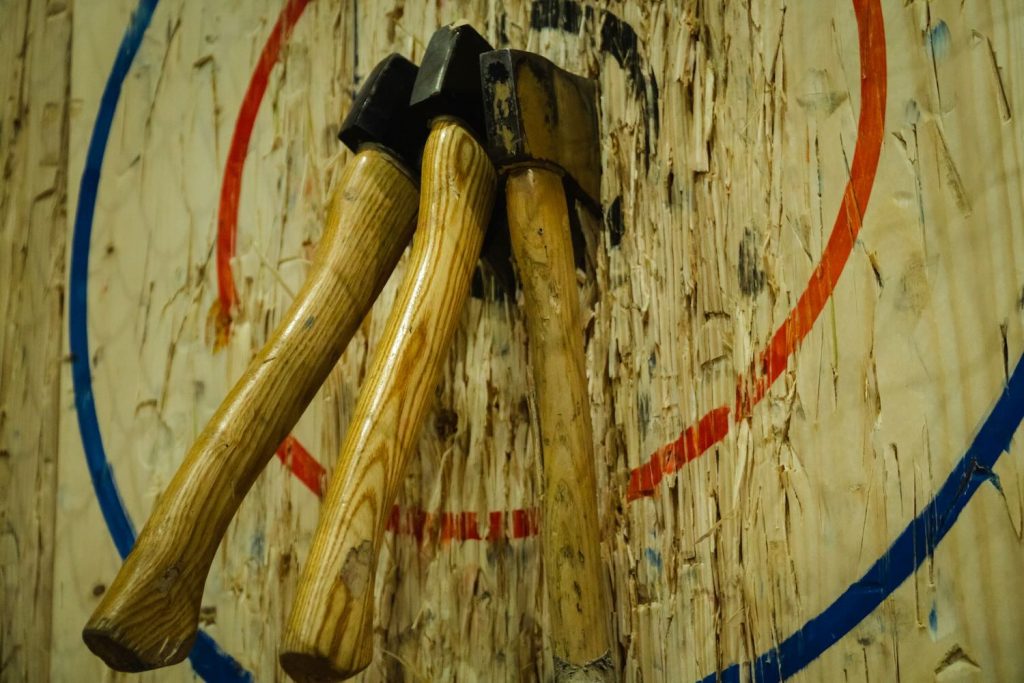 A Few Pointers:
Accessibility: The venue is wheelchair and stroller friendly.
Private Lanes: Reservations are open but do not necessarily guarantee a private lane.
Age Limit: Young warriors, below 17, need parental consent. And all minors should be accompanied by adults.
Safety Protocols: A liability waiver awaits your signature upon arrival, ensuring everyone's safety and understanding of the sport.
Considerations: We advise those with back issues to refrain from the activity for their safety.
If you are looking for some unique things to do in San Francisco, Bad Axe Throwing beckons! Perfect for seasoned throwers, curious beginners, or just a gang of friends looking for a unique hangout. Book a slot, take a shot, and dive into an experience that is – for lack of a better term – absolutely axe-hilarating.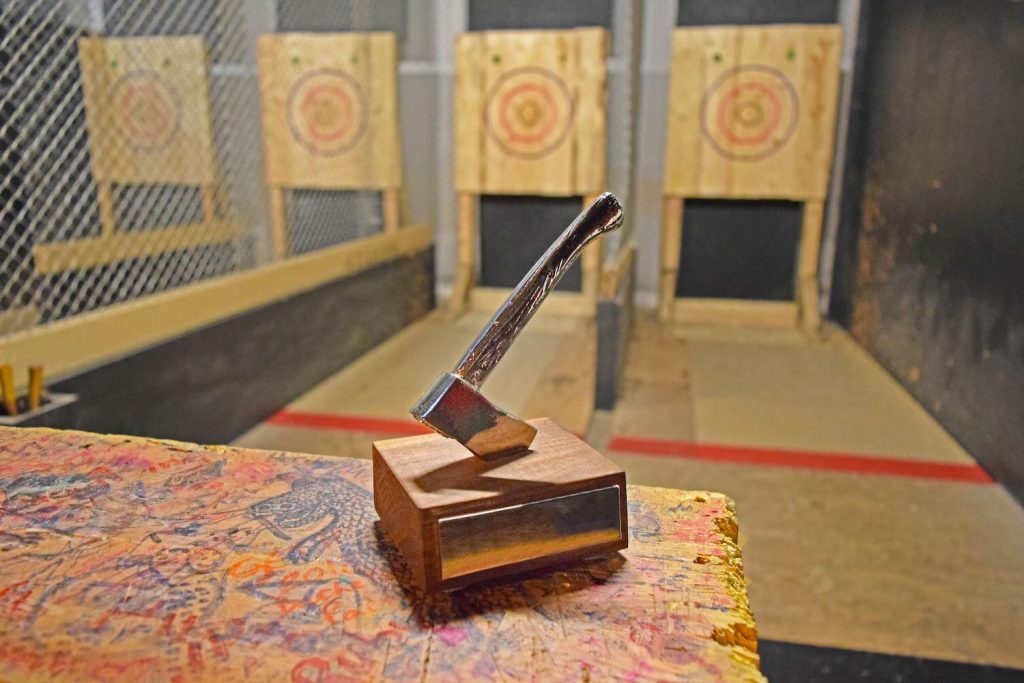 About Bad Axe Throwing
Location: 30 Hill St, Daly City, CA 94014, USA
Website: https://badaxethrowing.com/
Ah, axe throwing An age-old Canadian pastime, once restricted to woodsy backyards, has now transformed into an urban sensation. What might seem primal at its core is, in fact, a thrilling blend of skill, focus, and just the right touch of competitiveness.
Enter Bad Axe Throwing – where the legacy of axes meets modern excitement.
Discover Bad Axe Throwing:

Established as the globe's premier urban axe throwing venture, Bad Axe Throwing is a titan in its league. Their motto? Deliver an experience that's not just unforgettable but also unparalleled in exhilaration. Whether it's private events, special occasions, or adrenaline-pumping leagues, their doors are open to anyone keen on wielding an axe.
From 45-90 minutes sessions of thrilling axe-hurling action, they ensure every visitor leaves with a tale to tell. And fret not if you're a newbie – world-class axe throwing coaches are at your beck and call. Under their expert guidance, even the most unassuming individuals find themselves hitting bullseyes and indulging in playful competitions.
A Legacy Carved with Precision:

Underpinning the global axe-throwing wave, Bad Axe Throwing holds the title of the world's most expansive urban axe throwing club. The brand's core mission is clear: to transplant the raw exhilaration of a traditional Canadian game into urban hearts worldwide. Their dedicated coaches, with infectious passion, have already initiated hundreds of thousands into the axe-throwing fold.
Tracing its roots back to 2014, this brainchild of CEO Mario Zelaya first saw the light of day in Burlington, Ontario. In an astonishingly short span, the brand's footprint has sprawled across Canada and the United States with a staggering 40-plus locations.
Star-Studded Endorsement:

When it comes to the fanfare of axe throwing at Bad Axe, the celebrities aren't left behind. From the electrifying beats of the Chainsmokers to the basketball prowess of Charles Barkley and the racing spirit of Chase Elliott, many have graced Bad Axe Throwing with their presence, underlining the universal appeal of this fascinating sport.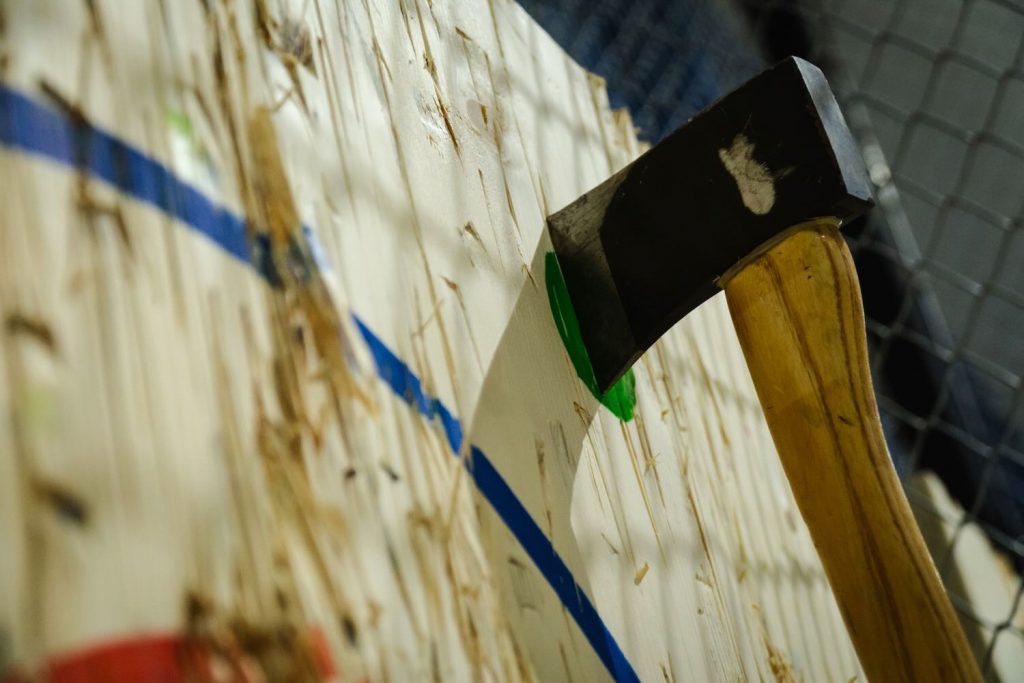 Fun Facts:
The act of axe throwing can be traced back to ancient times where it was a survival skill and later a sport in lumberjack competitions.
Contrary to the brute force approach many assume, axe throwing is as much about technique as it is about strength.
Worldwide competitions today even have specific guidelines on the weight, length, and type of axes used.

If you're in the San Francisco Bay Area and are on the lookout for a unique blend of sport, fun, and tradition, then swing by Bad Axe Throwing. Prepare to be amazed as you channel your inner woodsman or woodswoman and let those axes fly.
Looking for more Halloween Activities? Check out the San Francisco Halloween Guide.