5 San Francisco Restaurants You Need to Try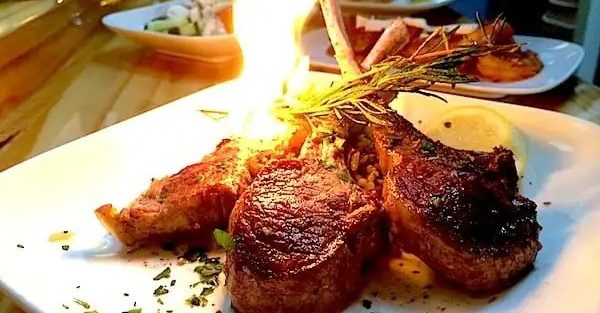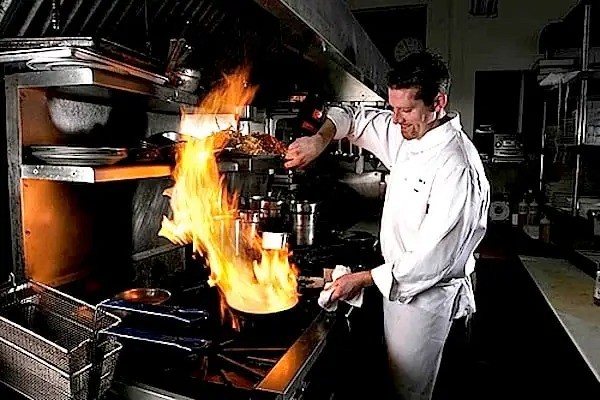 San Francisco has the most restaurants per capita in the nation, so trying to figure out the best ones can be a daunting task. Top rated restaurants like State Bird Provisions, Coi, Gary Danko and Michael Mina  are consistently featured in the lists of SF's elite restaurants, however some of the smaller, less publicized restaurants offer tastes that will please any foodie. We've compiled a list of 5 of our favorites below.
Sauce
The quality of the food alone would make Sauce one of our favorite restaurants in San Francisco, but adding in the comfortable atmosphere, friendly staff and extensive wine list makes this place hard to beat. Rather than featuring the newest trendy dishes or some sort of culinary fusion, Sauce's menu features pot roast, steak and eggs, Mac 'n Cheese and other items you would expect from a home cooked meal. Chef Ben Paula has taken some very basic dishes and made them absolutely amazing.
What to Eat:
1. Sauce's Fried Chicken Parmesan
Breast & Wing with Pomodoro Tomato Sauce & Provolone Crust Butter & Asiago Parpadelle, Peeled Asparagus
This dish consists of perfectly fried chicken w/ pasta sauce, Noodles with a light, buttery sauce and asparagus. The noodles with this dish are hands down the best we have ever tasted.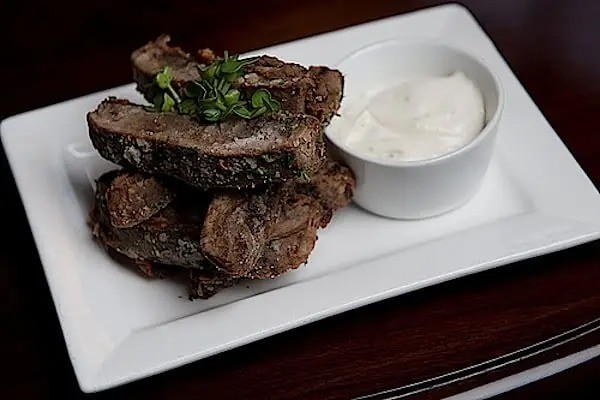 2. Portobello Mushroom Fries
Huge portobello mushrooms cut into strips and fried, served with their house made "Fat Boy" sour cream ranch dipping sauce.
3. Sausage Cheese Bread
Bread with Acme Ale Cheese and Bacon Fondue
4. Poutine
Russet Potato Skin Mozzarella Cheese Curds, Pan Gravy
We absolutely love poutine and Sauce's take on this classic Canadian dish is absolutely perfect.
Extra Credit: Sauce is open until 2AM so this is the perfect spot to satisfy your late night cravings.
Tip: The house Zinfandel is a perfect accompaniment to any meal
Locations:
Sauce: Gough (Hayes Valley)
131 Gough St.
San Francisco, CA 94102
Sauce: Belden (Financial District)
56 Belden Place
San Francisco, CA 94104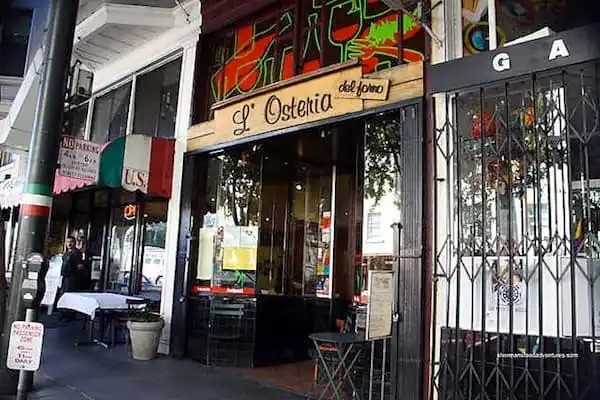 L'Osteria del Forno
With so many options, trying to pick a restaurant in San Francisco isn't an easy task. We happened up L'Osteria del Forno by accident one day while walking through North Beach and this place blew us away. With only about 10 tables in this tiny restaurant, it can sometimes take a little bit to get a table, but the wait is always worth it.
What to eat:
1. Ravioli Di Ricotta
Light as air ricotta ravioli that is made fresh daily. There are several variations, but each one is spectacular.
2. Margherita Pizza
Delicious crust, homemade sauce and fresh cheeses make this pizza hard to beat.
3. Gamberi Adriatic Style
Skewered tiger prawns lightly breaded, parsley, garlic, served over mixed salad
Extra Credit: The service is some of the best in SF. Make sure to ask your server for recommendations…
Tip: Over order (plus get the largest pizza) so you have some food to take home.
Location:
519 Columbus Ave
San Francisco, CA 94133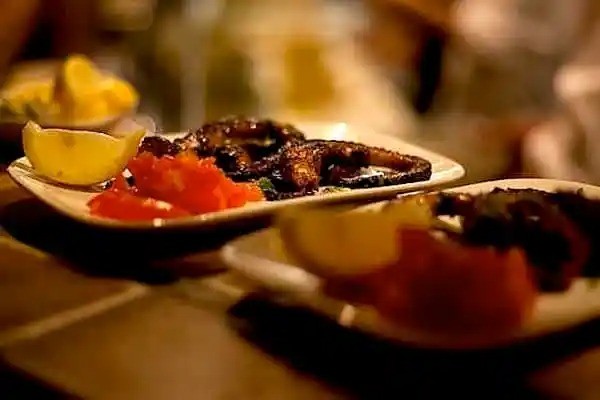 Mezes
Located on Chestnut Street in the Marina, Meze's is few block away from all the action near Fillmore so it may be easy to miss. Inside, you will find a selection of greek food made with the freshest ingredients and a wonderful wine menu that accompanies the food well.
What to Eat:
1. Kota Souvlaki
Perfectly done chicken skewers with greek seasoning and roasted potatoes
2. Pikilia
Pikilia is the perfect starting dish with 3 delicious spreads (tzatziki, roasted eggplant and pink caviar) served with freshly grilled pitas.
3. Soutzoukakia
House made meatballs with a delicious tomato herb sauce and orzo pasta.
Extra credit: Everything is great for sharing. Come with a group!
Tip: Ask the bartender to pick your wine
Location:
2373 Chestnut Street
San Francisco, Ca 94123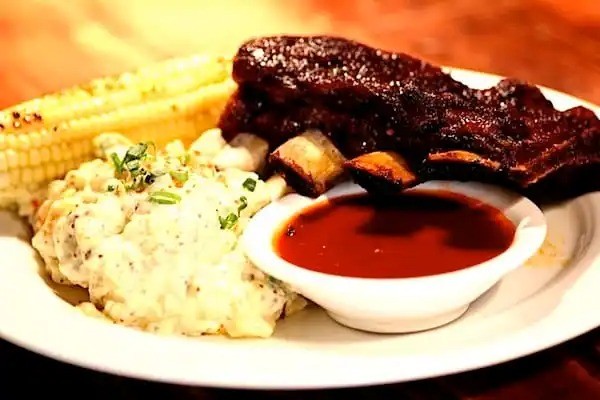 Bitters, Bock & Rye
If you are looking for something a little different, Bitters, Bock & Rye serves up a solid menu of BBQ and southern dishes that will make your mouth water.
What to Eat:
1. Brisket
While all of the BBQ options are delicious, the brisket is the one thing that you need to try. Try to arrive early if possible, because they do tend to sell out. The perfectly cooked meat goes perfectly with each of their handmade BBQ sauces (Mustard, Texas, BBR and Vinegar-Pepper)
2. Boiled Peanuts
There are probably other places in San Francisco that have boiled peanuts on their menu, however we haven't come across any. They are the perfect start to any meal…
3. Deviled Eggs
Bitters, Bock & Rye has 3 deviled egg options, chow chow, bacon marmalade and smoky pimento cheese. Try them all…
Extra Credit: They brew their own beer!
Tip: Start out your meal with the Smoked Jalapeno Margarita
Location:
1117 Polk Street
San Francisco, CA 94109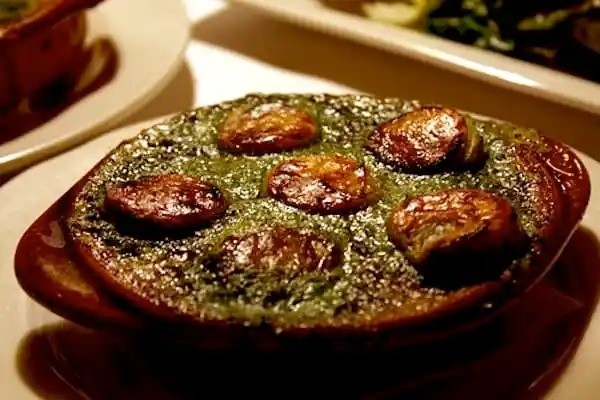 Cafe Claude
Located just off Fillmore Street in the Marina, Cafe Claude is a tucked away "secret" spot that almost makes you feel like you aren't in San Francisco anymore. The restaurant design is beautiful with rich woodwork, simple accents and a beautiful bar in the center. A perfect place to grab a drink with friends or a date, Cafe Claude features a menu filled with french dishes that will keep you coming back for more.
What to Eat:
1. French Onion Soup
Cafe Claude has the best french onion soup in San Francisco. The best.
2. Boeuf Bourguignon
This dish is only available on Saturdays and they usually run out, so make sure to get there early.
3. Tartine De Tomate
This combination of fresh heirloom tomatoes, burrata, olive oil and spices is the perfect start to the meal. It's great for sharing…
Extra Credit: They have really cool knives
Tip: For a great dinner experience, grab a seat at the bar. The bartenders are great and will will help you choose the best dishes, wines and more.
Locations:
Cafe Claude (Union Square)
7 Claude Lane
San Francisco, CA 94108
Cafe Claude (Marina)
2120 Greenwich
San Francisco, CA 94123