San Francisco 49ers Schedule
The San Francisco 49ers 2023 Season
Are you ready, 49er Faithful? Buckle up, because the 2023 NFL season is upon us and it's set to be a thrill ride of epic proportions! The San Francisco 49ers are strapping on their helmets, lacing up their cleats, and hitting the Levi's Stadium turf with a fire in their eyes and a hunger for victory. With a roster brimming with talent and a playbook packed with innovative strategies, this season promises to be a red-and-gold rollercoaster of adrenaline-pumping touchdowns, bone-rattling tackles, and heart-stopping fourth-quarter comebacks. Get ready to unleash your cheers, because the 2023 49ers season is about to take you on a gridiron adventure like no other!
The 49ers have announced their much-anticipated 2023 schedule with fans excited to see what's in store after a disappointing loss to the Philadelphia Eagles in the NFC Championship ended their chances of playing in the Super Bowl. The season will begin with 3 preseason games, starting out with a trip Las Vegas to battle the Raiders. In cross-divisional play, the niners will take on teams from the AFC North and NFC East. 2023 marks the 10th season at Levi's Stadium for the Niners and for the fifth time in 6 seasons, the Niners start out the regular season on the road. 
It's going to be an exciting season for the Niners, with five prime time games, including two Monday Night Games on October 23 vs. the Minnesota Vikings and Monday, December 25 vs. the Baltimore Ravens. Make sure to grab your tickets early to grab some good seats!
Purchase Tickets
Click Here to Purchase 49ers Tickets
If you are planning on heading to any of the 49ers home games at Levi's Stadium, make sure to check out the M Ride 49ers Shuttle. Offering round-trip transportation to Levi's stadium from both San Francisco and Mill Valley, it is the easiest way to get to the game.
Click Here for Shuttle Bus Details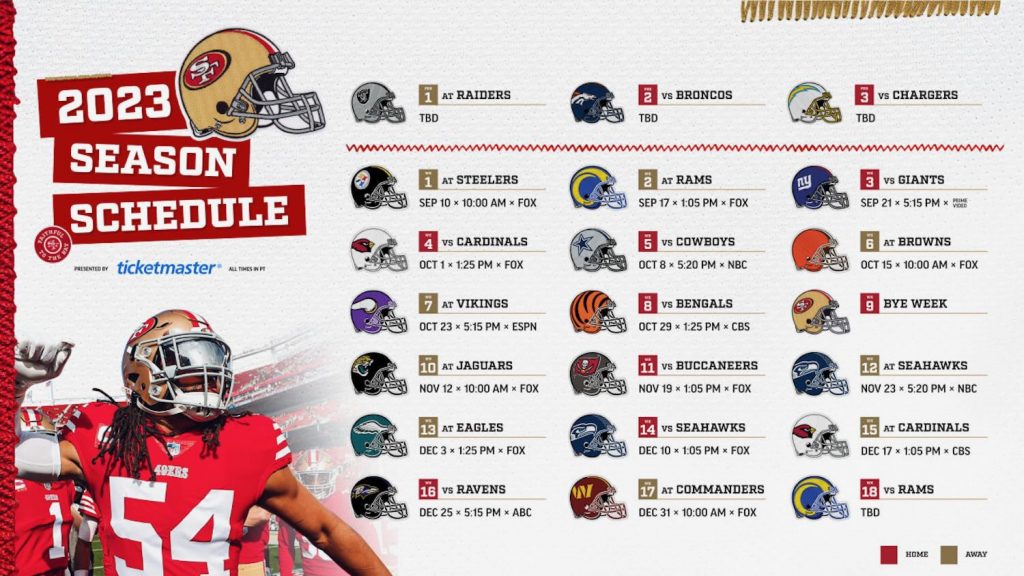 San Francisco 49ers 2023 Schedule

Preseason Games:
Week 1: Las Vegas Raiders (Away)
August 10 to 14 (TBD) – Allegiant Stadium
TICKETS
Week 2: Denver Broncos (Home)
August 17 to 21 (TBD) – Levi's Stadium
TICKETS
Week 3: Los Angeles Chargers (Home)
August 24 to 28 (TBD) – Levi's Stadium
TICKETS

Regular Season Games:

Week 1: Pittsburgh Steelers (Away)
Sunday, 9/10 at 10:00AM PST – Acrisure Stadium
TICKETS
Week 2: Los Angeles Rams (Away)
Sunday, 9/17 at 1:05PM PST – Lincoln Financial Field
TICKETS
Week 3: New York Giants (Home)
Thursday, 9/21 at 5:15PM PST – Levi's Stadium
TICKETS
Week 4: Arizona Cardinals (Home)
Sunday, 10/1 at 1:25PM PST – Levi's Stadium
TICKETS
Week 5: Dallas Cowboys (Home)
Sunday 10/8 at 5:20PM PST – Levi's Stadium
TICKETS
Week 6: Cleveland Browns (Away)
Sunday 10/15 at 10:00AM PST – FirstEnergy Stadium
TICKETS
Week 7: Minnesota Vikings (Away)
Monday, 10/23 at 5:15PM PST – U.S. Bank Stadium
TICKETS
Week 8: Cincinnati Bengals (Home)
Sunday, 10/29 at 1:25PM PST – Levi's Stadium
TICKETS

Week 9: BYE

Week 10: Jacksonville Jaguars (Away)
Sunday, 11/12 at 10:00AM PST – TIAA Bank Field
TICKETS
Week 11: Tampa Bay Buccaneers (Home)
Sunday, 11/19 at 1:05PM PST – Levi's Stadium
TICKETS
Week 12: Seattle Seahawks (Away)
Thursday, 11/23 at 5:20PM PST – Lumen Field
TICKETS
Week 13: Philadelphia Eagles (Away)
Sunday, 12/3 at 1:25PM PST – Lincoln Financial Field
TICKETS
Week 14: Seattle Seahawks (Home)
Sunday, 12/10 at 1:05PM PST – Levi's Stadium
TICKETS

Week 15: Arizona Cardinals (Away)
Sunday, 12/17 at 1:05PM PST – University of Phoenix Stadium
TICKETS
Week 16: Baltimore Ravens (Home)
Monday, 12/25 at 5:15PM PST – Levi's Stadium
TICKETS
Week 17: Washington Commanders (Away)
Sunday, 12/31 at 10:00AM PST – FedEx Field
TICKETS
Week 18: Los Angeles Rams (Home)
TBD – Levi's Stadium
TICKETS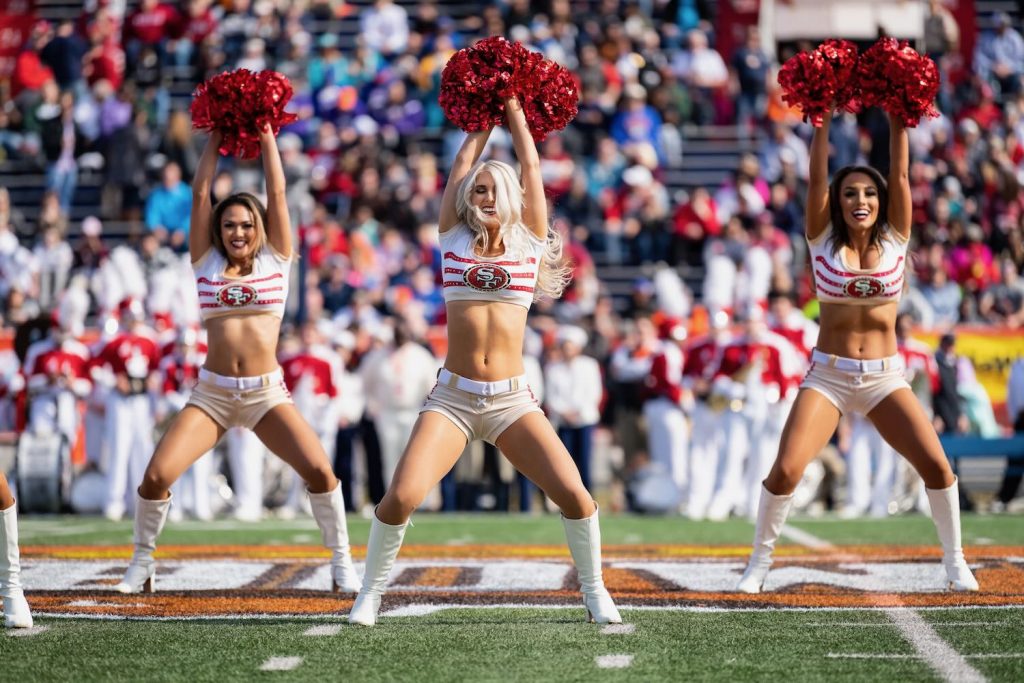 About the San Francisco 49ers
The 49ers Unleashed: A Rollicking Romp Through the Red & Gold
Buckle up, gridiron gang! We're about to embark on an epic journey that combines history, sports, and a whole lot of fun. Our destination? The San Francisco 49ers' huddle, an NFL team that's as rich in character as it is in championships. So grab your scarlet and gold gear, and let's hit this field running!
Humble Beginnings: The Gold Rush of '46
Our story begins in 1946, when the 49ers were founded as part of the All-America Football Conference. Why "49ers," you ask? It's not because they couldn't think of 50 things to name the team! The moniker actually honors the adventurers of the 1849 California Gold Rush. The team struck gold in their own right when they joined the NFL in 1950.
The Dynasty of the '80s and '90s
Fast forward to the 1980s and 1990s, when the 49ers, like a kid with too many toys, started hoarding Super Bowl trophies. They won five, to be precise! The dynamic duo of coach Bill Walsh and quarterback Joe Montana, later paired with Steve Young, was more effective than a double shot of espresso on a Monday morning. They popularized the "West Coast Offense," which might sound like a surfing move but is actually a football strategy emphasizing passing instead of running.
Records Galore: They're Not Just Any Team
The 49ers aren't just good, folks. They're "holy guacamole, did you see that?!" good. They were the first NFL franchise to win five Super Bowl championships. Montana and Young? Yeah, they're Hall of Famers. And let's not forget Jerry Rice, the wide receiver so good he made catching a football look as easy as catching Z's. Rice holds the record for the most touchdowns in NFL history with 208. Yeah, you read that right, 208!
Fun Facts: Get Your Trivia Hats On!
Now, let's sprinkle some trivia into this 49er fiesta!
Logo Love: The original 49ers logo was a mustachioed miner firing pistols. Yeehaw! But it was quickly swapped for the iconic "SF" within a red oval we know today.
The Catch: In the 1982 NFC Championship Game, Dwight Clark made a leaping grab in the back of the end zone, forever known as "The Catch". This play not only secured their victory over the Dallas Cowboys but also kicked off their 1980s dynasty.
Name Game: The 49ers' mascot is none other than Sourdough Sam. He's a gold panner, of course!
Field Switch: The 49ers moved from Candlestick Park to the state-of-the-art Levi's Stadium in 2014, trading wind swirls for Wi-Fi.
The Future is Bright
The San Francisco 49ers have a knack for making history, and we can't wait to see what they'll do next. In the meantime, we'll be here, sporting our scarlet and gold, cheering for the team that's as audacious as the gold miners they're named after.
So here's to the 49ers: a team that's given us epic wins, legendary players, and one heck of a wild ride. And remember, in the immortal words of former coach Steve Mariucci, "We're the 49ers; we can do whatever we want." Let's just hope that includes winning a few more Super Bowls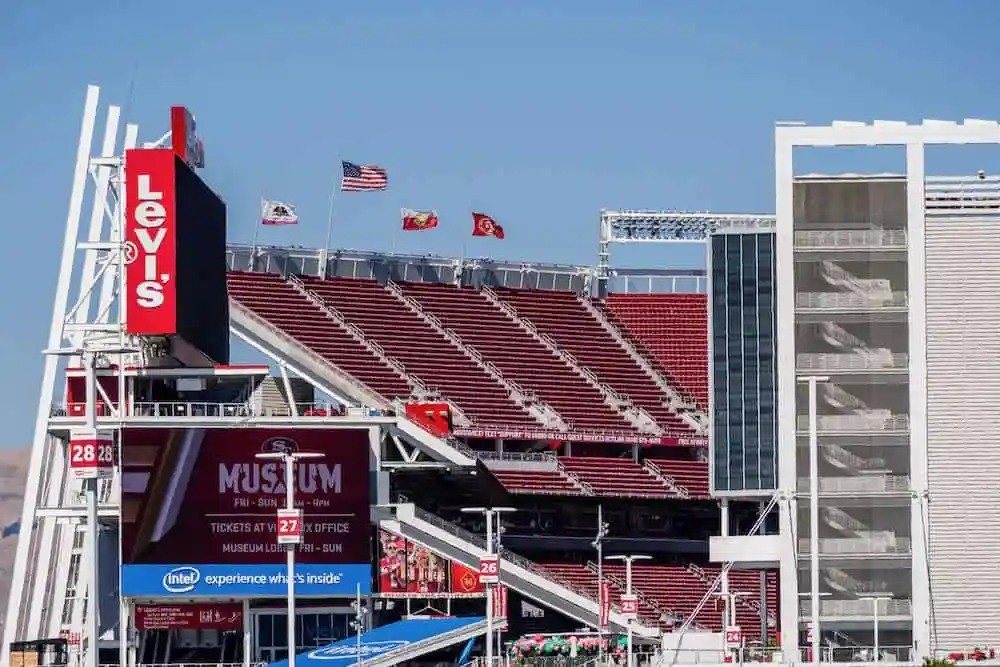 Levi's Stadium: Home of the 49ers
Are you ready to swap your comfy couch for the best seat in the house? It's time to don your red and gold jerseys, and venture into the heart of the action: Levi's Stadium, the colossal castle of the San Francisco 49ers. This isn't just any sports arena; it's a tech-savvy, eco-friendly, entertainment extravaganza!
Stitching the Seams: The Birth of Levi's Stadium
Our journey begins in 2014, when the 49ers traded their longtime home, Candlestick Park, for a shiny new abode in Santa Clara. Fun fact: The stadium's name isn't just a nod to everyone's favorite jeans brand. Levi Strauss & Co., a San Francisco original since the Gold Rush era, bought the naming rights, stitching together two Bay Area icons.
The Tech-Savvy Stadium: Where Silicon Valley Meets the Gridiron
If the 49ers are the heart of this stadium, then technology is its nervous system. Levi's Stadium is nestled in the heart of Silicon Valley, and it shows. It's the first NFL stadium with Wi-Fi capability in the building (yes, even in the bathrooms), ensuring fans can share their game-day selfies without a hitch. The 49ers' mobile app even lets you order food and drinks right to your seat. How's that for convenience?
Green and Gold: A Sustainable Sports Haven
But Levi's Stadium isn't just a tech wonderland; it's also a green machine. This marvel boasts a 27,000 square foot green roof atop its suite tower and an impressive array of solar panels, making it the first NFL stadium to open with LEED Gold certification. So while the 49ers are battling it out on the gridiron, the stadium is scoring touchdowns for the environment.
Not Just for Sports: A Concert Colosseum
While the 49ers are undoubtedly the main act, Levi's Stadium moonlights as a concert colosseum when the football season is on pause. Everyone from Beyoncé to the Grateful Dead has graced the stage here, and the Rolling Stones once rocked the stadium so hard they caused a minor earthquake.
A Game Day Experience Like No Other
Attending a 49ers game at Levi's Stadium is an experience that's more than just watching football. It's tailgating with fellow fans, smelling the sizzling stadium grub, feeling the roar of the crowd echo in your chest. It's high-fiving strangers after a touchdown and holding your breath during a game-winning field goal attempt. It's the 49ers Museum, a 20,000-square-foot tribute to the team's illustrious history.
So whether you're a die-hard 49ers fan, a concert junkie, or a tech enthusiast, Levi's Stadium is the place to be. It's more than just a sports arena; it's a symbol of innovation, sustainability, and camaraderie. So grab your favorite jersey, put on your game face, and get ready to immerse yourself in the incredible experience that is Levi's Stadium. Let's go, Niners!